ROUND THREE - FRIDAY 6TH JULY
Final Divisional Tables at the end of the night second session
Night Points - 10 attendance points less divisional points (Division + position)
Plus an extra 2 bonus points for each divisional winner of the first round of matches in the evening. Div 1 - Ivor Copley, Div 2 - Rowan Bayliss, Div 3 - Andrew Davies, Div 4 - Prabhu Kashap, Div 5 - Ollie Pead
Division 1
| | | | | | | | | | |
| --- | --- | --- | --- | --- | --- | --- | --- | --- | --- |
| Pos | Player | Pld | Won | Lost | Gms For | Gms Ag | Points | Night Points | |
| 1st | Ivor Copley | 3 | 2 | 1 | 4 | 2 | 4 | 10 - (1+1) = 8 + 2 | |
| 2nd | Richard Salt | 3 | 2 | 1 | 4 | 3 | 4 | 10 - (1+2) = 7 | |
| 3rd | Rob Ferguson | 3 | 1 | 2 | 4 | 4 | 4 | 10 - (1+3) = 6 | |
| 4th | Rowan Bayliss | 3 | 1 | 2 | 2 | 5 | 2 | 10 - (1+4) = 5 + 2 | |
Division 2
| | | | | | | | | | |
| --- | --- | --- | --- | --- | --- | --- | --- | --- | --- |
| Pos | Player | Pld | Won | Lost | Gms For | Gms Ag | Points | Night Points | |
| 1st | Josh Redfern | 3 | 3 | 0 | 6 | 2 | 6 | 10 - (2+1) = 7 | |
| 2nd | Andrew Davies | 3 | 2 | 1 | 5 | 3 | 5 | 10 - (2+2) = 6 + 2 | |
| 3rd | Sam Hiles | 3 | 1 | 2 | 3 | 5 | 3 | 10 - (2+3) = 5 | |
| 4th | Simon Baxter | 3 | 0 | 3 | 2 | 6 | 2 | 10 - (2+4) = 4 | |
Division 3
| | | | | | | | | | |
| --- | --- | --- | --- | --- | --- | --- | --- | --- | --- |
| Pos | Player | Pld | Won | Lost | Gms For | Gms Ag | Points | Night Points | |
| 1st | Prabhu Kashap | 3 | 3 | 0 | 6 | 2 | 6 | 10 - (3+1) = 6 + 2 | |
| 2nd | Lewis Short | 3 | 2 | 1 | 4 | 3 | 4 | 10 - (3+2) = 5 | |
| 3rd | Derek Stratton | 3 | 1 | 2 | 3 | 4 | 3 | 10 - (3+3) = 4 | |
| 4th | Eve James | 3 | 0 | 3 | 0 | 6 | 0 | 10 - (3+4) = 3 | |
Division 4
| | | | | | | | | | |
| --- | --- | --- | --- | --- | --- | --- | --- | --- | --- |
| Pos | Player | Pld | Won | Lost | Gms For | Gms Ag | Points | Night Points | |
| 1st | Rob Bayliss | 3 | 3 | 0 | 6 | 0 | 6 | 10 - (4+1) = 5 | |
| 2nd | Ollie Pead | 3 | 2 | 1 | 4 | 3 | 4 | 10 - (4+2) = 4 + 2 | |
| 3rd | Benj Pead | 3 | 1 | 2 | 3 | 4 | 3 | 10 - (4+3) = 3 | |
| 4th | Marc Winstanley | 3 | 0 | 3 | 0 | 6 | 0 | 10 - (4+4) = 2 | |
Division 5
| | | | | | | | | | |
| --- | --- | --- | --- | --- | --- | --- | --- | --- | --- |
| Pos | Player | Pld | Won | Lost | Gms For | Gms Ag | Points | Night Points | |
| 1st | Kevin Payne | 1 | 1 | 0 | 4 | 2 | 4 | 10 - (5+1) = 4 | |
| 2nd | David Olver | 1 | 0 | 1 | 2 | 4 | 2 | 10 - (5+2) = 3 | |
| 3rd | #Amy Smith | 2 | 0 | 2 | 0 | 6 | 0 | 10 - (5+3) = 2 | |
| | | | | | | | | | |
# Amy given points at end of first session as was unable to stay for second session
Despite the weather and the World Cup, 19 competitors took part in the latest round of our Friday Night Summer Singles Competition.
In the early evening round Ollie Pead won the 5th Division, Prabhu Kashap the 4th, Andrew Davies the 3rd, Rowan Bayliss the 2nd and Ivor Copley won the 1st Division. Andrew Davies picking up the spot prize of a NATTC mug for his efforts in winning the 3rd Division.
In the second, points scoring round, Kevin Payne picked up the 5th Division title following a close encounter with David Olver. Rob Bayliss had dropped down to the 4th Division after a poor showing in the 3rd Division, but picked his game up to win the 4th. A fine effort and a big improvement for Ollie Pead who finished runners up behind Rob. Prabhu Kashap in his first showing in the tournament played really well to take the 3rd Division title having earlier topped the 4th Division. Josh Redfern was undefeated as he took the 2nd Division title. A really brilliant effort from Ivor Copley our 3rd different winner at the top of the 1st Division. It was close though with three players all finishing on 4 points. Ivor and Richard Salt had won 2 sets each and Rob Ferguson, although only winning one set picked up game points. Ivor eventually winning on game difference.
So a winners trophy presented to Ivor and medals for the Divisional winners.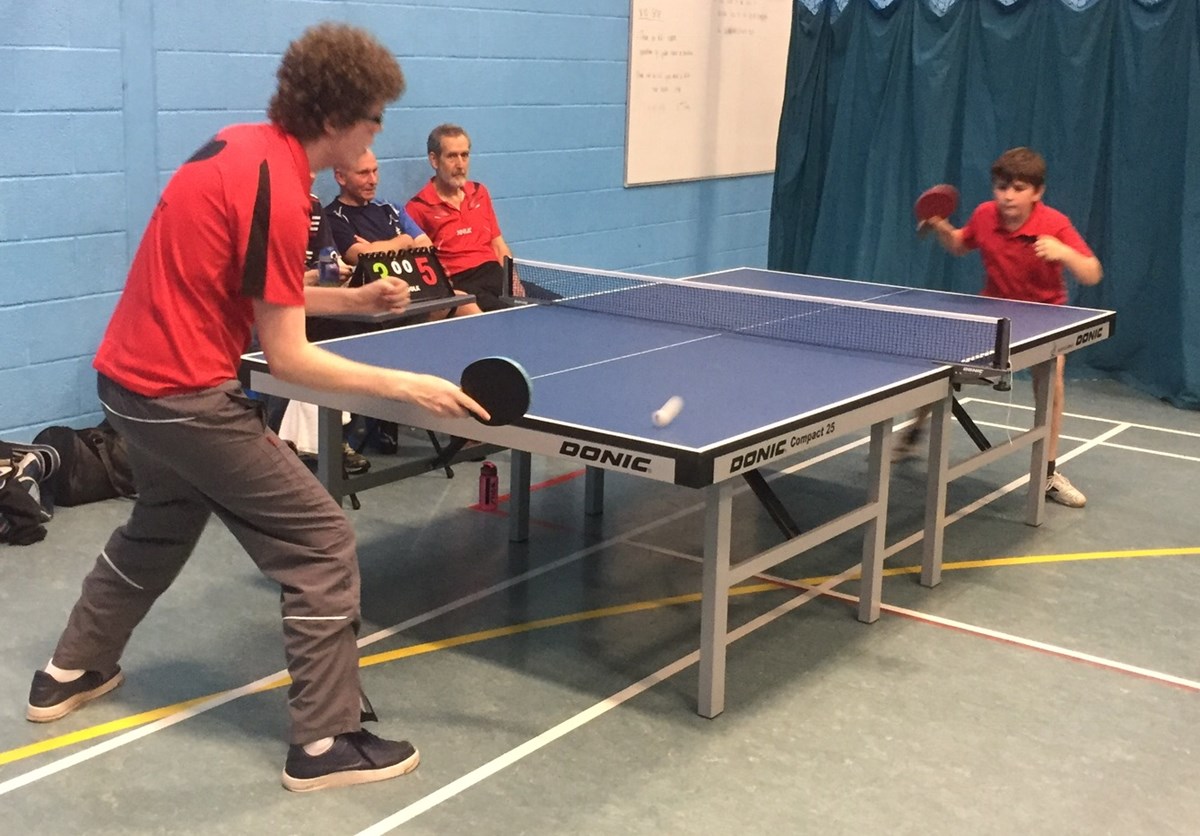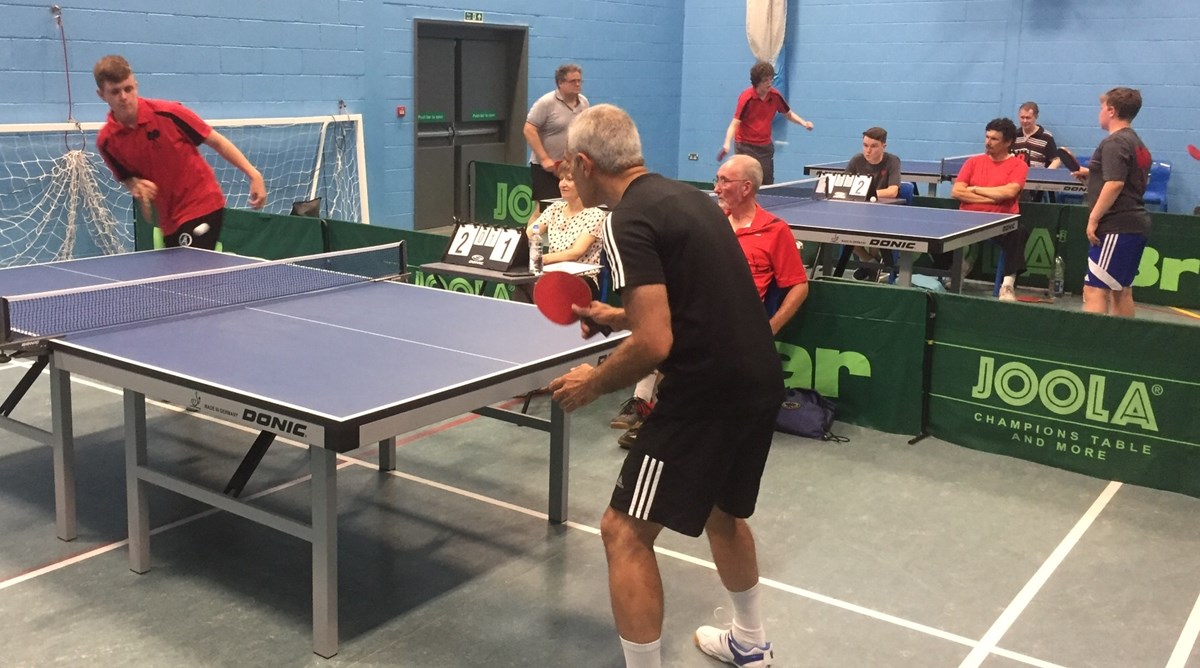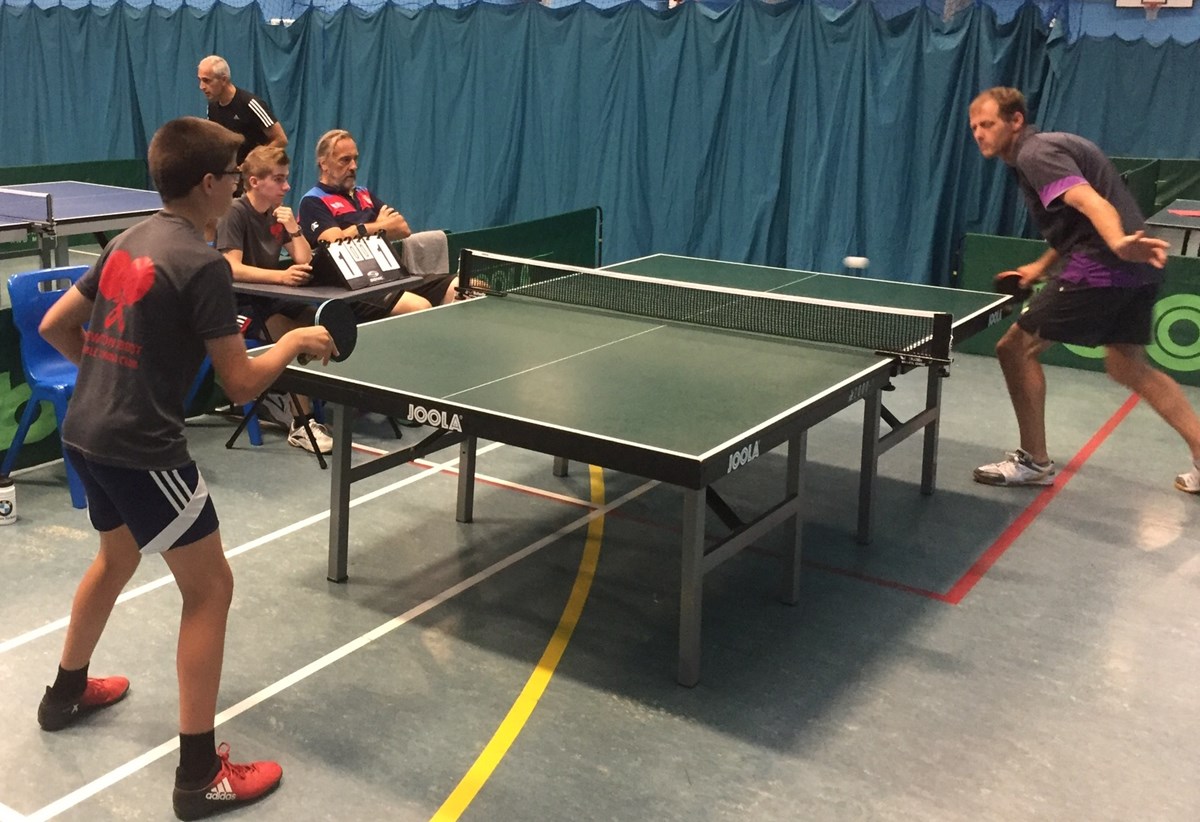 Last Updated: