NEWSLETTER - December 2017
Welcome to the latest newsletter from Newton Abbot Table Tennis Club and a particular welcome to the many new faces who have recently joined us.
Christmas closure
Our last session before Christmas will be on Friday 22nd Dec, there is NO session on Saturday morning 23rd Dec. Then we have a break between Christmas & the New Year before returning on Friday 5th Jan & Saturday 6th Jan 2018. Enjoy your Christmas & New Year!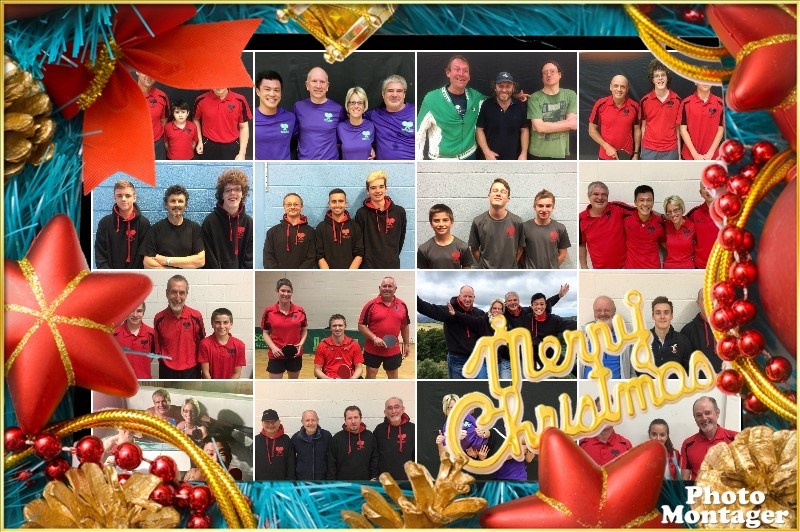 South Devon & Torbay Table Tennis League
Excellent performances have come from all 10 of our teams playing in the local League.
Division One – NA Buzzards are in the runners-up spot in the First Division, behind the excellent Torbay Academy 1 team, who again will be very tough to dislodge as champions. NA Batmen sit just behind the Buzzards in third. Great individual performances from all of our players in the top flight, and Jon Cheung is sitting at the top of the averages at the moment, although the tough Academy side are up next! All our regular players have over 50% averages which is a tremendous performance in a very tough division. Kevin Nicholls, Dennis and Shaun Gibbs all have over 70% averages.
Division Two – Just like last season, this division is going to be very competitive, and although not challenging at the top as I write, both the Eagles and Falcons (with a game in hand) will have a major say this season. The Eagles drew with the leaders last week and were leading 5-3. The Falcons, with Giles Tushingham going really well, are capable of beating any side in this division. The promoted Hawks, also behind in games played, are picking up useful points, with some excellent individual performances. Newton Abbot players high in the averages in this division are Giles Tushingham 87%, Mike Dummett 83% and Jim McIvor 75%
Division Three – We just have the Kestrels representing Newton Abbot in the Third Division. A new team with a mix of players mainly from last years Falcons, led by Dale Fabian who has stepped up from the 4th Division. With the possible exception of the two Tykes side at the top, this division is also very competitive, with the Kestrels well capable of beating all the other teams on their day. A recent 8-2 victory with maximums from Derek Stratton and Peter Tarjan, together with Robert Williams, Dale Fabian, Mike Halse and Peter Tarjan having averages over 50%, should see the Kestrels rise up the table.
Division Four – We have four Newton Abbot teams in this division, which is where we like to blood our new players; which often seems like throwing them in at the deep end, as they play experienced players from other clubs. Our 'family' team, the Bayliss Owls, with support from Travis Graham, currently sit at the top. The Kites with Richard Salt and Lewis Short are going well and are climbing up the table. Our Ospreys and Vultures with mainly new players, are finding their feet and all the regular performers have picked up wins. Flying high in the averages are Richard Salt 93%, Rowan Bayliss 83%, Tim Shears 80%, Lewis Short 75%. Gaining excellent starts for newcomers to league table tennis are Simon Baxter, Kevin Payne, Ollie Pead, Ben Pead and Jo Eckersley.
National League
Newton Abbot Table Tennis Club has now gone 'national' and is represented in the Senior British League Division C4. The league takes place over 4 weekends during the season and despite a very tough weekend back in October where we came back empty handed, we travelled up to Cippenham Table Tennis Club, Slough (Nov 4/5th) full of optimism and determined to achieve some positive results.
Well known NA club members Jon Cheung and Kevin Nicholls were joined by Wim Faassen (Devon Veteran) and young Fraser Kent, a very talented cadet from Sussex (with Devon connections). In true "buzzards" style, food was an important part of the preparation and Saturday morning started with a hearty breakfast before arriving at the venue. The first game was against the highly rated Haywards Heath (Sussex) side, including a recent visitor to our club, Tomas Pomej. The match was played in great spirits, however we came out on the losing side, with a narrow 5-4 defeat.
Unperturbed and taking several positives from the morning's play, we took on home side Cippenham TTC and we really hit our stride as a team. With some great individual performances from Wim, whose backhand hits were a joy to behold, and Fraser whose temperament is an example to all 14-year olds (and a number of more senior individuals), we achieved our first team win 8-1.
We took that momentum into the Sunday morning as we faced a Godalming side and the positive performances continued with another 8-1 result. as we took all 8 single matches.
The final match was against a strong side from Ashford table tennis club and despite another 2 singles from Fraser, our star player over the weekend who remained unbeaten, we narrowly lost 5-4. However, on the whole a great weekend of table tennis and 2 good wins for Newton Abbot! Well done team!! Kevin
South Devon & Torbay Table Tennis League – Early Season Tournament, 19th Nov, Torbay Leisure Centre
The main event, with 32 league players entered, was the handicapped Collins Cup, with also handicapped Doubles and the Excell hard bat challenge. What terrific performances from our players as we took all 3 titles up for grabs.
The Buzzards' Kevin Nicholls in the Collins Cup had to work really hard, giving many of his opponents a big lead in each game, but he battled through to the final winning two group rounds, quarter-final and semi- final to meet the Academy's Simon Furgol in the final. In a brilliant game of contrasting styles Kevin just sneaked home 12-10, 9-11, 7-11, 11-9, 12-10 to lift the Collins Cup.
Next up was our Eagles' Andy Tyrrell who partnered Brixham's Alan Maynard in the Handicap Doubles. Playing an assured safe game they fought their way to the final, where they defeated Dan Webster-Hall and George Breyley 11-3, 13-11, 12-10.
Finally, the Excell hard bat challenge, where our Buzzards' Sonja Ryland (only playing to make the numbers up following a late withdrawal) played a safe tactical game to make her way to the final, where she met Dan Webster-Hall. All Sonja's pushing experience paid off, as she pushed and blocked her way to victory in an intriguing encounter 21-18, 13-21, 21-17.
Well done to all our players and special thanks to Sonja for helping me run the event, Mike and Rob for assisting setting up the venue and umpiring, along with all those others that were only too willing to help throughout the day. A very enjoyable day of Table Tennis.
Club Sessions – These remain extremely popular, particularly on Friday nights, and together with the League matches being played in the Dance Studio we regularly have over 40 players enjoying their table tennis at Teign School on Fridays. Saturdays are a bit quieter, but with a good recent influx of newcomers this session is now getting very popular again.
Give it a go, for free – Come and join us, we are particularly keen to encourage beginners, ladies and those just wishing to get more active, at our Saturday morning sessions from 9.00 – 12.00. See who you can bring along! Remember your first trial session is free.
Table Tennis Bats– we have found a good supplier of quality rubbers and blades from China, making new bats and replacement rubbers far more affordable, ie blades from £10 each and rubbers from £4 each. Have a chat with Tony and maybe have a go with some of the bats he has made up.
Hoodies, Match Shirts, T Shirts – make great Christmas presents! These can still be ordered and personalised in time for Christmas; Hoodies £17, Match Shirts £12 and T Shirts £8.50, or all 3 for £35. Our supplier from Torquay, Clothing Your Way, have a quick turnaround, but get your order in soon. All garments are good quality and available to all our members / players.
Facebook – Check out our Facebook page for weekly updates on how our teams are progressing in the league. Please feel free to contribute items and photos.
New Table Tennis England Coach - Jon Cheung, who joined our coaching team earlier in the year, will shortly complete his Table Tennis England Level 1 coaching course so be prepared for exciting new routines!
A link to this newsletter is sent to all those players who have attended our practice sessions at Teign School in the last few months. If you do not wish to be included on my circulation list please let me know. tonyhalse@hotmail.com
Link to South Devon & Torbay Website for all fixtures and results in the local league: www.tabletennis365.com/southdevonandtorbay
Last Updated: