Individual Handicap
This is a Handicap event with capacity for a maximum of 40 players - first come, first served.
2021/22 Tournament
After a one-year hiatus, 23 players took part in the Individual Handicap Tournament on Saturday 8th JANUARY 2022 at Cippenham TTC, Slough.
Four round-robin groups produced many competitive matches with the top two players from each group then progressing to the quarter finals:
Mo Cook (-11) vs Nick Sears (-10),
Theo Kniep (-6) vs Malcolm Gregory (-7),
Andrew Adair (Scr) vs Simon Brookes (Scr),
Ryan Chung (-8) vs Huzeyfe Borazan (Scr).
While Mo was kept honest in game 1 by Nick, he easily closed out game 2 to progress to the semi-finals, where he would meet Theo, who defeated Malcolm 2-0 with some relentless attacking. Andrew beat Simon 2-0 in a game off scratch and would meet Ryan in the semis, who had dispatched Huzeyfe 2-0 with clever shot making.

In the first semi-final, Mo Cook overcame his 5-point handicap against Theo with confidence and progressed to the final with a 2-0 win. Ryan and Andrew, however, made their semi-final a very exciting one to watch, with Andrew clinging on until the end of the third game, only to lose 22-20.
The final between Ryan and Mo was a great final to watch, with Ryan's fast serves and forehand loops against Mo's more controlled attacking shots from both wings. Ryan, who had played brilliantly all day, never let Mo close the 3-point handicap gap, and won their final 2-0 (21-17, 21-17).
A more detailed report will appear later,either here or in the next RDTTA Newsletter.
CLICK HERE to see the full set of matches and results
Thanks to everyone who participated, to Paul Savage and Bill Stamatiou for making themselves available at such short notice, best wishes to those who couldn't make it, and above all; thanks to you all for the fantastic atmosphere, laughs and respect for each other. It was a great day!
Event Organiser: Eric Van Looy
---
2020/21 Tournament
This season's tournament was not held due to Covid-19.
---
2019/20 Tournament
Entries open on Monday 25th November for this season's tournament which will take place on Sunday 5th January 2020 at Kingfisher TTC.
enter via - TOURNAMENT SOFTWARE
To enter you will need to create an account on Tournament Software or login to your existing account there and provide your name, email address, phone number, date of birth, Club name and TTE membership number.
By entering this event you are agreeing to Tournament Regulations
If you have any problem entering, please contact the organiser.
The draw will made made on 2nd January, after which an email will be sent to all entrants informing them of their reporting time.
---
2018/19 Tournament

This season's tournament took place on Sunday 6th January 2019 at Kingfisher TTC.
It was won by Mo Cook who beat Rajant Sawant in the final. (more details to follow)
See all results via - TOURNAMENT SOFTWARE
Many thanks to Wendy Porter who arranged and ran the tournament on the day.
---
2017/18 Tournament
The 2017/18 tournament was held on Sunday 7th January 2018 at Kingfisher Table Tennis Club.
> Click HERE to see all the results
Report
The full quota of 40 players took part in this season's tournament which comprised 8 groups each with 5 players. Four groups were completed in the morning, four more later in the afternoon and the 8 group winners then competed in the quarter-finals.
It was nice to see such a mix of players from the youngest player (Om Gore who is only 8 years old) to some of our older players and including new players (seniors and juniors) as well as our old faithfuls across all divisions in our league (1-5 & Youth). Gwynne Penny and Rishika Desai flew the flag for the ladies - lets see if we can get some more next year.
The day saw some fantastic matches, lots of contests going to 3 sets and lots of deuces, showing good handicaps for the most part. There were a few that were rather generous, although I'm sure these will be rectified next year.
Many of the group winners were not decided until the final set of the group. And with so many close games, it was very entertaining and exciting to watch.
Top players like Daniel Moses, Joe Barraclough, Lee Calcutt and Julian Telford, were made to work hard for their points and though giving massive starts (some the maximum of 18) and some seeming impossible feats, they showed themselves to be great role models and ambassadors of our sport.
I received many comments of how impressive the conduct and ability of the juniors was from both players and spectators alike. Well done to you all.
Congratulations to Andy Wang who beat Clive Gold 21-13, 21-2 in the final to become the 2018 Individual Handicap Champion.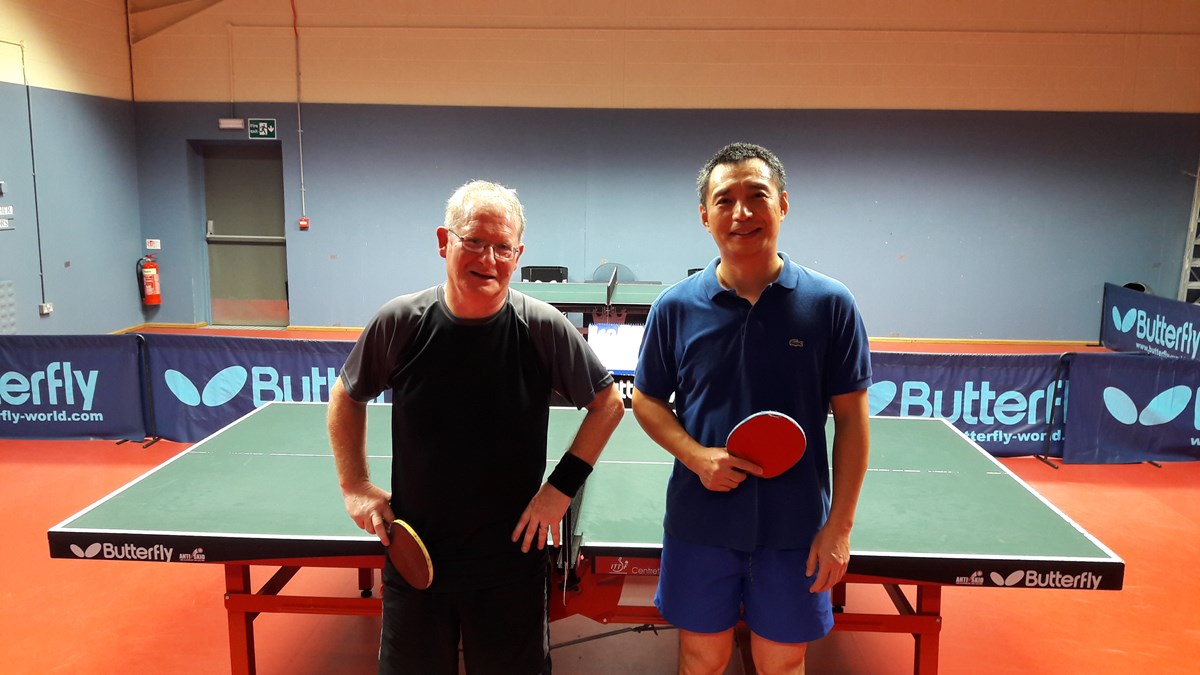 Thanks to Allan Bruton of Kingfisher TTC for opening up early and ensuring everything was clean and ready for the day, then for coming back near the end to clear away again.
Thanks to all the players for keeping the day running smoothly. It made for a very enjoyable day for me, and a good start to 2018.
I hope everyone enjoyed themselves and I hope to many of you again at next year's tournament.
Wendy Porter, Event Organiser
---
2016/17 Tournament

The 2016/17 tournament was held on Saturday 21st January 2017 at the Kingfisher Table Tennis Club.
Report
The event started 30 minutes late, due to really bad, icy conditions that morning and to allow for latecomers who hadn't paid attention to the time they were told to report. Some didn't as they thought they didn't need to arrive until the time of their first match. (If everyone had done this, there would have been no-one to umpire the first set of matches!)
One reserve stepped in to replace a late withdrawal and another arrived at very late notice to take the place of a "no show", so the full complement of 40 players enjoyed a full day's play through to the presentation at 5:40pm.

The 8 round-robin groups each produced a clear winner who went through to the knock-out quarter-finals. After some closely contested semi-finals the final was between two OLOP players, Felix Thomis (of Division 1) and Tamir Slobodskoy (of Division 4), but it was the lower ranked player who ran out winner.

Click here - to SEE ALL THE MATCH SCORES
The Tournament was run using a new piece of software "Tournament Planner" and it's online equivalent "Tournament Software" which enabled the match results to be published online throughout the day as the tournament progressed. This allowed many players to use their smartphones to check the results. group standings and the knock-out draws as the day went on.

If anyone who took part has any comments on the tournament or how it was run, please email rdtta.uk@gmail.com

Many thanks to Wendy Porter who ran the event on the day and managed to get her head around using the new software.

---
2015/16 Tournament
Round 1:
Group 1 : John Upham 2 wins, Alan Goold 2 both qualified; Paul Treadgold 1, Eric Holmes 1.
Group 2 : Joe Barraclough 1 win, Luca Bianchi 1 both qualified; Krys Szczygiel 1.
Group 3 : Wendy Porter 3 wins, Andrew Adair 2 both qualified; Denise Weller 1, Gwynne Penny 0.
Group 4 : Thomas Perkins 2 wins, Jarek Chmielowiec 2 both qualified: David Joyce 1, Ania Pytka 1.
Group 5 : Richard Witt 3 wins, Carl Edlind 2 both qualified; Derek Wavell 1, Keith Greene 0.
Group 6 : Mark Edwards 2 wins qualified; Joe Bull 1, John Evans 0.
Group 7 : Zoltan Kelemen 2 wins qualified; Tony Hayden 1, Jim McClure 0.
Round 2:
Group A : Luca Bianchi 2 wins, John Upham 1, Richard Witt 0.
Group B : Jor Barraclough 2 wins, Andrew Adair 1, Mark Edwards 0.
Group C : Jarek Chmielowiec 2 wins, Wendy Porter 1, Zoltan Kelemen 0.
Group D : Thomas Perkins 2 wins, Carl Edlind 1, Alan Goold 0.
Semi-Finals:
Luca Bianchi bt Thomas Perkins 17-21, 21-15, 21-15.
Joe Barraclough bt Jarek Chmielowiec 11-21, 21-11, 21-16.
Final:
Joe Barraclough bt Luca Bianchi 21-7, 21-18.
---
Last Updated: