Table Tennis League Tournament Report 2021/22
Title: Paul Stebbing back to the summit with Prem Singles Title and Graeme Moorby taking the Championship singles accolade!
The Lancaster and Morecambe Table Tennis League Annual Tournament took place last weekend at Morecambe Community High School. The tournament is the most prestigious within the local Table Tennis calendar and this year the Blue Ribbon event prize for the Premier Division singles champion was won by Paul Stebbing representing Trimpell with Ben O'Flynn also from Trimpell as Runner-Up. In the Championship singles competition we see a blast from the past with Graeme Moorby taking the title over Ernie Lo from University as Runner Up. It was the first time that St Lukes had submitted entries to the competition for a number of years and it was pleasing to see Mustafa Haider/Harrison Lewis taking the Championship Doubles title with all clubs represented this year and all clubs taking a share of the spoils.
Premier Singles Winner: Paul Stebbing (Trimpell)
Premier Singles Runners Up: Ben O'Flynn (Trimpell)
Prem Singles: Paul Stebbing receiving Trophy from Catherine Balshaw
Premier Doubles Winners: Paul Stebbing/Ben O'Flynn (Trimpell)
Premier Doubles Runners Up: Scott Barker/Catherine Balshaw (University)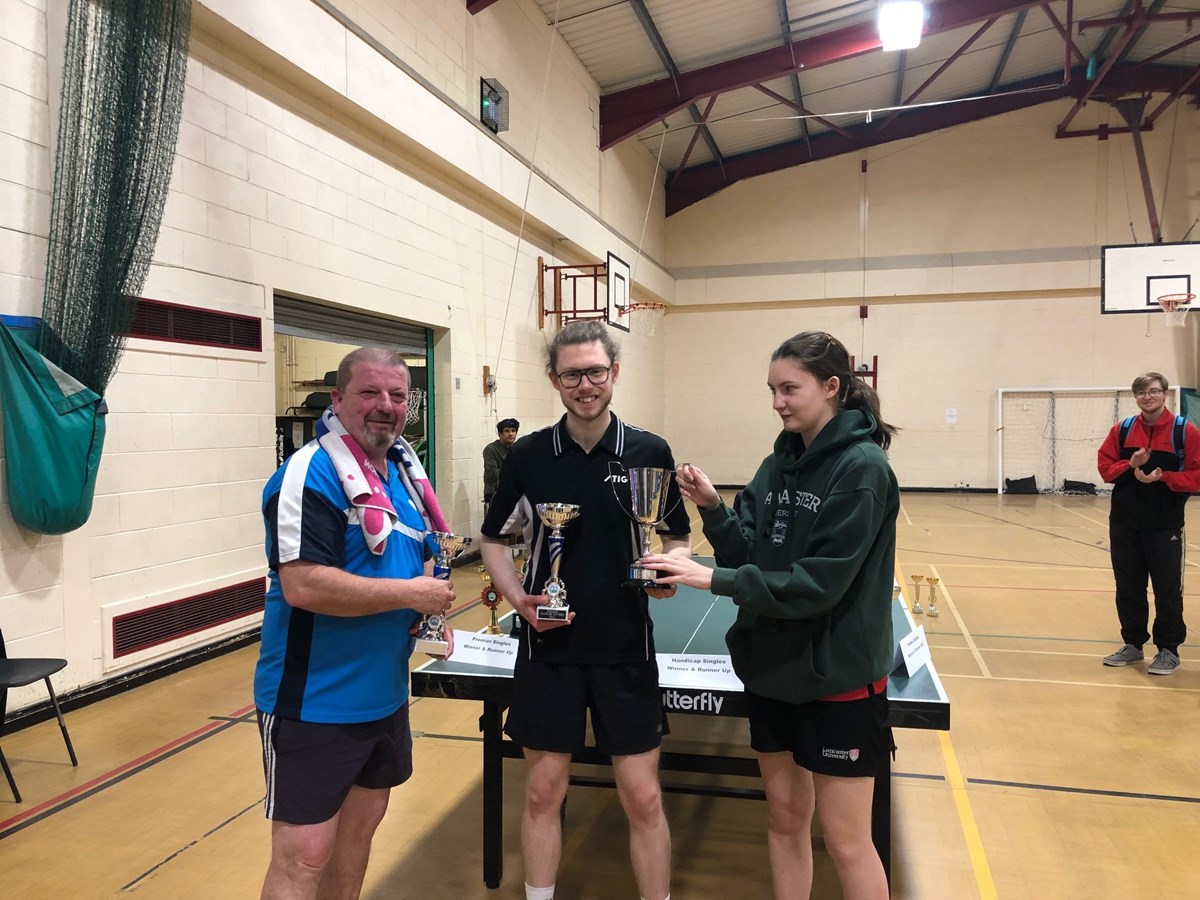 Prem Doubles: Paul Stebbing/Ben O'Flynn receiving Trophy from Catherine Balshaw
Championship Singles Winner: Graeme Moorby (Trimpell)
Championship Singles Runners Up: Ernie Lo (University)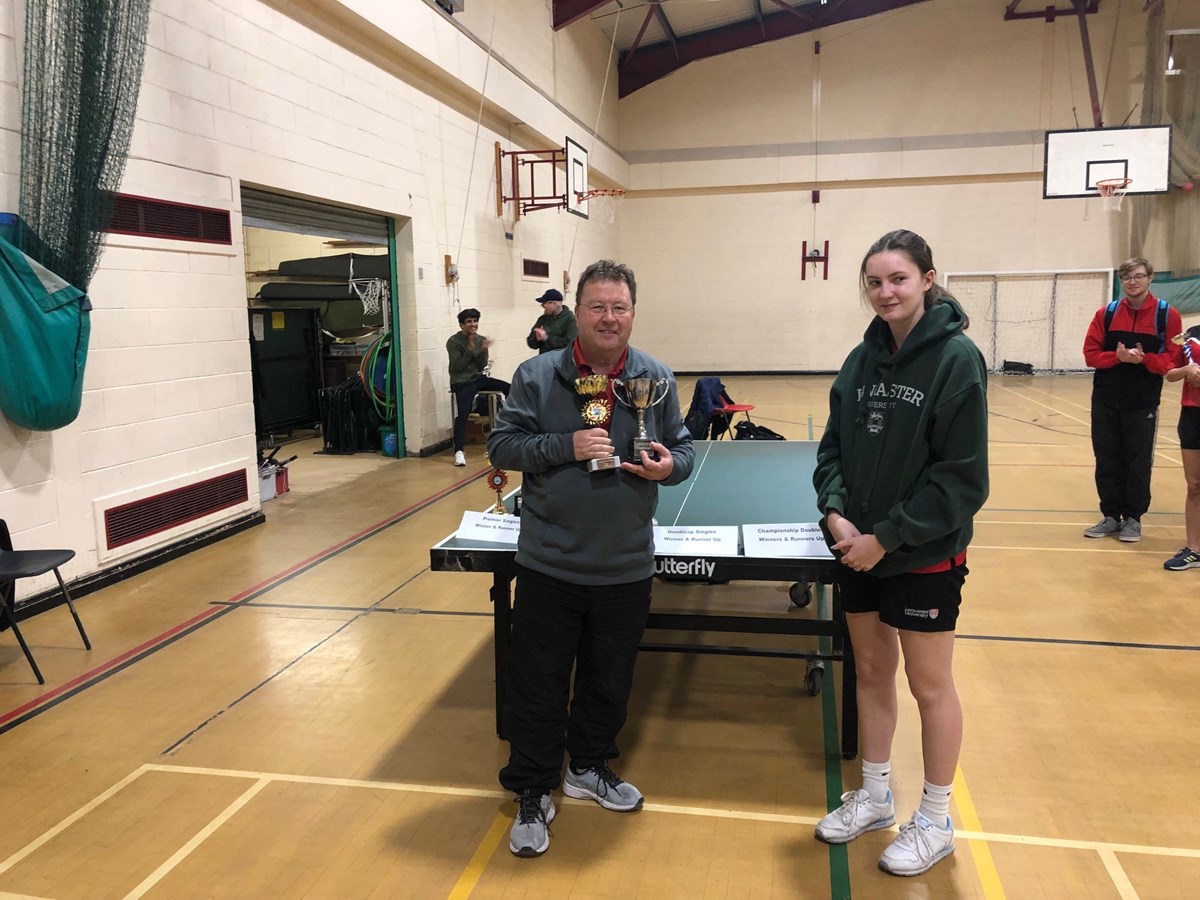 Championship Singles: Graeme Moorby receiving Trophy from Catherine Balshaw
Championship Doubles Winners: Mustafa Haida/Harrison Lewis (St Lukes)
Championship Doubles Runners Up: Graeme Moorby/Jerzy Szydlowski (Trimpell)
Championship Doubles: Harrison Lewis/Mustafa Haida receiving Trophy from Aditi Dhillon
Handicap Singles Winner: Paul Stebbing (Trimpell)
Handicap Singles Runners Up: Peter Wood (Trimpell)
Handicap Singles Runner-Up: Peter Wood receiving Trophy from Aditi Dhillon
Championship Winners: Trimpell City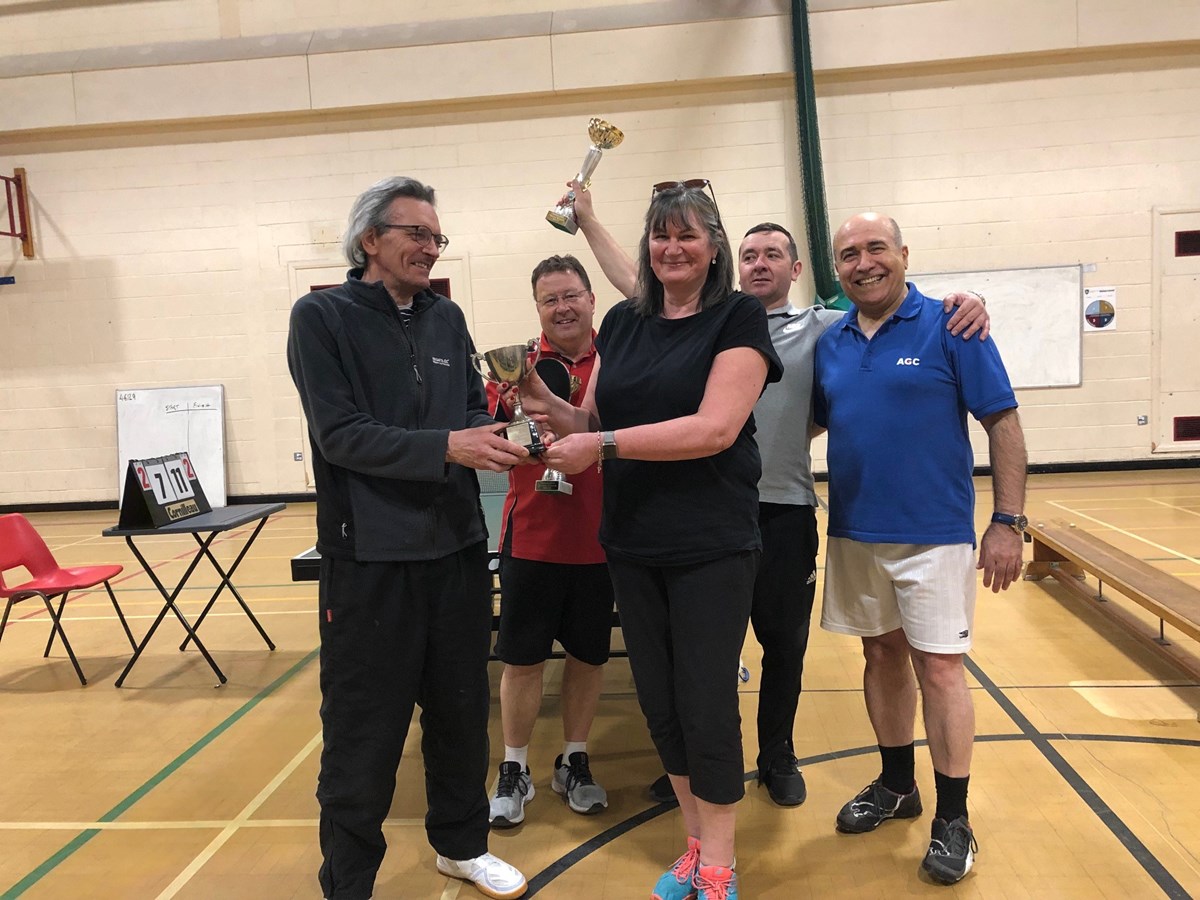 Championship Winners: Trimpell City receiving Trophy from Pam Cheetham
Article Published:
Last Updated: