END OF WINTER LEAGUE REPORTS - 18-19
FINAL WINTER LEAGUE 18/19 REPORT
PREMIER DIVISION

It's been a great season in what must be one of the best premier divisions in the country. The high standard of players, traveling long distances just to play in Southend is testament to the quality of the table tennis. Anyone who likes the season going down to the wire and the 'Aguero' moment would have been delighted this year as the season went down to not just the last match but the final game of the season. I have written a separate report on that match which you can find on the Southend TT website so I'll concentrate on the rest in this report, but can I just again congratulate Thorpe Bay A for retaining their title and thank Rawreth A, who actually went unbeaten on the season, for pushing them all the way and giving us that enthralling finish.

The improvement in the game of Liam Squirrell added to the already solid squad of Bhambra, Skeggs and Stubbington was a big part of why Thorpe Bay B finished in a very creditable 3rd place so a big well done should go to them. Hullbridge A and B find themselves in 4th and 5th place with the A team finishing 18 points ahead of the B side.

The mid table sides that make up positions 6, 7, 8 and 9 were Hockley A, Rawreth B, Rayleigh Mill and Brand Identity. All of which recorded some great wins over the season but perhaps lacked the consistency to push any higher.

In 10th came Hullbridge C one of our most exciting teams in that they are made up, in the main of our up and coming juniors who are getting better each season. Dan Zeffie, Daniel Young and Harry Keys, Adam Jackman and Reece Harris-Griffiths had some great wins and were a credit to Hullbridge this season and will only get better and better before and during the next campaign.

In 11th and 12th came the two Warehouse sides with strangely the B side just pipping the A team by 6 points. This in the main was from the games where they were able to field Simon Rudland and decent win percentage from his brother Mark and Harry Small.

The bottom two teams were Hadleigh Forum A and Stanford le Hope who we hope aren't away from the Premier division for two long as both sides have players who the rest of the league enjoy playing against and spending time with.

So now is the time for Summer League or a long rest, some practice and maybe the chance to experiment with a new rubber or blade. Have a great summer all and see you back here in September.
Report from Duncan Taylor

FINAL PREMIER DIVISION TABLE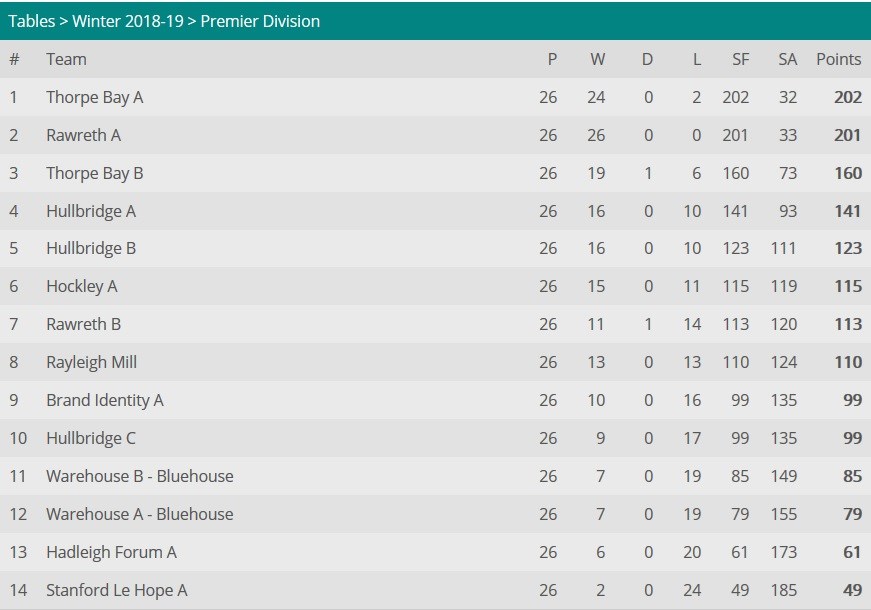 Division 1
An entertaining season came to a climax at the end of April. Lentern A proved worthy winners by some 32 points finishing with 180 points and only losing 3 matches all season (Hullbidge D did well to do the double!).
After a slow start, Hockley B finished runners-up with 148 points, a place they occupied from week 4. There were a few losses towards the final month, leaving a slight gap for the chasing Invicta A team, but in the end, time ran out and a 7 point gap was sufficient to take second place. There were 8 losses overall however (4 in the last month) which would indicate that life in the Premier may be tough unless there is some strengthening to the team.
3 man Invicta A ended in a credible 3rd position only using one other player to cover for one match, with all the players increasing their win % over the previous season. Rumor has it that captain Steve Marr, will be chancing his arm in the Premier next year so they will need to find an adequate replacement to keep in this position and challenging for promotion.
At the other end of the table, Rawreth D used no less than 10 players in an effort to avoid relegation but after hitting bottom in week 5, were never able to pull themselves clear to finish on 56 points and looking at relegation next year back to Division 1.
Hockley C benefitted from the use of Premier Star, Chris Ballard, in the early weeks of the season and reached the heady heights of 5th in week 5, winning 3 of the first 5 games. Unfortunately, following Chris's departure to the higher teams, there was no-one who could fill his large shoes and a decline to second from bottom in week 13 meant they were never able to recover, winning only another 5 matches for the rest of the season after week 5, ending on 81 points, and potential relegation next year.
All the other teams were capable of beating each other, depending on what players turned out, so there was much swapping of places between 4th – 12th places with only 37 points separating these places.
Report from Barrie Delf
FINAL DIVISION 1 TABLE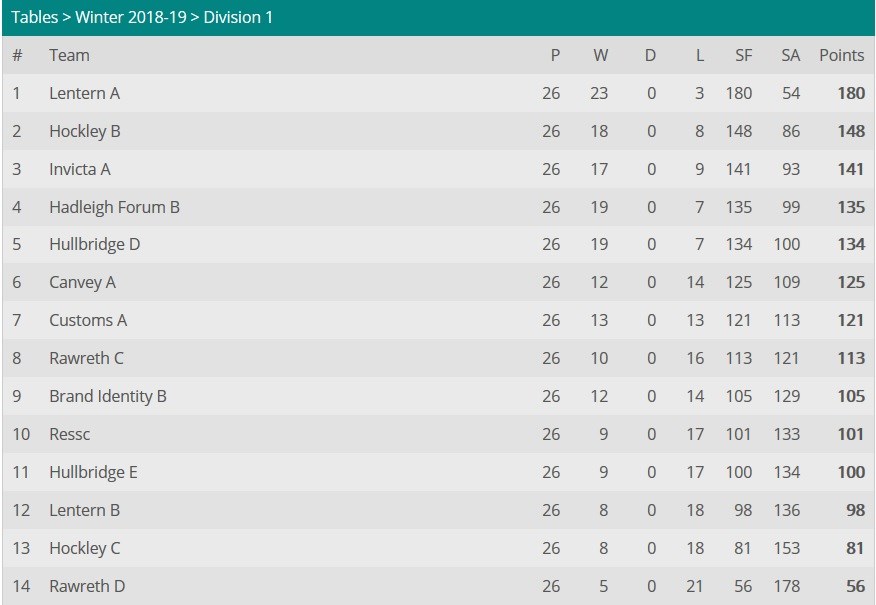 Division 2
With Wakering sitting third in the league and Hockley fourth, and with no chance of either team improving on that position there seemed very little to play for in their match this week. In fact it turned out to be a very close fought encounter extending almost three hours with four matches going to five sets and only one finishing in three. Paul England guided his team to a 6 – 3 victory with a hat trick, ably assisted by son Zac (two wins) and Stewart Mills with one. For Hockley there was a return to form of the ever-improving Gary Linzell, with a brace, and one for Paul Strutt who was unlucky to lose both his other games in five sets. Both teams have, therefore, completed good seasons and Wakering, especially, must consider themselves as one of the favourites for promotion next season.

The last week of the season didn't change the fortunes of Rawreth E. Yet again they were unable to field a team, so had to concede all nine points to Runnymede. This has happened too often – it is no wonder they find themselves propping up the rest of the division.

Runaway champions Hadleigh Forum C finished in style when visiting Warehouse C. They meted out a 9 – 0 trouncing. Keith Willett, Satwant Gill and Paul Fawell were all far to good for their hosts (as they have been for nearly every team in the division this season).

In an end-of-season relaxed match, Canvey B overcame their guests Invicta B 5 – 4, despite a Neil Daines hat trick for the visitors. Tony Westwell and Lee McGonagle each had two victories, and Des Duffield one. Andy Humphris got Invicta's other point.

There was more intensity in Stanford Le Hope B's 8 – 1 home win over Canvey C. Only Canvey's Steve Robinson offered any resistance, whilst Russell Bright was again Player of the Match with three wins, a feat emulated by Chris Crooks. John Handscombe won two.

In the final Rawreth 'derby' of the season, Rawreth G overcame Rawreth F 9 – 0, a result that confirms the F team's place second from bottom in the table. George Davis was again the G side's star player, although Rob Wood and Andy Deadman weren't far behind.
Report from David Barnes
FINAL DIVISION 2 TABLE



DIVISION 3 - FINAL REPORT
The curtain came down on the last week of the Winter League in Division 3 (albeit there is one rearranged match to play between Hullbridge H and Customs B) and, with the title and runners up spot still to be decided, the match between Hockley E and Customs B held all the answers.
Hockley knew that an unlikely 9-0 win would pip Stanford to the title whilst they still needed three points to take second place and rule out Customs. Customs needed a minimum 7-2 win to keep them in with a chance of overtaking them.
Tubby Henlen has been a shining light for Hockley in the division this season progressing up from the G team to help out the E team in the second half of the season and, prior to this match, had only lost once all season. Going in to the first game against Custom's Mark Rose therefore, Hockley would have been confident of a good result but Mark ruined their title hopes and boosted their own chances of promotion with a five set win. Tubby's team mates were not immediately affected by this however, and Aaryan Vatsa and Andrew Strutt both won their games before Mark dented Hockley's hopes again, beating Aaryan in another five set game to leave the match poised at 2-2. With one point needed to clinch the runners up spot Tubby then returned to winning ways to beat Alex Clark in straight sets and settle Hockley's nerves. The game was destined now to go to the final match and, after Mark completed his hat trick with another five set win, this time against Andrew, Tubby beat Richard to win the match for Hockley 5-4. Richard picked up the other point for Customs against Andrew whilst Tubby and Aaryan both finished with two wins.
A great season for Hockley E who achieved their best ever finish.
With the battle for third and fourth place still to be decided Invicta put themselves in the driving seat with a 9-0 crushing of Warehouse D. John Golding, Trisha Winter and Jon Gould were in fine form only losing four sets all night and they now sit third, six points ahead of Customs who have one game to play. Trisha took the MOTM honours.
Pushed down to fourth by one point were Stanford C who edged out a two man Canvey D 5-4. Geoff Banthorpe was, once again, in fine form winning all his games and Ray Baker added the fourth. Max Russell and Mark Downey were the point winners for Stanford.
The final game of the week saw a bottom of the table clash between wooden spoonists Hockley F and Rawreth H. An 8-1 win for Hockley gave them some compensation for finishing below their opponents but it was a close match with three games going the distance. Hermann Maier and Graham Gregory won all their games and there was a brace for Kevin Blythe. Charlie Kauders-Boothby got the consolation point for Rawreth and he was unlucky not to win more losing in five sets to Hermann and Graham.
Player of the Week – Mark Rose
Team of the Week – Hockley E
Congratulations to Stanford Le Hope D Division 3 champions and Hockley E Division 3 runners up.
Report from Paul Strutt,
FINAL DIVISION 3 TABLE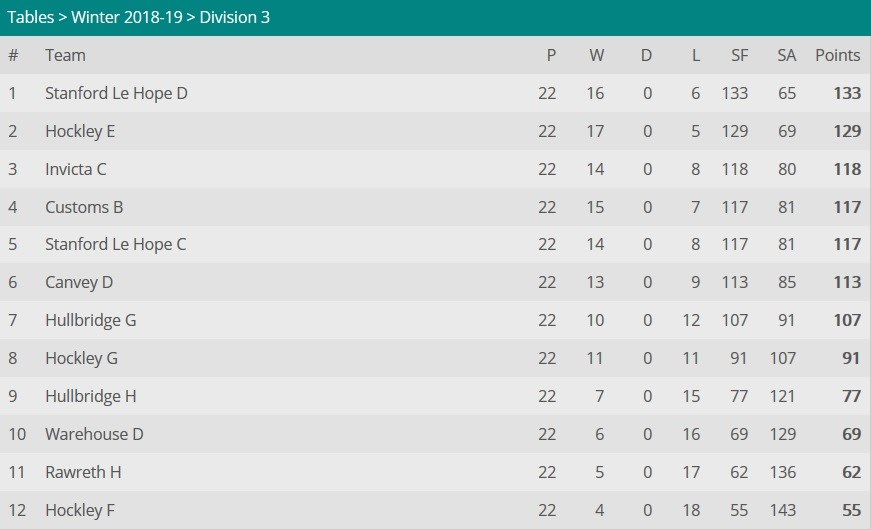 Author:
Ylber Makolli
via Southend Table Tennis League
Article Published:
Last Updated: