WEEK 26 REPORT WINTER LEAGUE 18-19
WEEK 26 REPORT
Premier Division
Keith Adams was in fine form as he warmed up for the Basildon Closed with three wins for Hullbridge B against their A side. Reece Seddon, Richard Brown and Dave Bowles all winning two games to lead to a 6-3 win for Hullbridge A.
Warehouse A can count themselves unlucky to go down 6-3 to Hockley A. It was such a close match with 5 matches going to the final leg with Warehouse finishing second in all of them, Ian Wall took the man of the match award.
Rawreth B could only field Bruce Kettle this week so Stanford gaining some much-needed points, but all 3 games played turned out to be very close, Andy Paton taking Bruce's scalp and Ryan and Derrick both taking Bruce to 5 sets before losing to give us a 7-2 score line.
Rawreth A continued their fine form with a 7-2 win over Thorpe Bay B. Minda Sinkus and Steve Tilson were unbeaten while there were wins for Kieran Skeggs and Liam Squirrell over Kevin Read.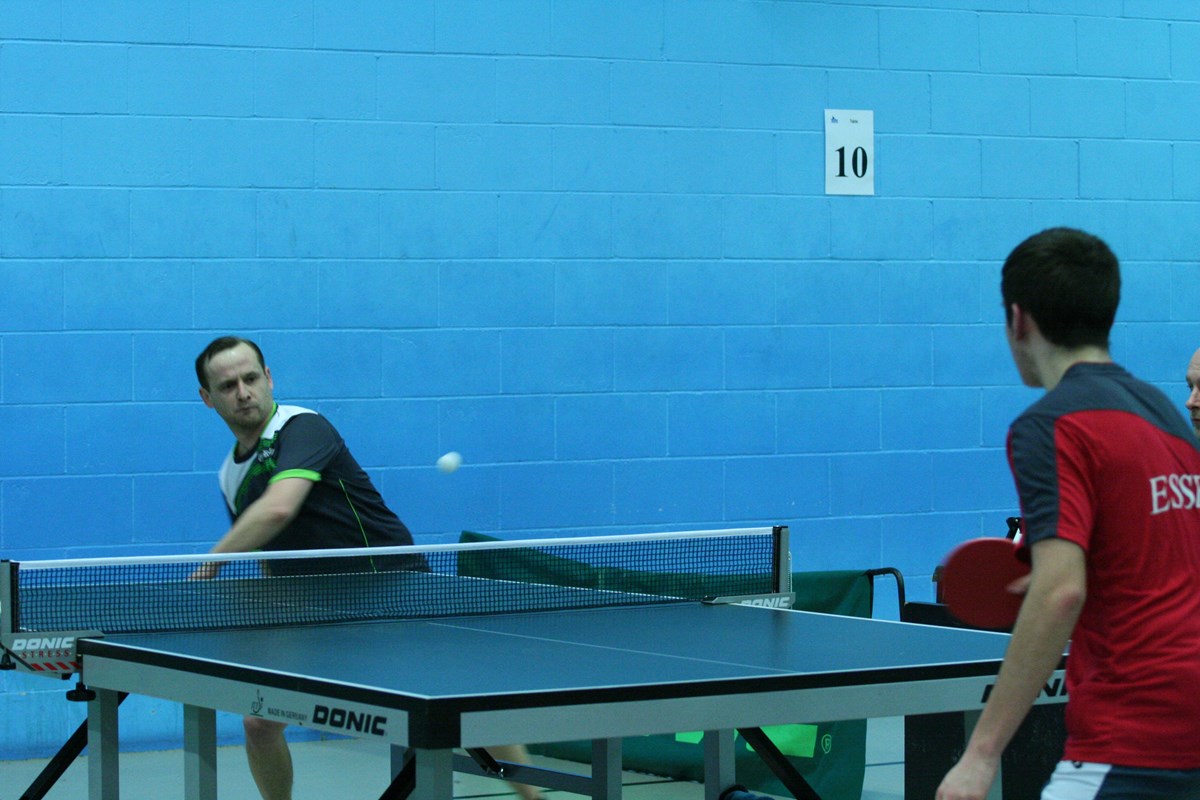 Rayleigh Mill were involved in a tight affair v Hadleigh Forum but came out on top thanks to three wins for Peter Radford and a win a piece for the two Steve's, Maltby and Sawyer.
Thorpe Bay A were taking no prisoners this week as they beat Brand Identity 9-0. They only dropped two legs on the night as Barrie Delf and Richard Jackman went down 3-1 to Joe Kennedy.
Harry Keys delivered a top performance as he won his three games for Hullbridge Cagainst Warehouse B. This contributed to his sides 7-2 win with Warehouse's points coming from wins for Mark Rudland and Berti Makoli over Glenn Johnson and Daniel Zeffie respectively.
Duncan Taylor DRS Premier Division
1st Division
Lentern A suffered a rare loss this week by 6-3 to Hullbridge D. It still leaves them with a comfortable lead at the top with diminishing games left. In a match where no-one was unbeaten and everyone won at least one game, the solid allround play from the Hullbridge team won the night. Mike Johnston, Lin Roff and Charles Yeung each scored two each for Hullbridge, whilst Steve Barker, Peter Cranmer and Martin Archie all scored one each for Lentern. Surprisingly, only one game went to 5 sets.
Hockley B failed to take full advantage but did win a close encounter 5-4 against Hadleigh Forum B. Dave Colwill was unbeaten for Hockley with Dave Chenery and Josh Copeland adding one each for the win. John Tendler and Dave Woolmer scored two each for the Hadleigh side, but Anthon was unable to trouble the scorers to get the win for the Forum side.
Invicta A kept up the pressure with a good 6-3 win over a two-man Customs A. Mike Piper was unbeaten for Invicta including a good win over Roy Thomas. Steve Marr added the only other win, with the rest made up with Forfeit points, with Tony Ayliffe losing to both Customs players. Roy Thomas scored two with Brian Rackham adding the final point.
Canvey A had a good week with a 9-0 win over bottom club, Rawreth D. Terry Giddens, Ray Wilson and Andy Murray all put the Rawreth players to the sword to remain unbeaten on the night. Caroline Cole put up the most resistance with all of her games going to 5 sets, but not quite able to get over the finishing line.
Rawreth C went to Brand Identity B and came away with a close 5-4 victory. Trevor Ward and Colin Clements each scored two each with John Blackman adding the final point. David Jacob played well for Brand to win all three but only Kelly Yuenyongpknan could add a further point with Seam McNabb unable to get to grips with the different styles of the Rawreth players.
Lentern B were another team with a 5-4 win, this time over Hullbridge E. Two each from experienced players Gus Heath and Pat White and one from Wayne Farmer pulled the team through, despite stubborn resistance from Ben Matthews who scored all three for Hullbridge. Will Skelt scored the final point for Hullbridge.
Finally, Hockley C put some much-needed points on the board with a 5-4 win over RESSC. Dan Patynski played well to get only his second maximum of the season and was supported with two from Keith Abbott. For RESSC, Kevin Smart scored two with Ron Coutts and Bob Skews adding one each. This still leaves Hockley C in trouble second from bottom.
Barry Delf DRS Division 1
2nd Division
Leaders Hadleigh Forum C recorded another 9 – 0 victory. This week's victims were Hockley D. The home side's trio of Tony Mace, Paul Fawell and POM Keith Willett were in untouchable form.

Rawreth G were only able to muster two players for their away trip to Runnymede. Tony Coeshall and Barbara Shead were in fine form for Runnymede, whilst George Davis' single success saved Rawreth's blushes in an 8 -1 reversal.

In the Rawreth derby, the F team were also unable to find a third player for their away fixture against the E team. The home side's Nunn trio of Bradley, Ethan and Chris came out narrow 5 – 4 winners, with Chris taking POM. The visitors' Keanan Ford and Botond Mezo, with to wins apiece, must have been left ruing what might have been if they had had a full compliment.

Second place Stanford le Hope B keep in touch at the top with an away win at Canvey B. Brian Spencer's hat trick, with two wins for Adrian Armstrong and one for John Handscombe, gave them a 6 – 3 victory. Tony Westwell got two for Canvey and Lee McGonagle one.

Wakering likewise kept in contention with a 7 – 2 win at Warehouse C. Stewart Mills was their star winning all his three. He was well supported by Zac and Paul England who each one two. Saurabh Mohal was responsible for both the home side's wins.

Age and experience got the better of youth and energy in the match Hullbridge F vs. Brand Identity C. A maximum from veteran Richard Riebold two from Robert Platt and one success for John Beddow saw the visitors to a 6 – 3 success. Joe Buscombe won two and Dan Mansfield one for Hullbridge.

A David Barnes hat trick was not enough to save two-man Invicta B from defeat at home to Canvey C. The visiting trio of Steve Robinson, Tony Molisso and Jo Hills shared equally their points in another 6 – 3 away win.
David Barnes DRS Division 2
3rd Division
It seems to get harder by the week to predict what might happen in Division 3 this season. The leadership has swapped hands so many times already any one of the top seven teams could still claim a promotion place and it happened again this week in spectacular fashion.
A meeting of table toppers Hockley E and promotion rivals Stanford Le Hope D looked certain to produce a hard fought match and a close result but, instead, Stanford put out their big guns and literally blew their opponents away with a crushing 9-0 victory. Dan Harris led the way with the perfect hat trick, not dropping a set, and Mark Farley and Tony Papasifakis played their part equally well giving few chances to the opposition. Andrew Strutt, Ron Rogerson and Jason Stringer all took one opponent to five sets and Jason actually led 2-0 against Mark, but none could claim a consolation win.
This win has to be a big boost to the Stanford boys hopes for the rest of the season whilst Hockley must hope for a positive recovery when they play Canvey in their next game. Stanford now sit top of the league.
In total contrast to a one sided game Rawreth H and Hullbridge H fought out the closest of encounters with the match going right down to the wire. Hullbridge swept into an early 3-1lead only for Rawreth to fight back and lead 4-3 before the final two games. Wins for Dave Zeffie and Ben Cannon however, tipped the scales back in favour of Hullbridge to give them a 5-4 win. In a match between two sets of youngsters it was the slightly older head of Dave who took MOTM honours with one win each for Ben and Katie Tanner. Charlie Kauders-Boothby won two and Mason Murray and Ethan Silvester one each for Rawreth.
Two other promotion rivals also met and Customs B and Invicta C did produce what would have been expected, a narrow 5-4 victory. The win went to Customs despite the best efforts of Trisha Winter who successfully froze out her opponents to secure an excellent hat trick. Keith Baxter providing Invicta's other point. The Tax Men always held the edge in this match but it was 4-4 going into the final game which Mark Rose won in straight sets against Keith. Mark finished with a brace as did Richard Kidd, who came back from 2-0 down against John Golding, and Dean Johnson got the other point.
Stanford Le Hope C ran out easy winners 8-1 against Warehouse D but three games went to five sets and four went to four sets so it wasn't quite plain sailing for Stanford who now sit fourth in the table. Mark Downey and Peter Moxham both won three and Peter Handscombe two for the home side whilst Graham Back picked up the consolation point for Warehouse. For those of you who love a good statistic every match had at least one 11-7 score line in it and out of the 37 sets played no less than 15 finished 11-7.
On the same night Hockley E went down 9-0 to Stanford their F team suffered a similar fate to Canvey D. Geoff Banthorpe, Ray Baker and Steve Parker boosted the Islanders hopes of going up even though they are seventh in the table and they could yet have a big say in who goes up from the division. Hermann Maier, Benedict Brown and Kevin Blythe tried in vain for Hockley only winning two sets all night.
Player of the Week – Trisha Winter
Team of the Week – Stanford Le Hope D
Paul Strutt DRS Division 3

Author:
Ylber Makolli
via Southend Table Tennis League
Article Published:
Last Updated: