WINTER LEAGUE 15-16 END OF SEASON REPORT
Sdttl 2016 Winter League End of Season Reports.
Premier Division:-
Congratulations to Rawreth A, our new Premier Division champions. Losing only one game all season, the squad of George Reeves, Kevin Read, Charles Sweeney, Tony Halling, Ross Saxby, Lee Prentice and Keiran Lally have really impressed this season. Five of the Rawreth squad finished with averages of over 75% with Southend Men's Singles Champion Tony Halling finishing the whole season unbeaten.
The two teams that have pushed Rawreth to these dizzy heights should be commended on their impressive seasons and they are Thorpe Bay A skippered by John Poysden and Hullbridge A who gave some Premier League experience this season to two of Essex's most promising young players Sam Hume and Zoe Davies. By playing with experienced Hulbridge players such as Kevin Caldon and Stuart Gibbs can only help these players' development and we look forward to them winning many more games in the Premier division next campaign.
Thorpe Bay B finished a commendable 4th, an achievement of note when you consider that they have a squad of only three players, Richard Stubbington, Gurj Bhambra and Keiran Skeggs.
I think the teams that find themselves finishing in 5th-8th places (Rayleigh Mill, Castle Point, Rawreth B and Lentern A) just shows how strong in depth the Southend League is these days when you consider some of the players within those teams, Peter Radford, Minda Sinkus, Keith Adams and Django Fung amongst a whole host of other players who on their day can beat anyone in the league and therefore take points off the top teams.
Just below them in positions 9 to 12 and therefore above relegation are Hadleigh Forum, Rawreth C, Rawreth D and Warehouse A. Despite their teams positions in the league a number of players still finished with very impressive averages for the season such as Matt Spero (Rawreth C), Ben Warner and the ever improving Reece Seddon (Rawreth D). Warner's season was shortened by injury otherwise I'm sure he would have taken many more scalps than he was able to.
In any great division there has to be someone at the bottom and this year it was Lentern B. I'm sure all the Lentern B players will be much better for their time in the Premier Division and I'm sure they will be a force to be reckoned with in Division One next year. A special mention must go to Steve Appleby who played every one of Lentern B's games, with Steve personally playing 70 matches over the season.
One final word must go to Hullbridge B who were unable to complete the season, I think I speak for us all when I say that I hope we see those Hullbridge B players, many of whom have played in the league for many years, back next year, whether that be for Hullbridge or elsewhere.
Thanks all captains for your help on getting the scores reported on time and to all players for making it a great season. See you all next year, when this divisional secretary hopes that he is luckier with injuries so he can spend as much time playing as he does putting the scores on the doors.
Have a good summer all
Regards. Duncan Taylor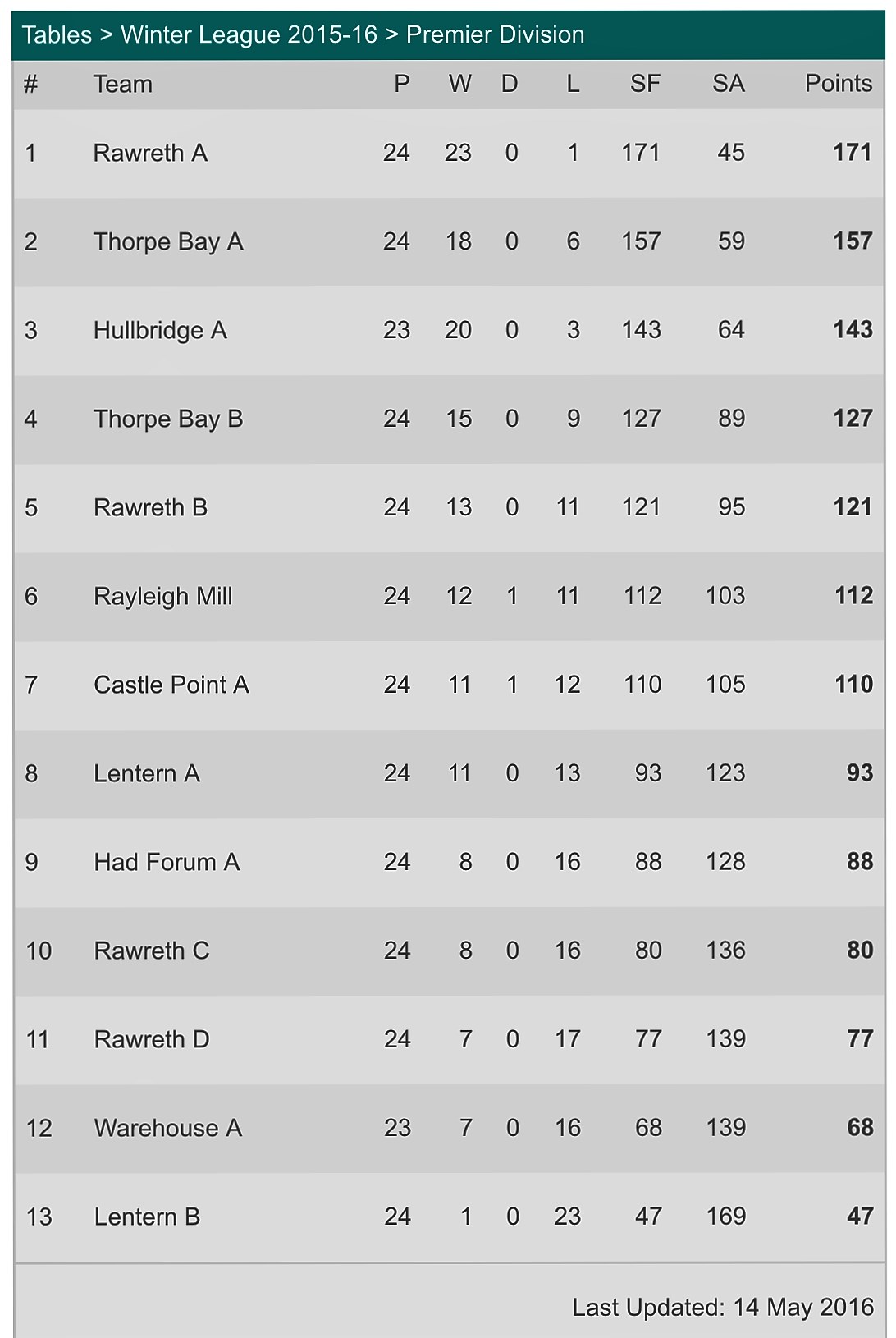 Division 1.
Hockley A have been no lower than 4th in the table and regained the lead on 4th January 2016 and did not lose it winning with a total points score of 183 (6 points more than last year winners, Lentern B), 25 points clear of second place. They lost only 4 games in total and only one in 2016 (to Hadleigh Forum C 5-4). With three regular players averaging over 75% (see above report), and the two back up players Alan Tideswell and Matt Nariel also averaging 66.67%, they were always going to be the team to beat. With the maximum of 9 points scored in 5 of their fixtures and 8 in 6 matches, they were strong as a team and deserved Champions beating the second and third place teams convincingly in the second half of the season, 8-1 and 7-2. It will be interesting to see how the coaching skills of Tim Pang and the youngsters develop in the Premier division next year. One note of warning is that both the previous two winners from Division 1 have been relegated the following year and will find the Premier test a new challenge next year.
Customs A finished second on 158 points (2 points up on the previous year when they finished 3rd) and actually only lost 3 games all year (1 less than Champions, Hockley A) and have been hanging on to the coat tails of Hockley A since the first week in January in second place in case they slipped up. 2 losses were in 2016 to Rawreth E and Hockley A, significantly the latter game the only one in which Roy Thomas lost two games all year. Customs, as normal, must be praised for only using 4 players all year, with Dale Gutteridge (64.58%), Brian Rackham (58.33%), and Dave Morgan (41.18%) making up the remaining members of the team. Roy ended top of the Division averages once again, losing only 4 games (3 of those to Hockley players), but age may be getting to him as he only lost two games in the previous two seasons! Again, it will be good to see how he fares in the Premier next year and is sure to cause some upsets with his consistent play. With only two 9 point wins and four 8 point wins they were always chasing Hockley, although leading the table for 7 weeks in the first part of the season, including a 5-4 win over Hockley. Rawreth E were the only team to do the double over Customs, beating them 5-4 on both occasions. May struggle in the Premier next year and will need to pull out all the stops to avoid relegation.
Rawreth E finished third in the table but some 18 points behind Customs. Inconsistency has seen the team in the early part of the season drop to as low as 7th, before a good second half has seen them occupy 4th spot and then snatching 3rd spot from Hullbridge C in the last two weeks of the season despite ending on same number of games won. With only three 9 point wins (one a Forfeit match, and none in 2016) and only two 8 point wins, the top two places were always going to be out of reach. Over 70's champion, Mike Worship was the mainstay of the team and an individual average of 74.51% (up on the previous year), although Chris Nunn with 80% from 5 matches, could have made the difference if he was available for more games. Trevor Ward with 70.83% had some good wins and back up was provided By Gary McCarthy and Colin Clements, both getting above 50% and John Blackman.
Hullbridge C were fourth, 5 points behind Rawreth E, with the injury to Bill Smith probably costing them 3rd place, only picking up 9 points in their last 4 matches. That coupled with the ill health of Peter Saunders (not Spud) who hasn't played since the beginning of January and Maxine Abbott taking a year's rest from the game, has meant that Hullbridge, relegated last year from the Premier, settling for 4th spot having held on to 3rd for most of 2016. A number of players have played up to make up the team when short which also has not helped with the consistency. Peter Saunders topped the individual averages with 81.82% followed by Lin Attridge on 60.53%, Bill Smith 59.18% and Captain Andy Seaman on 57.14%. With a bit of luck and Bill's illegal serving, Hullbridge should be looking for top spot next year (if his knee's hold out).
Hadleigh Forum B have had a mixed season, but ended in 5thplace, a position they occupied since November 2015 (apart from flirting with 4th spot for 3 weeks in Mar 2016), but a place down on the previous year. Level on points with Hullbridge, but not winning as many games saw them drop to 5th spot. Since Mick Tappenden stopped playing at the end of January due to personal reasons the main team has been Tony Jacks, Anthon Ranjit-Singh and Dave Woolmer, with the C team filling in for holiday absences, etc. Tony Jacks has been the most consistent player with a 64.52% average and the only player not to play for Hockley who beat Roy Thomas this year. Mick Tappenden (64.1%), Dave Woolmer (53.23%) and Anthon Ranjit-Singh (46.43%) were the remaining averages and should be up there challenging again next year.
Canvey A finished in 6th spot, the same as in 2014/15, 11 points behind Hadleigh Forum. With only two 9 point wins and one 8 point win, gaining the maximum from games has seen them fall away from early season promise, winning their first three games. The same team has played all year more or less, apart from odd absences. Ray Wilson topped the averages again with 73.24%, backed up by Terry Giddens 62.71% and new player Peter Cray, who was introduced last year, finishing on 46.15%. With the same players and team, Canvey should be able to hold their position in the top 6 for next year, but strength in depth may be an issue.
Hadleigh Forum C improved from 9th position last year to 7th this year. The player of the year, and top Hadleigh Forum individual average, goes to Russell Bright with 80.39% and has been consistent throughout the season. Finishing just 1 point behind Canvey, next year could see them turn the tables on their Island counterparts. Hadleigh hit 6th spot in January and only lost out to Canvey in the final week. Other team players include Mark Everard 58.33%, Graham Farmer 50%, Tony Mace 26.67% and Dave Thomas 41.67%.
Warehouse B finished in 8th place, dropping down one from the previous year and were perhaps expecting to be pushing nearer the top than this position, having led in Week 1 and being 2nd in week 4. 2016 has seen a steady decline in performance and position and may have been caused by the uncertainty over their venue which may have affected some players. A large squad was used along with players substituting on weeks where the team was short resulting in no less than 12 players getting a game during the season. This will have no doubt helped youngsters like James Spencer and Harry Small but the inconsistent team has not helped results. Top averages in the team go to the more experienced players Jim Stait (83.33% from two matches), Tarun Goel (80% from 7 matches including 4 POTM awards), Andrew Paton (79.31%), Berti Makoli (51.52%), Tony Wright (48.39%), Mickey Baker (39.39%) and finally Harry Small (33.33%) of the players who played the majority of the games. Anticipate another tough year for Warehouse next year, depends on the strength of the youngsters that are coming through and team consistency.
Lentern E have improved one position to end up 9th in the league with the same number of points as last year (101). Starting the season in 10th after week 1, the team has fluctuated between 8th and 11th and has been very consistent. The player topping their averages is Mark Jupe with 56.1% with everyone else in the 30-45% mark. Brian Spencer has won most POTM (4) followed by Wayne Farmer (3). The stand out game was a 9-0 win over their C team in November 2015. You can expect the same sort of season for next year finishing in or around the same position.
Invicta A improved both their finishing position and total points tally this year ending in 10th place with 95 points. Most of the players improved on their averages from the previous year (with the exception of David Barnes and Barrie Murphy who have struggled with injuries and illness for most of the season) with Neil Daines and young aspiring referee Steve Marr topping the averages with 55.56% each. Again, similar to Lentern E, I would expect around the same position for next year.
Lentern C have seen the greatest fall this year finishing 5th in 2014/15 to now find themselves in 11th, with more or less the same team. Chris Crooks (35.29%) has been carrying a back injury for some time now and this has affected his performances for most of the season and therefore reduced the team score overall. Evergreen, silver-haired Les Taylor has also had a crisis of confidence and form with his average halving to 30.16% this year whereas he was in the 60% range last year. Perhaps he will need to change his choice of humbug sweet before each game to make the difference. Mike Grout again performed well to end on 65% and top of the averages with Malcolm Henstock (25.49%) making up the fourth member of the team. With susch a small squad to choose from and age creeping up, it is difficult to see much improvement next year and may be facing a relegation battle.
Lentern D drop one position to 12th in the table, 1 point below Lentern C, and have been battling against relegation since January, never getting higher than 11th, although were bottom of the table for most of the first half of the season. Peter Pond 54.17% and Peter Lucraft 51.06% have been the most consistent performers with no-one else reaching 30%, noticeably, Dave Kirston dropping from 50% last year to 23.68% this year. It would seem that having finished so close to relegation in the last two years, that next year will also be a struggle to avoid dropping into the lower division.
Runnymede having gone up as runners-up last year from Division 2 found the pace too hot in Division 1 ending up in 13thposition by 11 points and relegated. Tony Millward was called into the team in January (apart from an injury when he fell off his roof) and could have made all the difference ending the season on top of the averages 54.55%. Dmitry Kisil with 50% also impressed and were supported by Tony Coeshall (35.71%), Phillip French (38.1%) and Phil Digby (33.33%). Other members of the team were Anne Adlington and Barbara O'Brien. ?If they can keep the players together, I can see a quick return to this Division and should prove too strong for Div 2
Finally, Hockley B, who were clear winners in Division 2 last year leading from start to finish, again found that the step-up in quality for the whole team was too much to bear, having lost promising young player Matt Stringer to the A team and ended up in last position and relegated. Level on points with Runnymede (who won more games) found themselves battling the whole year occupying the lower positions. Young player, Liam Squirrell(63.16%) acquited himself well when he was available, but in the end was not there enough to make the difference. Regular team Keith Abbott (35.09%), Dennis Squirrell (18.97%) and club chairman, Paul Strutt (17.54%) were unable to muster enough points to stay in the Division. Again, if the same nucleus of the team are kept together the it shouldn't be long before they gain promotion back to this Division.
Thanks to all the Captains and representatives for getting their reports in a timely manner and good luck to everyone next year.
The opinions expressed in this summary are mine and are not meant to offend anyone (except Bill Smith)
Regards, Barrie Delf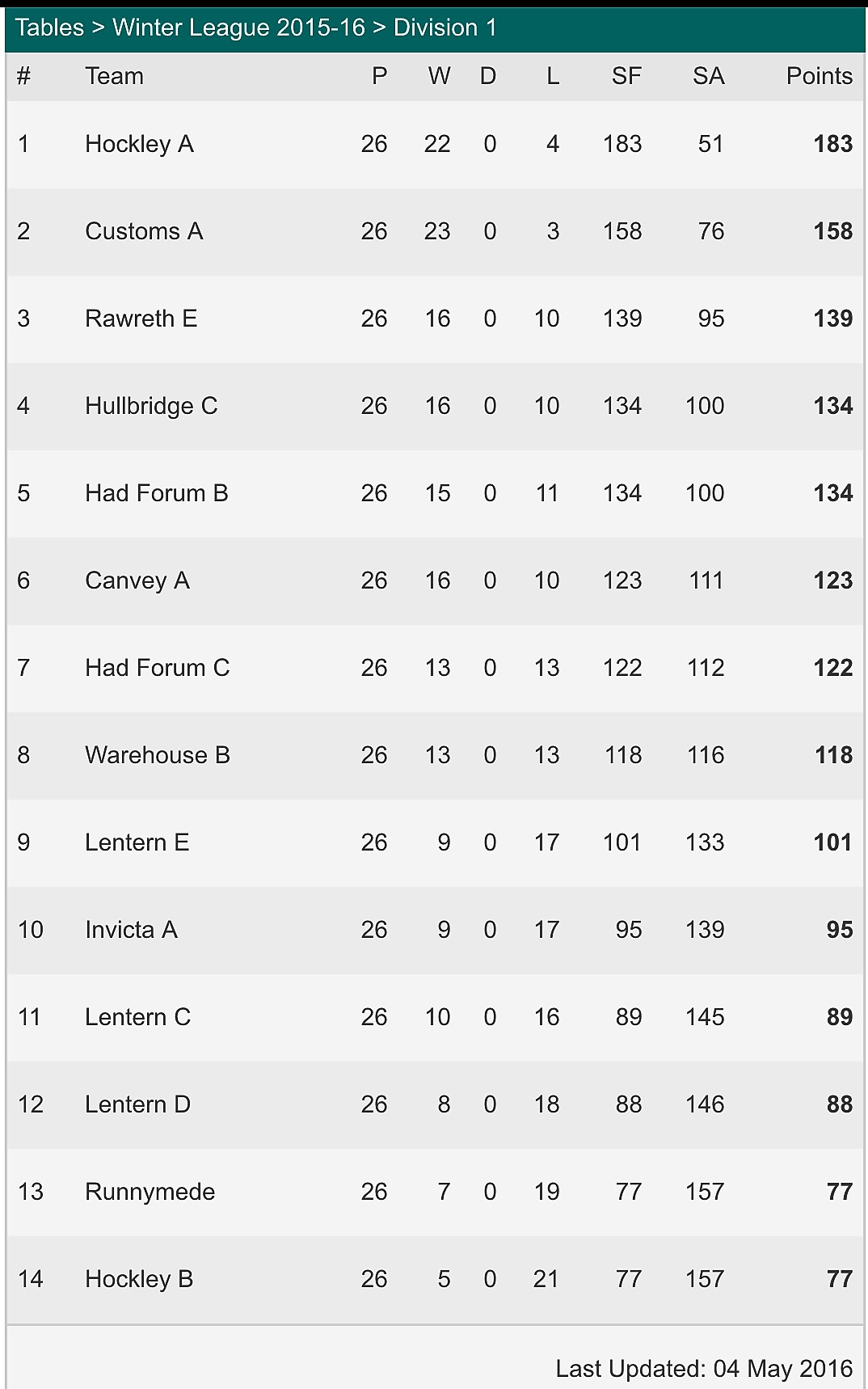 Division 2.
The campaign came to a nail-biting conclusion, with the title not being decided until the final fixture. Whilst Hullbridge D led the table for over half the season, slowly and surely, Castle Point B ground out results to stay in contention. In March, Hullbridge had to postpone the second of two matches. This gave Castle the opportunity to take over top spot, but for how long?
Neutrals could be forgiven for thinking this left Hullbridge with the advantage. However, the age-old dilemma applied – was it better to have points won or games in hand? Regular fixtures were completed for the season, with Castle still at the top with 178 points, but Hullbridge were second on 162 withtwo re-arranged matches to play. Two 8 – 1 wins would draw them level but, with a superior number of games won, the title would be their's!
A further twist was that one of Hullbridge's stars of the season, Dan Payne, would not be available for these last two crucial games. The first result came in, and Hullbridge had beaten Hockley C 7 – 2. A 9 – 0 win in their last match would give them the title. Nails were undoubtedly being gnawed to the bone at Castle Point!
The deciding game was scheduled for the following day, when Hullbridge entertained lowly Canvey C. However, Hullbridge had to recruit a player from one of their lower division teams. The final outcome was a win for Hullbridge. Not for the first time in the season, experienced Matt Rolfe recorded a hat trick for the home side; but it was not enough, as the score was 5 – 4, meaning Castle Point B took the title by four points in a thrilling climax.
The aforementioned Matt Rolfe topped the averages, and clearly belongs back at a higher level.
Congratulations to Castle Point B. They had their own Mr. Consistent in Keith Neville, who won all bar eight games in the whole campaign. Tony Ayliffe and Martin Roberts put in fine contributions too. Hullbridge D can take consolation in putting up such a strong fight and gaining promotion.
Canvey B had been relegated from Division One last season and many tipped them to yo-yo straight back up at the first attempt. A third place finish looks not to have been quite enough, despite a fine season, especially for Tony Westwell, who had an 82.54% average, with excellent supporting roles from both Talbot Wiseman and Des Duffield.
One side to watch for the future is Hullbridge E, with several graduates from their youth academy. Fourth place is a creditable position for this team and Adam Jackman, Reece Harris-Griffiths, Daniel Zeffie, James Goddard and Kieran Stanley are all names we will certainly hear more about in the future.
Basildon Hospital's captain Kevin Smart led by examplethroughout the season, high up the averages, only losing four games. With more support around him, his team could have challenged for honours.
Rawreth F seem to have found themselves a rising star in young Dave Barnes. He ended the season on 82.35% and will surely do well in years to come.

Rawreth G finished mid-table, thanks to some good performances, particularly from Adam Deadman.
Another captain who led by example was Hockley C's Stuart Adshead. His 70% average helped his team to a respectable eighth place. Had teammate Josh Copeland been available more often, a higher place may have materialised.

Wakering's trio of Paul England, Stewart Mills and Nigel Cook proved capable of winning many games at this level. A few more matches in their favour would have seen them finish higher.

Early lack of form saw RESSC dip to the bottom end of the table. However, when veterans Ron Coutts and Stan Dyson got to play regularly, they were able to pull clear. Sarah Mapes also had a very steady season.

In a similar vein, Canvey C looked in deep trouble falling to second from bottom at one point. However, they rallied and Gordon Johnstone and Geoff Banthorpe added their experience to steer clear of trouble.

The two Warehouse teams, C and D, spent a lot of their season at the wrong end of the table. The C team found a star in Harry Small in the nick of time. Harry won thirty of his thirty-nine games to pull his team one place clear of relegation.

The D team were not so fortunate, though. Despite reasonable contributions from Andy Humphris and Tamas Mezo, the rest of the squad found the going tough.

Uniquely, Castle Point have managed to 'top and tail' the division. The C team struggled to compete at this level, having been promoted last season. Only John Beddow was able to consistently come up with the goods.

All the teams have played their matches in good spirit, promptly recording scores and making the Match Secretary's role easy.
Thank you all Captains for your support.
Regards. David Barnes
Division 3

The 2015/16 season turned out to be very much a season of two halves. In the first half it was a genuine four horse race for promotion with eventual champions Canvey D the outsiders as they remained outside the top three throughout the first eleven weeks staying in the main in fourth place whilst the big three of Invicta B and the Hullbridge F and G teams fought for supremacy.
Invicta B and HullbridgeG both topped the table for 5 weeks out of the first 12and Hullbridge F then enjoyed their moment of fame as they went top for three weeks in succession in weeks 10-12. After that though it was a case of the rise and rise of Canvey as a run of 14 successive wins eventually saw them to the top of the league in week 18 where they stayed until the end of the season.
At the same time their rivals began to suffer with absences and injuries and these played a key role as only Invicta emerged to stay the course and clinch promotion as runners-up.
In order of where they finished this is my brief summary of how the teams fared and my choice of their Player (or Players) of the Season
Canvey D. No doubt about the player of the season for Canvey! Young Harry Keys played only 9 games last season yet has finished this season with a magnificent 95.65% average to lead his team to the title. Great back up from Craig Aukett (81.48%) and the rest of the squad Ray Baker, Terry Castille and Rob Mcdonald who all finished with between 64 – 69%
Invicta B. Never out of the top 3 all season two defeats in their last five games cost them dearly but they finish one place higher than last season and gain promotion. Player of the Season – Richard Verrinder 90.7%. Great back up again from John Golding, Mike Keeble and Chris Gregory – only 4 players used all season!
Hullbridge F. Consistent all season and only lost 3 games they also cornered the market for lady players with three in their squad of five. Player of the Season – Paul Ogden, with the second highest average in the division, 94.8%.
Hockley D. With a couple of results to come in their current position of 4th may change but their season has been a model of consistency rarely moving from 5th place. They have lacked a stand out player which would perhaps have seen them challenging for promotion and their top 4 players range from 56 – 62.5%. Player of the Season goes therefore to two players – Phil Pond and Laurie Witte
Hullbridge G. With only 1 defeat in their first 11 games they looked favourites for promotion but they played with a squad of virtually 3 players for most of the season only introducing the inexperienced Lewis Ritchie towards the end. Giving away 12 points through fielding only 2 players has cost them dear and 4 defeats in the second half of the season has seen them drop to 5th place. Player of the Season is shared again here between Tony Molisso and David Booroff.
Rawreth H. Normally having two players finish on 90%and 76% would mean that your team would have been challenging at the top of the table but unfortunately for Ryan Williams and Matthew Barber there hasn't been a strong enough back up in the squad and this is reflected in their position of 6th. Nothing to be ashamed of for these two young players however, who will probably be playing at a higher level next season anyway. Player of the Season – Ryan Williams.

Hockley F. The aim for this team was always about getting experience and not where they finished. With a large squad they finished up using 11 players so consistency was always going to be a problem but we did see the emergence of two new players Martin Scarfeand David Chenery, in their debut seasons, finishing with 86.6% and 63.8% respectively. Two of the younger players, Dragan Benakand Liam Adshead, also showed considerable promise. Player of the Season – Martin Scarfe

Customs B. Finishing 8th the same as last season, here was another team that suffered through only having 4 players in their squad. Having to concede 3 matches and fielding one player on another occasion it poses the question just how well could they have done with a full squad. Here's hoping they can bring in more players next season. Player of the Season – Mark Rose

Warehouse E. Another team with a large squad and again the intent seems more on giving players experience rather than any aim of success. With 10 players used and the number of games played individually varying greatly it makes it harder to choose the Player of the Season. Mention must go to Conrad Gomes who finished with 84.6% from 13 games but my vote goes jointly to Tina Hutchinson and James Spencer who both finished with 72%.

Hockley E. Another large squad (8 players), and an improvement of one place from last season.Three younger players were all used in this team to give them experience –Harry Crawford, Ben Cook and Josh Jones – but Jim Nariel and Ron Rogerson played the majority of the games. Player of the Season – Ron Rogerson
Invicta C. A new team in the division this season and they too appeared to be struggling for players at one stage but they did manage to increase their squad and appear to have a good nucleus for next time. Player of the Season – Keith Baxter

Rawreth I. A definite improvement this season in terms of fielding teams but these young players still found it difficult to compete at this level but there are positive signs to be seen. Results for Olivia Jones picked up as the season progressed but Keanan Ford stood out from the rest finishing with an impressive 57%. No doubt both these players will do even better next season. Player of the Season – Keanan Ford
Thank you to all Captains for getting the results to me as promptly as possible.
Regards, Paul Strutt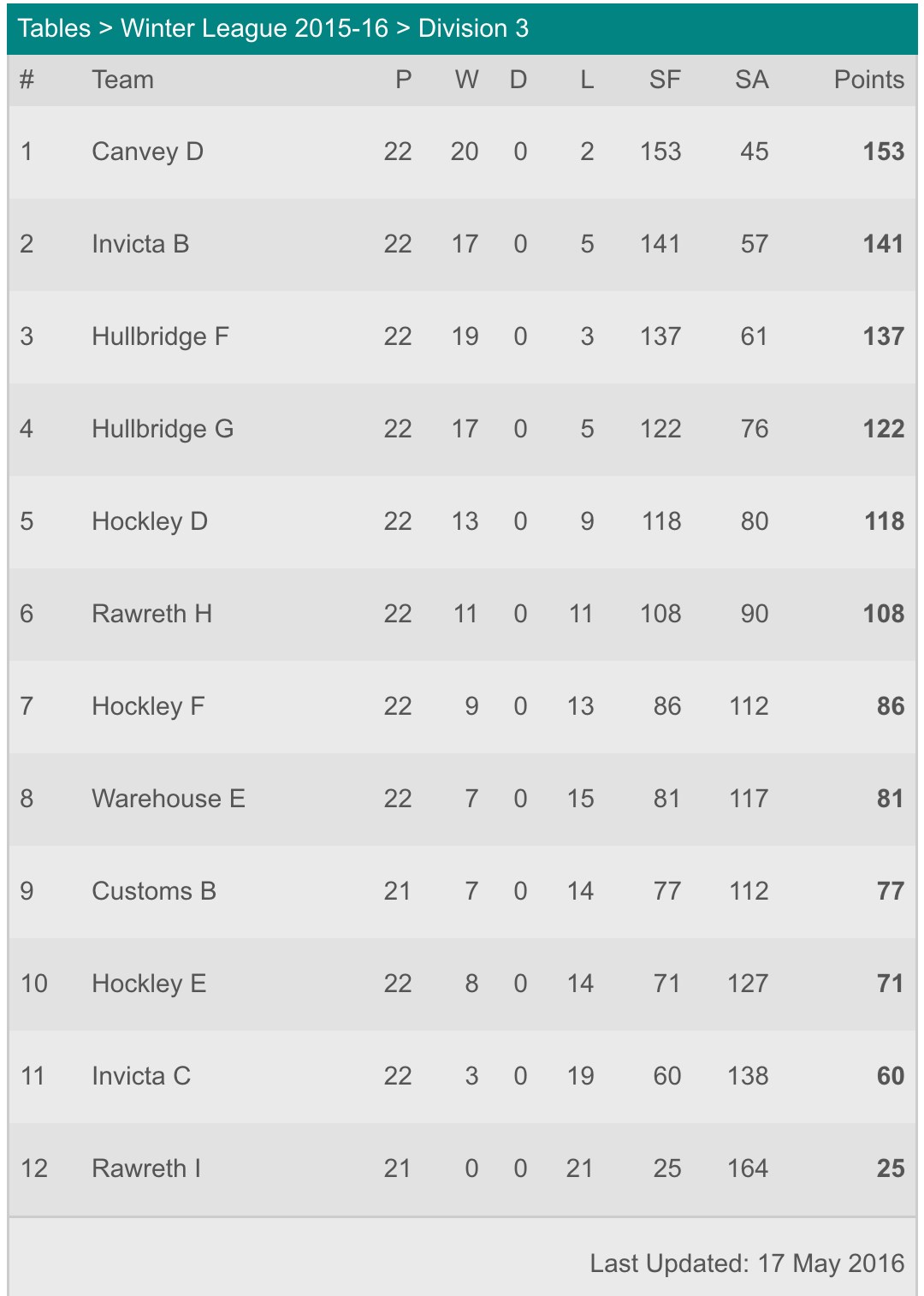 Author:
Ylber Makolli
via Southend Table Tennis League
Article Published:
Last Updated: