Geof Bax 1932 - 2021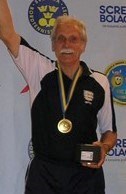 Most people reading this obituary will have lost to Geof at table tennis at one time or another. He was a very good player, who played at a very high standard for a very long time. And yet he is not defined by his victory in the World Championships in Sweden in 2012, where he won the Over 80s Men's Singles (as a 79-year-old!), nor by his hundreds of titles at local, county and tournament levels. Most people reading this will remember Geof as a gentleman of the game, who may have led his opponents to the deepest frustration, but never showed a temper or bad sportsmanship himself.
For all of his trophies, Geof was most proud of his longevity – he played league table tennis for seventy consecutive seasons 1949 at the age of sixteen, and each September he would remind his friends of whichever number of season was coming up. He started in the Watford League but was also playing in the Wembley & Harrow since before anyone can remember. Throughout his career, he played in several local leagues and their representative teams and represented Hertfordshire on many occasions in the Veterans' County Championships. For many years he was at Kenton and latterly he was a committed and popular member of the Sudbury Hill club.
Geof – full name Geoffrey but he never used two fs in the shortened version – was not a tall man with an expansive table tennis style. He was happy enough with long rallies as short ones and used good anticipation and footwork to hit winners on forehand and backhand. He was a tactician, always trying to stay one step ahead of his adversary in the game of chess that is table tennis. 'What is it that my opponent won't like?, he would ask himself, or 'How can I get them to play to my strengths?' Geof was also a rubbers master, whose knowhow of anti-spin was unrivalled.
He was also a county umpire, utterly loyal to the laws, and was always on hand to officiate at county matches, Veterans' British League and tournaments.
Geof was born in Camberwell, London, and moved out to Watford with his family during the War. He was an apprentice sheet metal worker and enjoyed a number of manual jobs during his working life, including as a hospital porter. He threw himself energetically into his leisure time – as well as table tennis he was a keen cricketer. Geof would also tell the tale of when he cycled along the M1 from junctions 5 to 6 in Watford – just before the motorway was opened in the late 1950s.
Geof married Sally in 1978 and theirs was a marriage to table tennis as well as each other. Together they played their way around the country – and occasionally overseas – making friends in the table tennis communities wherever they went. Weekday matches, weekend tournaments, holidays to European competitions, you'd know what Geof and Sally were up to from the table tennis calendar. Their enjoyment was enhanced by a strong social life in the game, and Geof was an affable racounteur, always with a good story about some personality he'd played against or a magnificent victory from the past.
As his years advanced, Geof spent many hours in his allotment, where the produce was plentiful and fresh. Sally would spend hours making fruit pies and there were still lots of blackberries, strawberries or apples left over. Geof battled cancer in his final years, but he did it in the only way he knew – by playing table tennis.
Geof is survived by his wife, Sally, and leaves two sons from his first marriage, Paul and Alan. He was a great-grandfather.
* * * * * * *
In 2015, Geof starred in a National Lottery promotional video playing table tennis. You can watch it here – it's brilliant. He's the one in the headband.
Peter Johnson 1937 – 2021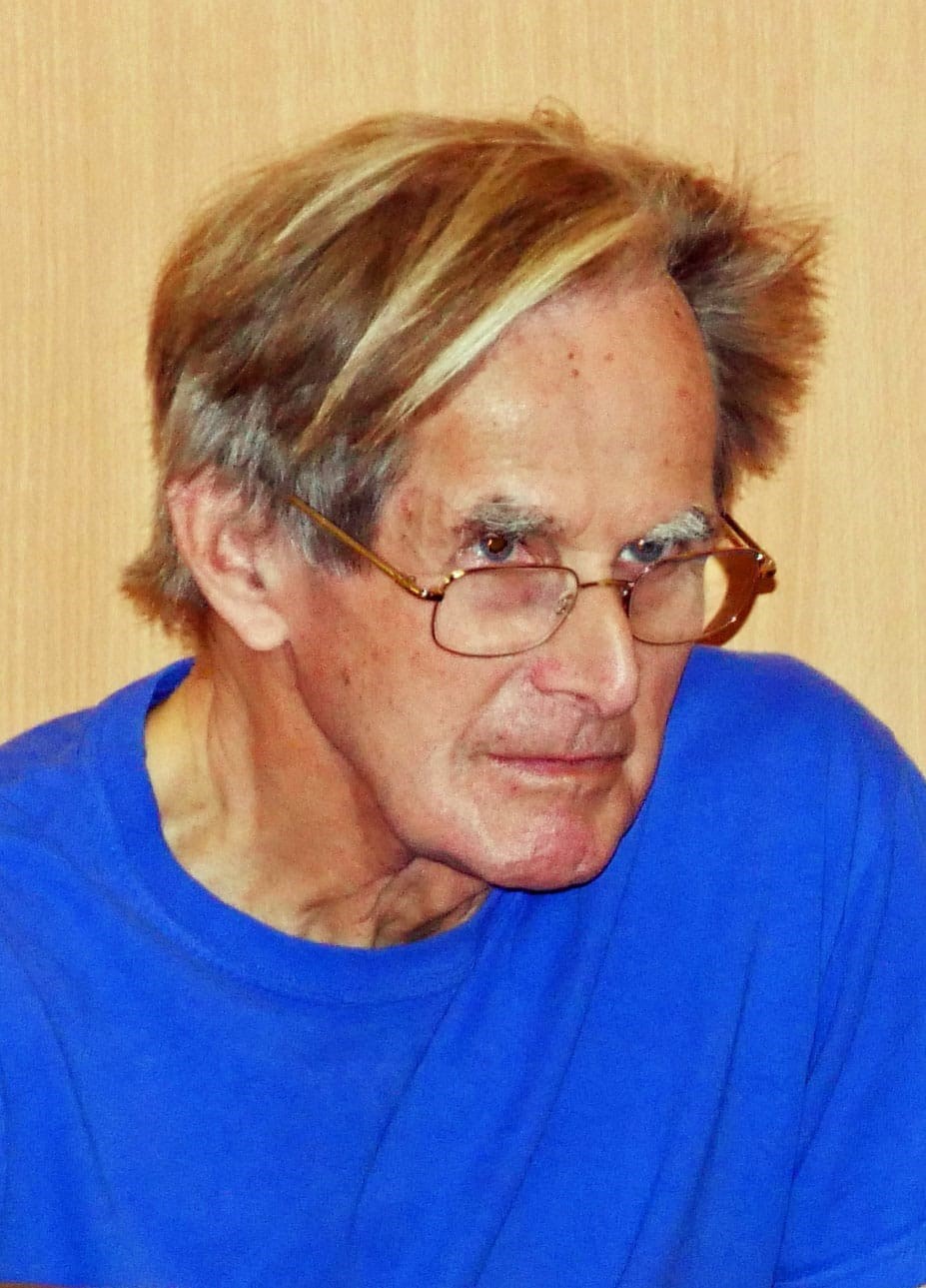 Peter was a well-known, liked and respected figure in the Wembley & Harrow League, in which he was involved for over fifty years. He was a loyal member of each team he played for, at Pinner CC, Sudbury Hill and Lowlands, playing in most of the matches each season and occasionally acting as captain. He played in the lower divisions of the League and rarely finished high up in the averages, but he played a good game and would never give up.
Peter joined the Sudbury Hill club in 2002 and although he latterly moved to Lowlands to join a team at his level, he remained a member there and would always turn up for club night on a Friday. Peter loved to play doubles at all levels and his favourite partners were Malcolm Wilson and Adil Sait. He always supported in-house tournaments and came away with a doubles trophy in 2019.
Peter was a very keen follower of football, with Arsenal as his favourite team. In the last century especially, he was to be seen at League matches and tournaments with a transistor radio to his ear (when not playing or umpiring, of course), following the commentary from a big match.
A familiar sight to the residents of North Harrow and beyond was Peter on his bicycle. He was regarded as one of the most kind and considerate men you could wish to meet and will be greatly missed by the table tennis community.
Trefor Nott-Cock 1935-2020
We are saddened to learn of the passing of Trefor in November 2020, just one week before his 85th birthday.
He was born and lived in Harrow all his life. After leaving school he did his National Service in the RAF and qualified as a radio mechanic. He had several jobs in the industry and in the past few years obtained a degree in computing.
From an early age he was a keen tennis player and Trefor joined the Lowlands Club in 1955. He was tall and well-suited to the outdoor game but he found that he could adapt his style to table tennis in the winter. He started playing in the Wembley and Harrow Table Tennis League soon afterwards and, over the decades, he had a spell as Secretary of the table tennis section at Lowlands and usually acted in the role of team captain.
He played regularly in the lower divisions until 2016 and then became an occasional reserve until 2019, remaining enthusiastic during these latter years and regularly attending matches to support his team. He also helped out to run the League's Closed Championships each year and was a regular attendee at Finals evening.
Although having a quiet manner Trefor did follow the Management Committee's administration of the League and often expressed his opinion, which required a response.
Trefor was a very private man and he never married. He leaves a brother, who also lives locally.
Steve Brown 1960-2019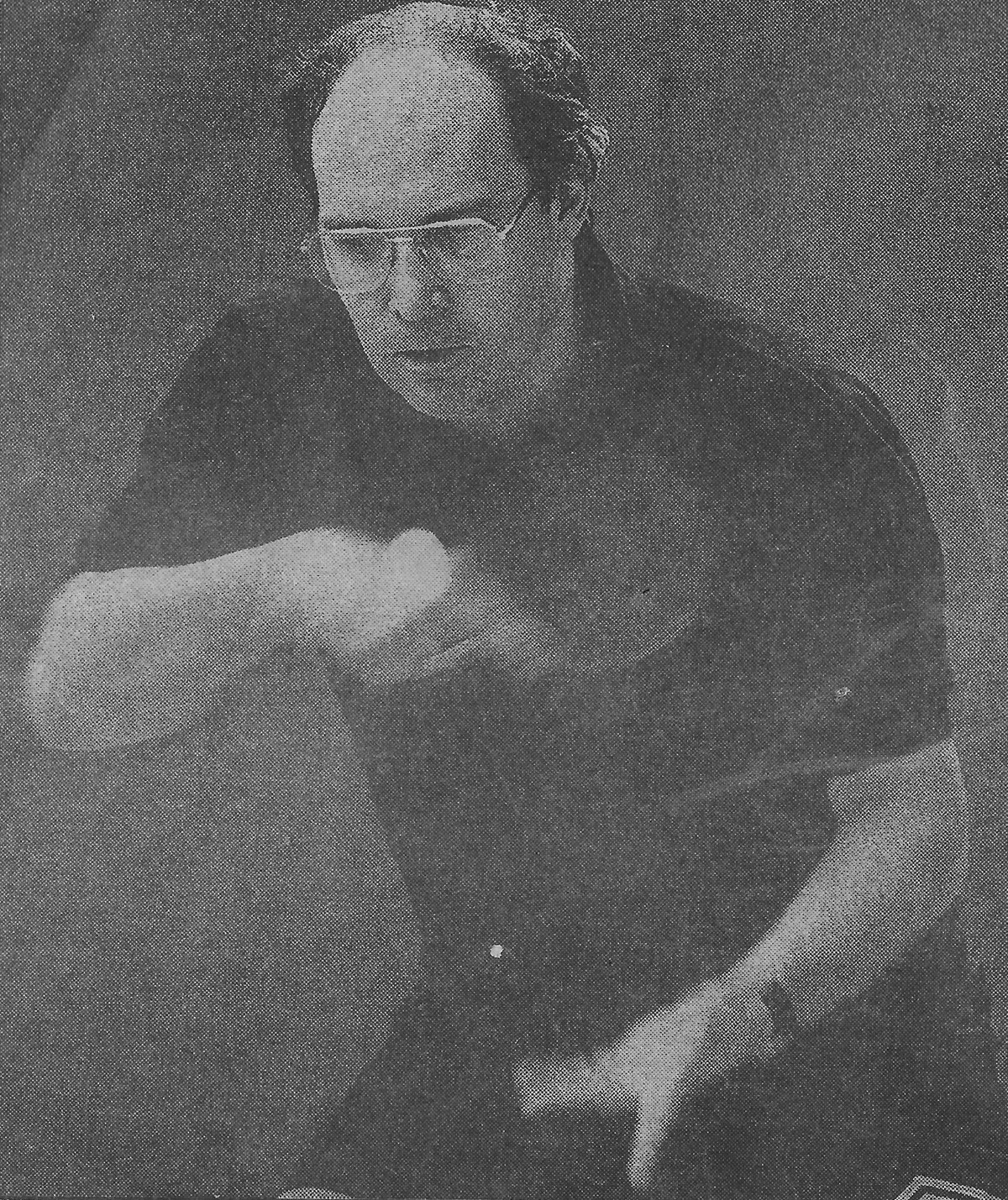 Steve's life in table tennis can be traced back to the 1970s when, introduced to the sport by his father in the South Bucks area, he became well-known as an up-and-coming junior.
He was a very good player and was always playing in the top divisions. He joined Eastcote in the Wembley and Harrow league and teamed up with Martin Sharp and Peter Wells, becoming very good friends with Peter and the two were in the same team for over 20 years. They won promotion to Division One in 1989 and 1993, later teammates included Alan Bowman, Tony Dias and Usain Beigi.

Steve had a laid-back style which suggested a good eye for the ball. His forehand attack – which he would try to tee up with his serve – was exaggeratedly round-arm and his backhand flick had lots of power but very little follow-through.
He brought an enjoyable brand of wit, humour and modesty into our sport and enriched the evenings on which his team played. He was a jovial, happy person who enjoyed his table tennis and was always ready with a quick, light-hearted quip in response to any repartee pointed in his direction. And, aside from a few self-admonishments when he played a bad point, he never lost his cool.
The last few years of his career he played at Lowlands with Pete Leckie Jnr and Simon Barnes as well as playing for Denham Village in the Chalfonts league. He would also frequently drop in to the daytime over 40s club at Lowlands.
Steve worked for BT in the south-west London area for all his professional life. He was diagnosed with cancer in 2016 following which he fought a long and brave war against the illness, winning many battles along the way, and always treating life in general, and his situation in particular, with the utmost realism.
He leaves a wife, Debbie, and many friends in the world of table tennis.
John Macgregor 1938 – 2019
John passed away on 14 March a few days after suffering a heart attack, just after the midway point of his eighty-first year.

John served local table tennis selflessly for over thirty five years as a coach, captain and organiser. He played for the Queensmead, Kodak, Oak Grove and Kenton clubs, always playing in the lower divisions of the League, it has to be said, but no less committed for that. He was happiest as a coach, helping countless juniors and adults to improve their game. John was not one for the Committee Room and was far happier in a track suit with a bat in his hand or with a screwdriver making some repairs to a damaged table. Over the years he sought out opportunities to get involved in coaching and development in the Harrow area. In the early 1980s he first got involved in taking local authority-sponsored adult education evening coaching courses, and subsequently he took coaching classes at several schools.
More recently, John was involved in League activities, being a coach at the Harrow Leisure Centre and Whitefriars. A League player for many seasons, he often served as the captain of the team he played for and he was always a steady hand in the running of the clubs he was a member of. John's work and commitment were recognised by the English Table Tennis Association in 2013 with the presentation of the prestigious Maurice Goldstein Award for services to the sport.

It is impossible to quantify the value to table tennis of John's efforts over the years. He was one of a rare breed of individuals whose efforts keep the game ticking over, while he wanted neither recognition nor recompense. John knew what needed to be done and didn't need to be asked to do it, he was a terrific man to have around at League or club level and he was a dedicated servant of the local table tennis community.
John was an electrical engineer by profession and enjoyed a long career with BT. In his retirement, John did much apart from table tennis. He was a keen and active cyclist going for long weekend club rides and cycling holidays in Europe. In his shed, he maintained an impressive collection of bicycles from the late 19th- and 20th-centuries. Pride of place was the Penny Farthing, which he took to charity events such as the annual Croxley Revels parade. In the spare bedroom he kept his collection of cameras, some priceless exhibits faithfully restored. And he always had a soft spot for Tottenham Hotspur.

John leaves a devoted wife, Stella, three children, several grandchildren and two great-grandchildren.

Michael Close, a lifetime of service
Author:
Diane Webb and Steve Leven
Publish date:
Table Tennis England Honorary Life Member Michael Close, who had a long and distinguished career in all areas of the sport, has died at the age of 89.
Michael gave a huge commitment to table tennis over his lifetime and his involvement was wide and varied as a player, coach, administrator or officer.
Michael started playing competitively in 1946 and went on to represent the RAF during his National Service, where he played with Johnny Leach and Jack Carrington.
Middlesex and Buckinghamshire counties benefitted from Michael's skills too. The Bournemouth Open Championships in 1957/58 was where Michael picked up his first Open title in the Men's Doubles.
Michael played in and for the Worcester, Central, Chiltern, Civil Service and Watford Leagues; however, it was in the Wembley & Harrow League that Michael made a real name for himself. A stalwart of the Wembley & Sudbury TT Club, Vagabonds, and later Ruislip Cricket TT Club, Michael won 27 League Closed Championship titles in total (MS x5, VS x 9, MD x 4, XD x 9) and represented the League for 26 seasons from 1951-1978 at senior level and also five years at veteran level from 1977-82, before retiring from playing with a knee complaint.
In 1956/57 Michael earned his ETTA Basic Coaching Diploma and as the qualifications changed over the years so too did Michael's coaching practices, keeping up to date with the changes and ultimately achieving the ETTA Level 4 Coaching Qualification.
Many, many players benefitted from Michael's coaching expertise during the extraordinary 53 years from 1953-2006 that he coached in the Wembley & Harrow League. Michael also gained his County Umpires badge in 1983.
A high-ranking Civil Servant by profession, Michael also held many senior table tennis officer positions from Local League to national level. He was Chairman of the Wembley & Harrow League from 1981-2006, President from 2006 and on the Management Committee continuously from 1954, attending every AGM until 2017.
Michael gave many years of dedicated service to Middlesex County TTA, of which he was an Honorary Life Member, holding several positions including Chairman from 1983, Coaching Secretary 1978-1994, Deputy National Councillor, General Secretary, Non-Playing Captain for the county teams and National Councillor from 2013.
During his time as Non-Playing Captain the Middlesex team had great success, winning the County Championships title eight out of nine years in the 1980s when the team included several England senior international players.
Michael also worked at a high level with the development of table tennis particularly in the London Region. He was the ETTA Regional Chairman (London/Greater London Region) from 1986-2013 and represented London on the ETTA National Development Committee from 2001-13.
Michael's involvement and leadership led to the significant development in the London Region during these years and included increased school participation, increased disability play, increased volunteer base, improved diversity and inclusion, expansion of the London Junior TT Scheme and assisting in the development of the Mossford TT Centre.
Another string to Michael's bow was with the London Federation of Sport & Recreation where he was Treasurer from 1999-2009 and President 2009-12. This organisation made a special presentation of a '50 Years of Service to Sport Award' in 2009.
Understandably, this was not the only honour that Michael received. Table Tennis England made Michael a Vice-President in 2000 and the ultimate accolade of Honorary Life Member in 2016, both richly deserved rewards.
At the time of his death, Michael was still actively involved at League, County and National level and was in post as Middlesex Chairman and National Councillor and as President of the Wembley & Harrow League.
This wonderful list of achievements tells only part of the story. The respect and affection in which Michael was held is shown by some of his closest colleagues.
Table Tennis England Chairman Sandra Deaton said: "I sat alongside Michael for many years during his unwavering devotion to our sport as both Regional Chairman and Middlesex National Councillor.
"He would always hold his own opinions and contribute to a debate at the point he felt it to be of relevance to those he represented. He was a wealth of knowledge in all aspects of table tennis and he had an ability to share that insight in a quiet and respectful manor. He will be greatly missed by so many and our thoughts go out to his family at this difficult time."
From Doreen Stannard, TTE Honorary Life Member and Past President, Middlesex Vice-Chairman: "Michael had such a wealth of experience in all aspects of our sport, it was a pleasure to work with him and Middlesex certainly benefited from having him as Chairman.
"Michael was a loyal member of the 100 Club who always looked forward to the annual get-together to meet up with old friends. There will never be another Michael Close, a hard act to follow and very sadly missed by all who knew him, RIP."
From Tony Dias, Chairman of the Wembley & Harrow TTL: "Michael was a clever, inspirational, fair, encouraging and above all warm individual who has contributed to table tennis in Middlesex and the Wembley & Harrow League for a very long time. I will certainly miss his presence, witty anecdotes and good advice."
Steve Leven, General Secretary of the Wembley & Harrow TTL: "I first met Michael at coaching sessions when I was a youngster. Little did I know of his esteem at that time, but later, as he acted as my mentor on the Committee, I began to appreciate all that he had done and was doing for the sport.
"He was always available to offer advice and he realised that everyone in the table tennis community was acting for the love of the sport – none more so than himself, of course."
Michael will be missed by all who knew him and we are grateful for his lifetime of dedication and service.
Our thoughts and condolences go to Michael's family, his wife Elisabeth, his sons Martin, Roger and Roland and his grandchildren Anthony (a promising junior player) and Lydia.
Paul Squires 1967 - 2015


Paul's early demise, after a short illness, has left the local table tennis community with a huge void. Paul learnt the game early and was a trophy winner at junior school. He joined the Stanmins club near where he lived in the early 1980s, playing initially in Division 9 of the Wembley & Harrow League. Later, Paul moved to Eastcote and became a long-serving stalwart of the Eastcote C.A. club, rising through the lower Divisions to captain a team in Division 3, before settling into Division 4.
In addition to enjoying playing table tennis he also gave back to the sport. He was a nationally-qualified Grade 2 coach and spent many years helping youngsters who were just starting out in the game, running the League's Saturday morning junior coaching sessions at the Harrow Leisure Centre. At Eastcote he also served for many years on the management committee and was a willing and able volunteer in supporting the club's activities.
Outside of table tennis his other great passion was for motor cycling, and he cut a familiar figure arriving for matches in his Leathers. His sportsmanship was exemplary, contesting matches to the best of his ability, but then accepting victory or defeat with equanimity. Team-mates occasionally found him a shy personality, but he was an easy-going man, always friendly and positive in his approach and without a bad word about anyone. He will be especially remembered for his benign, friendly presence around the clubs where he played, and his untimely passing at the age of only 49 is a sad and tragic loss to all who knew him.
Ann Brown - 1933 - 2015

Ann joined Kenton Club in the late 1950's, and played table tennis in the Wembley & Harrow League Ladies Division. When this division was later disbanded, she played in the lower divisions of the mixed league. She represented the League in Inter-League matches from 1973-75.
Ann was an enthusiastic organiser. She joined the Kenton Table Tennis Club committee, and was responsible amongst other things for co-ordinating the W&H League AGM, which was held at Kenton for a number of years. She also represented the table tennis club on Kenton's main Executive Committee, where as well as being Minutes Secretary, she looked after the section's interests (for example the main hall to this day is decorated with dark colours at each end to make it suitable for table tennis – as mainly influenced by Ann).
Ann Brown (second left) with the trophy winners at the Kenton club finals, 1985
Ann was also a keen and accomplished tennis player at Kenton, and probably excelled more at this sport, winning a number of competitions at the Club. She served on committees at Kenton Club for over 25 years
Ann was appointed to the W&H Management Committee as Inter-League Match Secretary in 1970. She managed the League's men's 2nd team for many years, attending matches and supporting the team. Ann became the W&H League Secretary in 1981, and was elected as a Vice President of the League in 1986.
Five years later, Ann and her husband Norman decided to move to the lovely island of Alderney in the Channel Islands, and from there in 2003 to southern France to live near their daughter and son-in-law. In all this time Ann still kept in touch with the League.
Ann passed away peacefully in her sleep on Tuesday 26th May, 2015, aged 81.
Eric Snook
Norman Reeve - 1923 - 2013
It is with great sadness that the Wembley & Harrow Table Tennis League learnt of the passing of another of its Vice-Presidents, Norman Reeve, on 27 August aged 90. A Senior Civil Servant, Norman was an excellent administrator and for sixteen years served as Chairman of the League. He and his wife Alma were the mainstay of the Management Committee between 1959 and 1981.
Alma's retirement in 1981 due to an illness which led to her premature death was a contributory factor in Norman also retiring from the Management Committee. They had no children.
In the 1960s and 70s there were several large Leagues flourishing in Middlesex, but now the number of teams and players has declined dramatically. The fact that the Wembley & Harrow remains and as the largest League in Middlesex is due in my view to the sound principles laid down by Norman as to how a Table Tennis League should be organised and managed. I certainly learnt a great deal from him.
As a player, Norman represented the Forward Club in Wealdstone in the late 1940s, playing in Division 1, but the club soon folded and he didn't play in the League again. His strength was clearly as an administrator, and it would be a fitting tribute to Norman to list the variety of positions in which he served the sport:
ETTA
Elected Honorary Life Member on 2nd July 1966
Deputy Chairman 1965 - 67
Vice-Chairman (Public Relations) 1978 - 86
Public relations Committee Chairman 1978 - 1985
Magazine Working Party (member) 1983 - 1985
1977 World Championships Committee (member) 1975 - 76
Development Committee: Chairman 1973 - 1978, Working Party 1972 - 73, Co-ordinator 1971 - 72 and Vice-Chairman 1970 - 71
Appeals Board 1969 - 1971
County Boundaries 1970 - 71
Wembley & Harrow TTL
Member of the Management Committee 1949 - 1981
Press Secretary 1949 – 1959
Secretary 1959 – 1964
Chairman 1964 – 1981
Obituary by Michael Close
Picture courtesy the Middlesex County Press
Allen Wheeler - April 2013
Allen Wheeler - a terrific servant of local table tennis - died in April following complications which set in after a fall at home a few months earlier had left him being able to move only very painfully. He was 82 years old.
His playing record was not exceptional - after initially playing in the Willesden League, when he joined the Wembley & Harrow League he played generally in the lower divisions for four clubs: Brent NALGO, Hatch End, Pinner CC and Sudbury Hill. But Allen was never one to shirk from the responsibility of running the sport, and he was very often team captain or club secretary.
In 1984, he joined the Management Committee, on which he served for 27 years. He started as the Team Knockout Cups Secretary, two years later he became both General Secretary AND Handbook Secretary and from 1991 onwards, just the General Secretary. He was procedural, punctuilious and also polite, and a great help to Michael Close and David Hayman under whose chairmanship he served. He would go to great lengths to ensure that all the trophies won in previous seasons were returned in time for the next award.
In addition to his role as administrator, Allen also qualified as a coach and rarely missed a Saturday morning at the League's coaching sessions. Even when the number of coaches was dwindling, Allen's dedication meant that the show went on. Countless juniors benefited from his advice over a period of more than 30 years.
Allen served Brent Council as an Environmental Officer for most of his working life, before spending ten further years as a consultant after 'retirement'. He enjoyed watching Millwall FC and he holidayed every summer for over 40 years in the Dorset resort of Swanage.
He retired from the Committee in 2011, after which he was made a Vice-President of the League. Several members of the local table tennis community were present at his funeral.
Allen leaves a wife, Cynthia, a daughter, Karen, a son, Mark and four grandchildren.
George Walsh - April 2012
It was with great sadness that I heard of the death of George Walsh on the night of 28th April 2012.
I first met George in the early 1950s when I played against him in the first Division of the Wembley & Harrow Table Tennis League. He was playing for the Wembley Institute, at that time, a leading Club in the country. During the next 60 years George was to become a very good Table Tennis colleague and friend.
George played in the League for various clubs for some 50 years. With his height and reach, coupled with a whirlwind style, he was a formidable opponent. One of the most popular players in the League, he included, amongst his closest friends, our legendary England International Alan Rhodes, with whom he kept in touch during Alan's retirement to Spain. In 1956 George was elected to the League Management Committee as Elvin Cup Secretary and subsequently undertook various roles on the Committee, including representing Table Tennis on the Harrow Sports Council. In 1981 he was elected Vice Chairman of the League, a position he still held at the time of his death. During his many years on the Management Committee he was a mainstay, always willing to help in any way he could. On the Committee he had a strong sense of collective responsibility.
George also became a qualified coach, for many years being one of the leading coaches for the League at the Harrow Leisure Centre. He also undertook coaching for the London Borough of Harrow. Again, his friendly approach to those he coached and his fellow coaches was a great asset.
In 1981 George widened his interests by joining the Executive Committee of the Middlesex Table Tennis Association. He concentrated his efforts on the Middlesex teams in the County Championships in his normal industrious and conscientious way. In 2007 the English Table Tennis Association awarded him the Leslie Forest Memorial Trophy for his services to the County Championships. As ever, he was willing to undertake other tasks, including representing Middlesex on the E.T.T.A. London Region Committee. In 2009 he was conferred with the distinction of Honorary Life Membership of the Middlesex Table Tennis Association, a distinction that he told me he truly appreciated.
It is probably not too much of an exaggeration to say that the life of George revolved around Table Tennis. He met his wife, Linda, through Table Tennis and their three children, Colin, Caroline and Neil all played, as result of his encouragement.
Table Tennis has lost an outstanding friend and supporter, who will be greatly missed by everybody who knew him.
Michael Close
Michael Papantoniou 1921 - 2009
It is hard to imagine a more cheerful, sociable and popularfigure than Michael Papantoniou, who died on 7 April aged 88. Entering a room, it would seem like he was friends with everyone, making quips, chatting generally about one thing or another and making time for all. His shuffling gait, heavy Greek accent and trademark beret added to the image of a charming character. He was a remarkably convivial man who put tremendous energy into all of his interests.
Michael never rose above division four level as a player himself. His style never changed, scrambling the ball back somehow or other, most unconventionally, and throwing in chat and jokes at unlikely moments. Red-faced juniors could never work out how they were beaten by this crazy man. Michael was more than proud of being the oldest active player in the league and indeed he played in the Minor Singles at the Closed Championships just six weeks before he died.
His legacy to the game is immense. His son Costas is ranked in the top ten Veterans in England whilst his four grandsons have all reached that level in junior rankings. Even more, his and his family's support for their efforts on the table has been tremendous. Upon retirement from his restaurant business at age 44, he founded the Apollo club with Ray Raymond, which began in the Willesden League but transferred to the Wembley & Harrow upon the demise of the former League. Apollo, led by Costas, won the national inter-club Wilmott Cup three times running in the 1980s.
In the W&H League, Michael was a member of Kenton from the early 1960s until the 1980s and then played for Apollo at the John Billam Scout Hut in Preston Road, latterly moving to the Harrow Leisure Centre. Michael was elected a Vice-President of the League in 1997.
Away from table tennis, one of Michael's interests was keeping bees and making honey. He was the longest-serving member of the Middlesex Beekeepers' Association. "I want a garden with a house in it because I want to keep bees," he is reported to have told the estate agent, in typical fashion, when he began looking for a house. He said it was for him, his family and his swarm.
He was also a keen horticulturalist and spent endless happy hours tending a wide variety of plants and scrubs. Even table tennis visitors were always taken on a guided tour, with Michael pointing out and naming his favourites. More often that not, visitors were sent away with a pot of honey, too.
Not content with having a garden which most of us would find daunting, he also maintained a double allotment nearby, where he grew vegetables. For many years, he exhibited at the Brent and Harrow annual shows, winning several awards for excellence.
Michael was born in Cyprus in 1921 and came to England in 1938. He served with the British Army's Medical Corps in the Second World War. He leaves a wife, June, a son Costas, a daughter Marianna and five grandchildren.
Harvey Burns - October 2010
Friends and teammates of Harvey Burns were saddened to learn of Harvey's death in October, aged 71, less than three months after being diagnosed with cancer. Harvey was for many years a member of the League and was a serving Management Committee member at the time of his death.
Harvey joined the League in the mid-1970s and played for The Drive, Edgware, Headstone and ultimately Kenton, and was most often a member of a team in the middle divisions of the League, usually with Geoff Rabbow as his teammate. He was perhaps most feared for his tricky service and was renowned for giving fellow players an audible assessment of his own play (usually negative after he had lost a point). In addition to joining the Committee in 2006 as Representative Match Coordinator, Harvey encouraged his own grandsons from the time that they could see above the line of the table and gave them regular coaching at the Harrow Leisure Centre.
Initially trained as a chemist, Harvey became involved with the American direct selling organisation Swipe in the 1970s. Those who knew Harvey could not have been surprised as he became an ins t ant success as a salesman, cajoling potential customers with a magic mix of persuasion and logic. Later on, Harvey turned to insurance, a career from which he retired in 2008.
He is survived by a wife, Helen, two sons, a daughter and several grandchildren.
Brian Charman - December 2009
The League was saddened earlier in the year to learn of the passing of another of its Vice-Presidents. Brian died at the age of 76 after suffering a heart attack in August. He lived the early years of his life in Fulham, south west London, and there he met his wife to-be Margaret. After their marriage, they moved to Ruislip and then to North Harrow, and Brian initially played at the North Harrow Table Tennis Club, before moving to Headstone, where he and Margaret also played tennis.
Brian had a career at the local bank before retiring in his mid-fifties. He soon became Secretary of the TT section at Headstone, and in 1973, he was elected onto the W&H Management Committee to the post of Inter-League Match Secretary. Thus began an uninterrupted 36 years of dedicated service before his retirement at the 2009 AGM. During this time he was also the Handbook Secretary (13 years), Closed Championships Secretary (4 years), Knockout Cup Competitions Secretary (4 years) and Assistant General Secretary (4 years).
His own high point during this period was the production, in 1991, of the History of the first 60 years of the League. This involved hours of reading through past Committee minutes and League handbooks. Originally published in the 1991-2 Handbook, Brian's history is now the cornerstone of the League Archive section of the W&H website.
It is no wonder that, whenever a new Rule was necessary or an opinion on a course of action affecting the League was sought, Brian's advice would be asked for and readily and forthrightly given. In 1986, Brian's work for the League was recognised when he was elected as a Vice-President.
He was a good League table tennis player who enjoyed hitting big forehands. The highest level he reached was Division 6 (stronger then than it is now). Aside from the odd divisional title, he didn't win any individual honours, although he took much pleasure in the fact that his son David represented Headstone in Division 3.
Brian and Margaret both suffered health problems later in life, although after giving up tennis they became regular golfers. They shared their home with a huge and enthusiastic Collie who was always the first to welcome visitors. Brian and his family were committed supporters of Fulham FC and enjoyed the team's rise to the Premier League in the last decade . Brian was greatly saddened when Margaret passed away in 2006.
Brian leaves a daughter, Linda, a son, David and two grandchildren, Alexander and Adrienne.
Allen Roper
The Wembley & Harrow TT League is sad to announce the passing of one of its Vice-Presidents Allen Roper, who died on 30 November 2008 aged 77.
A fine servant of table tennis in north west London for many years as a player, organiser and administrator, he was the League's Development Officer from 1994 until 2003, when he was made a Vice-President. As well as the W&H, Allen played for a while in the Uxbridge and Chalfonts Leagues.
As Development Officer, he was very active at the League's facility at the Harrow Leisure Centre after it re-opened in 1997, starting the Summer League in that year and introducing juniors to the Woolwich Junior League which later became the National Junior League. As a skilled craftsman, Allen took it upon himself to upgrade the facilities at the Leisure Centre – so far as the authorities would allow him. He would often bring along his tools to fix a table or repair the screens before getting down to some serious junior coaching.
Allen started off at Wembley Cricket TTC but he and long-standing teammate Tony Foyle moved to Eastcote CA in the early 1970s when their third player left the team. They then played in Division 6 of a 15-division league. Ten years later, they joined Lowlands TTC where Allen remained for the next 25 years. Thanks to a good eye and some devastating pimples, Allen became renowned amongst opponents for his awkwardness across the table, combined of course with impeccable sportsmanship. In his later years he had moved up to Division 3.
In 2004 he left the W&H Committee to develop the club he started at Hillingdon in 1999 and the following season he entered two of that club's teams in the league. Through Allen's tremendous hard work, the Club achieved Premier status, acquiring considerable funds through grant applications.
Meanwhile, Allen was active in the national game as a qualified County Umpire and a Level 3 Coach. Off the table, he was also skilled in the art of magic tricks but his greatest claim to fame was through his trade as a cabinet maker. A contract designing and making sets for Lord Snowdon led to dinner with his client and Princess Margaret, a commission for hand-made furniture at Kensington Palace and the job of a refit for the interior of the Queen's train. A large number of mourners, from table tennis and beyond, attended his funeral. He leaves a wife and two children.
NEIL C. STRATTON 1961 - 2005
It is with great sadness that I report the passing of Neil at the end of December. He had been ill for a very long time but should of course have had many more years to look forward to. Neil was one of the leading players participating in the Wembley & Harrow Table Tennis League since its formation more than seventy years ago ... Only Alan Rhodes, the English International, won more men's singles titles than Neil. In addition to being the singles champion on six occasions Neil also held the doubles title five times.
Neil represented the league consistently from 1975 to 1994 at junior and senior levels. He also represented his County, Middlesex, on sixteen occasions. As a junior Neil was coached by Michael Close and started his competitive matches at Vagabonds Club. From there he moved to Berkeley, then Harrow Town and Kenton. His final club was Lowlands.
In all this time Neil was renowned for being a completely reliable member of whichever team he was playing for. His behaviour at the table was always impeccable and he seemed to enjoy every moment of his table tennis. As team captain/secretary in the County Inter-league competition he arranged the matches with efficiency.
Our heartfelt condolences go out to his parents Eugene and Judith, also to his brother Paul, with whom he played for many years.
G. Walsh :- Vice Chair. Wembley & Harrow Table Tennis League
Last Updated: