Bill Bradley Handicap Plate, Two Milestones in One Night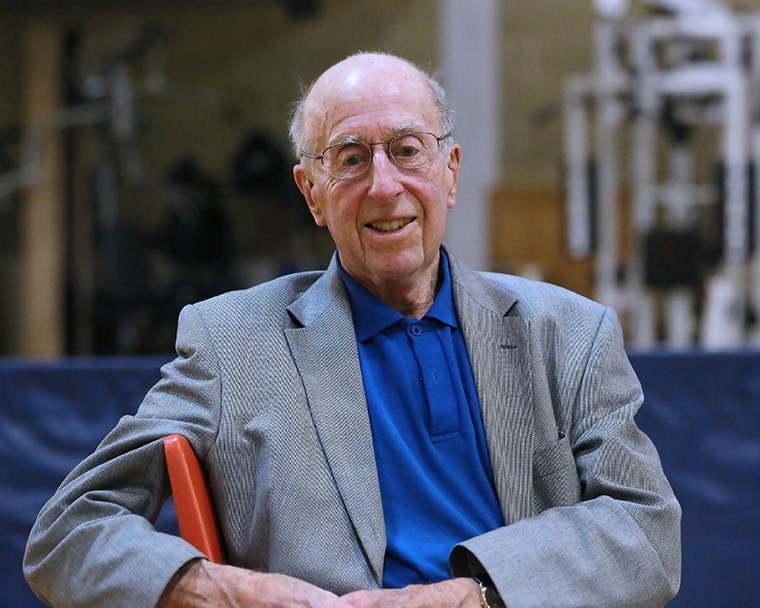 This week saw two major milestones at the Southport Table Tennis Club: veteran member Bill Bradley celebrated his 90th birthday and also notched up 65 years playing for the club.
In those days, new members had to be introduced and elected at a Committee Meeting, so on 27 August 1953 Bill was proposed by another long-serving member, the late Dave Ashby, and seconded by a Miss Harley. Bill played his way up through the teams and soon became a regular in the first division, and by 1957 he was leading the B team to 2nd place, just behind the C team. In 1960, 1962 and 1963 he was part of the A team which won both Division 1 and the Anon Cup.
Although the Southport club's glory days of the 50's and 60's are long gone, Bill has continued to play a big part in the running of the club and was secretary for many years before becoming chairman. Indeed, his wisdom and service were recognised by his becoming an Honorary Life Member of the Southport League.

To help Bill celebrate these milestones, Southport Club members competed for the newly named Bill Bradley Handicap Plate. The final between two new members of the club, Mark Barnes and Ogi Kostov, resulted in 16-year old Ogi narrowly taking the trophy after a cracking finale to complete a wonderful evening for the man of the moment. Congratulations Bill..... by Alan Nolan
Photos from the night can be found in the Gallery...
__________________________________________________________________________________________________________________
PRINCES CROWN IRENE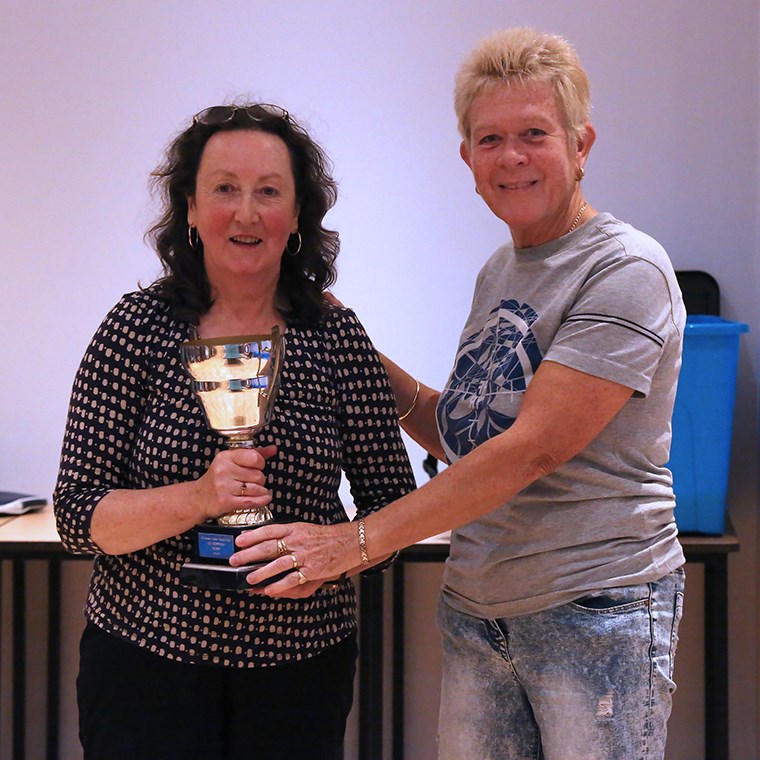 Princes Street has long been home to Southport sporting royalty - snooker legend Les Dodd has been based their for many years.
Now it has another sporting champion - Irene Mullan.
On 22nd August the newly established Princes St. Table Tennis Club , which has adopted the Southport Reform Synagogue as it's new home , held their annual club championships.
Each match was played over 2 games of up to 21 points , the old scoring system used to accommodate handicaps allocated to give every player an equal chance of winning.
Division 3 player Irene Mullan advanced to the final after beating club legend and division 1 player Darren Taylor in a closely fought semi final.
In the other half of the draw Ian Lunt , a stalwart of one of the club's division 2 teams, won through claiming the scalp of fellow division 2 regular Derek Aitken in his semi final.
In the final Irene received a 14 point advantage, which kick started an epic tussle . Ian deployed his spin serves and topspin drives to take an early advantage. Irene clung on and gradually clawed back some of Ian's lead, with some tremendous blocks and controlled topspin winners. First game to Ian 21-13, putting him firmly in the driving seat.
In the 2nd game Irene came out with renewed vigour , attacking more , and taking the match to Ian. Mixing her usual counter hitting with a little more aggression the 2nd game was much closer, and at 20-15 up Ian went for a topspin kill and missed by a fraction. The game ended 21-16 to Ian, which after adding the handicap, Irene had won by just 1 point - incredible finish.
In the doubles competition the division 2 pairing of Colin Fyles and Derek Aitken took on Darren Taylor ( D1) and Andy Armstrong ( D2) in the final. With a 6 point advantage Colin and Derek were never really in trouble and ran out worthy winners.
So ended Princes St. TTC's first championship in their new home and now they eagerly look forward to the start of the new season next week.
Nick Foss
More photos in the Gallery

Introduction to 2018-19
Table Tennis resumes on the Monday 10th September, and to bring you up to speed with several changes, I will endeavour to explain...
With the loss of two teams (Argyle A and Holy Trinity A) from Division 1, no teams were relegated to Division 2. Argyle B now take on the mantle of Argyle A, whilst the once doomed Argyle C stay put as Argyle B. Crosby C also got a reprieve and are joined by their promoted E team who become the D team making it a quartet of teams in the top tier for the Crosby club. Promoted Princes St. D take their place in Division 1 as the newly named clubs C team. Finally last years Holy Trinity B take over as their A team
In the 2nd Division, again there are some changes, which mainly are caused by the knock on effect from those 1st Division alterations. Holy Trinity C becoming their B team, and continuing the stepping up at Argyle, their F (3rd Div) team from last year have been asked to play up a Division as Argyle E. Crosby F are not relegated due to additions in the 3rd division. Promoted Waterloo A and B complete the line up.
Interesting developments indeed in the bottom tier. Because of the loss of their A team, it meant a lot of upward movement of players at Argyle. This however was solved with the introduction of a complete new team under the guise of Argyle H, even leaving enough players so as to enter a further J team. Relegated Holy Trinity D were also another casualty, fortunately Princes St came to the rescue entering an F team, making it 11 teams in each division. This all sounds a little confusing and hopefully I have got it right in the main, but as the squads get announced and the season gets under way, it will all fall into place. Just the one question still begs to be answered, can anyone arrest Crosby A's stranglehold on that number one position. A new look Southport A will have first bite of that particular cherry when the champions visit The Amelan Hall next week. Princes St A, Holy Trinity A and last years runners up Crosby B will also be hoping to push the champions all the way. In the 2nd Division, Holy Trinity B look like the ones to catch, whilst Argyle C and D will again be up for the fight for promotion. Of course there will be the small matter of the two promoted Waterloo teams, who could both become surprise packages. Argyle F (last seasons H team), Princes St F, North Meols and The Para's head the list of favourites in the 3rd Division, although the new Argyle H team seem to have something up their sleeves, let's just say at this early stage their lineup could be a talking point. That, and all the ups and downs will I am sure make it another captivating season, so good luck to all……
_________________________________________________________________________________________________________________
Last Updated: