---
Week 22
Southport & District TTL
More postponements this week will mean the season will go into a 23rd week, if not a 24th, so we will have to wait and see who finally wins the First and Second Division titles. As anticipated the race for the First Division title has gone down to the last match. Both Formby TTC A and B teams have kept pace with each other over the last several weeks and with both getting maximum wins again, a three point gap still exists. Formby TTC A lead on 159 points, TTC B have 156 points, the leaders visit Southport B whilst the B team host Waddington A. Third and fourth places were decided last week, Argyle A and Holy Trinity A occupying those respectively. Still in the First, could Formby TTC D escape the bottom two, trailing by thirteen points and with two matches to play, both of which were contested this week… First up a tough trip to Holy Trinity A, a good double win from captain Sam Pierce along with a win for Josiah Nix, had got the score to 3-3, encouraging play from the visitors, could they maintain it. Barry Davies and Mal Kent for the home side however had other ideas, both winning to make the score 5-3. Doubles again would decide this one, and when first double pairing Sam and Josiah overcame Barry and Colin Mitchell to make it 4-5, then the draw was on. Brian Crolley and Mal faced Chris Kneale and young Rhys Davies for the visitors, fabulous battle to finish the night, coming from two games to one down to take it in five, the draw was earned, final score 5-5… Next up a rearranged home match against a full strength Southport A, no let up here, a big win needed, but with each Southport player contributing to the score, that win looked less likely as the match progressed. All square at the finish and with that still a three point gap from safety, so with Holy Trinity B's heavy loss at the hands of the leaders having little effect then the bottom reads.. Holy Trinity B 67 points, Formby TTC D 64 points and Southport B 21 points.
Formby TTC E finished a great season with a narrow home win against Argyle E, and for the time being lead the Second Division with 151 points. Their achievement this season is enhanced even more when you realise their promotion at the first attempt was completed with the same four players turning out in every match, congratulations well deserved. Waddington B look like they will clinch the title here, on 147 points with two matches to play, five points will do the trick from those remaining fixtures, at home to Argyle C and an away trip to Holy Trinity C. Behind the top two, who finishes third is still up for grabs, Argyle C are in pole position but that could change, but one thing is certain, positions from third to seventh could be separated by less than ten points in the final table. It's been all sorted at the bottom for some time now, Southport C have 38 points and Formby TTC F have 25 points.
Cracking finish to the Third Division title race, we left it last week with Waterloo TTC ahead by three points from Holy Trinity D, so could Holy Trinity reverse last week's turnabout. A trip to the Para's was their task, never an easy place to go, and with maximum points the target, even more difficult. Great start for the visitors though, taking the first five points, and apart from a nervous win for Gordon Parmenter over Matt Spofforth edging it in the fifth, the scores suggested a comfortable lead. Gordon returned to the table to take on Kostya Sinitsa, and promptly made it 6-0, script going according to plan, or so it seemed. Obviously Mark Wilson and Ian Littlewood didn't read it, they set about changing things, Mark got one back edging a topsy turvy tussle in the fifth against John Moore, then Ian fought back from two games down to again clinch it in the fifth over Richard Woodley, 2-6 Holy Trinity. With the match finishing with the doubles, then could there be a further twist, well credit to the visitors, both games went their way, but only just, Gordon and Ron Makin this time reversing a two game deficit to win in the fifth … Final score 8-2 Holy Trinity. That win put the Formby side five points ahead, now it's Waterloo's turn and they faced once timed challengers Waddington E at home. Needing a draw at least to take the title on matches won, Waterloo looked confident, but the visitors looked like they were out to spoil the party, in particular captain Dave Mullan winning his two singles to make the score 3-2 Waterloo at the half way stage. From this point the home side took control, and never looked back, only a slight blip losing a further point in the first doubles on their way to a 7-3 win and the that title! Just two points the winning margin, Waterloo TTC finish on 147 points, Holy Trinity D are runners up on 145 points,, so close, but returning to the second tier was their main objective. Congratulations to our newcomers Waterloo TTC, with strength in depth, deserved winners. North Meols will finish third on 137 points, ensuring their position with a good win over Argyle F, where the home sides acting captain Les Rimmer highlighted a super performance from Argyle's Emily Clare, adding she's one to watch for the future. Waddington E will remain fourth and Para's will be fifth.
---
Week 21
Southport & District TTL
Postponements again head the news this week, with the Easter period affecting six matches this week and probably more to follow next week. As it stands at the moment the season will certainly go into a 23rd week, which will involve some key issues. Both without a game Formby TTC rivals A and B remain static at the top, TTC A on 149 points and TTC B on 136 points, however third place was secured by Argyle A after their narrow win over Holy Trinity A. That win meant that Holy Trinity would have to settle for fourth place, with one match to go they trail by eleven points. Argyle A have 115 points, Holy Trinity 104 pts. At the bottom it was better news for Holy Trinity B, four good points earned against Formby TTC C may well have made sure they stay in the top flight, increasing their lead over TTC D now to thirteen points and with the Formby side only having two matches left, then it's a tough ask for them.
No match for the top two, Formby TTC E and Waddington B in Division 2 either, again they mark time but safe in the knowledge they're promoted, Waddington are still clear favourites for the title, eight points behind but with two games in hand. Holy Trinity C are back in the race for third place, after a good win at Argyle C, whilst Argyle E slipped up at home to TTC G. Probably not really a slip in this one, more likely down to a good performance from the young Formby team, two wins each for Yameen Al-Dahiri and Josh Parker along with vastly improving games from Rashad Al-Dahiri and Dylan Walsh, cumulating in wins for them in both doubles, decisive! Argyle C have 111 pts in third, Argyle E 106 pts, Holy Trinity C 104 pts.
Only one place to head for in Division Three and that's the top of the table clash, Holy Trinity D at home to Waterloo TTC, so it has to be this week's 'feature match' … This one will go a long way to deciding who wins the title? Holy Trinity shook off an early season blip caused in the main by illness, to get back on track and become serious contenders, Waterloo, newcomers this season, arrived with quite a squad and didn't they use it well tonight. To start things off, John Moore for the home side, faced Waterloo number one Gavin Minnet, 11-5 Gavin in the first, super response from John but just edged out 14-12, again so close in the third, 11-9 Gavin and Waterloo lead 1-0. Holy Trinity's number one Dave Bradley up next against Jeff Hornby, fantastic tussle here, Dave taking the first, Jeff replied strongly to win the 2nd and 3rd sets, Dave countered well and it's all square. First five setter of the evening ended with an away win, 2-0 Waterloo. Another five setter followed Gordon Parmenter versus Waterloo's Paul Mainey, who stormed into a two set lead only to be pegged back by an equally dominate two set response from Gordon. Paul regained his poise and clinched the fifth, 3-0 Waterloo. Could the home side's fortune change, Captains next Ron Makin faced Graham Chellew. Not much difference to the last match, in fact, it mirrored it precisely, Graham took a comfortable two set lead, Ron turned things around with similar comfort, and yes Graham took the fifth and it was 4-0 Waterloo. A pattern was developing, each encounter the home side were so very close, but failed to get on the board, could Dave put a snag in the pattern, he returned to play Gavin. Good start here, he took the first set just, second set too 11-8, fabulous chance to get one back. Taken 11-8, three straight and it's now 4-1 to the visitors. Game six saw John tackle Paul, could he continue the comeback, well great battle this was, should have gone to five, it felt like it, but in the end Paul nicked it 13-11, 13-11,10-12, 11-9. Normal service resumed and a four point lead. Doubles next on the agenda, home pair Dave and John took on Gavin and Paul, and although taking the first set looked encouraging, the next three went the way of Waterloo and the match was won. Points were still very important, so could 2nd doubles pull another one back, Ron and Gordon made a great effort against Jeff and Graham, they deservedly led by two sets, but again another gear was found by the Waterloo players and yet another five setter was won by the visitors, that makes it four out of four, tough to take for Holy Trinity, even tougher with the score 7-1. Two games to go and they were shared, Gordon overcoming Graham in four after losing the first, including a marathon 16-14 win in the third, and Jeff beating Ron in four to make the final score 8-2 Waterloo. Wonderful game of table tennis, disappointing for Holy Trinity, they fought so hard and maybe deserved a little more, but the win puts Waterloo deservingly top and ensures their promotion, where the title ends up is still another matter. Waterloo lead with 140 points, Holy Trinity have 137 points, with one game left for each team, Holy Trinity away to Para's and Waterloo at home to once contenders Waddington E, makes this a difficult call… Para's will now finish fifth after their home win against Southport E.
With all the semis now completed the list for the four Cup Finals is as follows...
Gunson Plate Waddington E v Southport D Tuesday 14th April at Argyle
Anon Plate Formby TTC E v Formby HT C Wednesday 15th April at Argyle
Gunson Cup Para's v Formby TTC D Wednesday 22nd April at Southport Hospital
---
Week 20
Southport & District TTL
At the top of Division One leaders Formby TTC A did what they had to do, to keep their hands on the title , especially with rivals TTC B without a game . Formby TTC A lead on 149 points from 18 matches, TTC B have 136 points from 17 matches. That 10-0 win over their D team didn't however do them any favours at the bottom, as fellow strugglers Holy Trinity B recorded a good win at a slightly understrength Argyle B . That win lifting the Holy Trinity side nine points clear of the bottom two with just two matches to go .
Our Feature Match comes again from The Amelan Hall, where Southport A hosted Argyle A, not a lot riding on this one ,although Argyle do have their eye on third place and the home side must be intent on maintaining sixth place. Miro Veliký, Southport's number 1 was an absentee and with Argyle turning out a strong line up , then things looked a little ominous for the home side. Up first the two one's, Kyle Lavender faced the visitors John Mason. Not exactly the start Kyle expected , struggling from the onset to combat John's unorthodox style and spin , not being able to impose his own game on the match. Frustrating to say the least John took it in three, 0-1 Argyle. It was soon all square, Bernhard Frank winning in three over Mark Jagger, although that score line did not reflect the defensive battle it was , feeling more like a classic five setter. Argyle edged back in front , with Phil Smith's win over Alan Nolan ?and it was soon 3-1 to the visitors , second doubles pairing Matthew Hyde and Mark overcoming Paul Lunan and Alan… 3-1 was soon 4-1 after a great first doubles encounter, Kyle and Bernhard taking on John and Phil. Although not apparent at the time the outcome of this would be decisive. Trading blow's the first two sets were shared, third set to Southport , just 13-11. Chances to win it in the fourth were snubbed out and Argyle levelled 12-10, again another very close final set , Argyle taking it 12-10 . It seemed all but over in game six , an intriguing four set battle between Paul and Phil resulting in Phil increasing Argyle's lead to 5-1.. Could Kyle salvage something for the home side , when he faced Matthew, well the first two sets said he could , winning both 11-9. Back came Matthew , 11-9 to him in the third , super game this , seeming to have everything . Looking like it would be going to five and I for one wished it had , Kyle edged the fourth 12-10.. 2-5 Argyle. Any glimmer of hope for the home side was ended after Mark's three set win over Alan, and with the match now won, those extra two points would be of great benefit to Argyle's quest for third place. Considering that ,Southport didn't seem to want to follow the script , first Bernhard pulled one back against John , a battle of wits here , winning in four sets. Then probably the best game of the evening , a fabulous five setter between Paul and Matthew . Paul producing some great attacking loop play to take the first two sets, winning both 11-9. An interrupted third set seemed to unsettle Paul's rhythm and Matthew took full advantage, which continued through to the fourth , and suddenly we were all square. Composure time , could Paul regain that rhythm , could Matthew hold on to the initiative , well it went all the way and rhythm won through , 11-9 to Paul , final score 4-6 Argyle. Enthralling encounter , in the end closer than expected , and it could well have been closer, thinking back to those chances in that exciting first doubles clash. That win keeps Argyle in third place on 109 points, and coupled with a disappointing result for Holy Trinity A , a narrow home loss to Waddington A , they now trail Argyle by nine points in fourth . Southport A remain in sixth place on 87 points.
No changes in Division Two, indeed as reported last week its all settled. Formby TTC E took over top spot , with Waddingtons B's game at Holy Trinity C being called off, but with two games now in hand, it will be only temporary . TTC E have 145 points from 19 games, Waddington remain on 137 points from 17 games. Argyle C are in third place , way back on 107 points, they head a group of six teams separated by just twenty points , highlighting the fact whilst they all took points off each other , the top two just sailed away.. Bottom two Southport C (38 pts) and Formby TTC F (25 pts) both got points on the board , but there will be no change here.
---
Week 19
Southport & District TTL
At the top of Division 1 , Formby TTC A and B continue to trade blows , as they both produced commanding wins , with the B team taking a point advantage , reducing the gap to just three points with three matches to go. Virtually replicate the B teams results , and the title goes to the A team, however any slip ups then the B team would be in to steal the show …. Which ever way it goes, it certainly will be a tense conclusion. Formby TTC A lead on 139 points , TTC B have 136 points. Argyle A (103 pts) and Holy Trinity A (96 pts) mark time and stay in third and fourth place having been the sides on the end of those Formby wins. Waddington A and Southport A produced a great match , double wins for Miro Veliký and Kyle Lavender sealing the win for the away side. At the bottom Formby TTC D made good ground on Holy Trinity B who were without a game, a 7-3 win against an understrength TTC C saw them claw the deficit back to just two points. Holy Trinity B remain on 56 points, TTC D are now on 54 points. Unfortunately for Southport B that Formby win consigns them to bottom place, even the creditable four points earned against Argyle B making no difference.
So with the 1st Division affairs on a knife edge , its become more of less clear cut in the 2nd Division. Waddington B and Formby TTC E both made sure of their promotion to the top flight . Waddington's emphatic win over Southport C clinching it for them, whilst TTC E's success was confirmed after a similar victory over a shell-shocked Southport C in a rearranged fixture, this following a close win away at Argyle C . Waddington B lead on 137 points from 17 games , TTC E have 135 points from 18 games. That game in hand makes the Waddington outfit firm favourites , 19 points from those remaining three games should do the trick. Argyle C are now third on 100 points , Holy Trinity C and Argyle E close behind both with 98 points. We stay with Argyle E for our 'feature match' when then they played host to a strong Waddington D. With third place up for grabs, a good win here would probably do the cause no harm , but things didn't start too well for the home side as Brian Haslam fought back from 6-10 down in the first against Les Lord to win in three sets . It was soon 2-0 , Dave Williams overcoming Jacek Dzimiera in four sets. Could number one Steve Lyon get the home side back on track , Dave Mullan stood in his way. What a fabulous performance from Dave in this one , strong defence accompanied by decisive hits, stifled Steve's attacking game , a master class of tactical play enabled Dave to take it in three sets, although the score didn't reflect the tussle we saw… 3-0 Waddington. Next up Ula Kuczek faced visitors number one Ray Hibbs , and with Ula not back to full fitness , she adopted a more cautious approach, nevertheless an intriguing five setter ensued with Ray edging it in the fifth 13-11.. 4-0 Waddington. Dave Mullan returned to the table and carried on where he left off, Jacek on the receiving end , three straight. Last chance for the home side to possibly save the match , but it wasn't to be ,Brian edging out Ula in another fine five setter , Ula coming back to level from two sets down only to lose out 9-11 in the fifth…6-0 for the visitors. Argyle regained some pride by taking the next two games, Steve just about edging out Ray in five sets , followed by Les beating Dave Williams in four.. 2-6. Doubles finished off a brilliant nights entertainment , no more so than the 2nd doubles encounter between Steve and Les against the two Dave's, a wonderful end to proceedings in this one , with the Argyle pair winning in four sets.. final score 7-3 Waddington. Not the result Argyle wanted , but this is how it's been them and the chasing pack all season, everyone taking points off each other , as the top two just kept on winning. It's all settled at the bottom too , with results finalising Southport C and Formby TTC F's fate. One must feel sorry for Southport C (35 pts) this week , being in the precarious position they were , trips to face the two top teams in the same week must have been daunting, especially with that inevitable outcome . Formby TTC F remain bottom on 23 points.
Significant news from the 3rd division is that Waddington E finally succumbed and lost their unbeaten record , away at Holy Trinity D. Super win for the leaders , it finished 7-3 , but that unbeaten run still remained at 5-3 , but single wins for Gordon Parmenter and Richard Woodley not only ended that great run but assured Holy Trinity top spot with 129 points from 17 matches. Waterloo take over 2nd place on 122 points from 17 matches , although they must have expected maximum points from their visit to Formby TTC H. Wins for Max Davies , Felix Anderson and Ewan Walsh, surprised the visitors and with that they trail the leaders by seven points. Waddington E are third on 120 points ahead of North Meols (120 pts) on games won , both having played 18 matches. North Meols win at home to Southport D was a close one , the difference being Les Rimmer and George Bradley who both recorded double wins. Para's reached a 100 points and consolidated fifth position after a close call against Argyle F , it finished 6-4, with a double for Ian Littlewood and a win in each of the doubles being the deciding factor.
---
Week 18
Southport & District TTL
Both Formby TTC sides kept the pressure on each other, each virtually matching the other for points, TTC A still top the pile on 130 points, after a commanding home win over Waddington A , stretching that lead a little over their B team by one point to four points, and with just four games to go , then neither can really slip up on the run in..
Elsewhere in Division One, there were a couple of closely fought draws, one of which affected things at the bottom , Formby TTC D earning 5 valuable points at Argyle B , where the home side although understrength , did manage to dig deep to end up all square, especially a fine performance from Joe Gilbert, edging both Ben Shellien and Josiah Nix in five sets. Holy Trinity A managed to keep up the pressure on Argyle A for third place with their draw at Southport A , seemed a fair result this, with Bernhard Frank for the home side and Kenny Jackson for the visitors both recording maximum points. Argyle A 's loss at Formby TTC C , still maintains third place for them with 102 points, but reduces their lead over Holy Trinity A in fourth too six points. Back to matters at the bottom, and with TTC D's five points and Holy Trinity B just managing to nick one point from TTC B then the gap between these two is now eight points, with TTC D having a game in hand, surely this could go down to the last match..
At the top of Division 2 things remain the same , although with a slight twist, Formby TTC E's great win over leaders Waddington B (127 pts) puts them within eight points on 119 points. Only their second league defeat this campaign and although being with out regular number two Dave Britton, it was down to a super double from Ged Wilson that the loss was not heavier. Argyle C and E retain third and fourth place on 96 and 95 points respectively….We stay in Division 2 for our feature match when we headed to The Amelan Hall for Southport C playing host to Holy Trinity C . It's been a tough season so far for the home side , their position looking precarious at the bottom, whilst visitors Holy Trinity C have hovered mid-table for the most , being caught up in the chasing pack . Great start for Southport, Bill Bradley in fine form winning in three against Dave Cunningham, 1-0. Norman Lindsay quickly levelled things up with a super four set win over Clayton Creed, who had held the upper hand early on, but experience prevailed , 1-1. It was soon 3-1 for the visitors , Julian Quirk and Keith Dudley both winning in three sets over Nigel Pilkington and Clayton. Could Southport get back into this ? you bet they can, Tommy Taylor clinching a very entertaining 'hit and counter hit' game in four sets against Dave, 2-3 Holy Trinity. They so nearly tied things up in game six, Nigel just being edged out by Norman in an epic five setter, 9-11,13-11,16-14, 9-11, 5-11.. so nearly , but it's 2-4 Holy Trinity. Southport's resolve seemed to have drained away and 2-4 soon became 2-6 and the match was the visitors, Keith's steady game firstly seeing off Bill and then Julian's comfortable win over a never give up Tommy Taylor. Doubles would finish the evening off, the home side needed a little luck here , they deserved it I believe , but again it evaded them , with Julian and Norman beating Tommy and Clayton in four sets and second pairing Nigel and Bill just losing out to Dave and Keith in a great finale , levelling twice , quite comfortable in the fourth game, only lose it 7-11 in the fifth . Final score 2-8 Holy Trinity . Brilliant effort from both sides , overall maybe the home side deserved a point or two more, but in the end a good win for Holy Trinity in a very entertaining match… This result doesn't help Southport's cause at all , they're now twenty points adrift of TTC G who are on 55 points in ninth position. Bottom club Formby TTC F (22 pts) latest loss against Argyle E did include some good news , a great first win for captain John Aitchison. At the beginning of season John was ranked to play number three or four, but with team problems rife , he has more or less played at number one throughout, so his 'never give up ' attitude has finally paid off .. great news indeed, let's have another one John…
---
Week 17
---
Week 16
Southport & District TTL
Staying in 1st Division we head to Argyle for our feature match, where Argyle B entertained Waddington A , and with both teams mid-table, then this one looks like a close call. First up the two number ones , Joe Howard against the visitors Josh Taylor. Home captain for the evening Mike McCormack couldn't have asked for a better start as Joe unleashed some brilliant attacking play , taking the first two sets in fine style. Josh rallied in the third only to lose the fourth, 1-0 Argyle. Mike against opposing captain Gordon Wood next, if the opening game was one of attack , this contest took on a more interesting look, Mike's measured attack up against Gordon's formidable defence. All square in the first two sets , impressive performances from both players with contrasting styles , third and fourth sets though, go with the attacker, 2-0 Argyle. It was soon 3-0, Geoff Pye, remember him, he was part of Formby's double winning side last season, winning in three against Mark Wood. Gordon returned to the table to take on Joe Gilbert, again it's defence verses attack, great tussle this one going all the way. Joe seemed a little unlucky on occasions , but Gordon's solid defence proved too much in the end , winning 11-9 in the fifth. Indeed a cracking game of Table Tennis, credit to both players. With a game pulled back , could second doubles improve on that, Joe remained at the table , joined by Mike to face Darren Taylor and Mark. Another super five setter, Argyle leading twice only to be pegged back on both occasions , alas for the visitors , the sequence of games continued , Argyle taking it 11-5 in the fifth, 4-1 Argyle at the break. Could Waddington get back in this , well for the first comfortable set won by Argyle's first pairing of Joe Howard and Geoff, it looked unlikely, then one of the wheels just seemed to fall off for them, Josh and Gordon taking the next three games , 4-2 Argyle. Any hope of a recovery were quickly dashed as Geoff and then Joe Howard won their remaining singles , 6-2 Argyle. Waddington were not quite finished , they dug deep to gain some parity , firstly with Mark overcoming Joe Gilbert in four fabulous sets, followed by Darren's four set win over Mike , another super all out attack encounter. It finished close after all, a great match with probably the right outcome , 6-4 Argyle, but only just !…..
It's virtually as you were in the 2nd Division , Waddington B stretching their lead at the top to nine points after a good win at Argyle D. Formby TTC E also affected by the postponements remain in a comfortable second on 106 points . These two certainly look set to be playing in the top tier next season, as the gap to third is nineteen points. Argyle E leap frogged their C team into third place after a great home win over Waddington C, now on 87 points they are a point ahead of Argyle C in fourth, but that big points difference is looking a little too much for either of the Argyle sides to make up. Waddington C are in fifth position, and with both the bottom two without a game then Southport C and Formby TTC F 's positions are still very precarious.
All four top teams had very good wins in the 3rd Division , so not a lot of change here either. Holy Trinity D top the pile on 114 points, North Meols maintained second place on 103 points, followed by Waterloo TTC on 99 points, with a game in hand. Still in contention and boasting an unbeaten record are Waddington E a point behind on 98 points. This four way battle is sure to go the distance , with the key to the outcome I believe being that Waterloo have to play their three contenders, a tough call this one. Para's consolidated fifth place after a convincing win over Southport D, where Southport's captain Andy Bush gained his teams only point with a super win over Para's Ian Littlewood , one for your scrapbook there Andy, it would certainly be in mine… Formby TTC H are still striving forward, but still remain at the bottom, lots of credit due here… and finally the remaining Anon Plate quarter was played this week , Holy Trinity C completing the line up with their win over Argyle F.
---
Week 15
Southport & District TTL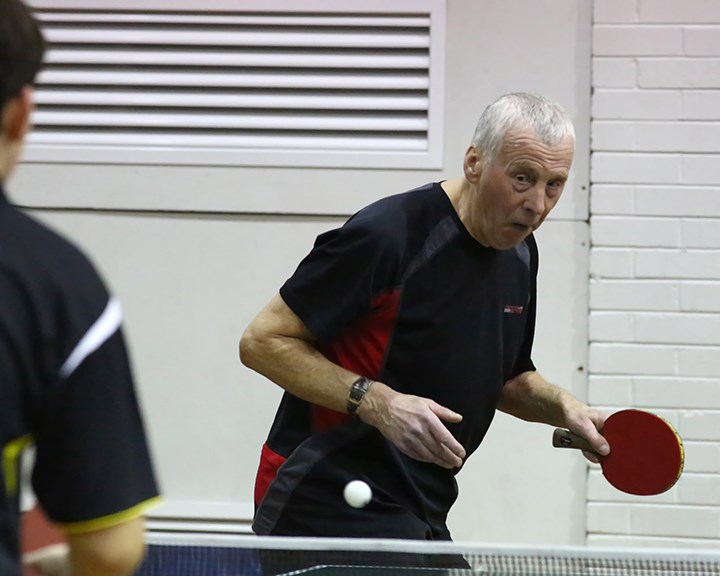 Again we must start at the top of Division One , with the eagerly awaited clash of the top two, and with leaders Formby TTC B already without Tom Miller, then the news that number one Steve Green was also going to be an late withdrawal , things were not going to get any easier . Prospects of playing this match with a player short , certainly affected the evening ,and some of the anticipation just seemed to disappear. Only the B teams captain Sylvia Graham got on the board overcoming a buoyant Dan Hughes, and the only doubles game served up a super five setter, Rob Barker and Dan winning 11-9 in the fifth after coming back from two sets down against Sylvia and Matty Laird. So 9-1 to the A team , a somewhat unexpected score line I feel, but the damage was done before a ball was served. That win puts the A team back in pole position on 105 points, seven points ahead of their rivals. Of course this is not the end of it for the B team, taking their two contests out of the equation , the B team in fact have taken eleven more points from those other eleven matches , and with seven points the gap , then this battle could well go down to the wire…. Argyle A maintained their challenge for third place with a convincing win over Holy Trinity B , Mal Kent picking up his sides only point. That win puts the Argyle outfit on 93 points , six ahead of Holy Trinity A who kept the pressure truly on with a 7-3 victory over Argyle B, they also have a game in hand. Southport B remain at the bottom after a luckless 2-8 reverse against Formby TTC D . Although still second from bottom those eight points won by the Formby team closes the gap to just two points now behind Holy Trinity B . It seems we have a battle or two at both ends of the 1st Division..
In the 2nd Division , it becomes clearer by the week, Waddington B continue to look firm favourites for the promotion , their 9-1 win in the derby match against their D team was their twelfth win from thirteen matches , consolidating top spot. Formby TTC E also have their eyes firmly fixed on a promotion spot , so lets see how they got on in our 'feature match' when they came up against TTC F. Another tough task faced the F team , struggling all season with missing players for one reason or another, up against a side who are the only team in the league to use just the four players, certainly a great contrast in fortunes, and those fortunes continued here with a procession of E team wins. Captain of the F team and number One John Aitchison fought tirelessly against the odds in his two games against Mark Davies and Francois Rafferty , he certainly gave it his best shot , deserving more than he got . Pat Hyde at number Two , also gave it a good go against Mark and Rhys Davies, but the points went the same way. Youngsters Marcus Doyle and Daisy Boulton must give the side some hope, with their continuing improvement, but try as they must , the points kept slipping away. Only Daisy gave a glimmer of hope by taking Peter Ashley to four sets, and with both doubles going the same way a 10-0 victory for the high riding E team was the inevitable result. Super match nevertheless , played with total commitment throughout …. That win puts the E team just two points behind the leaders on 106 points , but they have played a game more. Whilst the top two are winning , the chasing pack keep taking points off each other, no better example was at the all Argyle clash where the C and E teams fought out a fabulous draw , Les Lord levelling at the end for the E team. They stay in third and fourth place on 80 and 79 points respectively, Waddington C are in fifth on 74 points. Formby TTC F remain rooted and it doesn't look too good for Southport C , even after a good four points earned against TTC G, they are now on 25 points, but 26 points from safety.
---
Southport & District TTL

Week 14
We will have to start at the top of the 1st Division , and although results have not been finalised, it looks like we have new leaders . With the news of Formby TTC B's commanding win over their D team, and Formby TTC A's narrow win over TTC C , then if these are confirmed TTC B top the division on 97 points , a point ahead of the A team . Gradually the holders lead has been whittled away , and the timing could not be better with them meeting 'head on' this Friday (6th). What an encounter that should be , the result may settle things once and for all , but you never know ! Argyle A are now third on 84 points trail by 12 points having played a game more , Holy Trinity A in fourth look a little better placed on 80 points , and on the same games played total as the Formby pair. If Waddington A (they were Waddington B last season) thought they would be facing another fight to stay in the division , then they must be very well pleased with their performance so far , following a good win at Holy Trinity B they are now on 69 points , which is four more than last seasons total , they lie fifth ,and well quite comfortable I would say, great season so far . Facing a fight to stay in the division is exactly what bottom two ,Southport B and Formby TTC D face , it may be too difficult for the Southport team to escape, but TTC D's ( 30 pts) battle is on , and with the nearest team Holy Trinity B continuing to edge clear , nine points is the margin to make up…
At the top of the 2nd Division, Waddington B look to be in the driving seat even more now after their very good win at Argyle E , which was more than adequate revenge for their only league defeat this season which was against the Argyle outfit , who with that loss slip to fifth place on 74 points. Waddington are out in front on 99 points , three ahead of Formby TTC E , with a game in hand. A 7-3 win for the Formby side in the 'derby' encounter against their G team , increased their lead over third placed Argyle C to twenty one points , and it looks likely that the top two will stay the top two, it's who will finish on top , that's the question. Waddington C re-join the chasing pack for third place after a good home win against a stronger looking Formby TTC F side whose three valuable points closed the gap at the bottom to just three points from Southport C on twenty one points .
Division 3 also have new leaders , the changes coming on the back of a great win for Holy Trinity D over current leaders North Meols, a 9-1 score line suggesting a convincing win , it was and sportingly confirmed by North Meols captain Dennis Morley. That win puts them on top with 95 points with North Meols still in second place on 92 points. Waterloo failed to make headway when they narrowly lost at Para's , never an easy place to go especially when Ian Littlewood and company get the bit between their teeth. That loss leaves the Waterloo side still in third on 85 points and with a game in hand , so they will certainly remain contenders. Waddington E are in fourth , still unbeaten, and Para's in fifth.
-----------------------------------------------------------------------------------------------------------------------------------------
Some sad news has been recently received, and the following announcement has been made by the family
Anthony 'Tony' Wilson
Its with great sadness Tony Wilson passed away on Christmas Eve. Tony along with the likes of Chris Coogan and the late Dave Gunson, was one of the longest servants in the league. He played at Holy Family before the Second World War and in every season following his demob in 1946 , when he played for a number of clubs including Cenro, Brockhouse , Southport and St. Teresas in later years. Playing for the 'W' Club too was a favourite time. Although he complained that giving up smoking back in the fifties cost him his 'A' game , his serve was always regarded as one of the best. A winner in the Anon and Gunson Cups , doubles success at both the Town Championships and Liverpool Business House , but his best moment came when playing in a team of three generations of his family….. we will all miss him.
---
Southport & District TTL
Week 13
At the end of week 13 it is certainly hotting up at the top of Division 1. Leaders Formby TTC A's narrow victory over Argyle B just keeps them ahead of rivals TTC B , after they had a convincing win over their C team, and with only a couple of games going to four sets and one to five , a great encounter between Sylvia Graham and Adam Schober-Thomson , Sylvia coming back from 1-2 down in sets to take it 11-6 in the fifth , then it was a good day at the office for the B team. So how did the A team fair, not far to travel for our 'Feature Match', in fact just to the adjacent table. Some concern in the A team camp, they were without number one Robert Barker , were quickly dispelled somewhat as Craig Lowe edged Phil Todd in a great five setter , and Josiah Nix beat Joe Gilbert in three to give the home side a 2-0 lead. Joe Howard then won the battle of the number one's with a three set win over Joe Mullin , and it was all evened up when Phil overcame Josiah in another super five setter, 2-2. Five setters was the order of the day , as three of the next four singles going the same way, Ben Aitken for the visitors taking full advantage of the tension, winning both his singles in the fifth against Joe and Sam Pierce . Sam regained some clarity with a three set win over Joe Gilbert, and in the last singles Craig got the better of Joe Howard in another intriguing five setter , where Joe took the fourth set 11-2 , only to lose the decider by the same score, not that certain how that works , but what is certain it's 4-4 , doubles up next… I've said this many times, doubles can be very decisive , and sure enough they were again . Two great contests , one decided in four sets when Sam and Josiah beat Ben and Joe Gilbert , 5-4 Formby, followed closely by the sixth five setter of the evening , 11-8 to Joe Mullin and Craig in the decider over Joe Howard and Phil. It finishes 6-4 to TTC A , but only just, a great nights entertainment throughout. Formby TTC A lead the way on 90 points with still a 100% record in tact, on their heels are TTC B on 87 points, this is far from over and what will the coming weeks bring , more tension for sure! Elsewhere in Division 1 , Holy Trinity A as well as recording a good win over their B team also played and won a rearranged game against TTC D , a 9-1 score line in that one puts them up to third place on 80 points. Argyle A are in fourth place on 74 points, whilst Southport B still trail at the bottom.
In Division 2 even with out a game Waddington B remain top on 91 points. Formby TTC E closed the gap to just two points with a good win at home to Argyle D , but with a game in hand the Waddington side still look to hold the advantage . Argyle C's fine win over Waddington C leap-frogs them into third place on 75 points. Argyle E are now fourth on 72 points after a very close draw at Holy Trinity C , where the Argyle side welcomed back Ula Kuczek , unfortunately it didn't work out too well with no win for her and signs that the knee injury that had kept her out since early October was still causing some problems. Both Southport C and Formby TTC F seem to be cut adrift at the bottom, it may seem a long haul to the end of the season for both of them….
With Waterloo TTC with out a game this week , North Meols are the new leaders of Division 3 on 91 points, their latest victory coming at the expense of Southport D , who were with out their captain Dai Davies. Holy Trinity D are in second place on 86 points, this after a hard fought win at Argyle G , a good result for them against the promotion contenders. Waterloo slip to third on 81 points with that game in hand and Waddington E remain unbeaten in fourth on 74 points. No luck still for the TTC H, Formby's youngest side , who were with out number one Elliott Cooper , who turned out for the F team on the same night.
---
Southport & Distict TTL
Week 12
With 1st Division leaders Formby TTC A on a free week, it was up to their nearest rivals TTC B to close the gap, when they played hosts to Argyle B who were in third place . A good win was needed and a very good win was achieved against a strong Argyle team, three games went to five and only three were decided in three, so a little closer than the score suggests. That win moves the B team to within seven points of the top on 77 points, interesting game coming up on 6th February when they meet head on. Argyle A remain third on 65 points , with Holy Trinity A in fourth closing the gap to just two points after a good win at Southport B , who managed to pick up two valuable points . They still trail at the bottom on 13 points, a little cut adrift of Formby TTC D on 28 points. Holy Trinity B edged clear of the bottom two with good home performance against a full strength Southport A .
Waddington B consolidated top spot in the 2nd Division (91 pts) with a resounding win in their derby against a slightly understrength C team who were without number one Colin Fyles. That loss resulting in the C team dropping out of the top four behind Argyle C and E . Those convincing wins for the Argyle pair lift them to joint third place on 67 points, but still trail second placed Formby TTC E who continued their great season with a 7-3 win at Waddington D. We stay in the 2nd Division for our 'feature match' Argyle D at home to Formby TTC G , another exciting young Formby side , who unfortunately had to bring in two late replacements at 3 and 4, so here we go... Les Lord , also standing in for the home side got them off to a winning start beating Sam Oldland . Up next the two number ones , Ollie Moir against the visitors Yaheem Al-Dahiri, super contest this one , tactical defence verses attack, first two sets shared , third set to Yaheem , and the fourth but only just , match score 1-1. Newcomer Daisy Boulton ( she's 11 in a few months) and certainly another Formby youngster to watch out for , had the task next of facing the experience of Jules Dutch , and although Jules took it in three, her improvement throughout the game was there to see. Second doubles pairing for Formby, Joshua Parker and Sam seemed to have a difficult task against Ollie and Les , it didn't look like that as they took the first set, but experience won over in the end with the home pair winning to make the match score 3-1 Argyle. Back came the visitors, Josh overcoming Loon Wai in a intriguing contest of spin and attack, which went all the way 12-10 to Josh in the fifth, super contest , 3-2 Argyle. It was soon 4-2 with Les taking the next in four against an ever improving Daisy. That improvement continued in to the First doubles encounter, Yaheem and Daisy up against home pairing Jules and Loon Wai. What a game this was , it went to four games , but felt like seven, a 19-17 win in the second set gave the home side a two set lead, Formby rallied 11-9 taking the third , the young Formby pairing so nearly taking it to a decider , 13-11 to Argyle, so so close, a fabulous game , and a credit to all four players, game of the night, 5-2 Argyle... Well that seemed to be it , far from it , both Yaheem and Josh with good wins against Jules and Ollie respectively dragged the score back to 5-4, only for Loon Wai s win over young Sam to decide the match, 6-4 Argyle ... great evenings table tennis with a match ultimately decided by the team winning both doubles ! At the bottom Southport C and Formby TTC F look stranded and cut off from the rest, can they wrestle clear and avoid the drop?
Waterloo maintain pole position in Division 3 with 81 points , but only on games won ahead of North Meols, who in turn lead Holy Trinty D by two points . This three way competition looks like going on to the end of the season , surely the Division winners must come these three. Waddington E are fourth on 67 points remaining the only unbeaten team in Division 3 , indeed they are in good company as Formby TTC A are the only other team in the league who are unbeaten. Another draw at Para's keeping that record , but also at the same time widening the gap between them and the top three. Formby TTC H still prop everyone up , but no worries here as the only way is up for our youngest team... all fixtures / results / tables and news can be found at www.tabletennis365.com/southport
---
Week 11
Southport & District TTL ( sponsored by Merseyrail )
We are now at the halfway stage of the league programme , and at the top of Division One defending champions Formby TTC A lead the way on 84 points , and with a 100% record to boot, the onus appears to be on the chasing pack to put a check on their possible if not probable defence of their title. Second placed rivals TTC B look to be in the best position to have a say on the matter , with 68 points and a game in hand . This was due to their game this week against Argyle B and three others games across the divisions at Formby being postponed because of the unavailability of the High School Gym. The A v B meeting on the 6th February next year will be one to look out for sure, it could decide the title there and then! Argyle A's narrow win at home to Waddington A consolidated third place for them with 64 points. Southport B remained firmly rooted at the bottom on 11 points, can the New Year bring a change of fortune here.
In Division 2, Waddington B are top of the tree on 83 points , after a very good win at Argyle C , and now with a 10 point lead over early front runners Formby TTC E , it's looks like the 1st Division is clearly in their sights. A 10 point gap is also the lead the Formby side have over Waddington C, who leap- frogged both Argyle C and E teams with a commanding home win over Holy Trinity C . Thats a run of five unbeaten for the Waddington outfit and surely now they must be in contention. Argyle E and C are both on 57 points , wondering where the points have gone. Another left wondering are bottom team Formby TTC F , but it's players availability not points that seems to have left them floundering a little , lets hope the second half of the season sees an improvement.
It's all as you were at the top of the 3rd Division, but only just, three teams separated by just one point. This all came about after Waterloo finally lost their unbeaten record at Waddington E , 3-7 on Monday . A great and deserved win for the home side maintaining their unbeaten record. Holy Trinty D then went to Para's and recorded a commanding 9-1 win...
So could North Meols maintain their push for top spot, our 'feature match this week will tell us , when they visited Argyle F.. things started very well for the visiters with the first two games going their way , George Bradley and Les Rimmer securing wins against Andy Stuart and Ray Clarke respectively. Back came Argyle with Callum Richardson winning the battle of the number ones , edging Bill Dawson in a great five setter ,11-8 in the fifth. A recovery was short lived as Dennis Morley overcame John Hepple in four to make it 3-1 North Meols. Doubles up next , these encounters can prove very decisive , and again this was the case , apart from a brief glimmer of hope for the home side in the first doubles , both were taken quite comfortably by the visitors, 5-1 North Meols.. Could Callum get things back on track for Argyle against Les Rimmer , well experience told here with Les winning in three , although it did appear to be a closer game than the scoreline suggested. No suggestion of the scoreline giving a false impression of the outcome in the next game , close was the game , very close was the outcome, Ray Clarke and Dennis Morley providing the game of the night, and it looked like Argyle were to get on the scoreboard again , with Ray playing a great game to take the first two sets. But again experience came into play and slowly but surely Dennis hauled himself back into contention, taking the next two and levelling the contest. This you knew was going all the way, and Ray so nearly recovered, but that experience told and Dennis took it 12-10 in the fifth ... Great game, 7-1 North Meols. Having lost game nine as well to make the match score 8-1, the hosts did manage to get that deserved second victory , Andy Stuart overcoming Bill Dawson in four,, final score 8-2 North Meols.... Super entertainment by two sides intent on just that. So the top three reads Waterloo 72 points, North Meols 71 points and Holy Trinity D 71 points, North Meols retain 2nd place on matches won. Unbeaten Waddington E are fourth on 62 points. Formby TTC H still prop up the division with 14 points, but with youth on their side , then maybe there is a bit of a surprise in store. Hopefully the New Year will give us all something to look forward too , but in the meantime I would like to wish everyone A Merry Christmas and a Happy New Year... and don't forget all Fixtures/Results/Tables and News can be found at www.tabletennis365.com/southport
---
Week 10
Southport & District TTL (sponsored by Merseyrail)
In Division 1 the top three stay as they were , both Formby TTC sides A and B had good wins and maintained their command of the top two places with the A team leading the way on 75 points , the B team on 68 points. Third place however is now for the time being a different story with Holy Trinity A's convincing win over Argyle A, and with fielding a stronger side than last week the Argyle outfit must have expected a little more than they got. Holy Trinity welcomed back Julian Quirk at number two and the result was never in doubt. Argyle remain in third place but are only 3 points ahead of their victors who now are certainly in the race on 55 points. Argyle B are still in fifth on 52 points . At the bottom Holy Trinity B moved 5 points clear of the bottom two and are now on 29 points . Southport B picked up two valuable points away at leaders TTC A , on 11 points they still prop up the rest, some 13 points behind Formby TTC D.
With Formby TTC E without a game, Waddington B had the the chance to forge ahead at the top of Division 2, and that's exactly what they did showing no mercy against bottom team Formby TTC F, who again struggled with team changes and looked nothing like the team who did so well last week. That win puts Waddington B , 9 points clear of TTC E , on 76 and 67 points respectively , a return to the top flight for them is looking a very good bet. Argyle E too, are struggling with injuries, already missing an injured Ula Kuczek, they turned up at Formby TTC G with only three players ,a late cry off due to illness . Things continued on a downward spiral for them, and eventually the player short proved decisive giving the home side victory 6-4 . They drop to fifth in the division now on 53 points, just behind their C team who also suffered defeat at the hands of a very strong Holy Trinity C . Waddington C after their convincing win over Southport C head the closing pack in third on 55 points. That loss leaves Southport C a little cut adrift along with the luckless TTC F at the bottom , 13 points behind Formby TTC G.
Waterloo TTC's home game against Holy Trinity D at the top of the 3rd Division provides us with our feature match this week , an important one for both sides here. Close was the prediction and close was the outcome, both sides exchanging blows , anybody's game . Keith Dudley's (Holy Trinity) win in five sets against Stuart McGee drawing the game level at 1-1 , then the battle of the number one's , a great contest this one , again going all the way to five , and being won by the hosts Gavin Minett over John Moore, level again at 2-2. Another five setter , Stuart McGee's resolve overcoming the visiters number two Richard Woodley, the home side lead, but not for long, second doubles pair Gordon Parmenter and Keith Dudley just about do enough to beat the home sides pairing of Phil O'Mullane and Gary Coran, all level again 3-3.... Could someone retain the lead ?, well after the home side took the next game with Gavin overcoming Richard , game eight produced yet another five setter , John Moore involved again against Phil O'Mullane, another super game and another win for home side , daylight ! 5-3 Waterloo. Holy Trinity 's Keith Dudley capped a great night for him, by making the score 5-4, now it all rested on the first doubles encounter , after a close first game 13-11, the home pairing swung into gear taking it in three and the match 6-4 Waterloo. Fabulous game of Table Tennis ! What a good first season they are having , unbeaten in the league with 69 points, and now 6 points clear of second placed North Meols . Holy Trinity D are still in third place on 62 points. Waddington E maintained their unbeaten record and are fourth on 55 points. At the bottom, the young Formby TTC H team still remain rooted , but reports from this weeks game at Southport D , suggests they ooze promise , and time is certainly on their side. Indeed Southport's win in that game lifts them clear of the bottom two , now on 34 points, it leaves Argyle G adrift on 28 points followed by TTC H on 14 points.
---
WEEK 9
Southport & District TTL (sponsored by Merseyrail)
With leaders Formby TTC B with out a game this week , defending champions Formby TTC A had the chance to regain top spot , and although not confirmed it looks like they have secured just that with a 9-1 win over TTC D . If that is the case they head the 1st Division on 67 points , 8 points clear of their rivals.
We stay in the 1st division for our Feature Match, Argyle A at home to Southport A. Both teams were understrength with their regular number one's and two's missing, so how would that effect the game ? First up was Southport's number one Bernhard Frank against the home side's Mark Jagger(2), both with similar styles a long tactical encounter was on the cards , well those long tactical rallies emerged , but the match didn't last as long as everyone expected, Bernhard taking it in three, 1-0 to the visitors. It was soon all square for the home side and the advantage continued for them with wins for Steve Lyon over Paul Lunan and Bernhard Frank, Chris Parkes over Liam Whiteley , Mike McCormack also against Liam ,and with Mark Jagger getting the better of Jim Irving, the score raced on to 5-1 Argyle. Second doubles was next up , Jagger/Parkes for the home side against Irving/Whiteley, and considering the home sides pairs record of 5 wins from 6, it was a tall order for the Southport duo, indeed that's how it was , three straight and match was Argyles, 6-1. However with the match now lost, the visitors seemed to get a second wind, winning two of the last three games, starting with clinching the first doubles encounter in four, deserved win there for Bernhard and Paul, followed by Jim Irving's intriguing win in five ( 11-9 in the fifth) against Mike McCormack. Final score 7-3 Argyle A… That win keeps them in third place on 56 points, ahead of their B team on 52 points. Southport B remain at the bottom on 9 points, Holy Trinity B moved clear of the bottom two with 4 well earned points against Argyle B.
Division 2 gets even more interesting as the weeks go by, Waddington B's tremendous result against Holy Trinity C now looks like giving them a slight advantage over Formby TTC E , after they were held to a draw at Waddington C, and what a game this turned out to be, very close throughout , the Formby outfit did lead 3-1 , only to be pegged back by a resourceful Waddington side. Formby TTC E still lead the way on 67 points, but only a point ahead of Waddington B , who importantly have a game in hand.
Behind the top two , four teams are separated by just five points, headed by Argyle C on 51 pts, next come Argyle E on 49 pts and then followed by Waddington pair C and D teams on 46 pts, quite a tussle developing here . Bottom team Formby TTC F earned themselves a creditable 4 points at Waddington D , so could their luck be about to change.
---
Week 8
Southport & District TTL (sponsored by Merseyrail )
At the top of the First Division, Formby TTC B change places with their A team and lead the division by a point , after their 7-3 win at Holy Trinity A , double wins for both Tom Miller and Sarang Sapre being key to the result. Defending champions Formby TTC A , left it to the last match of the evening to clinch a narrow win 6-4 against Argyle A , that last doubles too going to five sets , Robert Barker and debutant Sam Hughes taking the fifth 12-10 over Argyle's Ben Aitken and Mark Jagger, very tense finish! Argyle A remain in 3rd place on 49 points, above their B team on 46 points. Our feature match also comes from Formby TTC , where their C team took on the D team. With the notable absentee of their captain Sam Pierce, It looked a tall order for the D team to get something from this game and also with the introduction for the C team of Adam Schober Thomson, the task became even more difficult. Throughout the contest the C team always looked in command and with the exception of two very good wins for Dan Edwards and Josiah Nix , then the 8-2 score line never looked in doubt. Two entertaining doubles encounters maybe could have altered the result but again it was the C team who came out on top both times in four sets. With that win the C team move up to 7th on 30 points, the D team remaining in 10th position on 21 points, thirteen points above bottom club Southport B.
In Division 2, Waddington B caught up with top club Formby TTC E for a short while with a convincing win at Southport C, but the Formby side regained top spot with a close win over Argyle C , 6-4 it finished but it could have gone the other way so easily , with only two games decided in three, Formby's victory must be owed to a fine double from Francois Rafferty and an incredible doubles win by him and Mark Davies over Angus and Allister Taylor, 11-9 in the fifth, great match. That win puts them six points clear of Waddington B (56 pts), but they have played a game more. Argyle E remain in 3rd place on 42 points , but only just after losing at Waddington E , a disappointing result for them , great result for Waddington though, Maybe the absence of Ula Kuczek who has missed the last three games through injury is the reason, we will find out on her return . That win puts the Waddington side in the mix, and what a mix it is in Division 2 , they join a group of five clubs separated by just 4 points , and although the top two seem to be comfortably ahead , this division is far from decided. Formby TTC F are still rooted at the bottom , but gained two valuable point secured by returning number one Dave Noden away at Holy Trinity C .
It looked on the cards and indeed it's happened ,' newcomers ' Waterloo TTC gained top spot in Division 3 for the first time this season, their convincing win over the young Formby TTC H team ensuring their position on games won over 2nd place North Meols, they both lead the way on 54 points. Unbeaten as well its been a great start for them. Waddington E also unbeaten are in 3rd, five points behind. Their home draw with 4th placed Holy Trinity D was certainly a close affair, first doubles pair Dave Mullan and Derek Aitken winning the last game of the night, over John Moore and Richard Woodley . Para's and Argyle F also served up an entertaining draw, this time the winning of both doubles was decisive for the home side . After a fine run of four games undefeated Argyle H are now in 5th position on 41 points, at the bottom remain Formby TTC H , but let us not forget they are leagues youngest team , and they will improve.
---
WEEK 7

Southport District TTL (sponsored by Merseyrail)
---
Week 6
Southport & District TTL (sponsored by Merseyrail)
Formby TTC A's win over Holy Trinity A ensured they remained top of the First Division on 44 points, still close on their heels are Formby TTC B, a point behind matching their A teams result with an 8-2 at Southport A. Closest game in the division came at the all Argyle clash, B v A, and being a little under strength the A team forged out a creditable draw , which probably was a good result for them , but maybe a missed opportunity for the B team to pinch that valuable win. Anyway the result puts Argyle A in third place on 37 points, ahead of the closing pack headed by Waddington A on 30 points. Southport B were again left wondering how they didn't get any points at Holy Trinity B, the heavy defeat leaving them a little adrift at the bottom.
In Division 2 Formby TTC E extended their lead at the top to 14 points, true they have played a game more than their closest rivals , but 6 wins from 6 and 53 points is a superb start from the promoted team. Waddington B (who TTC E play this week) are second on 39 points , with Argyle E and Waddington D in joint third place on 32 points. It's Waddington where we head, for this weeks feature match between their D and C sides. Both teams have made promising starts to the season , so important match coming up. Waddington D got off to a flyer with wins by Brian Haslam (3) and Dave Williams (4) over Chris Foley and Irene Mullan, 2-0. Back came the C team , number 1 Colin Fyles finally getting the better of Karen Gibson in hard hitting four set encounter, 2-1. Quick was the reply of the D team , Ray Hibbs winning against a luckless Chris Foley, 3-1. It was soon 5-1 with both doubles going the same way, close , but not close enough for a C team recovery. In fact throughout the contest the breaks seem to be going the way of the D team, but that didn't seem to worry them as they took the next two , 7-1, result conclusive. A great evenings table tennis was finished in style with the best two games of night , first up the two number one's . Colin Fyles (C) forged ahead with some great hitting, particularly on the back-hand , taking the first two sets. Ray Hibbs dug deep to fight back to make it 2-2, anyone's game this. Could Ray keep the initiative , well in a tense finale , it was Colin who took it 12-10 in the fifth, fabulous match! Another tremendous five setter followed between Karen Gibson (D) and Tom Caunce , Karen took the first, Tom the second, third and forth sets went the same way 2-2, all down to the fifth, and it was Karen who must have found another gear to take it 11-4.. Phew! 8-2 final score. Results are not improving for Formby TTC F, although they did get three points at Southport C , they now trail their conquerors by 12 points at the bottom.
---
WEEK 5
Southport & District TTL ( sponsored by Merseyrail)
A familiar name returned to the top of Division 1 this week, yes, defending champions Formby TTC A, after their convincing win at Southport A, take over at the top on 36 points. With four wins from four as well they are the only side to have a 100% record. Another Formby TTC v Southport clash is also this weeks 'Feature Match' their B teams meeting at the recently refurbished Formby High's Gymnasium. Southport came into this game on the back of a good win, but any hope of gaining something from this game were quickly dashed by a strengthened home side ( Steve Green returning at number 1). Comfortable wins from him and number 2 Matty Laird , put the home side totally in charge, and with Formby captain Sylvia Graham adding to Southport's problems , and then the non arrival of the visitors number 4 , it was game over. Only Jeff Cummins offered a glimmer of a point in the game of the night, when he took Graham Turner to 5 sets , clawing back from 2 sets down only to succumb in the fifth, great game . With that win Formby TTC B are now second in the table on 35 points, Argyle A are third (32pts) and Waddington A and Holy Trinity A are level in forth place with 29 points. Southport B remain at the bottom a little adrift now after Holy Trinity's secured 4 pts at Formby TTC D.
In Division 2 Formby TTC E are flying, another convincing win at Southport C stretching their lead to 12 points, 44 points in the bag from 5 games ,100% too, at this early stage they seem to be the one's to catch. Waddington C and Argyle E were involved in a terrific game , with the home side leading 5-2 , it seemed the Argyle outfit would suffer their second defeat in a row, but somehow they managed to find an extra gear to salvage a valuable draw, which was enough to keep them in second place in the table. This division looks very hard to call , considering behind Argyle is a cluster of six teams separated by just 6 points. Without a game this week Formby TTC F are still rooted at the bottom, plenty of time though for them to muster a recovery.
---
Southport & District TTL ( sponsored by Merseyrail )
WEEK 4
Four weeks into the new season and some familiar names are at the top of the Division 1. Argyle A occupy top spot on 32 points after a good win at Holy Trinity B, whilst Formby TTC A (last years winners) took an ominous step towards retaining their title with an emphatic win against a changed B team, that win putting them in second place on 27 points. Formby TTC B are now third with Waddington A without a game this week dropping to forth. At the bottom, Southport B's change of fortune came in guise of Jonny Cummins returning to the side at number 1 , however the 7-3 win was not quite enough to lift them clear, with Holy Trinity B also on 7 points.
Division 2 has this weeks 'feature match' , the all Argyle clash E v C. Prospects for this one seemed high , could the E team maintain their good start against the experienced C team? Well , it looked that way in the early stages of the first game between Ula Kuczek (E) and Angus Taylor , Ula taking the first set in some style, but that seemed to trigger a doggedness from the C team number 1, who went on to take the points. Back came the E team with Steve Lyon overcoming Allister Taylor 1-1. Doubles can often play a decisive part , and called on early that's what happened here, the experience of the C team taking them both, 3-1 in their favour. Apart from a slight come back by the E team with a win for Ula over Monica Coogan and a fortunate win for Steve Lyon over Angus who conceded through injury, the result always seemed to be going the C teams way , and with two wins by their number 4 Derek Mahen a 7-3 win was confirmed , a set back for the E team, maybe they were a shade unlucky, but its the final score that counts. Top place is now held by Formby TTC E (34 points) who made it 4 wins from 4 games, they are looking strong contenders . In the all Waddington match, the B team had a comfortable win over their D team. Argyle E are now second on 27 points, closely followed by Argyle D, Waddington B , Argyle C and Waddington C in a close pack. Formby TTC F are already cut adrift at the bottom with just 1 point, players availability seeming to be the issue here, so lets hope a turn around is imminent for them.
---
Southport & District TTL ( sponsored by Merseyrail)
Week 3
As it stands (going to print) , Waddington A look like they hold top spot in Division 1 equal on points (23) with Argyle A. It may not be for long though , as Formby TTC B's result is not to hand, I believe they have won their game against their D team, a 6-4 win at least putting them equal top with 23 points. Great start for Waddington this season, and even at this early stage , last years relegation struggle seems a distant memory. Defending champions Formby TTC A are up and running with another comfortable win , this time against their own C team. Promoted Southport B are finding the going tough in the top tier, still awaiting their first point, a change of fortune here is definitely needed, lets hope its around the corner.
There are also joint leaders in Division 2 , both Argyle E and Formby TTC E have had terrific starts with three wins a piece and 24 points. Argyles win at Waddington B, who came down from Division 1, was a very close affair, the winning of both doubles being decisive in the 6-4 win. Formby TTC E are also looking good, considering the team is the same as was promoted , and with the emergence of a young man called Rhys Davies ( he has just celebrated his 10th ! birthday) , then he and his team will need watching. Argyle D and Waddington C are close behind on 20 points, whilst at the bottom a luckless Formby TTC F find themselves rooted with just a point.
This weeks feature match is from the 3rd Division, where Para's welcomed 'new faces ' Waterloo TTC, and it didn't start too well for the visitors finding themselves 0-2 down after two difficult doubles games , both of which went the full distance of five sets. Para's first doubles pairing of Ian Littlewood and Mark Wilson just overcoming Jeff Hornby and Phil O'Mullane in an a great game . With the first set finally ending 17-15 in the Para's favour, it was soon 2-0, but back came Waterloo to make it 2-2, again a great reply in the 5th ensured a Para's win. Second doubles too was nip and tuck with Para's Kosta Sinitsa and Deborah Cornwall edging out Waterloo's Graham Chellew and Stuart McGee. After that super opening , the match swung either way throughout , and with fine performances from both sides , including two single wins for both Ian Littlewood (Para's) and Stuart McGee (Waterloo) , 5-5 at the end seemed a fair result.
---
Everyone has a classic style of their own!
---
Last Updated: