---
Gunson and Anon Cup Finals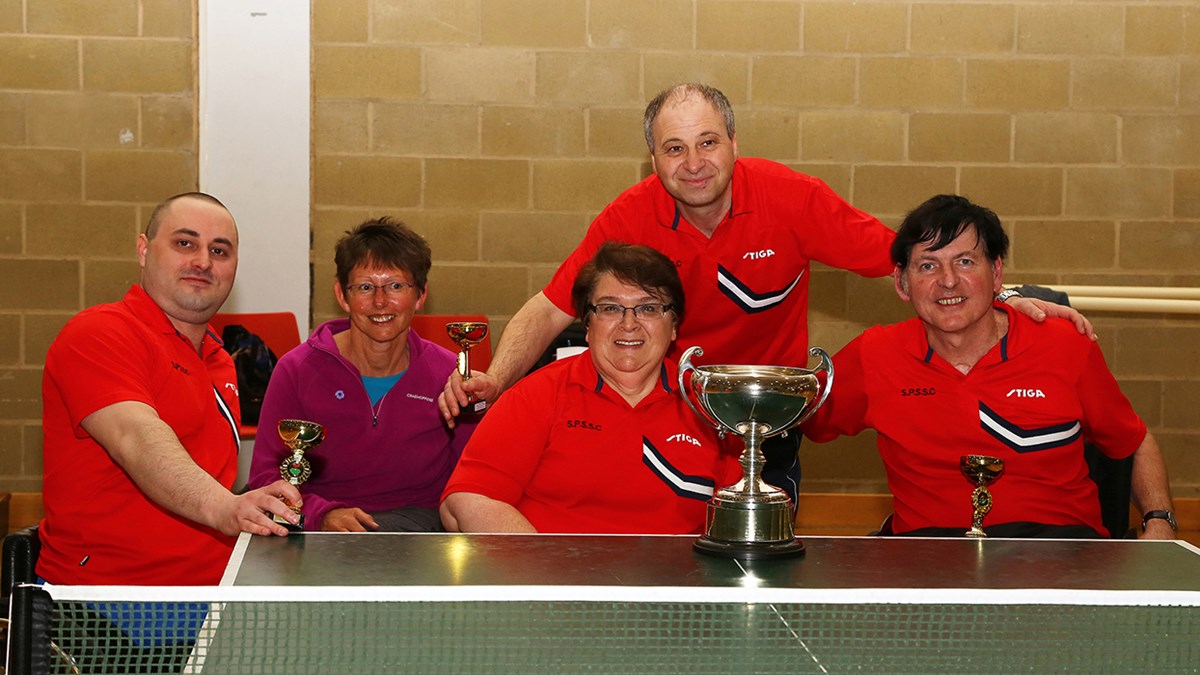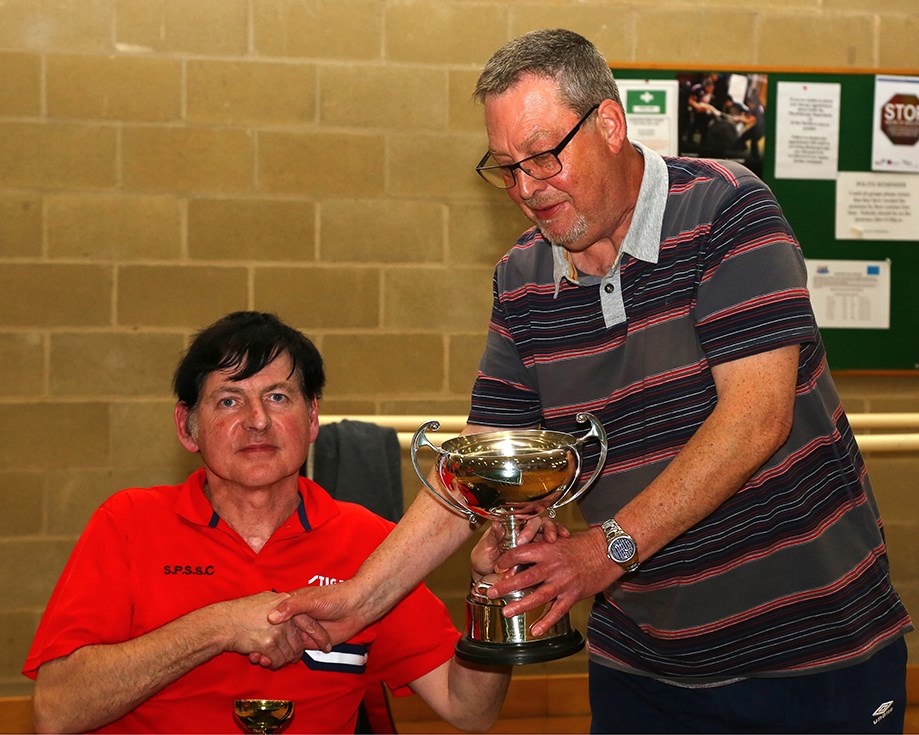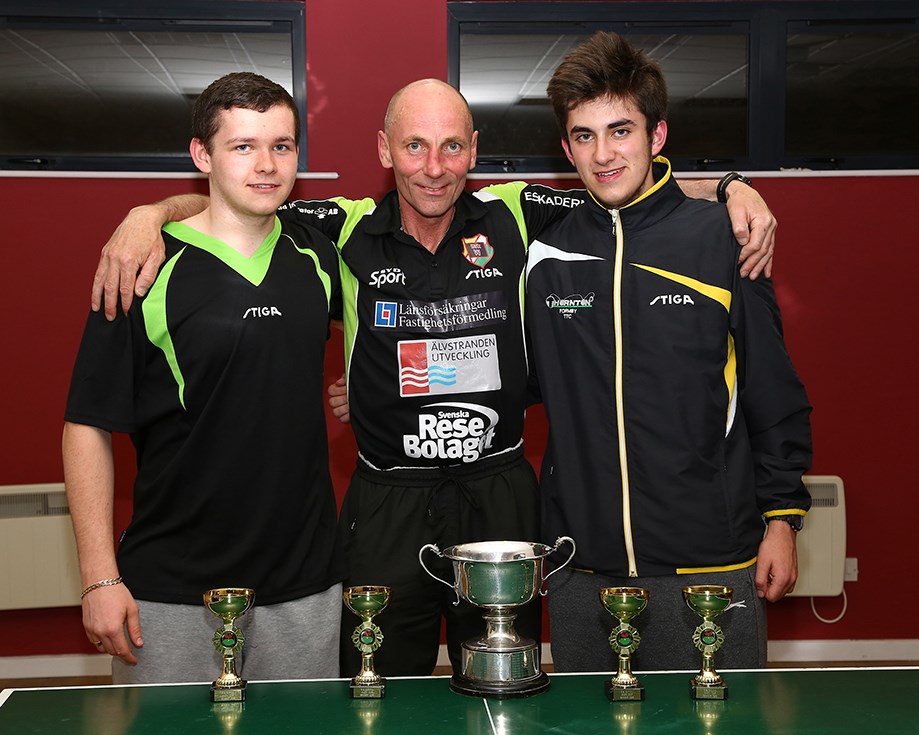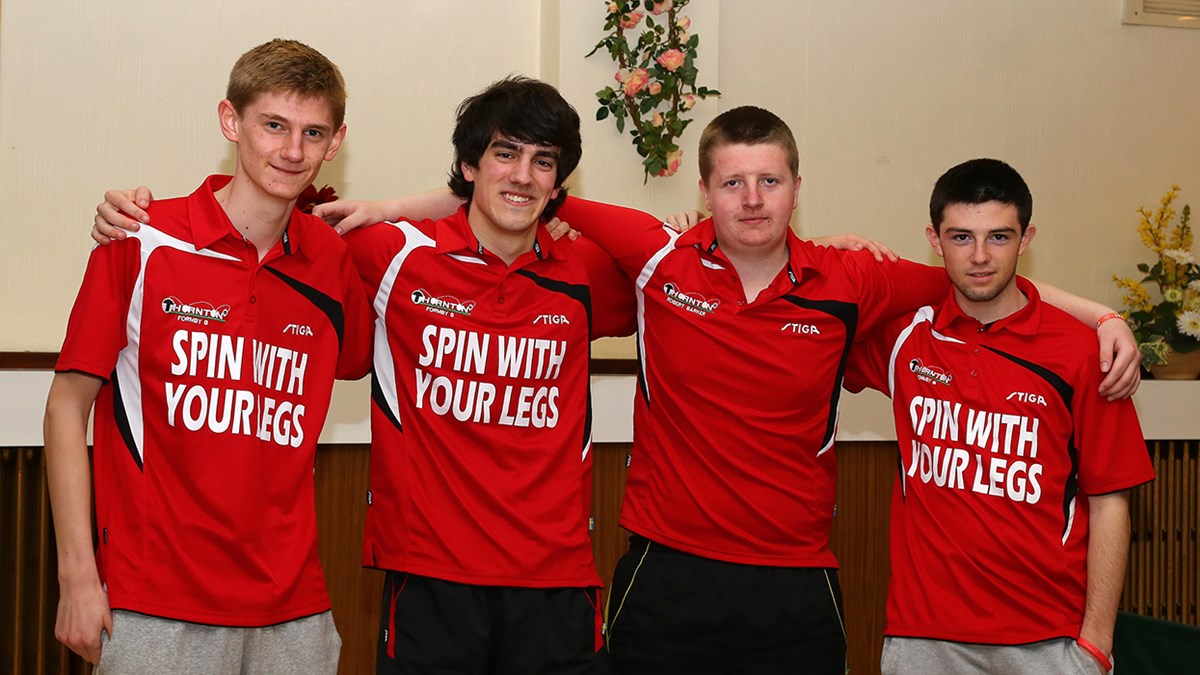 Southport & District TTL Cup Finals.
Gunson Cup Final Paraplegics v Formby TTC D
In our second week of Finals, the Gunson and Anon Cups take centre stage, and these are the ones to win, as both competitions have a great history in the Southport Table Tennis League, the Anon Cup being first presented in 1937 , and the Gunson in 1961. We start with the Gunson clash between Paraplegic's from the Third Division and Formby TTC D from the First. No question here which team will received the benefit from the handicap, but can the Para's get enough points to topple the side from Formby, who must be keen to get a win here to compensate for a disappointing league campaign. Up first for the Para's was Mark Wilson against Chris Kneale, don't forget every point counts so with Chris taking the maximum of 55 and Mark fighting for everyone of his 30 points, then at this early stage who's in front? well we won't know that till the end with the opening of the envelope to reveal the handicap… In match two, Lynn Riding faced Formby's Dan Edwards, and what a start in this one for Lynn, after three games she only trailed 26-33, but Dan rallied to restrict her to just six further points, 32-55 in the end, and after two contests Para's trailed 62-110. Could Kosta Sinitsa keep the pressure on, well trailing 20-44 after four games against Josiah Nix, you would think any advantage was now Formby's, but back came Kosta in the fifth with a great effort to take it 11-9, resulting in a creditable 31-53 reverse. Captains up next, and this one would be worth the admission money alone, Ian Littlewood verses Sam Pierce. Fabulous battle it turned out to be too and although it finished in a 24-55 in Formby's favour, was it enough, because at the halfway stage the score stood at 117-218 Formby. Kosta to face Chris in match five, and all the boxes were ticked for Formby in this one, Chris putting in a fine performance to take maximum points again and keeping his opponent down to 15 points. Sam returned to the table and continued his great form in producing a near replica score to defeat Mark 23-55 this time, and with this making the score 155-328, Formby have a lead of 173 point with two matches to play… That lead was increased further ,with Josiah getting the better of Lynn 28-55, game four being crucial for Lynn a narrow 10-11 loss preventing a heavier defeat. As it stands the Para's trail by exactly 200 points, one match remains! So, it's down to Ian to at least consolidate the situation, or could Dan finish the job for Formby ? After the first two games it's all level at 17-17, so advantage Para's, with those five points taken from Formby, and it that advantage continued with the next three games all going to Ian, his experience seemingly frustrating Dan into making too many mistakes. It finished 50-34 and the sixteen point turnaround made the score 233-417, a 184 point difference. Both sides wore worried looks as the handicap was about to be revealed …. 250 to Para's, and they are the winners, Final score 483-417. Super evening's entertainment, congratulations to the Para's on a fine and deserved win on the night, in particular to Ian Littlewood whose experience was decisive throughout the match, but commiserations to Sam and his team, just falling short of their targets.
Anon Cup Final Argyle A v Formby TTC B
Although both these sides finished in the top three of the First Division, their league encounters suggested that Formby were strong favourites for this one, and with a further last minute blow that Argyle would be without Chris Parkes, then a full strength Formby team looked better than odds on for a handsome victory… Steve Lyon up first to face Formby's number one Steve Green, and although Argyle's number two put up a brave resistance, first blood to Formby, 8-11,2-11,9-11. A similar pattern emerged in the second game between Argyle's number one Matthew Hyde and Tom Miller, some wonderful play from both players but again the 8-11, 7-11, 8-11 score line went in Formby's favour, 0-2. It was 0-3 when Matty Laird handed out the same treatment to Angus Taylor, whose defensive play was so admirable, but Matty's final winners were outstanding to say the least, 7-11, 8-11, 5-11. Match four took a little longer with more of a defensive strategy involved, captains Mark Jagger and Sylvia Graham served up an intriguing contest, first couple of games to Sylvia 8-11, 4-11, Mark pulled one back 11-7, only for Sylvia to clinch it in the fourth 6-11… that's 0-4 Formby and they are nearly there. Could the Doubles change things for Argyle, well first doubles didn't, Matthew and Steve lost the first two games 3-11, 5-11 to Tom and Matty, and although they so nearly got one back missed out again 11-13 in the third.. whisper it, 0-5 Formby. Again Second doubles pairing Mark and Angus put up a great fight against Steve and Sylvia, but could not prevent the inevitable, a 9-11, 6-11, 6-11 win for Formby and the match, Final score 0-6…. Comprehensive, yes, expected, yes, but nevertheless an entertaining match with outstanding play from both sides, congratulations Formby TTC B…
Great win there for Formby TTC B, but the league title was not to be theirs, as Formby TTC A clinched it with a very efficient maximum win over Southport B, which puts them on 169 points. Anon Cup winners Formby TTC B finished off their season with another commanding win against Waddington A leaving them three points behind on 166 points…..
Waddington B completed their season with a good win at Holy Trinity C, giving them 163 points at the top of Division 2, twelve ahead of second placed Formby TTC E, whilst those three points picked up by Holy Trinity C ensures them of fourth position .. you can get all fixtures /results/tables and news at
www.tabletennis365.com/southport
---
Southport & District TTL Plate Finals...
Gunson Plate Final - Waddington E...397 - 418 (100)...Southport D
Anon Plate Final - Formby TTC E 6 Formby Holy Trinity C 2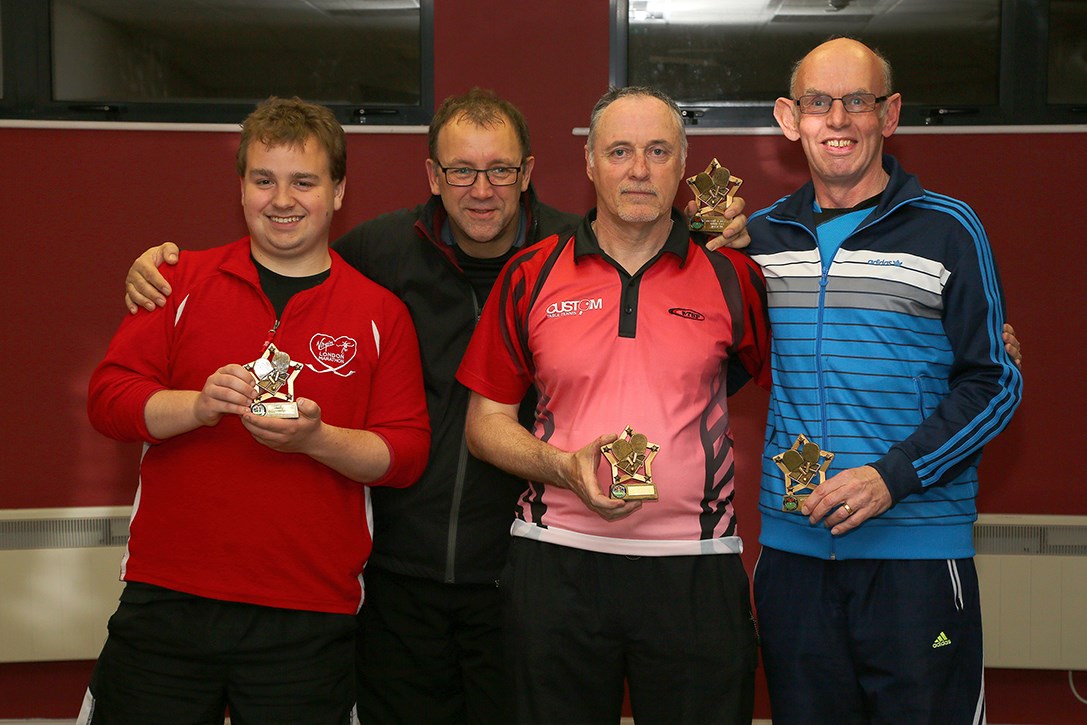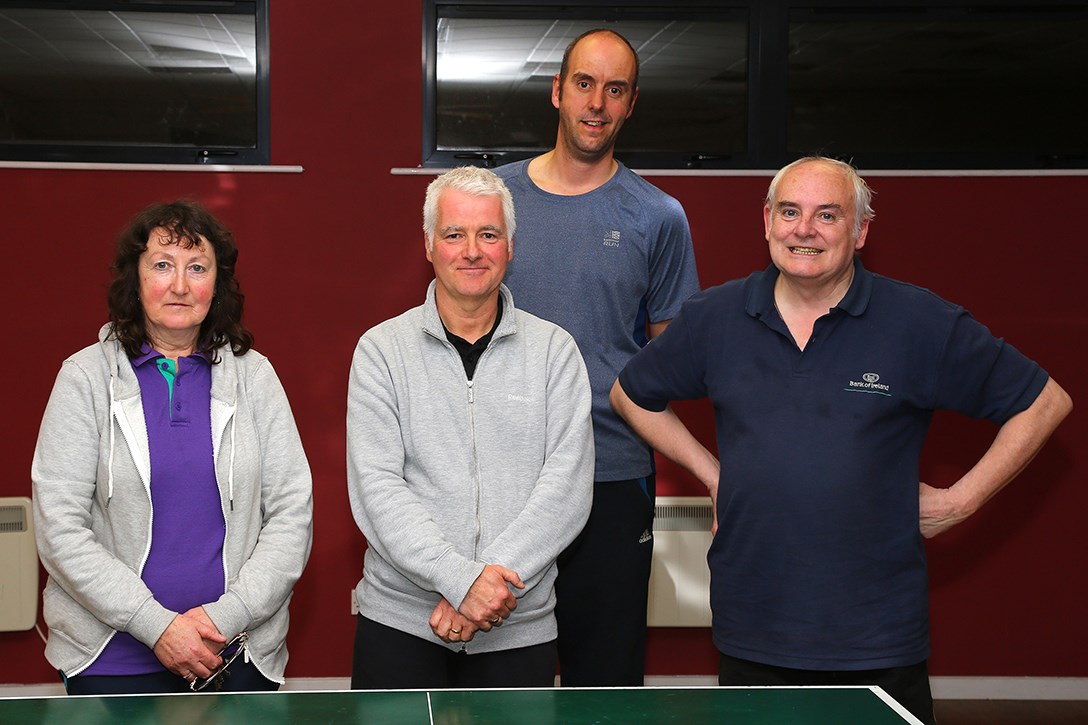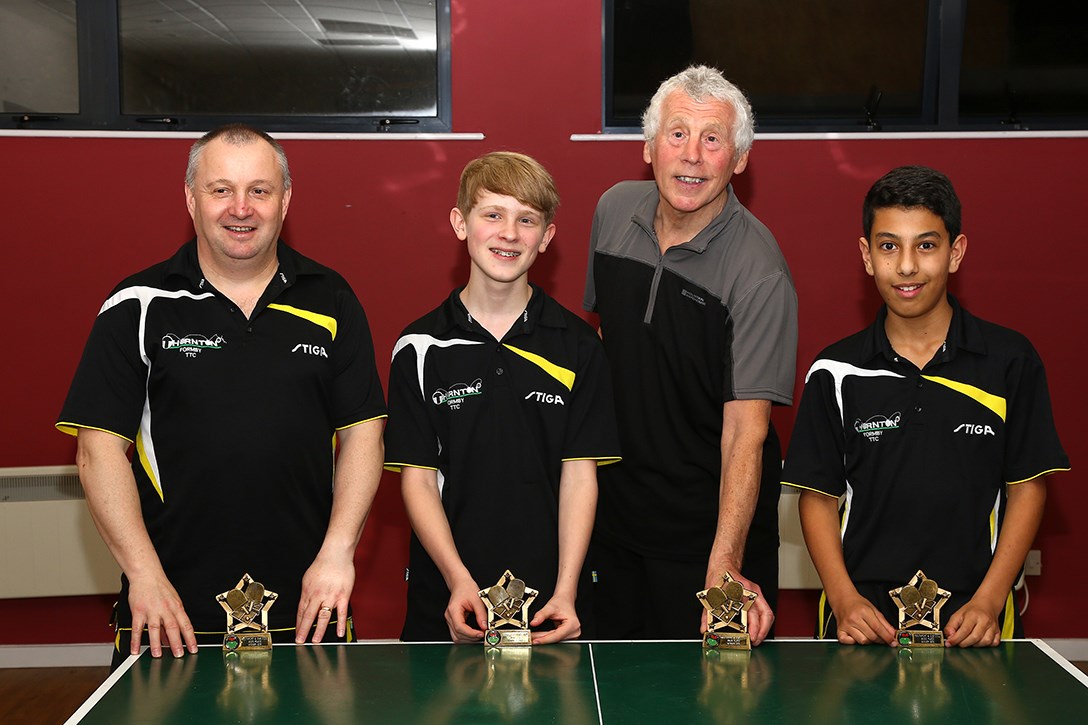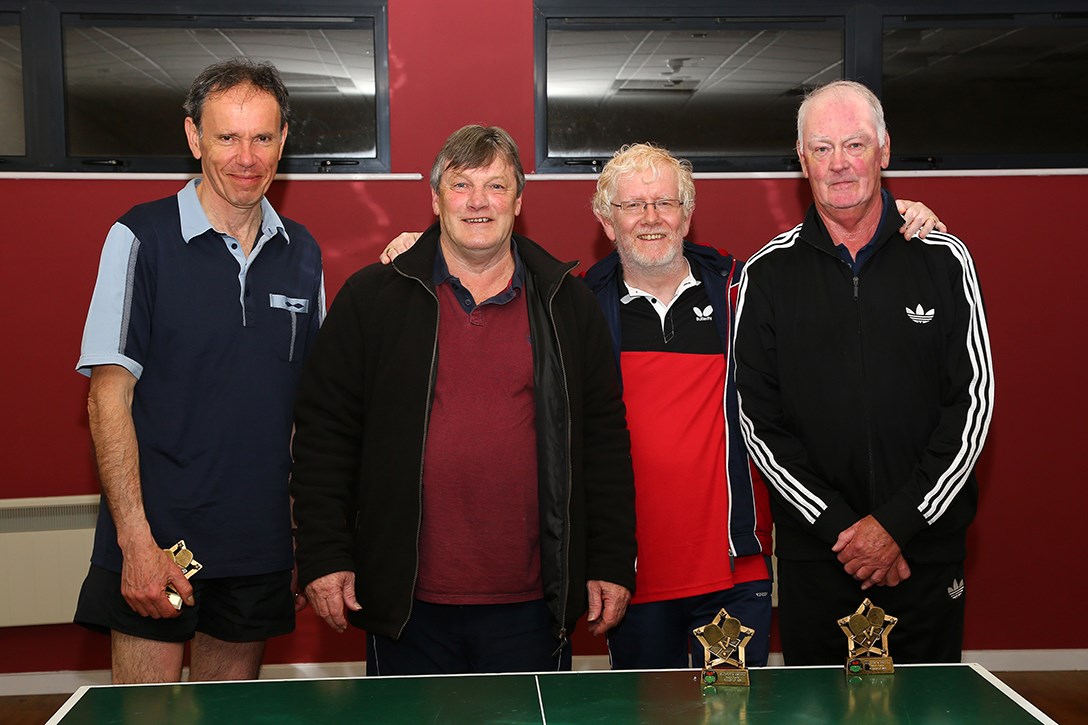 Gunson Plate Final Southport D v Waddington E
Our first final of this seasons Finale was the all Third Division clash between Southport D and Waddington E, and with the Waddington side missing out on a top place , a victory here would go some way to heal that disappointment. Southport on the other hand finishing in the lower half of the table can expect to benefit from the handicap, which won't be revealed until the end of the match from that 'sealed envelope'. So with every point counting here we go! Great start for Waddington with both Nick Foss and Dave Mullan winning well and taking maximum points to lead 49-110 after two games. Back came Southport, Jordan Shandley narrowly being edged out by Irene Mullan 46-52, followed by an equally good performance from Andy Bush, keeping Irene at the table and just losing out to her 44-46. That's more like it from Southport , stopping Waddington from gaining maximum points a real bonus for them and at the half way stage they trailed 139-208. Jordan up next and he maintained that momentum with an outright win over Frank Pearce 54-36 , would this be the turning point , well if it wasn't then Paul Harrisons great effort against Nick could well have turned the tide their way , a tremendous encounter this , just going to Nick 46-52. After six games it's 239- 298, Waddington, and the feeling was this could be slipping away from them , and game seven did not help that cause either. Very close again, but too close for Waddington , a 48-44 win for Southport's Graham Black, and with one game to go there are 55 points in it , 287-342 Waddington. Last up the two captains , Andy against Dave, and what a tenacious battle was served up to finish off a great evenings table tennis. From the onset it was always looked like a win for Dave , but by how many could he increase his teams lead , 31-55 it finished , great credit to Andy in this one , in producing such a stoic performance. Score, 318- 397 Waddington, 79 points the difference, Handicap time. Which team have done enough , 100 points to Southport and the match is theirs , final score 418 - 397. Probably the right outcome just , 21 points is a very close margin, so congratulations to both teams in putting on a highly entertaining evening , and looking back on the match then Jordan's 100 points did a great deal in securing a fine win for Southport D .
Anon Plate Final Formby TTC E v Holy Trinity C
Both teams suffered crucial withdrawals before the final, TTC E's Francois Rafferty and Rhys Davies were away on holiday , whilst Holy Trinity's Norman Lindsay was also away , and illness prevented Julian Quirk and Graham Oates taking part. So with an unfamiliar look to both teams, proceedings got underway with the two number one's, Mark Davies up against Holy Trinity's Ted Cramsie. Close affair for the first couple of games , and it was all square at 1-1, Mark took the third and got Formby of to a good start by completing the win in the fourth, 1-0 Formby. It was soon 2-0 , Yameen Al-Dahiri overcoming Ron Makin in three. Could Dave Bradley get Holy Trinity back in this , his opponent was Peter Ashley . Again it was all square at one game all, Dave took the third 11-8 , and the fourth 11-5, and they were ,it's 2-1. Ron Makin was next ,called back on to face Josh Parker, and unfortunately for Ron, it was normal service resumed, although he ran Josh very close in the second game missing out 11-13… Mark and Josh both won for a second time, which made the score 5-1 Formby. However Holy Trinity were not quite finished , Ted was up against Peter, and in probably the best contest of the night, Ted kept his sides slim chances alive winning in five, 9-11,11-5,6-11,13-11,5-11. Dave Cunningham now had the job to carry on where Ted left off, but Yameen had other ideas, and the game was won three straight and the match… Final score 6-2 Formby TTC E.. Super win and well deserved on the night , but one couldn't help wondering about those missing players , Congratulations Formby TTC E .
League News
Waddington B finally clinched the title in the 2nd Division, a 9-1 home victory over an understrength Argyle C, confirmed things at the top, still with one game to go they now lead on 156 points ahead of TTC E on 151 points. Argyle C are looking good for third place on 112 points.
Only the 1st Division title to be decided now and news of that outcome and the remaining Gunson and Anon Cup finals will be with you next week …. All fixtures/results/tables and news can be found at
www.tabletennis365.com/southport
---
Southport & District TTL Semi Finals….
Our first 'port of call' in semi final week is the Anon Cup encounter between 2nd Division leaders Waddington B and 1st Division Argyle A. Tricky one this to predict, especially with Argyle again not at full strength and the home side in a buoyant mood having assured a return to the top flight next season. First blood to Argyle, Chris Parkes winning in three against Dave Britton. Ged Wilson then evened things up for the home side with a four set victory over Mike McCormack. Argyle's lead was immediately restored and extended to 3-1 after first Steve Lyons' four set win over Roger Neal, followed by Chris's second win of the evening, overcoming Martyn Coleman, again in four sets. Could Waddington get back into this, Ged returned to the table to face Mark Jagger, to do exactly that, winning a great five setter coming back from two sets down to clinch it 11-8 in the fifth. First doubles up next Roger and Dave up against the visitors Steve and Mike , another four set win for Waddington and we are back all square 3-3…. Argyle again led winning second doubles , and increased their lead to 5-3 , Steve beating Dave in four sets. A place in the final was up for grabs for Argyle in the next game , and Mike McCormack duly obliged with a good four set win over Martyn Coleman… 6-3 it finished , tricky probably not , closer than expected , certainly! An all Formby TTC clash would decide Argyle opponents, TTC B verses TTC C . With the B team pressing for the league title and the C team in eighth position , some sixty points behind , then there was an inevitability about this one. Matty Laird true to form made it 1-0 with a three set win over Chris Kneale. A great fight from number one Stefan Schober Thomson against B team number one Steve Green so nearly brought it level, narrowly missing out in five sets. Three set wins for both Sylvia Graham and Tom Miller over Ben Shelien made the score 4-0, and when Sylvia returned to the table to face Chris it was soon 5-0 , the B team captain coming back from a set down to win in four. First doubles up next and it looked all over, B team pairing Tom and Matty racing into a two set lead against Stefan and Adam Schober Thomson, fabulous comeback here to win in five meant they were on the board 5-1 B team.. Any hopes were soon dashed though , a 4 set win for Matty over Adam clinching their final place , 6-1 B team…
Only one Semi was played in the Anon Plate, the tie between Holy Trinity C and D being postponed , to be played this week . Argyle C and Formby TTC E fought out the remaining Semi, and if their recent league meeting was anything to go by , a close 6-4 win for the Formby outfit, then this could be close. On the other hand maybe not , and that's how it turned out. Apart from a great five set win for home captain Angus Taylor against Formby captain Mark Davies ,things did not go according to plan. A double win for Rhys Davies and further wins for Francois Rafferty and Peter Ashley along with wins in both doubles , then it was all over after seven games, 6-1 Formby , and as the home captain put it, 'they were just too good on the night' ..
In the Gunson Cup, Para's earned their place in the Final after an epic encounter with 2nd Division Holy Trinity C . At this stage of the tournament the handicap is not divulged until the end of the contest, on the opening of a sealed envelope, so every point is important.
So the higher ranked team , without the handicap must target maximum points from each game , that's 55 points ( 5 games first to eleven points) , eight single matches making a final target of 440 points, also whilst keeping their opponents to the lowest score they can. Could the Para's accumulate enough points and stop Holy Trinity C from gaining maximum points. Well it seems they did a pretty good job because at the finish the score stood at 250 pts Para's ,424 pts Holy Trinity, with the handicap to be revealed. How close will this be , would they have done enough , and would those 16 dropped points by Holy Trinity be decisive … yes! on both counts was the answer, 180 points to Para's , match and a place in the Final for them 430-424, by just six points. Super effort from both teams here , with the stand out performance from Para's Mark Wilson who not only earned the most points but was responsible for 13 of those 16 points overturned.
Formby HT A and Formby TTC D both from the 1st Division contested the second Semi, and with the home side without number one Kenny Jackson, then this could become 'a step too far '. Indeed with each game it got more and more difficult for the higher ranked home team, no maximum points earned as well as plenty of points won by a hungry TTC D including three out right wins, two for Sam Pierce and one for Josiah Nix. At the finish a lead of only seven points for Holy Trinity 369-362, handicap still to come. Formby TTC D are through 110 points to them , final score 369-472. Overall the home side did miss their number one , but credit to Formby , for a complete performance on the night…
Having got to one Final could TTC E get to another, they faced a home tie against 2nd Division Waddington E in the Gunson Plate. Good start for home side with a convincing maximum win , but with three of the next four games resulting in outright losses, a clear advantage was now with Waddington . Dave Mullan with two of those wins including a maximum and Nick Foss with the other. Back came Formby dropping only two points in the last three games, but had they clawed back enough as well as restricting their opponents in the process. As the envelope was being readied the score stood at 378-266 , 140 points to Waddington, and the match, final score 378-406. What a close call , 28 points the margin in what was a terrific match … Who will they face , 1st Division Argyle B or Southport D from the 3rd. An understrength Argyle went into this one knowing the handicap would be a considerable one , could they keep the points down? Number one Ben Aitken did just that, conceding 30 points in his two games . Maximum points were gained in all but two of the contests, where in one ,Southport's Andy Bush not only overturned 11 points but won his game 46-44. Southport averaged 25 points a game , would that be enough, 427-204 it stands. It certainly is , 280 to Southport, they face Waddington in an all 3rd Division Final, that handicap meaning a 57 points win , well done Southport… Well that's about it, we should have the full line up next week, but interestingly to date we have three teams from the 1st Division, one team from the 2nd and three from the 3rd, with a 2nd or 3rd division team to complete the line up. As well as having six clubs being represented in the Finals, good luck to all concerned.
---
Southport & District TTL Town Championships
League action was put on the back burner this week, when the Southport Closed Town Championships and the Quarter Finals of the Cups, took centre stage in a very busy week of competition. Again the Championships were sponsored by Merseyrail and got under way with an early start at Formby High School on Sunday. A great turnout , refreshments and snacks admirably laid on , accompanied by quite a buzz amongst the competitors, an exciting days table tennis was more or less guaranteed . Of course everyone's aim was to qualify for Tuesday's night's Finals at Argyle in one of those seven finals , and with the winner of the main event of last two years Jack Dempsey not competing , then there would be a new name on the Single's Trophy. So first up on the night was the Doubles Final , an all Formby TTC affair , Joe Mullin and Craig Lowe against Rob Barker and Tom Miller. What a fabulous start to the evening this was , full of attacking play, won in four sets by Joe and Craig 12-10, 8-11, 11-6, 11-7. Another all TTC clash was up next , Yaheem Al-Dahiri and Josh Parker contesting the 2nd Division Restricted Singles. No let up in the attacking play in this one either as Yaheem came out on top in four sets , winning 11-8, 9-11, 11-1, 13-11. Over 40's Final between Steve Lyon (Argyle ) and Dave Noden (TTC) certainly didn't disappoint , Dave got off to a great start and led by two sets, only to be pegged back by Steve , all square. Final set was close , very close , but Steve completed the turnabout, winning 9-11, 4-11, 12-10, 11-9, 11-9. No time to draw breath here, Junior Final next , could Rob Barker again retain his title , Craig Lowe was in his way for this one , or was he! First two sets to Rob and comfortable , game over? Definitely not, brilliant come back by Craig , superb table tennis, and it's all square. Deciding set and Rob regained his rhythm and the match was his! winning 11-8, 11-8, 10-12, 9-11, 11-7. I think that makes it four in a row for him now , outstanding. After a short break , it was the 3rd Division Restricted , Gavin Minett (Waterloo) facing Callum Richardson (Argyle). Good start for Gavin here, taking the first two sets, good reply from Callum in the third , but to no avail as Gavin clinched it in the fourth, 11-6, 11-5, 4-11, 11-6. Steve Lyon returned to the table to play Sylvia Graham in the Over 55's Final , repeating his earlier success looked a tough task as Sylvia took the first two sets. No fight back this time , Sylvia completing the win in three sets, 11-4, 11-7, 11-5. To finish the evening off , Rob Barker had the chance to make amends for two previous defeats in Single Final's , up against him this time, his team captain Joe Mullin . From the onset Rob looked set on clinching this one, getting the better of the early exchanges he took the first set . No matter what Joe threw at him , Rob had the reply to eventually win the point , second set to Rob , two set advantage . Could Joe get back into this , well not with the Junior Champion playing like this . Great attacking and tactical play from both players , but the Rob held all the aces and won the third and the title.. 11-4, 11-8, 11-6. A super double performance capped off a wonderfully entertaining evening and a great Town Championship throughout…. congratulations to everyone involved…….
Cup's Quarter Finals
Whilst many eyes were on the Championships, a small matter of the Cup's Quarter Finals were in progress to see who would get to the semi's.. In the Anon Cup Formby TTC C's win over Southport A was a very close run affair going down to the last game, first doubles pairing Stefen and Adam Schober Thomson clinching the match. Argyle A overcame a spirited North Meols from the third division and Waddington B continued their fine league form in their win against Argyle E . Finally Formby TTC B completed the semi final line up when Argyle B conceded . Argyle C earned their place in the semi's of the Anon Plate with a good win over an unlucky Southport B who were without number one Jim Irving. Formby TTC E were run very close by fellow second division side Waddington D and a rejuvenated Holy Trinity D ensured their place with a comfortable win against Southport E. We will have to wait to see who joins them , , Holy Trinity's match with Argyle F was postponed, to be played on Wednesday 18th .
A busy schedule was completed with the Gunson Cup and Plate quarters. Formby TTC D just edged out Waterloo TTC from the third division , just 10 points the margin here whilst Holy Trinity again beat the handicap their opponents Argyle E were awarded , winning well by 41 points. Holy Trinity C joined their A team in the semi's with a close 17 point win over Waddington B. Para's completed the line up after they beat Southport A by 43 points. As with the Cup the Plate offered up a couple of close matches , none closer than Formby TTC E's nine point win at TTC G , the result finally decided in the last couple of sets, two semi finals for them. Nineteen points was the difference at the Argyle B v Argyle H clash , although I would prefer to say Joe Howard of the B team was the difference here, conceding just 14 point in his two games, too good. Southport D and Waddington E were the other winners , completing the semi final line ups…. So after a superb weeks Table Tennis , just one more thing to do, and that's to say a big ' Thank You' to all the Organisers , proper job!… you can find all Fixtures/Results/Tables and News at
www.tabletennis365.com/southport
---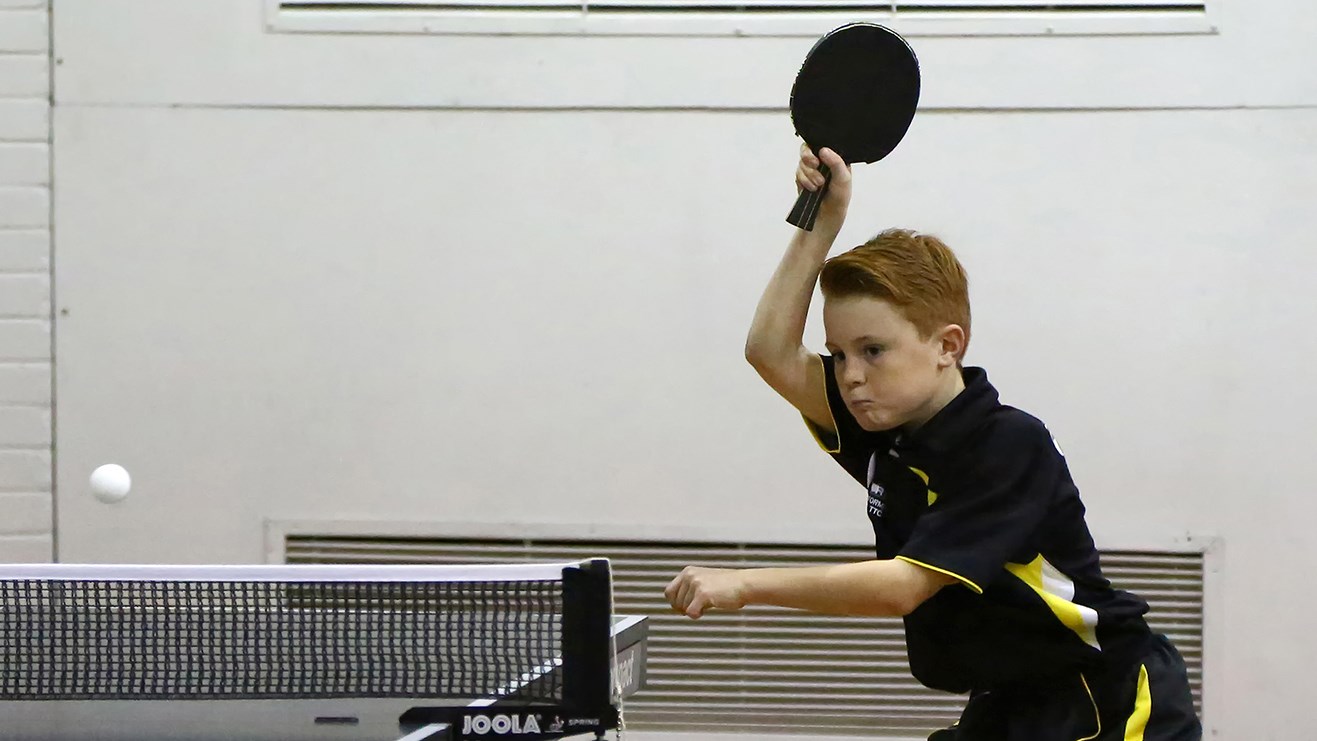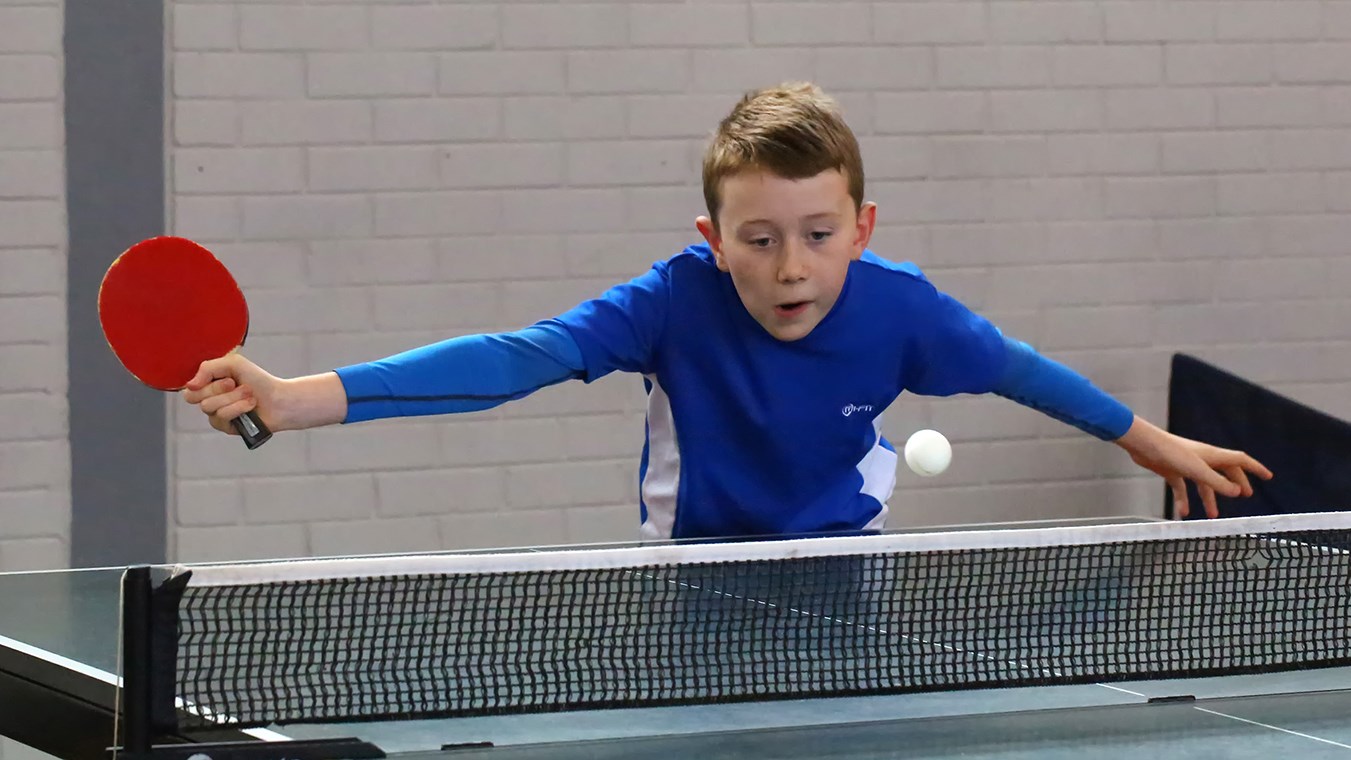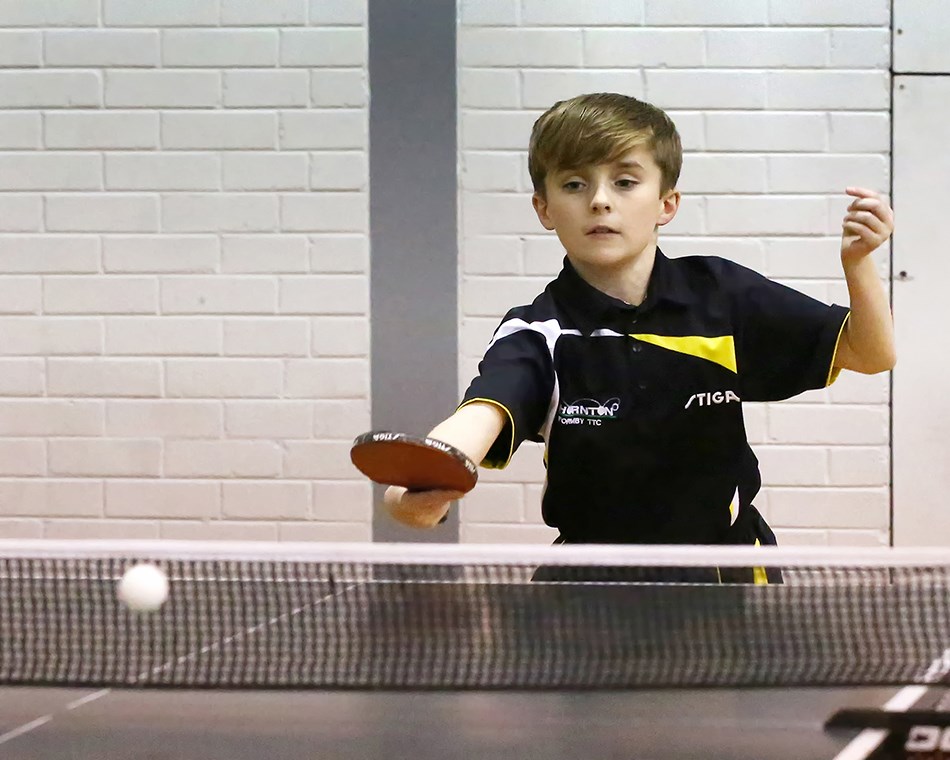 Introducing the Formby TTC H team...
Well, I've mentioned these young lads in a few of my reports , initially when they first played as a team back in October last year, so I think they certainly deserve an introduction.. At number 1, we have Elliott Cooper , 11 yrs old, at number 2 is Max Davies , 12 yrs old, at number 3 we have Felix Anderson, he's 10 yrs old in a couple of weeks , and at number 4 is Ewan Walsh, 10 yrs old. Prior to October the lads have played on and off for between 1 and 2 years, Max and Felix started playing competitively at the beginning of the season , but it wasn't until Elliott and Ewan joined them that the team was forged. Since then they have played 9 matches together , and although they have faced an uphill task, they have not lost any motivation , in fact their team spirit is fantastic, and their development is being keenly watched by all at Formby TTC , as it is hoped that they will stay together for as long as possible . Being the oldest , Max is their captain and certainly leads by example .. so all the best Formby TTC H and good luck for the rest of the season.............
--------------------------------
This week the Gunson (Handicap) Cup and Plate competitions took place , this is the competition where the lower teams get a chance to challenge , with the advantage of a handicap, eight single's , all played to five sets first to eleven , every point counts... Closest game of the 2nd round of the main event, saw Formby TTC D edge out Waddington A by just eleven points, and with both teams winning four games a piece in the process , it was left to Chris Kneale to clinch the tie at the end. League leaders Formby TTC A fell a little short of overhauling Waddington B , the 300 handicap being decisive in this one. Well 'How are the handicaps set' , they are set simply by considering a teams strongest line up , so if either team needs to bring in any replacements then that can have a significant effect on the final result. Certainly in these rounds of matches that has been the case in a few of the games, Formby TTC C were without number one Stefan Schober Thomson for their visit to Argyle E who had an 120 point advantage , and although the home side too had to make a change , how much did that influence the outcome of a home win by 97 points, and with good performance's from both teams in particular from Steve Lyon for the home side and Sarang Sapre for Formby, it makes it an even more difficult call . Of course a 'crystal ball ' would also be very useful even when the two sides are at full strength and the handicap set looks to be right, but in hindsight maybe should have been different. This was the scenario at the Holy Trinity A verses Argyle C clash where the visitors advantage of 120 points was not enough to help them overcome the 1st Division outfit, 89 points they trailed at the finish , so a comfortable win , but was that because the handicap was a little out or was it because Holy Trinity played a great match. Looking just at the scores , realising each home player kept their opponents down to 40 points or less ( Agyle's target), and with number one Kenny Jackson doing an outstanding job , only conceding 29 point in his two games , my minds made up, but then on this occasion as with all the matches its a personal view, and remember there is no 'Crystal Ball'...
In the Plate competition , which is for teams eliminated from the 1st Round of the Cup, there were two close games , firstly Argyle B's home tie against Southport B went all the way , being decided in the last few sets of the evening , a 14 point win and a good result for the home side considering they were not at full strength. Southport D had similar success over fellow Third Division side Argyle F, 21 points being the margin in this one . Holy Trinity B's comfortable home win over Argyle D , was in the main due to the fact the visitors had to draft in two replacements . Argyle H were certainly looking forward to their meeting with their A side , but again with only Mark Jagger available from the 1st Division team , the H teams initial realistic 260 point handicap looked a little generous and too much for the A team to claw back , and indeed it was ,with a 110 point win for the 3rd Division team . Waddington C's match with their E team was postponed and will be played Wednesday 21st January.
So as it stands we have an even distribution of teams in the two competitions , five from each division with either a second or third division team to complete the quarter final draws, a great weeks cup action . Back to league action next week and a reminder again to all registered players , entry forms for the Closed Town Championship have to be in by the 1st February..... all fixtures/results/tables and news can be found at www.tabletennis365.com/southport
---
A word in praise of Jim Booth...
Jim is the one who writes the articles for the Southport Visiter, and more importantly, manages to get them published!
You may also have seen him taking team and action photos around the various playing venues, but he's very modest and hasn't bothered to take a selfie yet. (However, I managed to snap him recently playing in the Gunson Cup at Formby's newly decorated sports hall - see below.)
Without Jim's hard work, we wouldn't have the publicity, or the accounts of the latest tussles in league and cup. Oh, and did I mention? He's the one who enters the scores onto the tabletennis365 system so you can all see the league tables, results and averages so promptly! So thank you Jim, and enjoy the Christmas break!
Alan Nolan
---
Southport & District TTL
GUNSON CUP (Handicap)
A welcome rest from league action this week as the 1st round of the Gunson Cup was played, and just to recap, this competition is handicapped so as to give the lower teams a fighting chance in overcoming their higher placed opponents. Also a couple of rule changes are introduced to facilitate the handicap, there are no doubles and each of the eight singles is played to five sets, first to eleven, so an 11-10 score can happen. So with every point counting I suppose its 'game on' for everyone.... Several matches went down to the last encounter, and some even down to the last set ! First division Formby TTC D's home clash with third division Argyle H, a perfect example. Here the home side faced a 200 handicap, which meant keeping the third division team to 6 or less per set. In the first couple of games all was quite even, until the home sides number one Sam Pierce put some daylight between the teams, only for the visiters number three Alex Ashby to even things back up. Who was ahead, both teams thought the other was leading, even down to the very last set of the evening doubts were rife, and in the end it was a 4 points advantage to the Home side, which was a big surprise to Dan Edwards who had actually clinched a match thought to be lost. Great finish. Still at Formby, in fact a couple of tables away division one leaders Formby TTC A hosted Argyle G of the third, facing a 320 handicap, that's keeping their opponents down to three points per set, could they do it. Well to sum it up, the question was asked just before the last game, 'What if its a draw'? genuine concern from the home side here... very close again, and probably only decided in the latter parts of that final game, a win for the home side by 8 points, thus avoiding that replay. Tough on Argyle, although a great performance by young Connor Peake must have put a smile on everyone's face. Another great game... Elsewhere the all third division clash between Holy Trinity D and Waddington E also was also decided in the last game, Gordon Parmenter clinching it for Holy Trinity, 6 points the final margin. As was the all second division contest between Waddington B and Argyle D, here there were plenty of changes of fortune throughout the match and the 60 point handicap given to Argyle was not quite enough leaving them just 4 points short, with Waddington's number one Roger Neal sealing the tie in the very last set, Phew! Both Argyle teams from the first division struggled against 2nd division opponents, being without key players the issue here, although the A team did fair a lot better than their B side, bringing into play the handicap. First division Southport B turned up at Formby TTC F who are not having the best of times in the second division, a player short due to illness, suddenly that 100 handicap they faced turning into 210.. uphill struggle all the way. They made a decent fist of it getting over halfway, falling 46 points short at the end, giving a welcome win for the home side. Close wins for Holy Trinity C, Southport E, Formby TTC C and Waterloo TTC, ensured quite an eventful 1st round, combined with some good handicapping from the committee too, the Gunson Cup maintained its addictive interest.. Overall then, into the 2nd round draw goes, six teams from division one, six from division two and four from division three. Whilst there will be four teams from division one, five from division two and seven from division three in the Plate competition. A fairly even mix, although we may have expected a few more successes from the lower ranks, but this may well change as the competitions progress. We will not have to wait too long as the second round is due to be played during week commencing 12th January, one to look forward too for sure. Back too league matters next week, and it is also the last week before the Christmas break..... you can find more ... fixtures/result/tables and news at
www.tabletennis365.com/southport
---
Southport & District TTL (sponsored by Merseyrail)
Anon Cup 2nd Round and Anon Plate 1st Round
CUP WEEK 2
League matters were put to one side this week as the 2nd round of the Anon Cup and the 1st round of the Anon Plate took centre stage. With nearly all the teams still in either of the draws, could there be a shock on the cards somewhere. Even before the matches got underway, the notable absence of holders Formby TTC A from the draws was the first big surprise, their chance of defending the cup disappearing after failing to complete their 1st round tie at Southport C. So with the favourites out of the reckoning who will succeed this time. If we were looking for shocks in these rounds of matches then we would have to be a little disappointed, only the all Waddington clash of their A team up against their B team served up a surprise, and considering that both were in the 1st division last season then that too could be debatable. Well the match started in fine style for the B team with wins for Ged Wilson and Dave Britton, but back came the A team too level with wins by Mark Wood and Darren Taylor. By winning both doubles they soon found themselves in a great position leading 5-3, could the B team claw it back, they needed to win both remaining singles, and one by at least 2 sets, if both were close and went to five then a points count back would be needed to decide the match. Roger Neal the B teams number one secured the ninth game 3-1 in sets, it was now all on the last game, win it and your through. Martyn Coleman held his nerve to take the last game, and the match was the B teams 20-18 on games won. Wonderful game of Table Tennis! Elsewhere in Round Two things went according to plan, apart from a slight glimmer of hope for 2nd division Waddington C against Argyle B, the First Division team stormed off and led 5-0, but were then made to wait until the ninth game to clinch the tie 6-3. Joint leaders of the 3rd Division North Meols had a comfortable win against their league rivals Argyle H, who in truth never seemed to reproduce the form that gained them a creditable draw in their recent league encounter. So of the eight teams that will contest the quarter finals, there will be five from the 1st division, two from the 2nd and one from the 3rd.
In the Plate competition, it was much the same as the Cup, with no surprises as such, Para's 3-7 reversal against Argyle F leaving the home side a little disappointed, considering last weeks league encounter which finished all square. Argyles own derby between their D and C teams too, looked a little closer than the 3-7 score line suggests, again the doubles proving decisive here with the C team taking them both. Waterloo TTC who top the 3rd division took on Formby TTC E top of the 2nd, and it turned out as expected with the Formby side being too strong for the home team. With Southport B having a bye, the 2nd round will be contested by them from the 1st division, four from the 2nd division and three from the 3rd. Anticipation for the draws will certainly be high amongst a lot of the teams, as both competitions could be up for grabs here, but we will have to wait till next year as those ties are due to be played during week commencing 9th of February, and before that the Gunson Cup (Handicap) also gets under way, so interesting draws they are going to be, that is for certain. So back to league action next week, all fixtures/results/tables and news can be found at
www.tabletennis365.com/southport
---
Southport & District TTL ( sponsored by Merseyrail )
CUP WEEK
This week see's the 1st round of the Anon Cup, a straight knockout competition with the same format as the league. No handicaps, but 1st division teams will be seeded so as not to meet in the first round. However first round losers do go into the Anon Plate which then runs parallel with the main event.
So back to those ties, a very close and entertaining match between Waddington C and Argyle C (both 2nd division) was probably the highlight of the round. With both sides leading at different stages, the doubles again proved to be decisive, Argyle winning them both and taking the match into count back, but still this was not enough as the home side took the match on sets won. Holy Trinity C from the second division so nearly caused an upset away at first division Waddington A, narrowly losing out 6-4. Paraplegics and Waddington E served up another close match, remembering their recent league match ended up all square, but this time the visitors clinched it 6-4. Argyle H from the third division must have felt they were in with a shout at home to Formby TTC F, who have not been having the best of times, finding themselves propping up the second division. With the early stages going in favour of the second division outfit, they led 4-3, but with an impressive run of three straight games, including wins by Alex Ashby and Joe Edmund, Argyle came out on top 6-4, a super game throughout from both sides.
Southport B's game at home to Waddington B didn't seem to go to plan, these two side swapped places, Southport being promoted to division one and Waddington going the other way. By the end, it seemed like a comfortable win for the second division side, but the home side must have been left wondering how they didn't manage to get 2/3 points on the board, I suppose some games just go like that. Elsewhere things more or less went to plan, with the higher placed sides coming out on top, but it's not quite the end for the teams knocked out, the Plate competition awaits. One result is still to come in, a significant one too, holders Formby TTC A away at Southport C, the reason for the delay was the game was not played, and decisions on the outcome is a little unclear at present, but one thing is certain that it will affect both competitions …… back to the league action next week, all fixtures/results/tables and news can be found at www.tabletennis365.com/southport
Last Updated: