DYMENT DOUBLES - TEAM HANDICAP DOUBLES

FINAL - NA HAWKS v TORBAY ACADEMY 1 at Teign School on Tuesday 7th May
Congratulations to Torbay Academy 1 who defeated NA Hawks 389-317 in the final to retain the Dyment Doubles Shield
Final - NA Hawks v Torbay Academy 1.docx
Draw took place at Committee Meeting 14.10.2018
See bottom of this page for new format details and score card
First Round Matches scheduled for either side of Christmas. Should be played before 31st Jan 2019.
Second Round Matches scheduled for Week Beginning 4th Mar 2019
Quarter Finals scheduled for Week Beginning 8th Apr 2019.
Semi-Finals & Final to be played Weeks Beginning 15th April & 22nd April 2019
It is the responsibility of the home team (First team of the pair on the chart below) to contact the away team to confirm a suitable date for the match to be played.
Matches may be played before the scheduled week if dates can be agreed between teams.
Individual handicaps to be found under teams on the menu bar.
Round 1
Round 2
Quarter Finals
Semi Finals
.
Halwell
v
Torre Panthers
304
Torre Panthers
wo
.
v Scorecard
Hasbeens
313
Bye


v
Hasbeens
355
Hasbeens


.
v Scorecard
NA Hawks
354
NA Hawks
381
v Scorecard
NA Hawks
376
NA Vultures
336
.
v Scorecard
NA Hawks
363
NA Eagles
390
v Scorecard
NA Eagles
269
NA Ospreys
317
.
v Scorecard
NA Hawks
NA Kites
351
v Scorecard
NA Kites
335
NA Falcons
338
.
v Scorecard
Taverners
376
Taverners
373
v Scorecard
Taverners
372
TTTA 7
337
.
v Scorecard
Taverners
346
Dawlish Diamonds
wo
v
Dawlish Diamonds
wo
TTTA 4 - Conceded
.
v
Dawlish Diamonds
319
Dawlish Dodgers
v
Dawlish Dodgers


Bye
.
NA Kestrels
362
v Scorecard
NA Kestrels
323
Marldon
316
.
v Scorecard
TTTA 2
312
TTTA 2


v
TTTA 2
370
Bye


.
v Scorecard
TTTA 1
371
TTTA 1
346
v Scorecard
TTTA 1
340
Brixham Trawlers
333
.
v Scorecard
TTTA 1
381
NA Merlins
261
v Scorecard
Torre Titans
321
Torre Titans
381
.
v Scorecard
TTTA 1
NA Buzzards
391
v Scorecard
NA Buzzards
364
TTTA 3
325
.
v Scorecard
NA Buzzards
351
Bye


v
NA Owls
331
NA Owls


.
v Scorecard
NA Buzzards
329
Dawlish Delights
305
v Scorecard
TTTA 5
316
TTTA 5
387
.
v Scorecard
Torre Tigers
342
Torre Tigers
v
Torre Tigers
360
Bye
SOUTH DEVON AND TORBAY TABLE TENNIS LEAGUE - HANDICAP TEAM CUPS
Rationale behind change:
The previous system used massive handicaps (players requiring 60+ points to win a single game!) which resulted in very long games, giving timing/scheduling issues, and offered less incentive to our better players due to the length of games. It was also possible on the old system that a player would only have one set of table tennis in an evening. Less teams were entering the cup matches each season. The previous system of weaker players having to win 11 points a game would always favour the better players. We needed to give the weaker players a better chance of winning and we needed to deal with the timing constraints that many clubs have.
So, the committee has adopted an experimental change for this season and will gauge the support for the new format to see whether it should be a permanent change.
CHALLENGE HANDICAP CUP (team singles) & DYMENT DOUBLES SHIELD
This system counts every point won, over four legs up to 11 (normal scoring). All four legs to be played.
The system is based on Table Tennis England's ranking lists and Table Tennis 365 suggested handicaps. Each player will be given a handicap number between 0 and 43. The difference between the two players in a set is calculated and rounded up to a multiple of 4, then divided by 4 (4 games/set) which will give the start the weaker player will have in each game (capped at +9), which should be noted against his name (ie +4) for the particular set. ALL four games are played as normal up to 11 (2 clear points as normal). After each set of four games the total points scored by each player shall be recorded on the scorecard and the cumulative total calculated and recorded keeping a running total of the score as you go. At the end of the final 9th set the team with the most cumulative points is the winner. If the scores are tied, the team awarded the most handicap points at the start shall be deemed the winners. If this is also tied then the away team shall be declared the winners.
In the doubles, the pairs handicaps are added together and divided by 2, rounded up to a whole number, and the start that the weaker pair receive is calculated as above.
An example scorecard is shown below and blank scorecards will be given to the clubs/teams shortly or can be downloaded from the team cups menu on the website.
Players' individual handicaps now show on the website under 'Team Details 18-19'
PLEASE NOTE: the committee has agreed that as this is a handicap competition, players from teams ranked both above and below, not taking part in the competition for their own team, may join another team just for the cup. No-one will be allowed to play for two different teams in the same competition.
The draw for the competitions has now taken place and can be found under 'Team Cups' on the website, hard copies of the handicaps, the draw and scorecards will be distributed shortly. As before, the home team should contact the away team to arrange a suitable date for the match. The winning captain should send in the scorecard.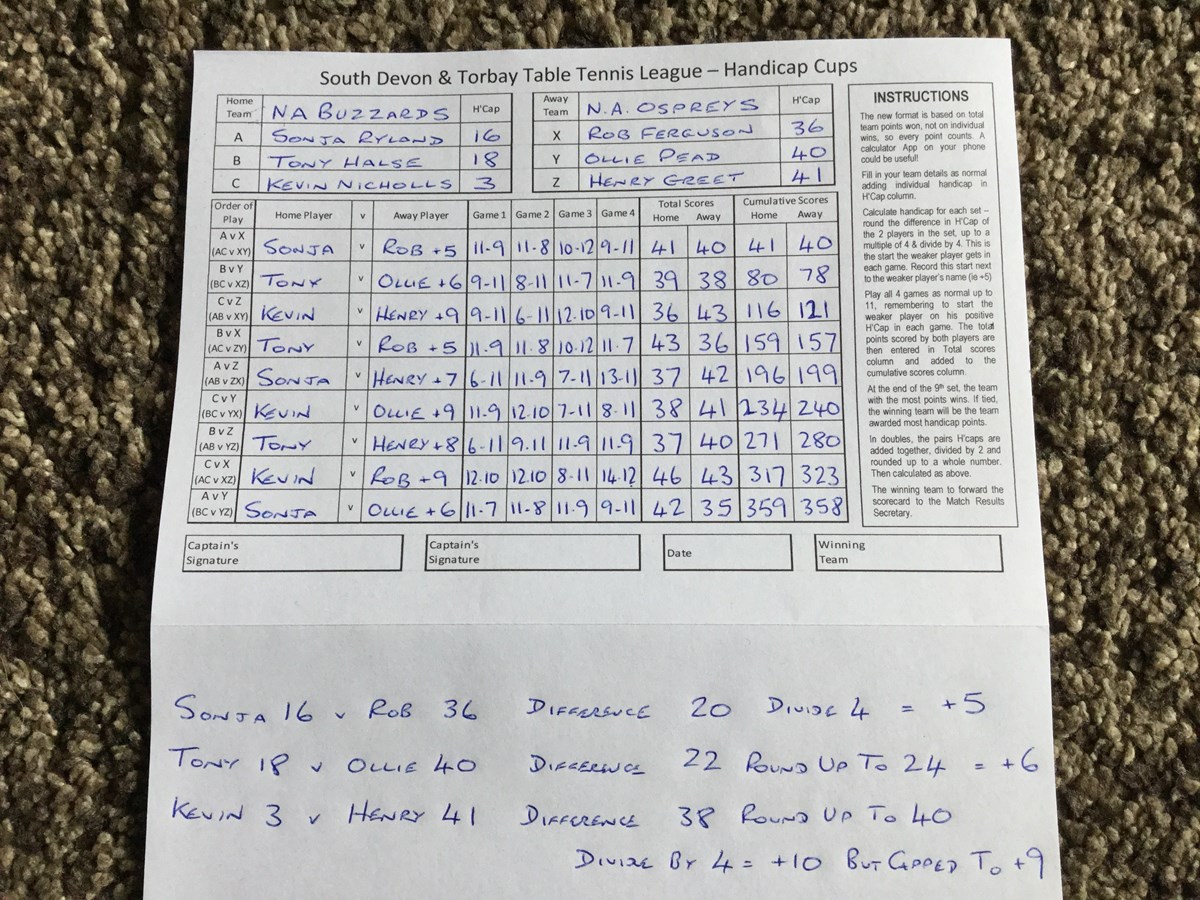 Last Updated: