Press Report 12th Mar
ALBANY FLORISTS-SPONSORED SOUTH DEVON & TORBAY TABLE TENNIS LEAGUE
A great performance from Brixham Sharks in the First Division was the highlight of the week. The Sharks' youngster, Josh Millman, inflicted the first defeat on Torbay Academy 1's Kris Piwowar for two and half seasons in completing an excellent maximum, the match finishing all square at 5-5. NA Batmen are now level on points at the top with the Academy side but have played an extra match. Kelvin Cheung and Dennis Gibbs were unbeaten as they defeated Dawlish Aces 9-1, Naomi Jackson for the Aces preventing the whitewash. Its tight at the bottom of the table as the 3 sides fighting relegation all picked up useful points. A Javier Garcia Sanchez maximum for Torbay Academy 2 helped his side to a share of the points with Brixham Gulls. Bottom side Halwell, although losing to NA Buzzards, did collect 4 useful points, the Buzzards' Jon Cheung and Sonja Ryland playing well to win the match 6-4.
Sharks' Josh Millman v Academy's Kris Piwowar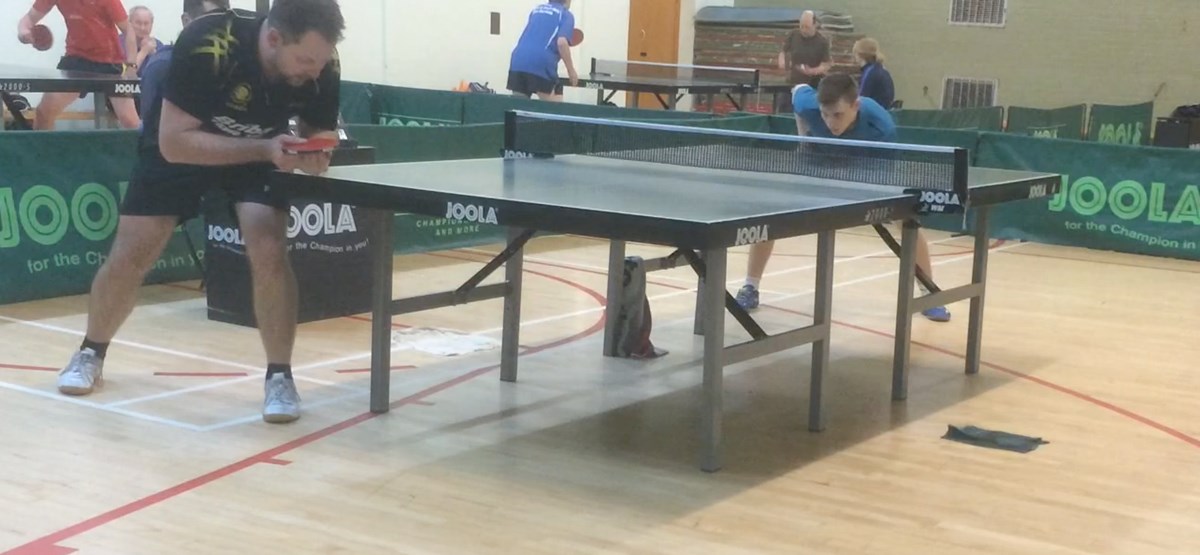 Dawlish Aces – Chris Short, Naomi Jackson & Gergely Kiss
It is 'as you were' at the top of the 2nd Division as the top two both had 8-2 victories over Brixham sides. Dan Webster-Hall and Michael Hernandez took maximums for the Academy as they beat the Pirates, while NA Eagles had Jim McIvor unbeaten as they beat the Imports.
The 3rd Division, similarly, is 'as you were', as the top two both had whitewash victories. The leaders, NA Hawks' team of Mike Coxhead, Doug Morgan and Ben Swettenham defeated Hasbeens 10-0, dropping just one game. Second-placed Torbay Academy 3 brushed aside Brixham Diamonds, as the Academy's Jakub Piwowar, Elsa Perry and Ben Hoare dropped just 2 games in their 10-0 win. The battle to avoid relegation saw an excellent draw played out at Dawlish between the Dawlish Diamonds and NA Falcons. Bruce Freeman, with a fine maximum for the Diamonds, was pushed all the way by the Falcons, but clinched all his singles wins in the fifth game.
The Fourth Division reaches its conclusion ahead of the other three divisions: with just one match to go Torbay Academy 5 and Torre Tigers are level at the top on 114 points. Torre Tigers' latest victory was a whitewash over their colleagues from Torres R Us. NA Ospreys in 3rd place got back to winning ways, thanks to a Luke Robins maximum in their 7-3 victory over club mates the Kites. NA Owls, with an all- Bayliss team, defeated Torbay Academy 6. Rowan, Dylan and Rob won 2 singles each, but they couldn't defeat Lucas Bradshaw until the final doubles when the Bayliss boys beat Bradshaw and Brookes to win the match 7-3.