Academy completes treble
Torbay Table Tennis Academy I defeated Denbury Tykes 5-0 in the Dyment Doubles Shield final to complete a hat-trick of victories - Division One Champions, Challenge Cup Winners and Dyment Shield winners.
The Tykes, who themselves were looking for a treble until they came up against the might of the Academy, lost 5-2 in the semi final of the Challenge Cup, and went down to the Academy again in the final of the Dyment Shield, They did however take the Division 3 title.
Although Tykes battled hard throughout and had glimpses of opportunity, they never really put Kris Piwowar's team under pressure. Kris himself played in 4 of the 5 sets and dominated each encounter.
Pat Darch & Martin Dilkes were close in the 3rd set, but Kris with Grzeg Wojtowicz after losing the first game, came back to win the next three 10-12, 8-11, 10-12, saving several game points on the way.
With Kris sitting out the 4th set, it looked like an opportunity to get back in the match. The Darch's Pat & Huw won the first game 11-1 against Grzeg & Patrik, narrowly lost the 2nd 9-11 and then squandered many game points in the crucial 3rd game, eventually losing it 15-17 and went on to lose the 4th game & the set.
it was left to the Academy's best pair of Kris & Patrik (with a combined handicap of over -100) to round off the evening with a 3 straight set victory over Pat & Martin.
An entertaining evening with some excellent table tennis. Maybe Kris's handicap next year will be having to play left handed!!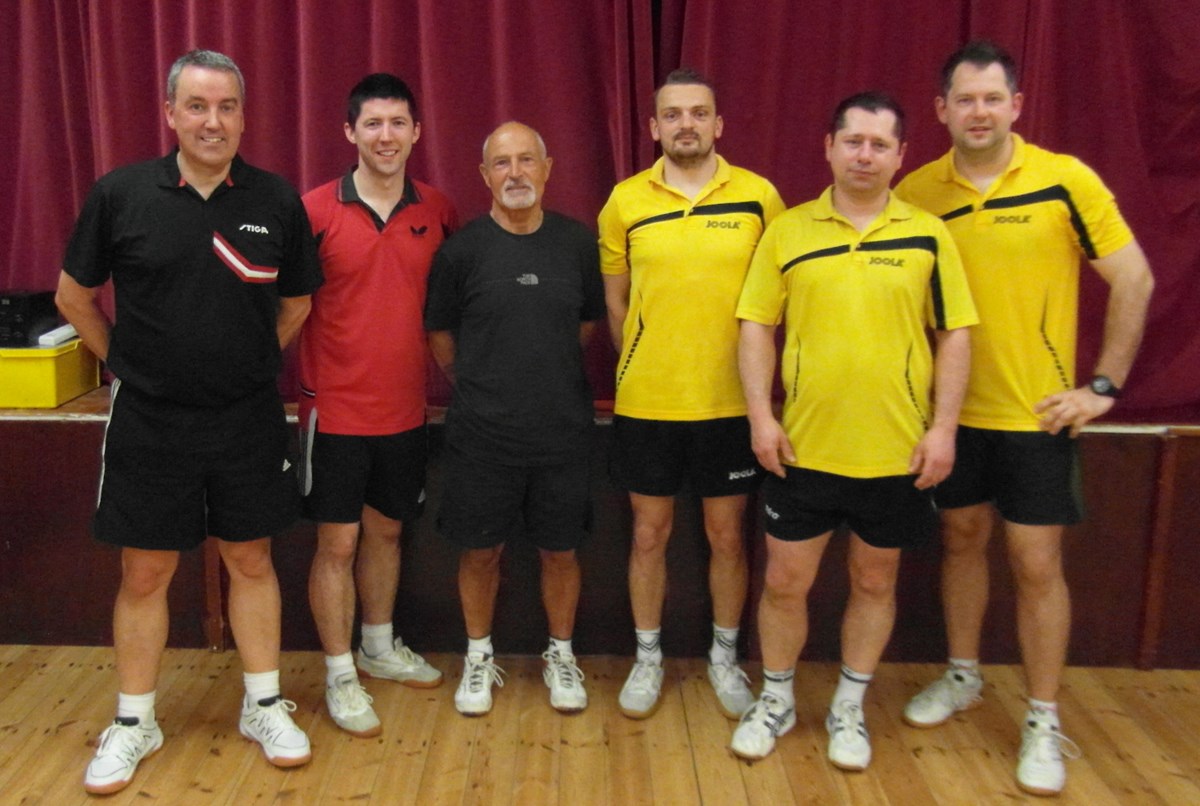 Pat Darch, Huw Darch, Martin Dilkes, Grzeg Wojtowicz, Patrik Cincala, Kris Piwowar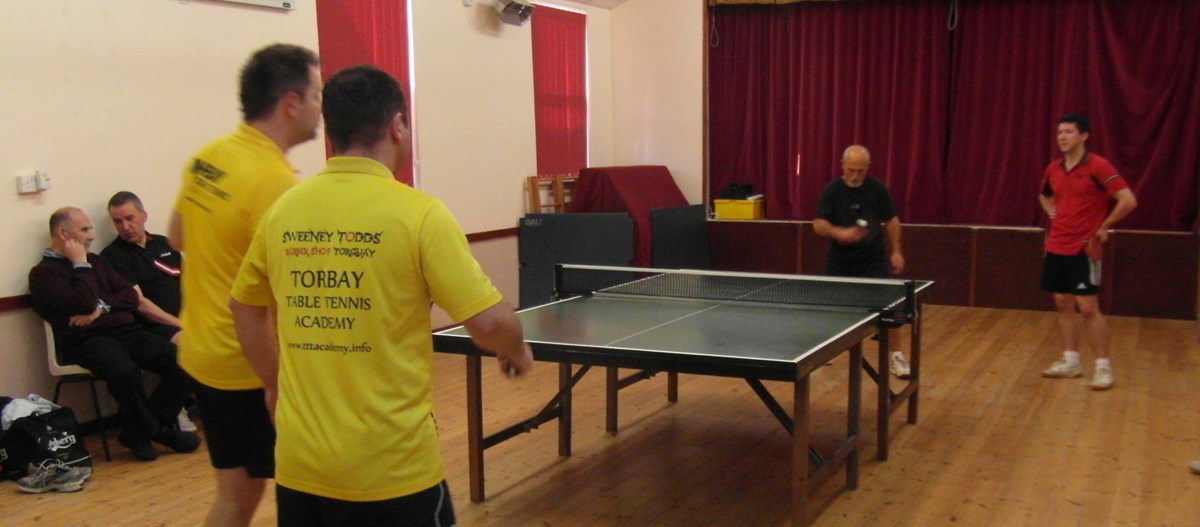 Kris Piwowar & Patrik Cincala v Martin Dilkes & Huw Darch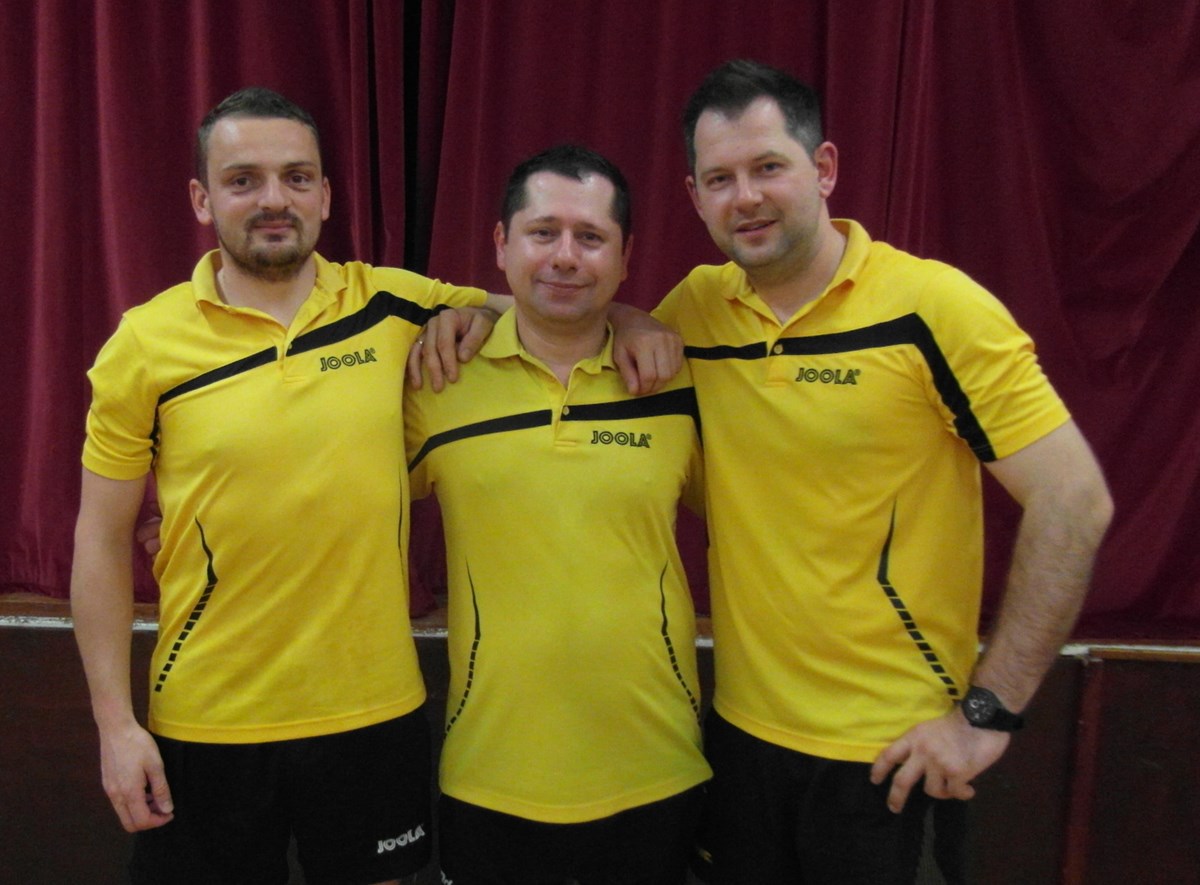 Grzeg Wojtowicz, Patrik Cincala, Kris Piwowar - Dyment Shield Winners 2015
Author:
Tony Halse
via South Devon and Torbay Table Tennis League
Article Published:
Last Updated: