Closed Tournament 2015
The South Devon & Torbay Table Tennis League's Annual Closed Tournament attracted a record entry in recent years of 49 participants, competing for 15 titles.
A strong field of top local players, including last year's Champion Kris Piwowar, battled it out in a top quality, entertaining event, which eventually saw Kris Piwowar retain his Open Singles trophy with a comfortable 3-0 victory over Torbay Academy team mate Patrik Cincala in the final.
Piwowar and Cincala teamed up to retain the Men's Doubles trophy they won last year, this time round defeating Newton Abbot pair Dennis Gibbs and Kelvin Cheung 3-0
Patrik Cincala & daughter Klara Cincalova got the better of Academy club mates Kris Piwowar & Zoe Barnett in a very close mixed doubles final, which went to the 5th game.
Dennis Gibbs retained his veterans crown for the 13th year running defeating Patrik Cincala 3-0 in the final; and in his first year as a Super Veteran (over 60) took that title with a comfortable 3-0 win over Geoff Read.
The Ladies and Girls events were dominated by Brixham's Holly Johns who won the Ladies Singles, the Junior Girls and the Cadet Girls.
Kelvin Cheung defeated Ben Deakin in the final of the Junior Boys event, whilst Ben Deakin took the Cadet Boys event with a win over Brixham TTC team mate Tom Mercer
Two new events were scheduled this year and run with the support of Torbay Table Tennis Academy, with many of their youngsters taking part. The Under13 event was won by Ben Deakin, who again defeated his team mate Tom Mercer in the final. The Under 11 event was won by 7 year old Jakub Piwowar, who defeated Brendon Thompson in the final
In the Divisional events, David Wills defeated Jim McIvor in the Division 2 final. The Division 3 victor was David Friend with Don Beesley runner-up. Dan Webster-Hall defeated Nick Shipley in the final of the Division 4 singles.
Open Singles - Kris Piwowar beat Patrik Cincala 11-7, 11-9, 11-2.
Men's Doubles - Kris Piwowar & Patrik Cincala beat Dennis Gibbs & Kelvin Cheung 11-7, 12-10, 11-6.
Mixed Doubles – Patrik Cincala & Klara Cincalova beat Kris Piwowar & Zoe Barnett 5-11, 12-10, 7-11, 11-2, 13-11.
Veterans – Dennis Gibbs beat Patrik Cincala 11-5, 11- 6, 11-4
Super Veterans – Dennis Gibbs beat Geoff Read 11-6, 11-5. 11-0
Ladies – Holly Johns beat Klara Cincalova 11-3, 11-6, 11-6
Junior Girls – Holly Johns beat Zoe Barnett 11-6, 11-2, 11-6
Cadet Girls – Holly Johns beat Zoe Barnett 11-7, 11-1, 11-4
Junior Boys – Kelvin Cheung beat Ben Deakin 11-2, 11-6, 11-6
Cadet Boys – Ben Deakin beat Tom Mercer 11-13, 11-4, 11-4, 11-1
U13 open – Ben Deakin beat Tom Mercer 11-3, 11-6, 11-2
U11 open – Jakub Piwowar beat Brendon Thompson 11-3, 11-4, 11-1
Division 2 singles – David Wills beat Jim McIvor 11-6, 11-9, 11-5
Division 3 singles – Dave Friend beat Don Beesley 11-6, 11-6, 11-6
Division 4 singles – Dan Webster-Hall beat Nick Shipley 11-4, 11-9, 11-6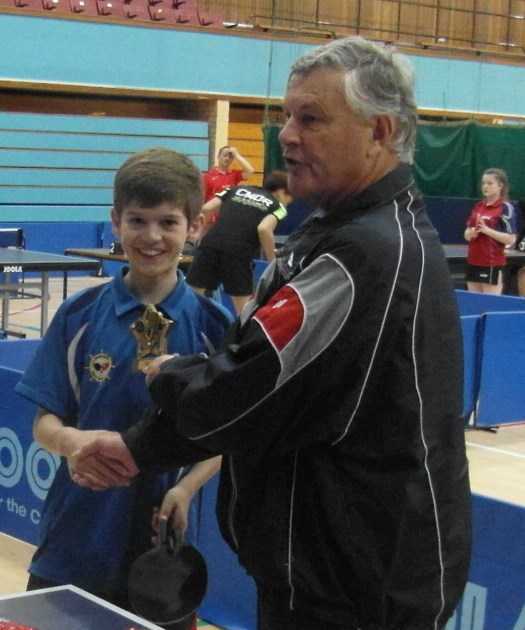 Ben Deakin with Chairman Geoff Read
Some of the U13 & U11 Competitors with awards
Holly Johns with Chairman Geoff Read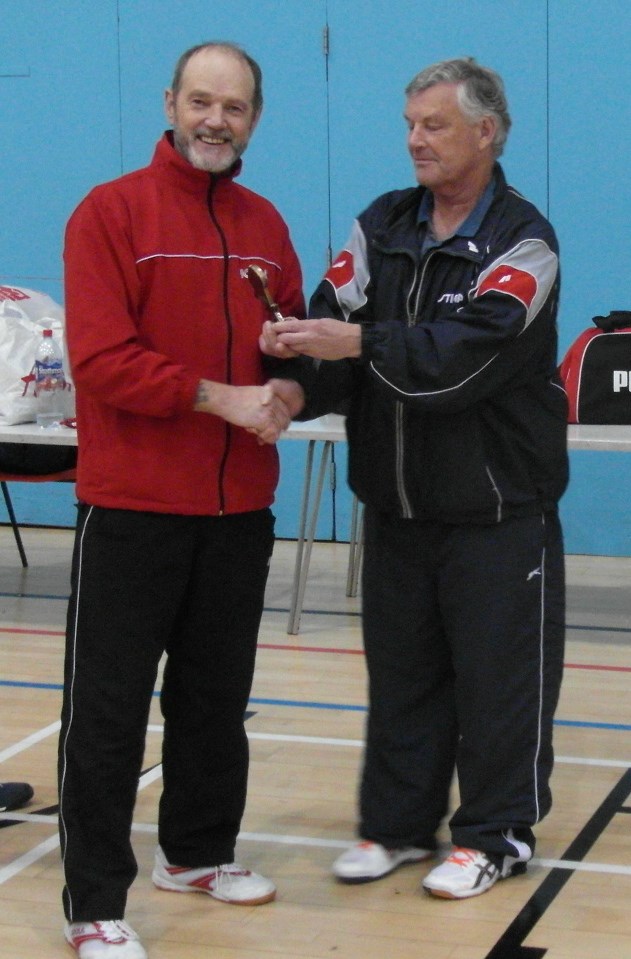 Dennis Gibbs with Chairman Geoff Read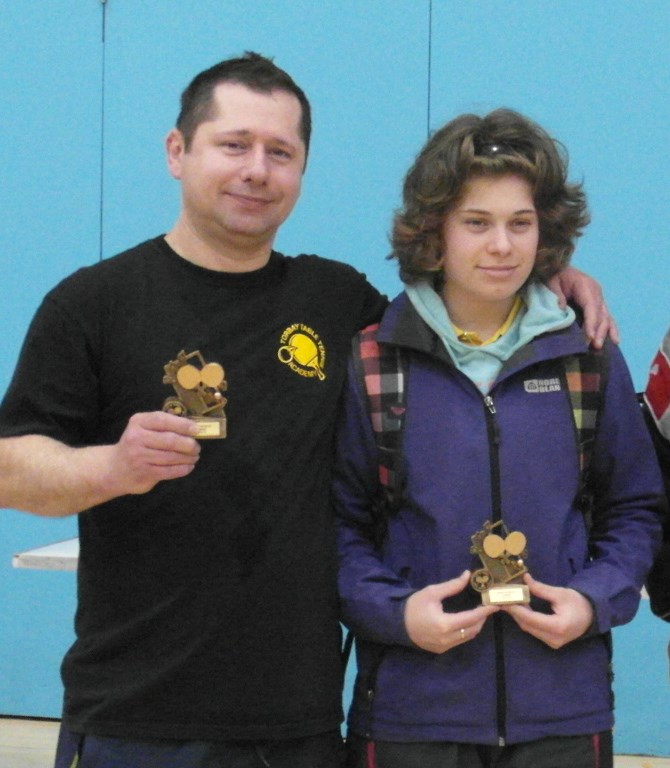 Patrik Cincala & Klara Cincalova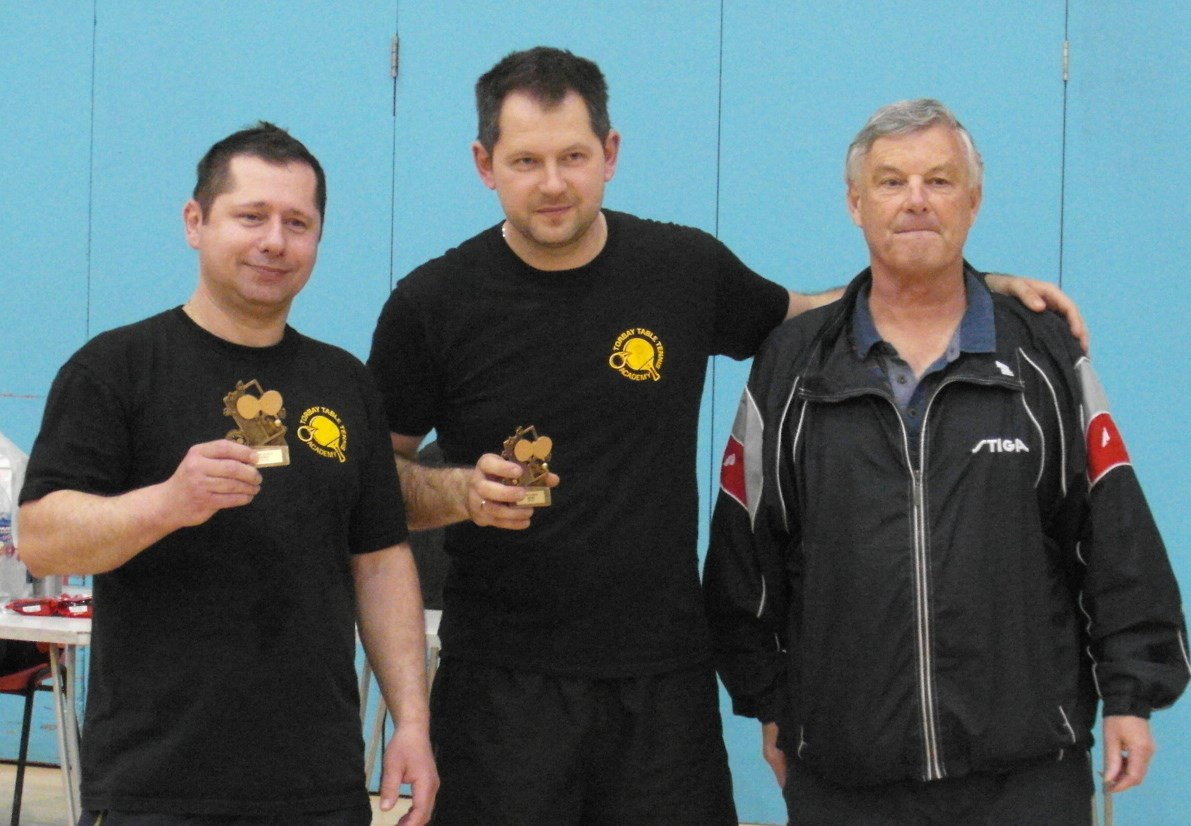 Patrik Cincala, Kris Piwowar & Geoff Read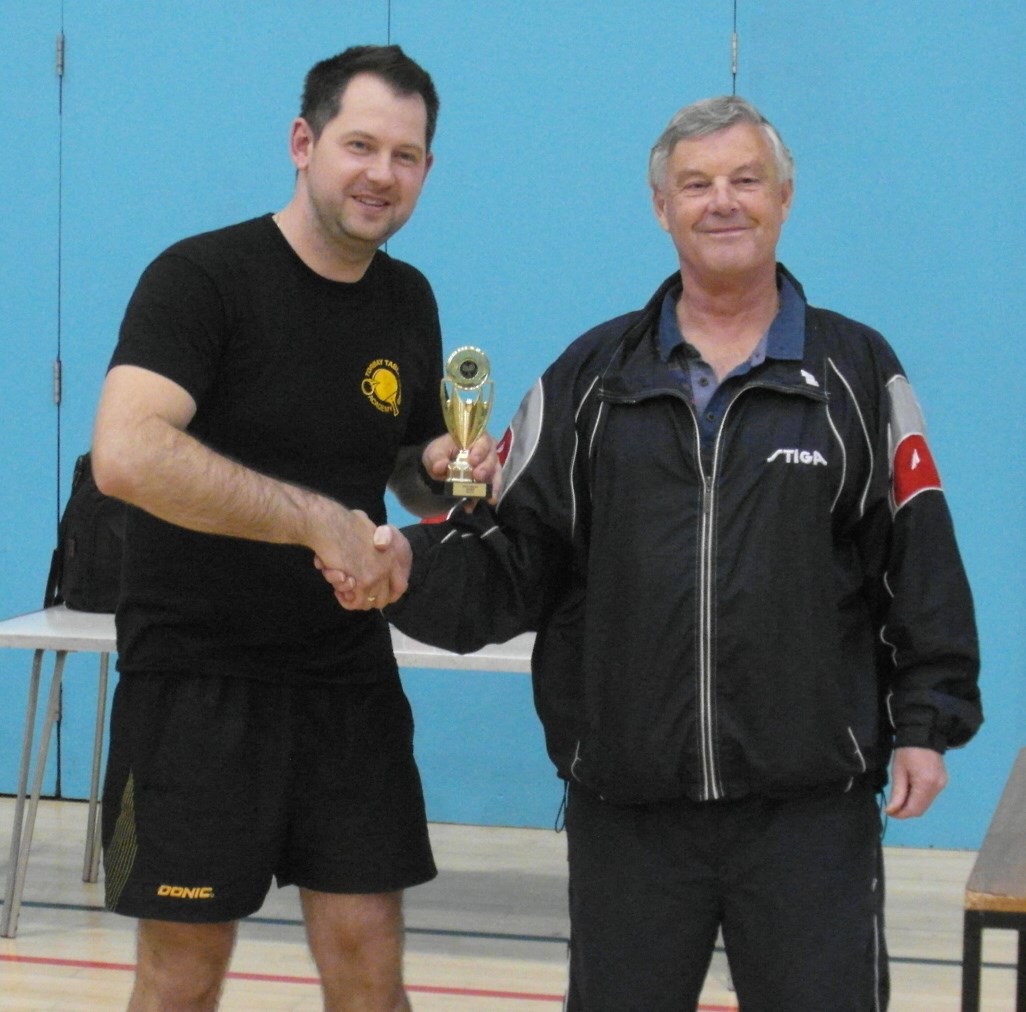 Kris Piwowar, Open Champion, with Chairman Geoff Read
Author:
Tony Halse
via South Devon and Torbay Table Tennis League
Article Published:
Last Updated: