Press Report 22nd Feb 2015
Robert Excell Photography-Sponsored South Devon & Torbay Table Tennis League
Brixham Sharks' 8-2 win over club mates Trawlers closes the gap at the top of the First Division to 8 points, with Sharks having a game in hand over leaders Torbay Academy I. Clive Banham took the 2 points for the Trawlers, while Stamatis Kioufis collected his 10th maximum of the season for the Sharks, and remains unbeaten. NA Batmen had to work for their narrow victory at Brixham over the Gulls, at 4-3 down Dennis Gibbs came to the fore, completing a hard fought maximum and joining up with Nick Halse to take the final doubles and the match 6-4. Dawlish Aces were pushed all the way by basement side, Torbay Academy II, but the father and son combination of Giles and Yannick Tushingham saw the Aces home, both securing maximums.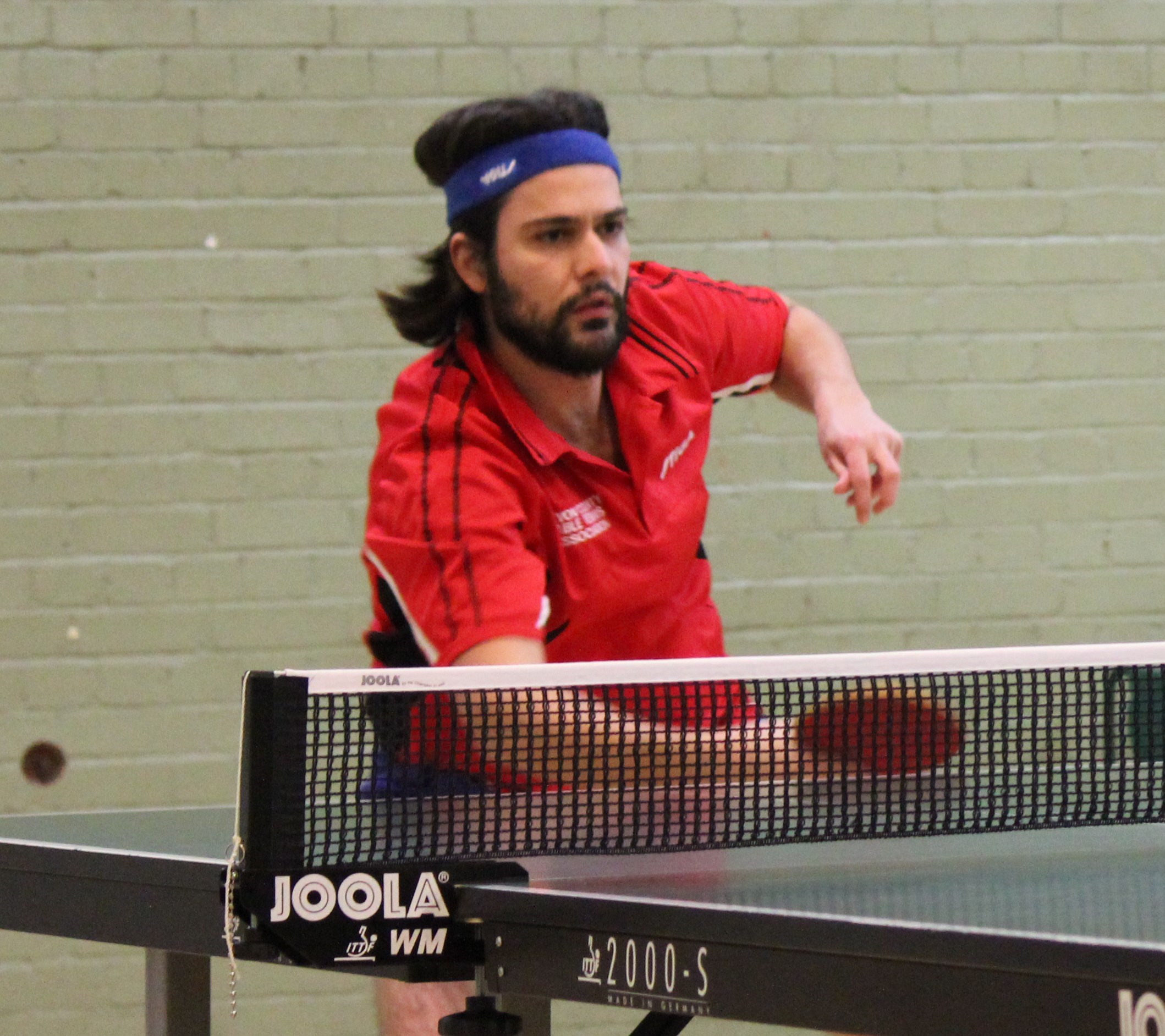 Stam Kioufis, Brixham Sharks

Taverners moved back to second place in Division 2, with a narrow 6-4 win over Marldon, followed by a convincing 9-1 win at Brixham over the Swallows, so they trail just 4 points behind Battlers at the top, but they have played more games than the Battlers and 3rd placed N A Eagles.
Runaway leaders of Division 3 showed their domination with a fine 9-1 win over third-placed Torre Warriors. Brixham Rebels' Dave Friend was unbeaten in the singles as they shared the points with Dawlish Drifters; the Drifters did well to fight back from 5-2 down to earn the draw. In the final doubles Ivor Copley & Don McConnell were 2-0 down, but came back to defeat Dave Friend & Steve Munns in the final 3 games to win the set and claim the draw.
In the Fourth Division, Torbay Academy IV bounced back from their heavy defeat last week against leaders N A Falcons, with an impressive 8-2 win at Brixham over second-placed Brixham Dolphins, with Gerry Hollings picking up a maximum for the Academy. Only 3 points separate the top 3, with the Academy moving into second place 1 point behind the Falcons. NA Hawks picked up a fine 7-3 victory at Torre Nadoes, Dan Webster-Hall with another maximum for the Hawks being well supported by Travis Graham and Joe Strickland. The match between the two Newton Abbot sides of mainly youngsters Owls & Kestrels, sitting at the foot of the 4th Division went to form, with the luckless Owls going down 9-1. Youngster Luke Robins collected his first maximum for the Kestrels.
Luke Robins, N A Kestrels

Finally, the first Challenge Cup quarter-final was decided, as the NA Falcons, going well in both the cup and league, finally met their match in their encounter with stablemates NA Buzzards going down 5-0, the scoreline flattered the Buzzards, who had to work extremely hard to win each of their sets.
Division 1
Dawlish Aces 6 (Y Tushingham 3, G Tushingham 3, Cooper 0) Torbay Academy II 4 (Perkins 1, Ricketts 1, Furgol 1, Dbls)
Brixham Trawlers 2 (Banham 2, Baron 0, Maynard 0) Brixham Sharks 8 (Kioufis 3, Shipway 2, Johns 2, Dbls)
Brixham Gulls 4 (Millman 2, Smith 1, Mercer 1) N A Batmen 6 (Gibbs 3, Halse 2, Dunn 0, Dbls)
Division 2
Marldon 4 (Breyley 2, Glover 2, Atkin 0) Taverners 6 (Read 2, Harrop 2, Morley 1, Dbls)
Brixham Swallows 1 (Andy Millman 1, Meah 0, Holmes 0) Taverners 9 (Harrop 3, Tyrrell 3, Morley 2, Dbls)
Division 3
Denbury Tykes 9 (Dilkes 3, Metcalfe 3, P Darch 2, Dbls) Torre Warriors 1 (Heathcote 1, Lush 0, Lavery 0)
Brixham Rebels 5 (Friend 3, Munns 2, Parton 0) Dawlish Drifters 5 (Charlesworth 2, Copley 1, Beck 1, Dbls)
Division 4
Torre Nadoes 3 (Excell 2, Davies 1, Ryan 0) N A Hawks 7 (Webster-Hall 3, Graham 2, Strickland 1, Dbls)
N A Owls 1 (Embury 1, R Bayliss 0, Hiles 0) N A Kestrels 9 (Robins 3, Bastow 3, Constantin 2, Dbls)
Brixham Dolphins 2 (Gilpin 2, S Shipley 0, N Shipley 0) Torbay Academy 8 (Hollings 3, Lapa 2, Bonfante 2, Dbls)
Challenge Cup Singles
N A Falcons 0 v 5 N A Buzzards
DIVISION ONE

Pos

Team

Pld

W

D

L

SF

SA

Pts

1st

Torbay Academy I

11

11

0

0

84

26

84

2nd

Brixham Sharks

10

9

0

1

76

24

76

3rd

N A Batmen

12

7

1

4

67

53

67

4th

Brixham Gulls

11

5

1

5

54

56

54

5th

Dawlish Aces

11

4

3

4

52

58

52

6th

Brixham Trawlers

12

3

0

9

45

75

45

7th

Halwell

11

2

2

7

41

69

41

8th

N A Buzzards

9

3

2

4

40

50

40

9th

Torbay Academy II

11

0

1

10

31

79

31
DIVISION TWO

Pos

Team

Pld

W

D

L

SF

SA

Pts

1st

Battlers

11

10

1

0

80

30

80

2nd

Taverners

12

8

1

3

76

44

76

3rd

N A Eagles

10

4

5

1

64

36

64

4th

Torbay Academy III

11

4

2

5

56

54

56

5th

Brixham Imports

10

4

0

6

51

49

51

6th

Marldon

11

4

1

6

50

60

50

7th

Brixham Pirates

10

6

0

4

49

51

49

8th

Brixham Swallows

12

2

1

9

37

83

37

9th

Marldon Tykes

11

1

1

9

27

83

27
DIVISION THREE

Pos

Team

Pld

W

D

L

SF

SA

Pts

1st

Denbury Tykes

11

10

1

0

95

15

95

2nd

Dawlish Diamonds

10

7

1

2

72

28

72

3rd

Torre Warriors

9

6

1

2

57

33

57

4th

Dawlish Drifters

11

4

2

5

52

58

52

5th

Hasbeens

10

4

1

5

47

53

47

6th

Brixham Rebels

9

3

2

4

43

47

43

7th

Brixham Panthers

11

2

0

9

33

77

33

8th

Brixham Diamonds

7

4

0

3

32

38

32

9th

Brixham Swifts

10

0

0

10

9

91

9
| | | | | | | | | |
| --- | --- | --- | --- | --- | --- | --- | --- | --- |
| DIVISION FOUR | | | | | | | | |
| Pos | Team | Pld | W | D | L | SF | SA | Pts |
| 1st | N A Falcons | 9 | 8 | 0 | 1 | 66 | 24 | 66 |
| 2nd | Torbay Academy IV | 10 | 7 | 2 | 1 | 65 | 35 | 65 |
| 3rd | Brixham Dolphins | 10 | 7 | 1 | 2 | 63 | 37 | 63 |
| 4th | Torre Nadoes | 10 | 4 | 1 | 5 | 56 | 44 | 56 |
| 5th | Torbay Academy V | 10 | 4 | 2 | 4 | 55 | 45 | 55 |
| 6th | N A Hawks | 9 | 4 | 2 | 3 | 49 | 41 | 49 |
| 7th | N A Kestrels | 11 | 2 | 0 | 9 | 36 | 74 | 36 |
| 8th | N A Owls | 11 | 0 | 0 | 11 | 10 | 100 | 10 |
Author:
Tony Halse
via South Devon and Torbay Table Tennis League
Article Published:
Last Updated: