" another superb find from the archives thanks to Nigel Pennock. We have a very young looking Richard Whiteley after his winning exploits at the Annual Tournament. Three titles won against Keith Bell but Nige Pennock picking up the under 17's title denying Richard a fourth title that year.
Lovely to see a young Cliff Twineham as well, no longer playing in Harrogate but still I believe playing socially.
Last but not least a bearded Nick Davies as part of the successful Wanderers team becoming Yorkshire League Champions. Great to have Nick playing again for Racquets A.
We need Cliff and Nige to pick up their bats and come back to play in HTTA. Richard verses Nige and Cliff verses Nicky, would be a blast from the past and great to watch. "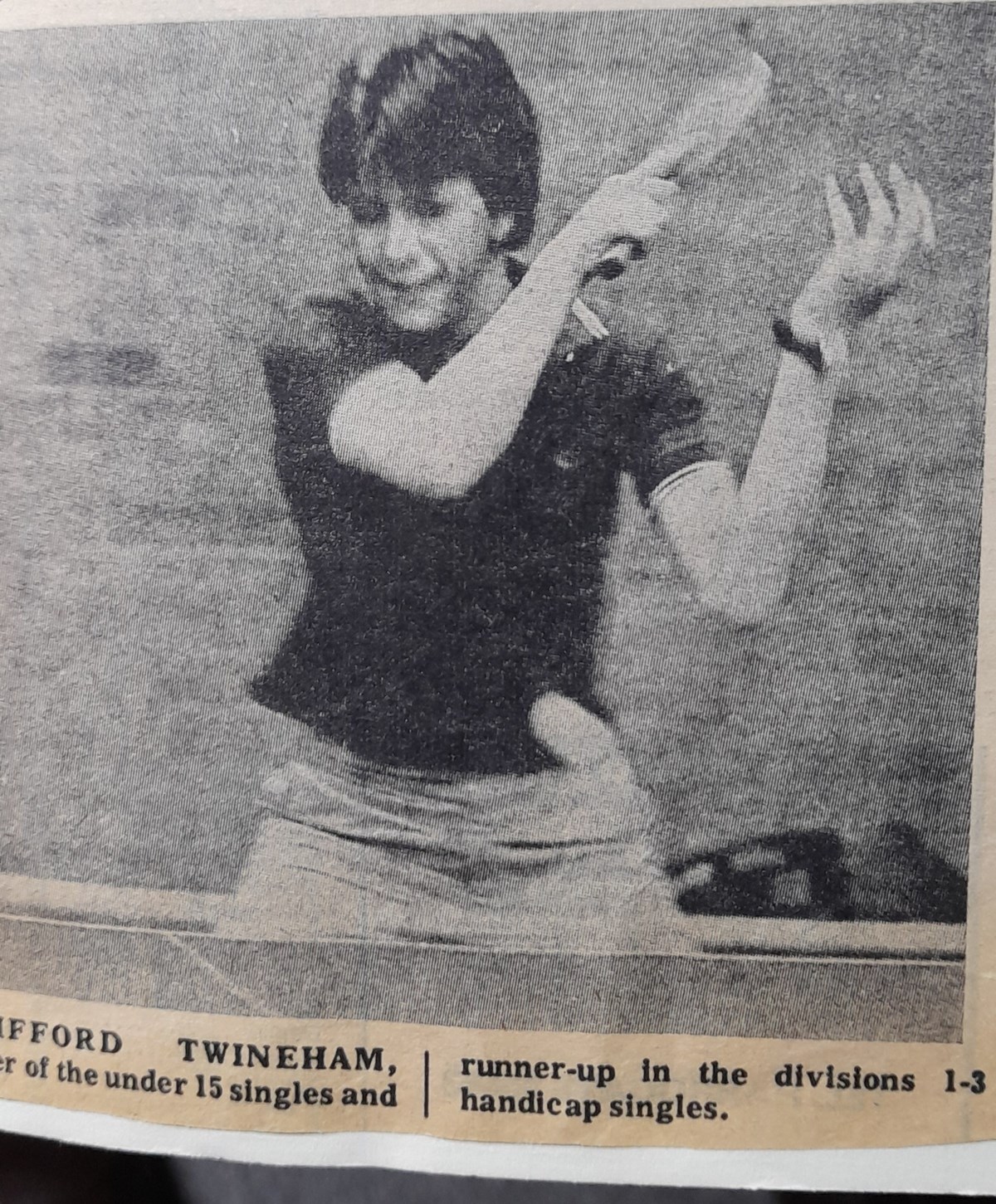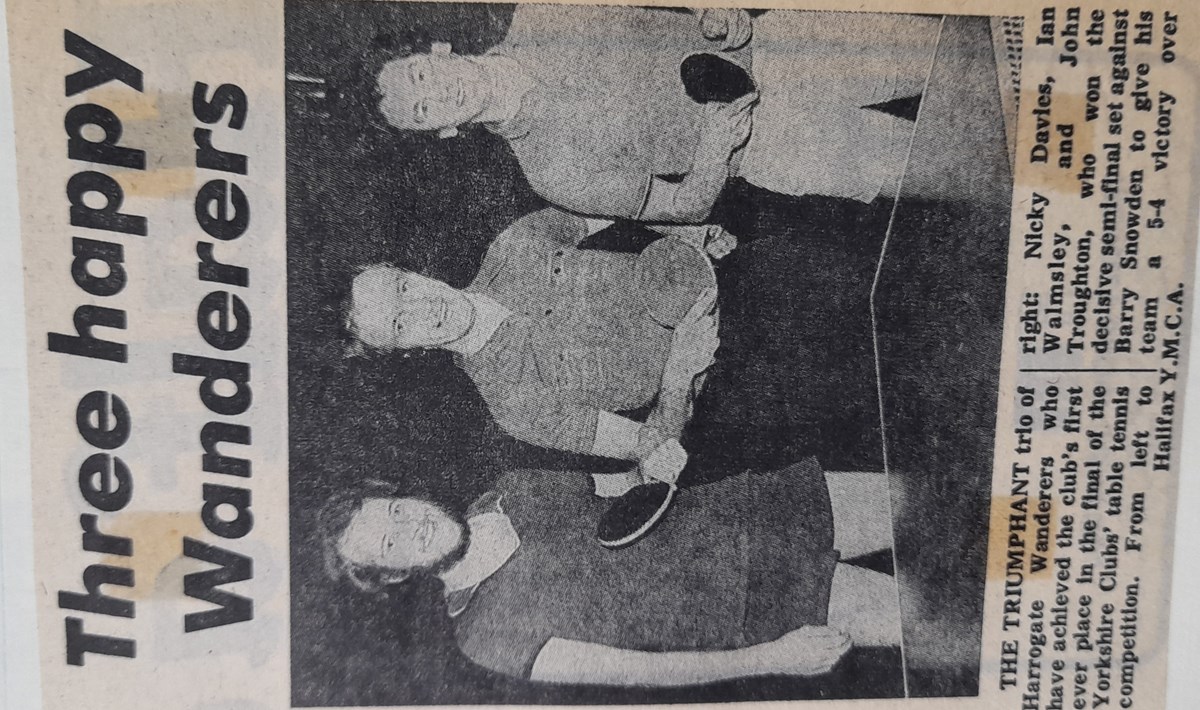 " 2 pictures kindly sent over by ex HTTA player, Nigel Pennock. Good to see Yvonne in action and of course Nigel with his father, the late Maurice Pennock, who contributed a great deal to both HTTA and Yorkshire Table Tennis over many years."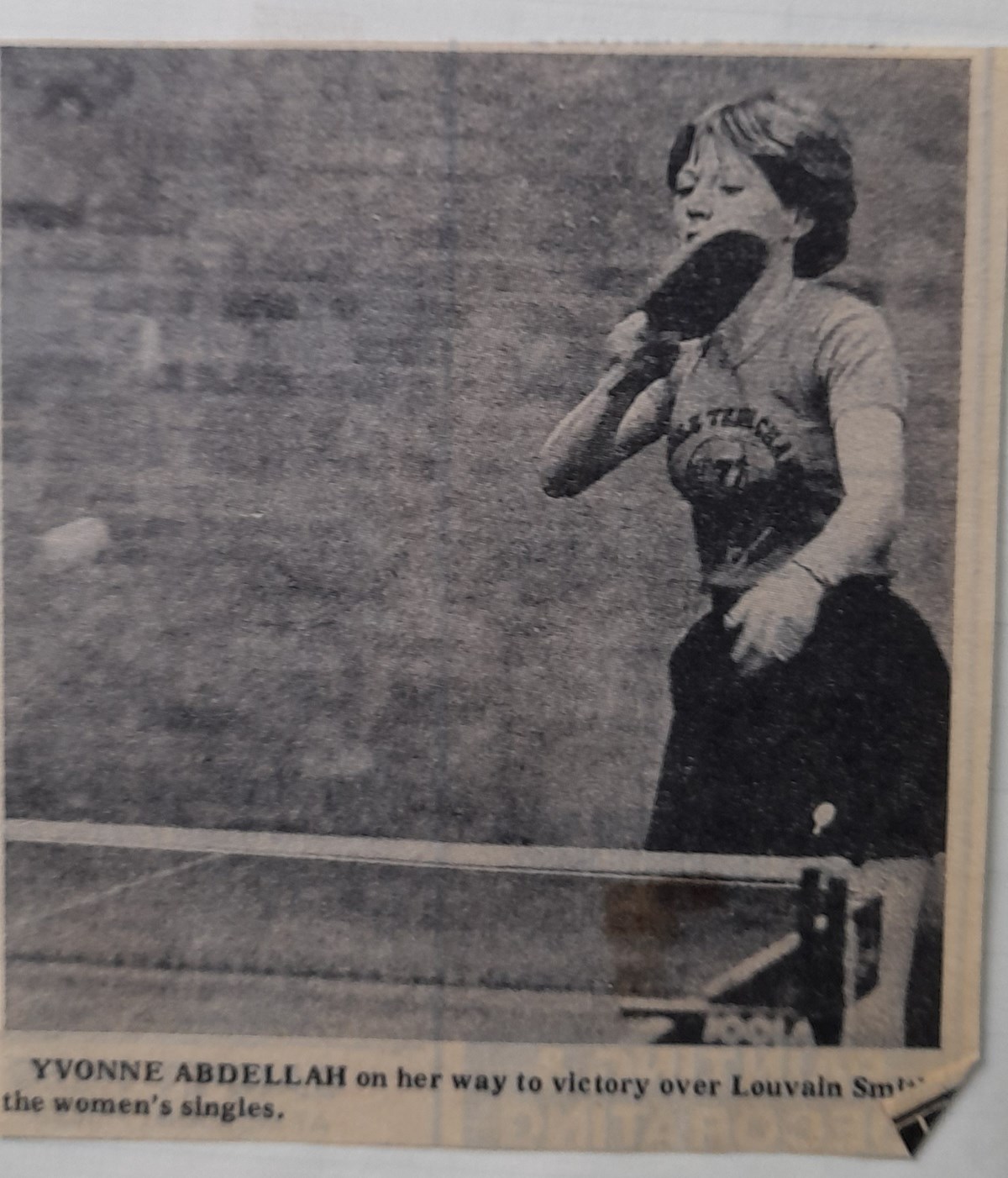 from Phil Kenny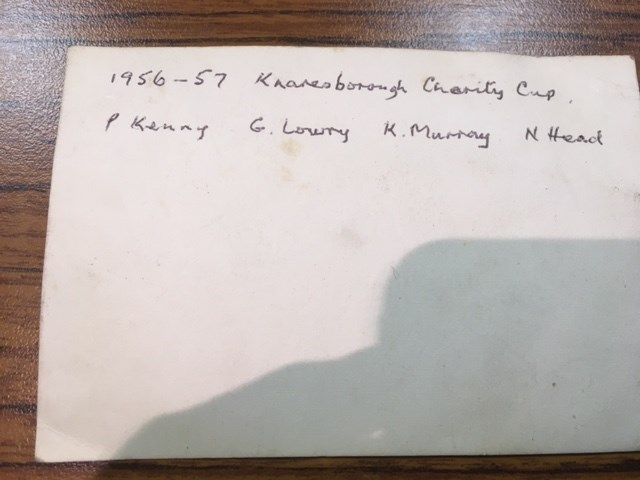 "I'm yet again grateful to Robin Maxfield for sending over this cutting from the archive.
The cutting on the right refers to Denis Neale, in his playing days Denis was the England Number 1 from 1967 to 1977. During this period he beat 6 World Champions, achieved a European ranking of 7, a World ranking of 15, won numerous national titles and championships around the world and represented Europe against the rest of the World. I believe the cutting is from the 1965 season and so before Denis became England Number 1.
This was Denis's first ever match in Harrogate and for many years Wanderers A dominated HTTA with Denis, Nick Davies (still playing in Harrogate) and the late Len Browning, they won numerous league titles.
It's amazing to think we had England's number 1 player playing in Harrogate."
Denis Neale plays in Harrogate for the first time.docx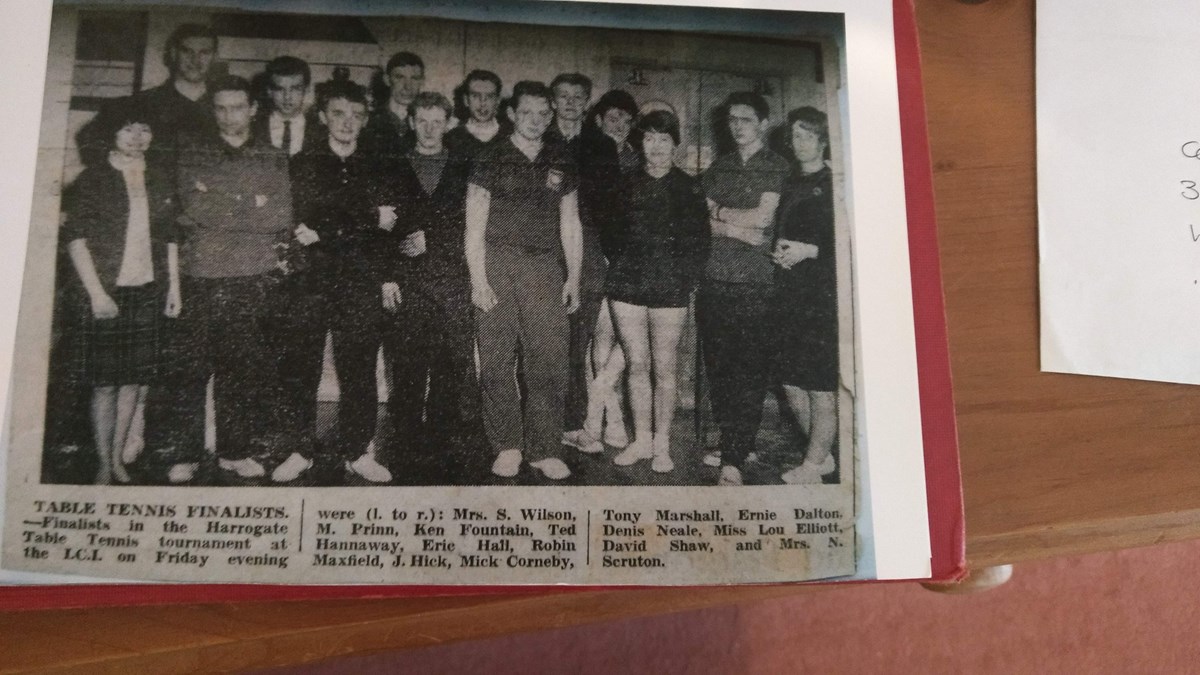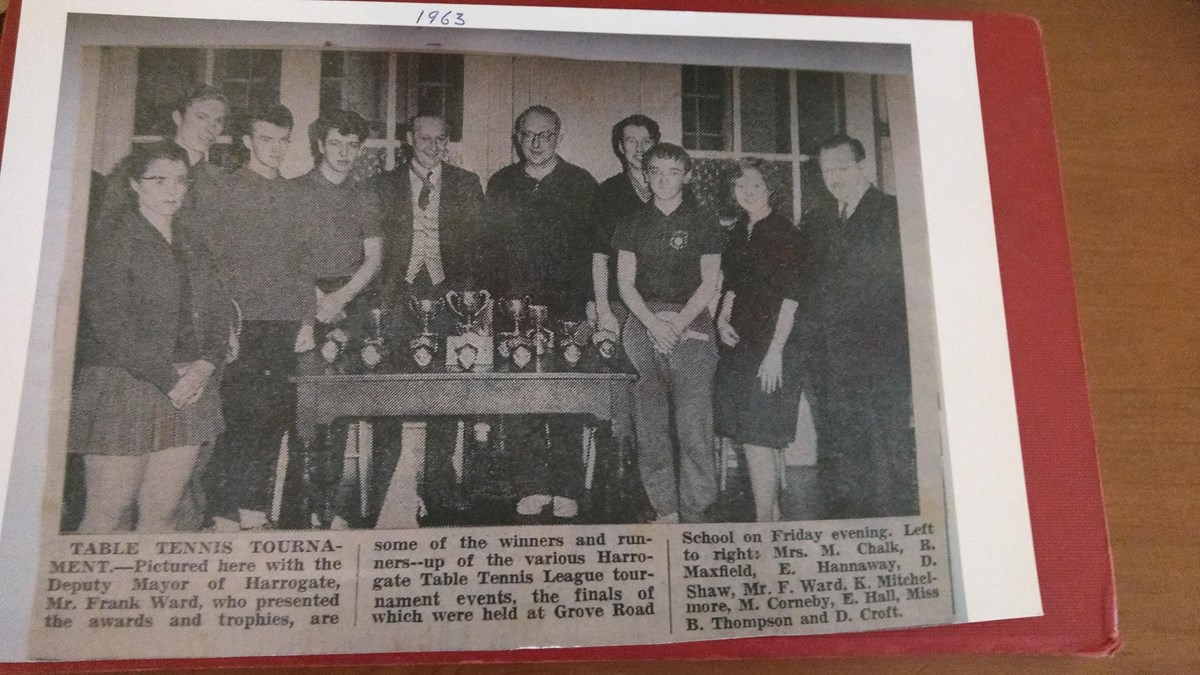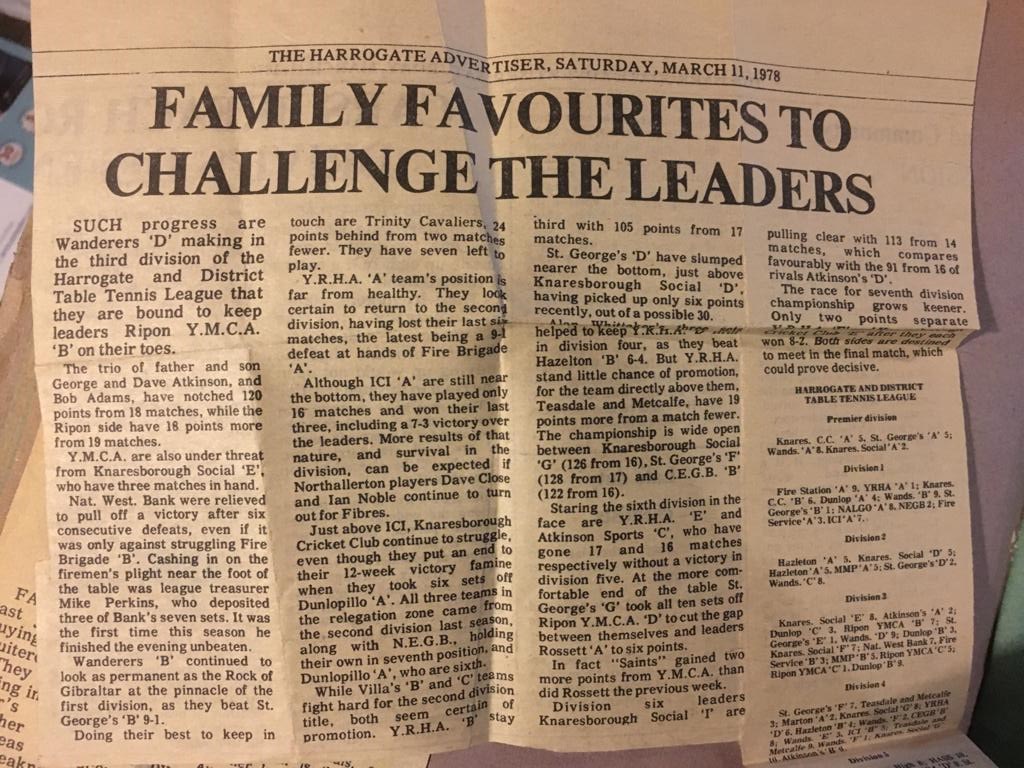 "Andy Cousins kindly sent this Harrogate Advertiser Cutting through on behalf of George and Dave Atkinson. Some interesting memories from 43 years ago – the Club names : Wanderers, Ripon YMCA, St Georges, ICI, Fire Brigade, NEGB, Dunlopillo, Villa, Knaresborough Social, Atkinson Sports, NALGO, Hazleton, Nat West Bank, MMP, Teasdale and Metcalfe, Marton, CEGB.
17 Clubs all gone!
The only Club still going strong and mentioned in the article is Knaresborough Cricket Club"

"Good to see Nick Davies still playing in Div1 for Harrogate Racquets A – he was top of the averages in this article!
Terry Hood mentioned as well and he's going strong in Division 2 for KCC B"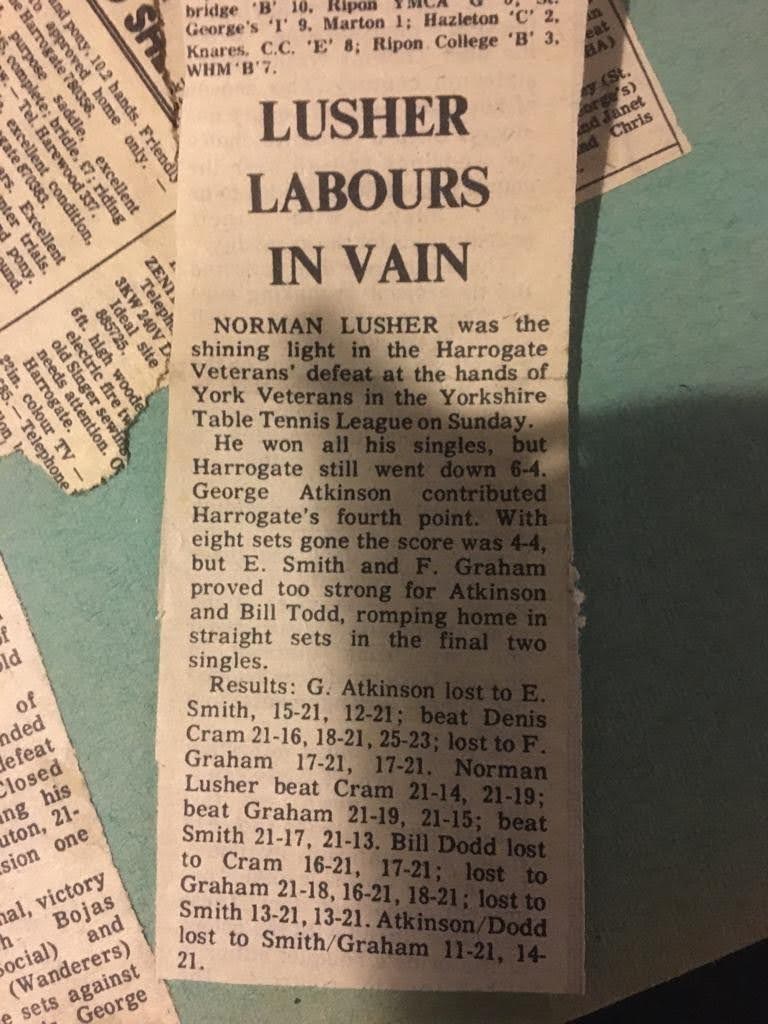 "Nice to have this old clipping sent over, it features the late Norman Lusher, Mr Harrogate Table Tennis, - and his exploits in the Yorkshire League.
Many of us have great stories about Norman and I imagine even today, many are recounted after one of this seasons matches"
Last Updated: