National Cadet League South Sunday 4th November
A team back from the blitz, maximum for B team's ZAIN ALI

We sent two teams to take part in NCL(S) at Cippenham. The A team were assigned to the first of the four divisions, seeking to make the grade after twice being relegated last season. 13 year-old Pelin Karabulut came in to replace Cooper Whitford, who has moved up to juniors, as has Ethan Morgan. Right from the start we were blitzed by Warren Spring A, with Pelin saving the whitewash in a 1-8 defeat. We were still shell-shocked taking on Crusaders B in the second match, this time Toby Dow securing the single win in another 1-8 defeat. Final opponents were Guildford A and we were able to breathe more easily, with Bertie Anstis achieving his first wins and Pelin our only loser in an 8-1 victory. There are three very strong teams and three weaker ones: next time we will encounter one of each, Crusaders A and Cippenham A respectively: a good performance against the latter should secure another round of matches in the top division. Toby scored 4/9, Bertie 3/9 and Pelin also 3/9.
The B team consisted of three 13/14 year-old Magdalen College School boys and 12 year-old Morris Wong from Kidlington. They had played together in Division 4 last season without gaining promotion, but this time round organiser Mike Atkinson put them one division higher. Newcomers Dacorum struggled at first to cope with the defensive style and equipment of Zain Ali and Hari Selvaraj (both using long pimples on the backhand), but this turned into a great contest, with Zain having to muster all his shots to edge home 5-4. Next up were Chiltern B and this was another epic with another 5-4 victory squeezed out. So far Zain had won 6/6 and Hari 4/6, with Hugh Mortimer and Morris drawing blanks against some very good Division 3 opponents. The last match was against what appeared to be the only weak side in a wonderfully well-contested division and we rotated again, omitting Hari. Morris suddenly found some form to accompany the huge effort he was putting in, while Hugh at last found space (and movement) to deploy his powerful forehand. Zain proceeded to an untroubled maximum 9/9 in a 7-2 victory. This is a strong division with five well-matched teams and it was no surprise to me that as we left Hillingdon were still battling it out with Chiltern B at 4-4, 2-2, while elsewhere the whole arena was being cleared of tables and assorted paraphernalia. We will have two more tough matches on our hands next time and any one of five teams could get promoted. This race will go down to the wire.
Technique is all-important at this stage: the defender is brought in to the table - will Zain Ali get through his FH push? Looks good, with elbow down and bat starting just above the ball.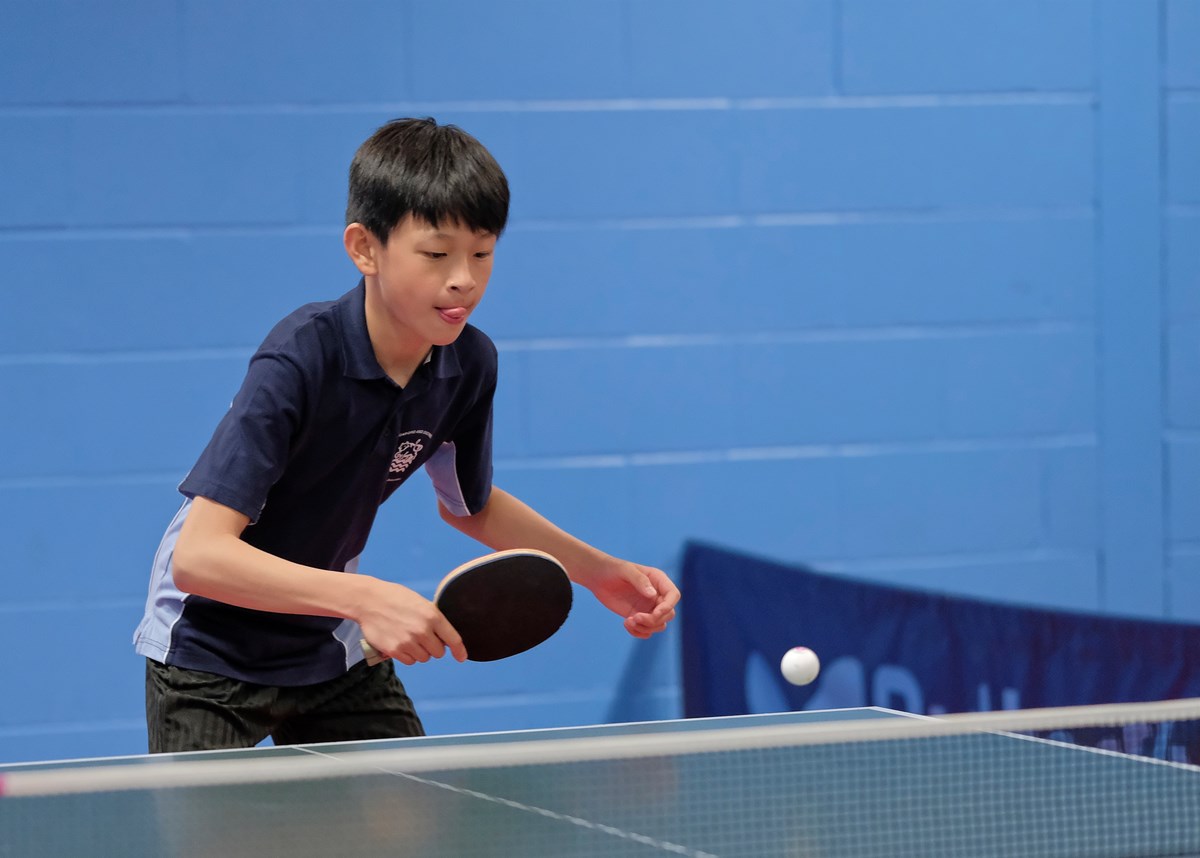 Morris Wong used to have a FH drive, but very little on the BH. He has improved! Here he looks as though he will stay up to the table and execute a BH block or drive, leaning into the table and taking the ball early.
Author:
John Birkin
via Oxford Table Tennis League
Article Published:
Last Updated: