CITY JUNIOR TOURNAMENT 21ST JANUARY - Report and Photos
Lewis Waddup sweeps the board; superb Girls' Singles competition;

two trophies for 11 year-old Joseph Fisher; Banbury youngsters impress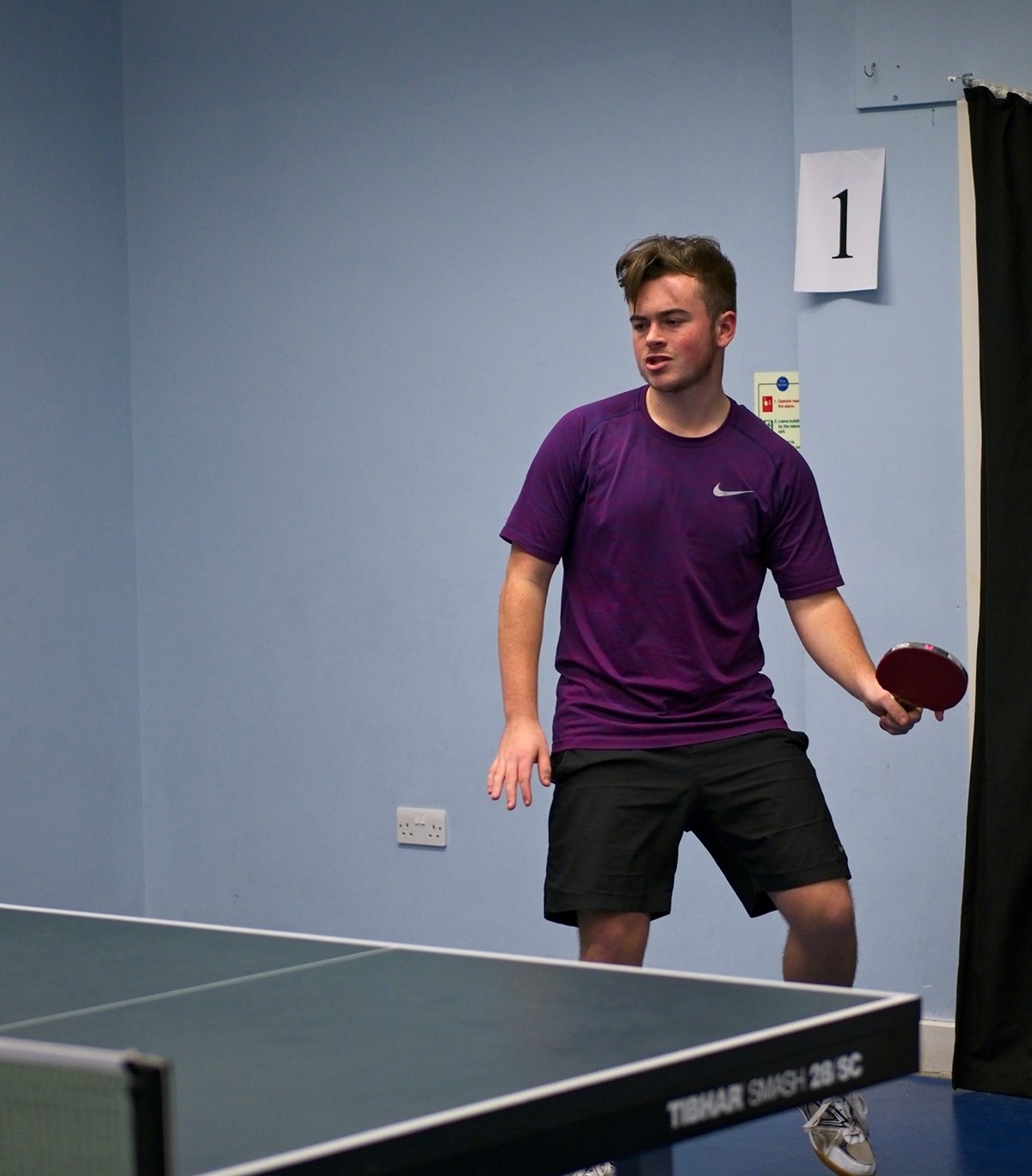 Lewis Waddup (Didcot) stole the show at the Oxford League's annual Junior Tournament, held at Kidlington Forum on Sunday, 21st January, with a clean sweep of the Under 18 events, singles, doubles and mixed doubles. He was aided and abetted by a delightful newcomer from Bicester, Christelle Rajapaksa, who was also involved in the highlight of the morning's play, the Under 18 Girls' singles, played as a round robin. Christelle went the distance in a superb match against Vicky Coll, prevailing at 11-9 in the decider, but young Pelin Karabulut (just 13) upset all that by overturning her in straight games. This led to a triple tie and, after count-back, a singles play off won by Vicky 14-12 over Pelin. Camille Roelens of Didcot made up a fine quartet of league standard girls.
Bicester's Christelle Rajapaksa is a superb addition to the junior squad. She had an exciting day, defeating Vicky Coll in one of the best matches played at 11-9 in the 5th, but losing out on count-back in the Girls' Singles. However, partnering Lewis Waddup (Didcot), she won the Mixed Doubles final, which also went the distance, at 11-5 in the decider.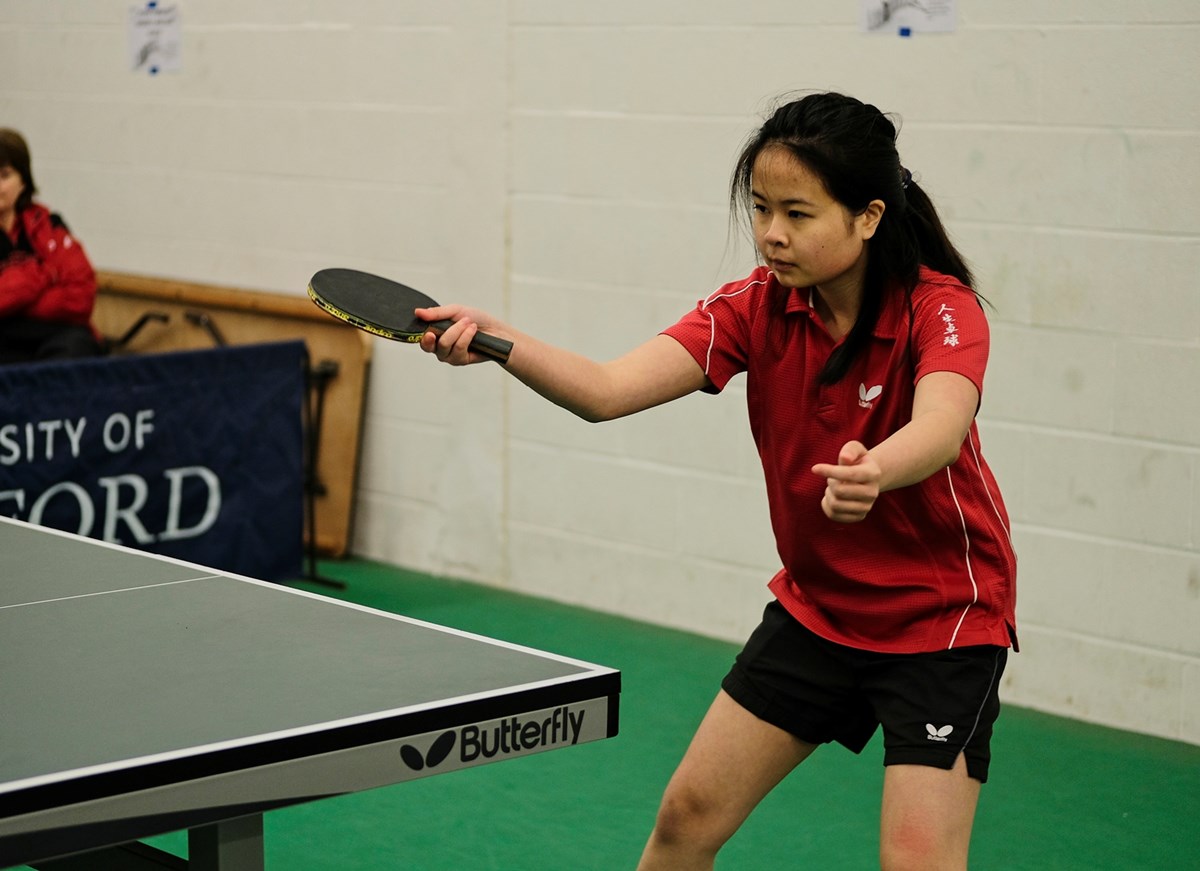 Vicky Coll won the Girls' singles in a play-off game.
The early morning saw the snowfall quickly disappearing and a fine influx of young players from Banbury, spearheaded on the day by 11 year-old Joseph Fisher, who had a brilliant series of matches, showing just how much he has improved over the last few months. He was not the only one to impress: Will Brown (10) reached the Under 12 final and both George and Archie Fyfe went out in the semis; Nicholas Walker was a semi-finalist in the Graded Singles. Kidlington's Morris Wong showed some talent in reaching the final of the Graded in his first ever competition. Didcot's Robert Minell partnered Kidlington's William Berrie (another debutant) to win the Handicap Doubles. Among the semi-final losers were MCS trio, Edmund Fry, Hugh Mortimer and Hari Selveraj, along with the two Jackson brothers from Kidlington, Sam (10) and Ben, who is only 8.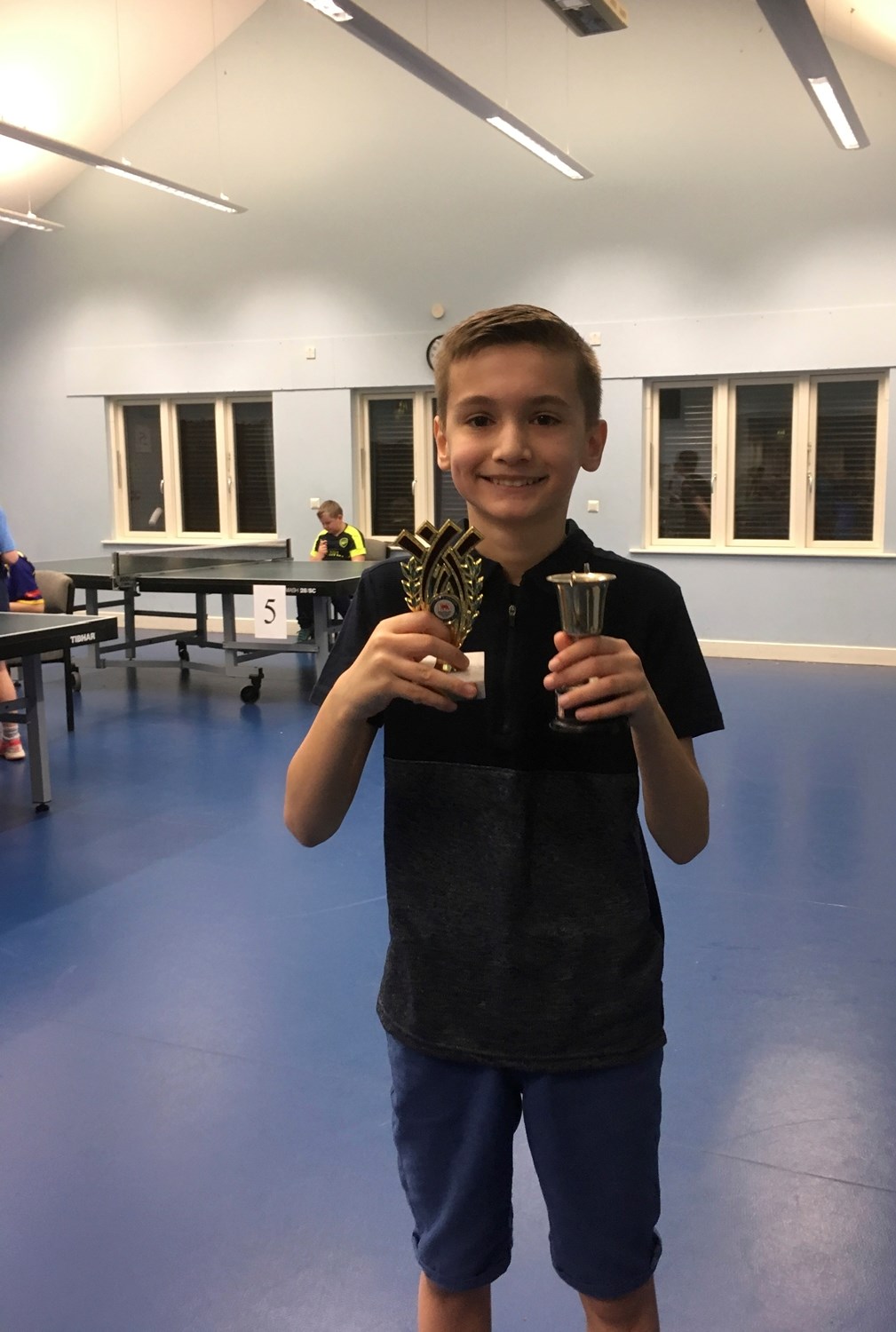 Banbury's Joseph Fisher (Christopher Rawlins CE Primary School) has improved by leaps and bounds: he just got the better of some fine Under 12 rivals from the Banbury coaching group to win both the Under 12s and the Graded Singles, in which Morris Wong (Kidlington) also reached the final.
With a grand total of 42 entrants, all of whom turned up on the day, the Under 14 (Mixed) singles also became a best of three affair, with sudden death at 10-10. Pelin Karabulut was in action again, winning her group with a fine 11-10, 11-10 win over Edward Davis. Toby Dow (Banbury) also proceeded to the semi-finals and took the first game off Bertie Anstis, but there his run of success ended. Pelin got no change out of a merciless Todd Stanmore, who went on to retain his title after a close first game against Bertie. So Todd (England's 9th ranked Under 13) added another trophy to his collection; this exceptional young talent, now shooting up in height, still has another nine months to go before officially becoming a teenager!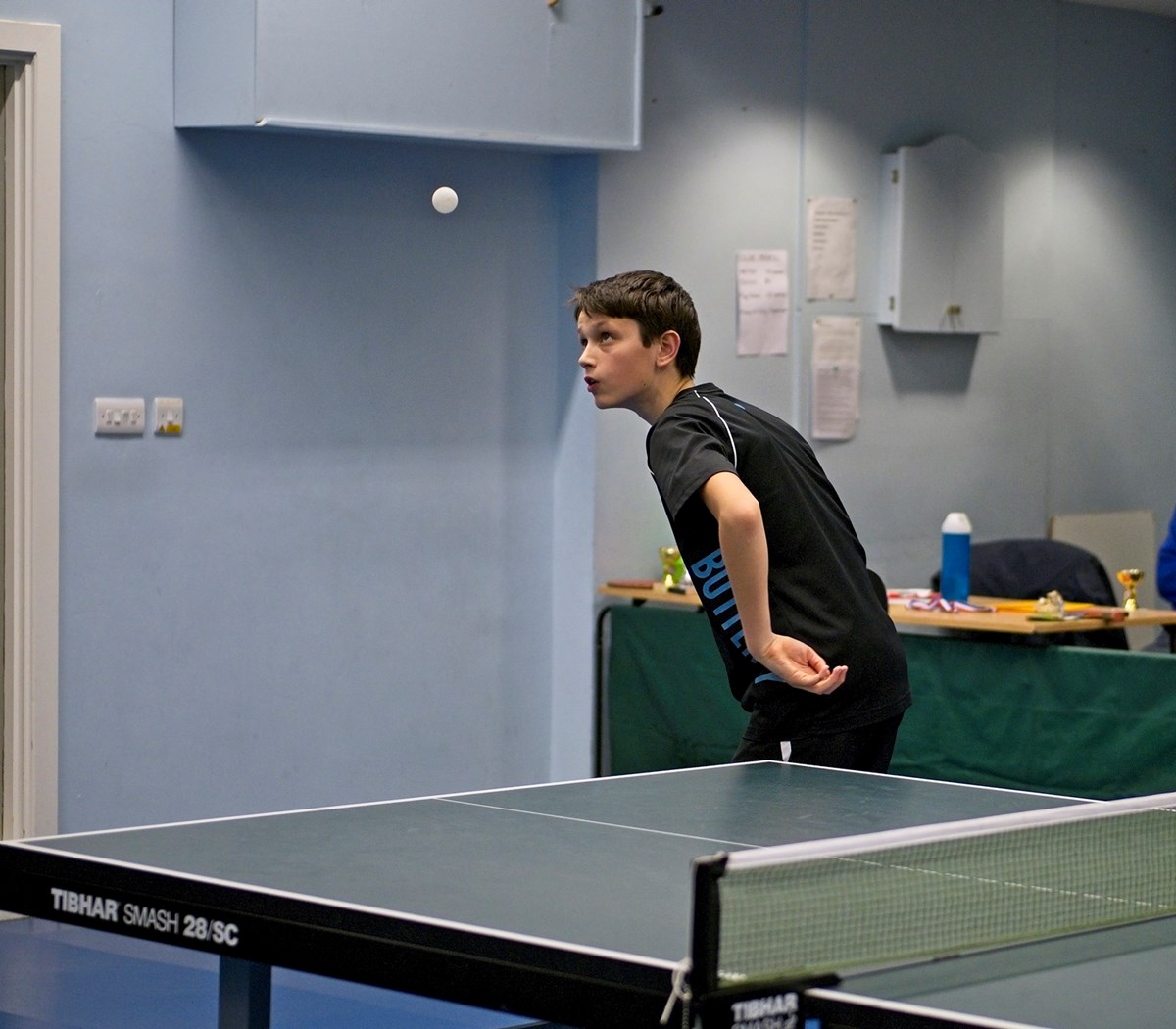 Todd Stanmore gave it his best shot, although he must have been exhausted, having been at Grantham for ten hours the previous day, winning the Under 13 singles in the Cliffedale Chandlers Two Star and reaching the last sixteen in the Under 15s.
Kiarash Shaddel and Rafe Fleming came through their Under 16 groups with ease, but Ollie Keen was taken to 11-9 in 5th by Bertie Anstis and there was some excellent play in Todd Stanmore's group: Bicester's Edward Davis took a game off Todd and then turned around a two game deficit to defeat Cooper Whitford with a fine display of counter-hitting. In the semi-finals Todd needed four games to get past Ollie, as did Kiarash against Rafe. In the final Kiarash at last scored a victory over Todd (having lost to him in two finals last year) at 11-7 in the 5th.
Kiarash Shaddel defeated Todd Stanmore to take the Under 16 title.
The four seeded players in the Under 18 Boys safely navigated the groups, but the ever-improving Rafe Fleming produced one of the big surprises of the day by outhitting Todd Stanmore, while Lewis Waddup defeated Kiarash Shaddel over four close games. Rafe looked to be on course for another big win in the final, leading Lewis 2-1, but after that he fell away, as Lewis stormed home to the first of his four trophies.
Rafe Fleming (pictured here at Waterside) eliminated Todd Stanmore in the Under 18s.
Playing a succession of matches finally took its toll on Rafe & Kiarash in the Under 18 Boys' Doubles final, in which they totally misfired, handing it on a plate to Lewis & Todd. Earlier on Jamie McNeil & Scott Campbell had scored a good win over the Banbury duo of Ollie Keen & Toby Dow and Arthur & Bertie Anstis had combined superbly to stretch Lewis & Todd to a 5th game.
Special thanks go to Kidlington Forum for staging the event and to Karl Bushell for setting up the arena, making the presentations and entertaining us all with his customary good humour.
RESULTS
Under 18 Girls 1st Vicky Coll 2nd Pelin Karabulut
3rd Christelle Rajapaksa 4th Camille Roelens
Under 12 Semi-Finals: Joseph Fisher v Archie Fyfe 10, 6
Will Brown v George Fyfe 10, 10
Final: Joseph Fisher v Will Brown 4, 3
Under 14 Semi-Finals: Bertie Anstis v Toby Dow -5, 5, 6
Todd Stanmore v Pelin Karabulut 3, 4
Final: Todd Stanmore v Bertie Anstis 9, 6
Under 16 Semi-Finals: Kiarash Shaddel v Rafe Fleming 9, 10, -4, 7 Todd Stanmore v Ollie Keen -9, 13, 4, 4
Final: Kiarash Shaddel v Todd Stanmore 8, -9, 3, -7, 7
Under 18 Boys Semi-Finals: Lewis Waddup v Kiarash Shaddel 8, -10, 9, 6 Rafe Fleming v Todd Stanmore 3, 5, 5
Final: Lewis Waddup v Rafe Fleming -7, -8, -9, 1, 5
Under 18 Boys' Doubles Semi-Finals:
Lewis Waddup/Todd Stanmore v Arthur Anstis / Bertie Anstis -6, 8, 4, -4, 6
Kiarash Shaddel/Rafe Fleming v Scott Campbell/Jamie McNeil 7, 2, 7
Final: Lewis Waddup/Todd Stanmore v Kiarash Shaddel/Rafe Fleming 2, 7, 7
MIxed Doubles Semi-Finals:
Vicky Coll/Kiarash Shaddel v Camille Roelens/Arthur Anstis 8, 7, 14
Lewis Waddup/Christelle Rajapaksa v Pelin Karabulut /Scott Campbell 7, 7, -3, 7
Final: Lewis Waddup/Christelle Rajapaksa v Vicky Coll/Kiarash Shaddel 5, -9, -7, 7, 5
Graded Singles Semi-Finals: Joseph Fisher v Nicholas Walker (+3) 5, 6
Morris Wong (+3) v Edmund Fry 10, 10
Final: Joseph Fisher v Morris Wong (+4) -6, 5, 8
Handicap Doubles Semi Finals:
Vicky Coll/Christelle Rajapaksa v Hugh Mortimer/Hari Selveraj (+4) -8, 10, 10
Robert Minell/ William Berrie v Ben Jackson/Sam Jackson (+3) 10, 6
Final: Robert Minell/ William Berrie (+6) v Vicky Coll/Christelle Rajapaksa 10, 5
Docos Best Performance Boys Trophy: Lewis Waddup
Docos Best Performance Girls Trophy: Pelin Karabulut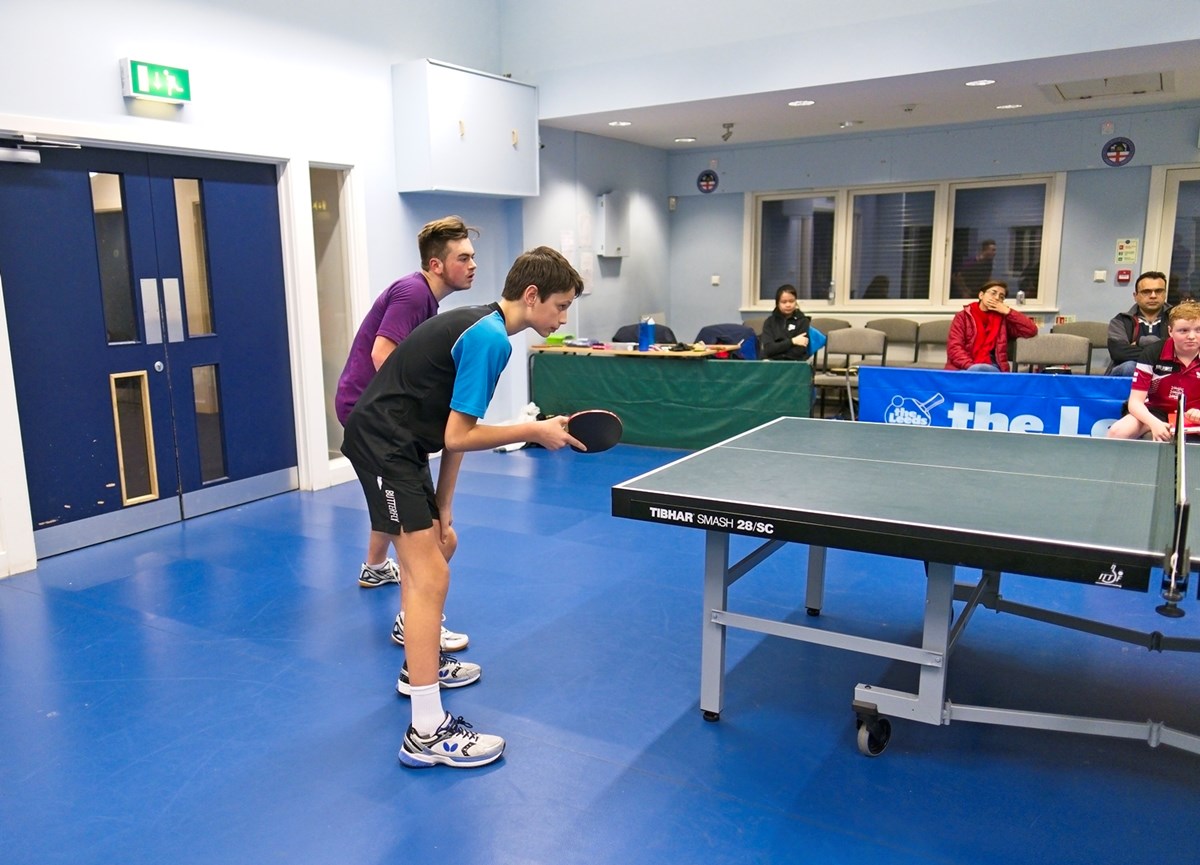 Todd Stanmore & Lewis Waddup in action at Kidlington Forum.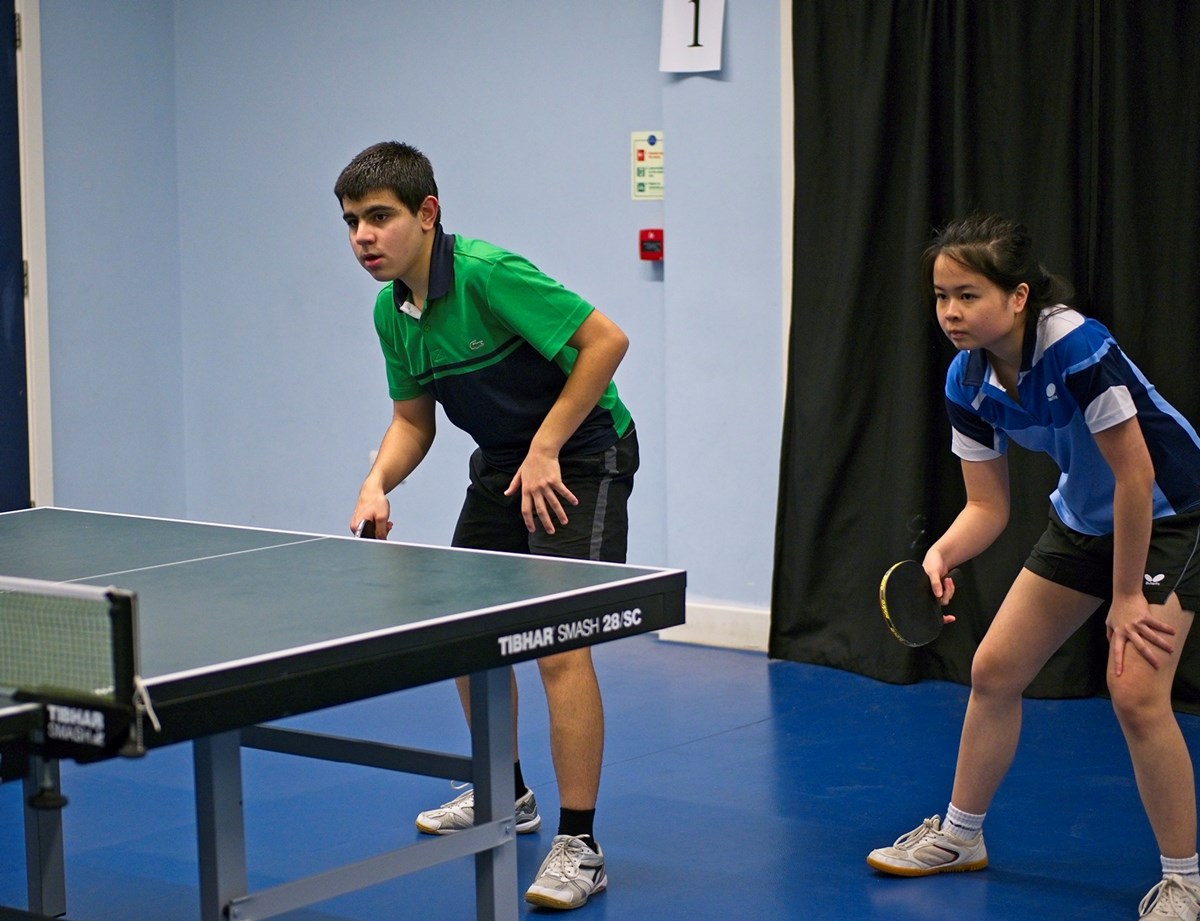 Kiarash Shaddel and Vicky Coll reached the final of the Mixed Doubles.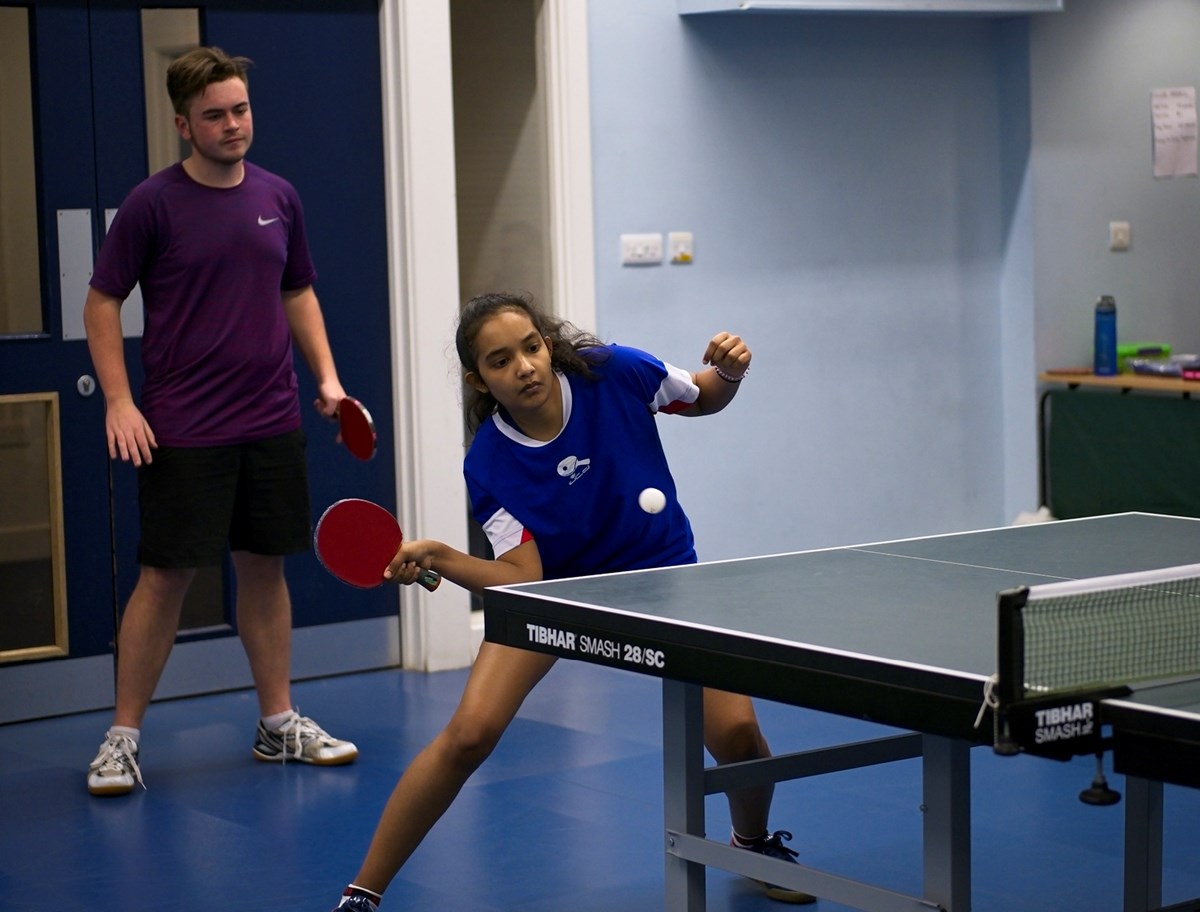 Lewis Waddup won all three events he entered. Here pictured giving his partner plenty of space in the Mixed Doubles.
For a larger array of CJT photos with better image quality go to the Album
Author:
John Birkin
via Oxford Table Tennis League
Article Published:
Last Updated: