OXON INTER-LEAGUE REPORT AND PHOTOS
DIDCOT TAKE BOTH TROPHIES

The annual Oxfordshire Inter-League competition was held at South Moreton Primary School on Sunday, 5th March. The teams lined up as follows:
SENIOR COMPETITION
Banbury: Jason Tustain, Tony Gorman, Nikki Francis
Didcot: Neil Cartwright, Charlie Lane, Denise Weller
Oxford: Bartek Duleba, Paul Mabbutt, Cigdem Karabulut
Rest of Oxon: Neil Hurford, Gary Morgan, Birgit Muller
It was a pleasure to see several new faces this year and also to meet up again with four of the players who had played so well for Oxfordshire in the recent Senior County Championships. County no 1 Bartek Duleba turned out for Oxford, along with former top player Paul Mabbutt, taking up his bat again after a lapse of over 25 years – his last City title came in 1981! Denise Weller made her debut for Didcot, as did Gary Morgan for the Rest of Oxfordshire. Evergreen Neil Hurford exchanged his organiser's clipboard for his bat in order to fill in a gap caused by a player who had lost his way.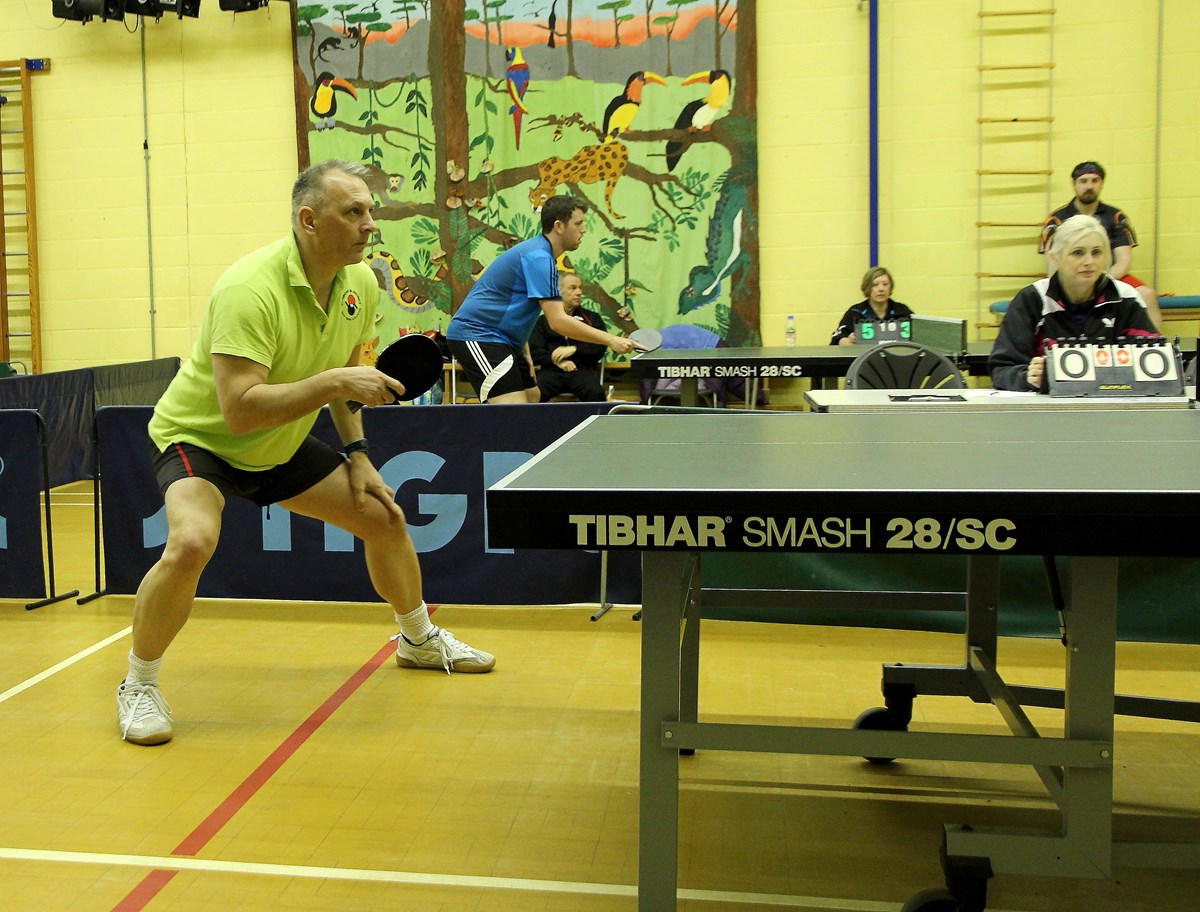 Tony Gorman flies the flag for Banbury: in the background Charlie Lane (Didcot)

Oxford began brightly against Banbury with Paul turning back the years to defeat Jason Tustain: this paved the way for a 6-1 victory. Didcot defeated RoOX by the same score, Gary Morgan saving the whitewash by beating Charlie Lane over five games. In the key face-off between the two winners, Denise Weller baffled Cigdem Karabulut, as she does many opponents, with her anti-loop rubber. Didcot took a 3-1 lead, but Oxford still had chances, as Bartek dominated the first two games against Neil Cartwright; however, Neil turned it around to achieve a splendid win at 12-10 in the 5th, giving Didcot the victory. Meanwhile Banbury were prevailing 5-2 over RoOx: up to this point Nikki Francis had been below par, but two Mixed Doubles victories boosted her morale.
Neil Cartwright switched allegiance from Oxford to Didcot, but was still on the winning side.

The placings seemed now to be set in stone, but the final round still saw some fierce competition. Nikki set the ball rolling for Banbury against Didcot with her first singles win of the day, overturning the hitherto dominant Denise Weller 14-12 in the 5th. Tony Gorman extended Neil Cartwright to four close games and Jason Tustain took a 2-0 lead over Charlie Lane, before the latter dug deep to keep Didcot ahead. Didcot moved on to a decisive 4-1 lead, only to be pegged back to 4-3. For RoOX Birgit Muller scored her second singles win of the day by beating Cigdem Karabulut; then Gary Morgan, who had played well all day, surprisingly overcame Bartek and RoOX went on to record a fine 4-3 victory.
County no 1 Bartek Duleba appearing for the dark blues.
So Oxford's long sequence of wins was finally ended by Didcot, the final tallies being:
1 Didcot 9 points
2 Oxford 4
3 Banbury 4
4 Rest of Oxon 3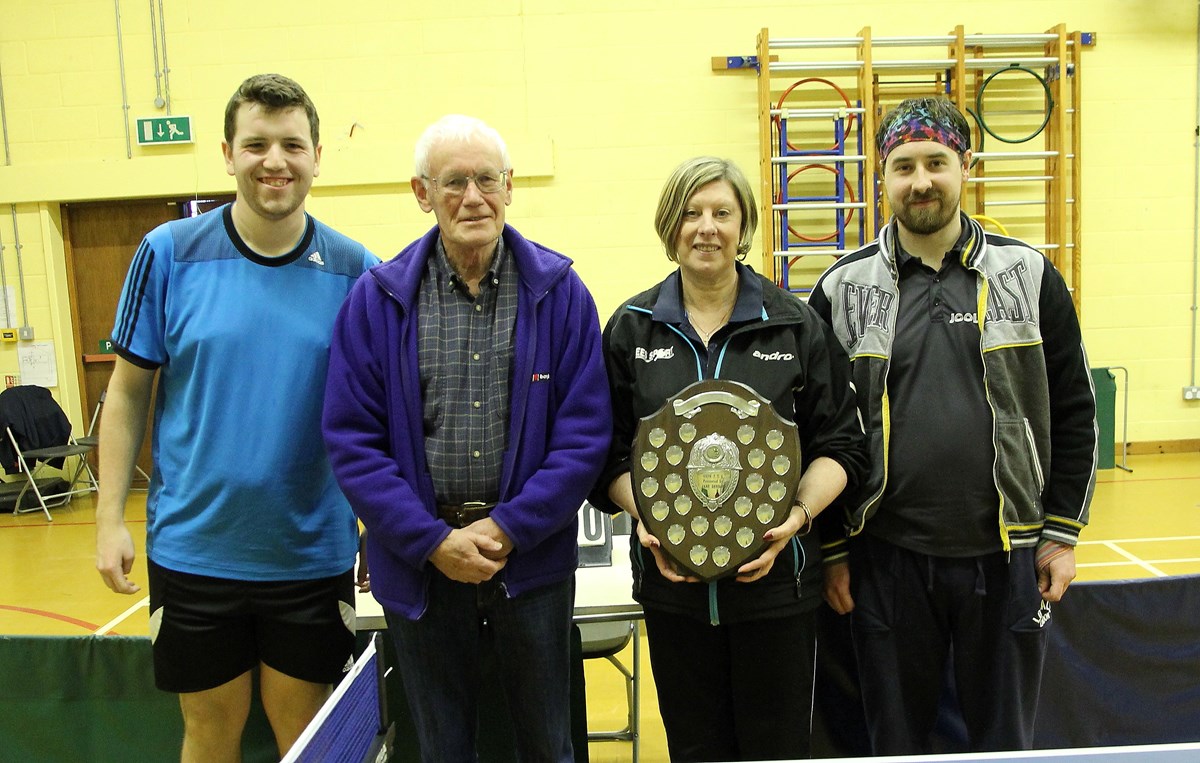 The winning Didcot team with County President, Tim Pett

These were the teams in the Junior Competition
Banbury: Ollie Keen, Jamie Dagg, Toby Dow

Didcot: Lewis Waddup, Todd Stanmore, Peter Weir

Oxford: Kiarash Shaddel, Rafe Fleming, Arthur Anstis

Rest of Oxon: Bertie Anstis, Jamie McNeil, Dylan Morgan, Pelin Karabulut
There was a preponderance of cadets here with Toby, Rafe, Jamie, Dylan and Pelin all making their debuts. Holders Didcot had a particularly strong side, with the luxury of fielding newly crowned National IAPS Under 11 Champion Todd Stanmore as their no 2 player. They breezed past RoOx without losing a single game. Another recent trophy winner (at Lillington Cadets), Ollie Keen, was on sparkling form for Banbury, defeating Oxford's two top players for the loss of only two games, but Oxford's 3rd player, Arthur Anstis, steadied the ship and with a narrow doubles win for Rafe Fleming and Kiarash Shaddel, Oxford ran out 5-2 winners. Banbury picked up after this, posting a 5-2 victory over RoOx 5-2, for whom Bertie Anstis and Pelin Karabulut picked up the first wins.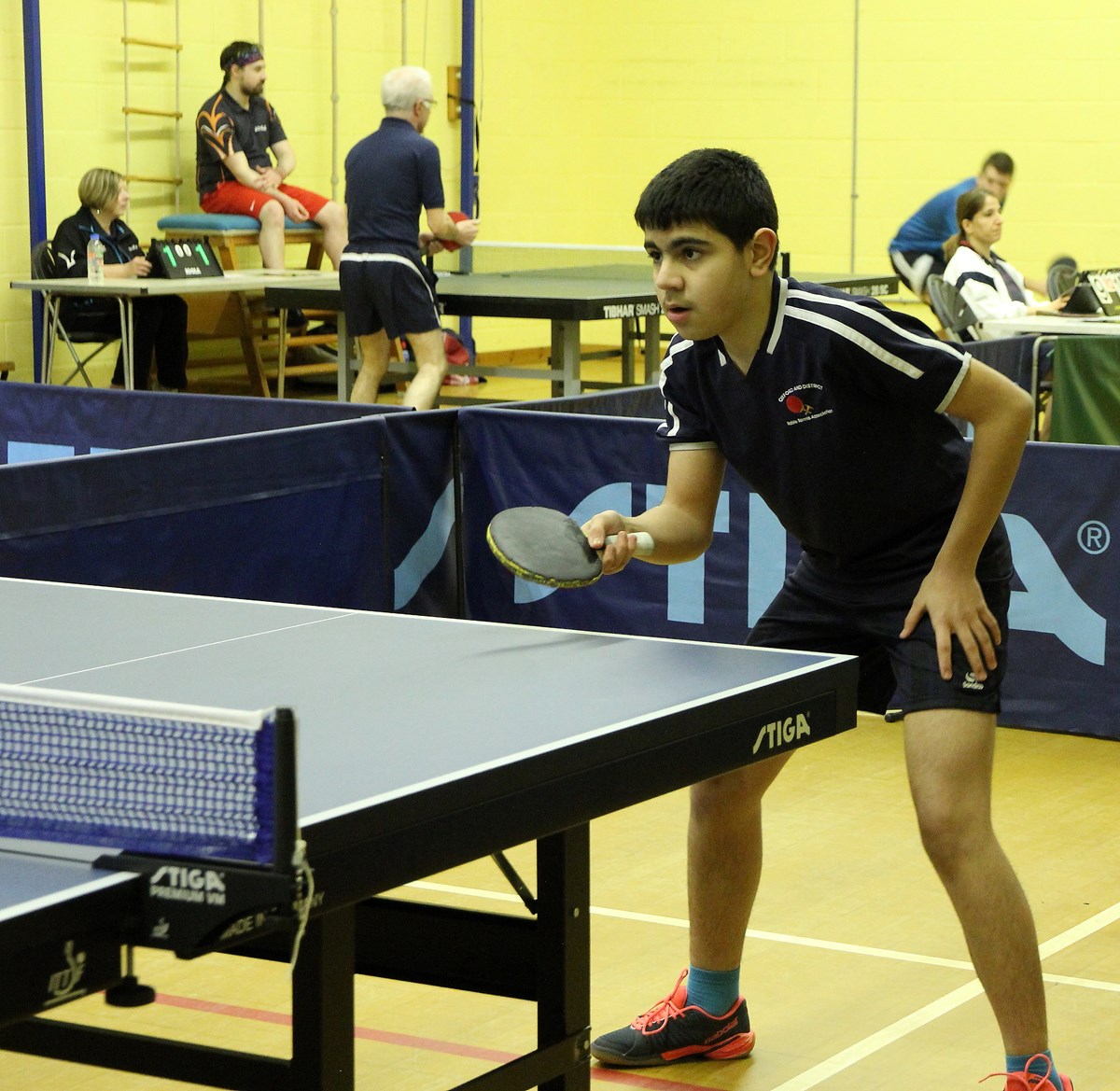 Oxford Captain, Kiarash Shaddel

Todd Stanmore set Didcot on the way against Oxford with a straight games win over Kiarash, only for Arthur to level up the match with an equally emphatic win over Peter Weir. Lewis Waddup has had some remarkable successes in Didcot Division 1 lately and carried Didcot into a 3-1 lead with decisive victories over Rafe Fleming and in the doubles with Todd. The match was won when Todd beat Arthur, albeit from 1-2 down. Didcot ran out 6-1 winners, as Oxford faded away.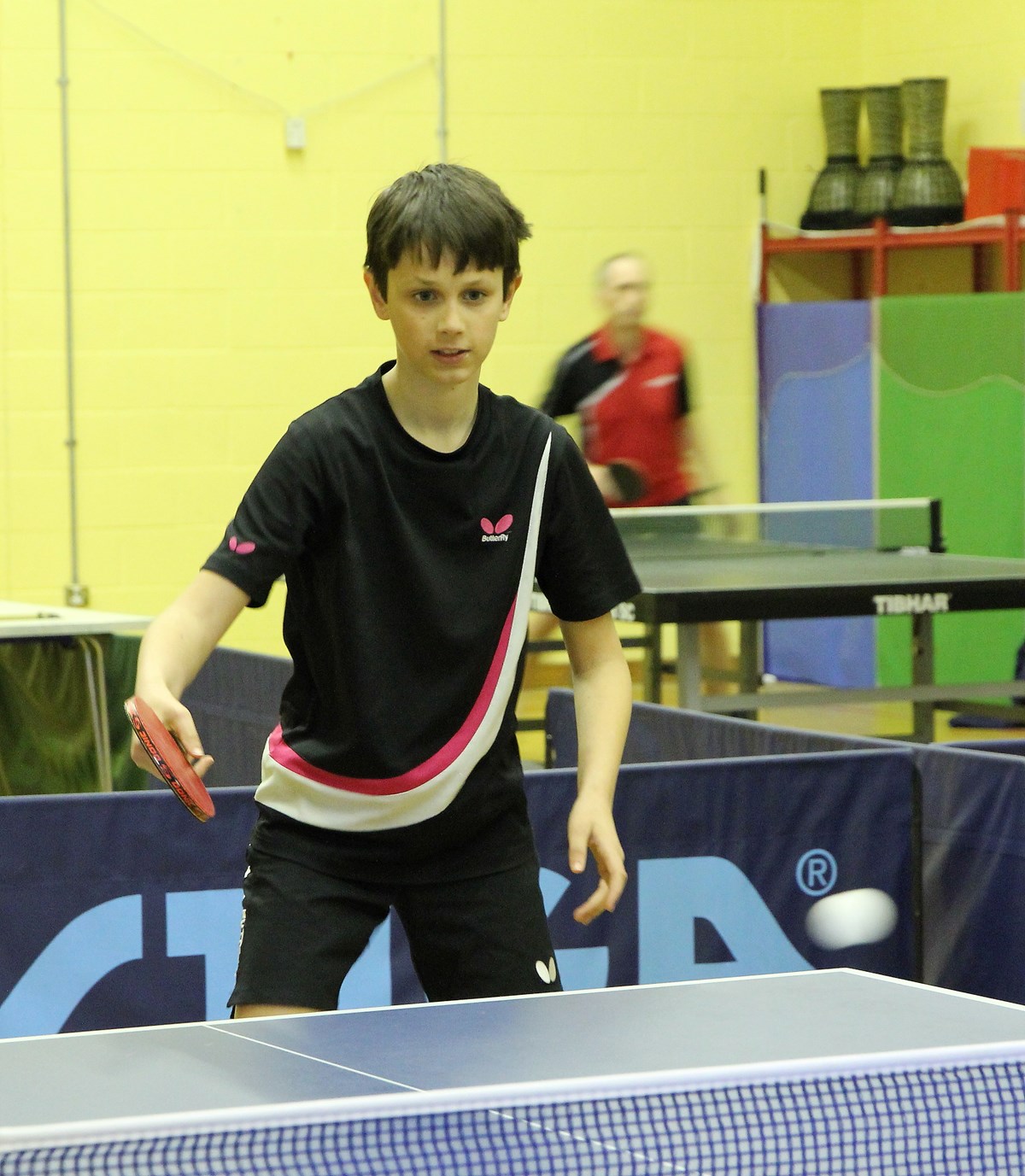 Todd Stanmore (Didcot) had won the National IAPS title the previous day!

The final round saw predictable outcomes, as Didcot beat Banbury 6-1, with Jamie Dagg notching a notable win over Peter Weir and Ollie Keen battling heroically against both Todd and Lewis: in both matches Ollie led 2-1 and then 5-1 at the change-over before losing at deuce in the decider. This was the best I've seen him play for some time, with his leftie forehand top-spin zooming and all the promise of his earlier years coming to some fruition. Oxford secured second place by inflicting another defeat (6-1) upon RoOx, but not without drama as younger brother, Bertie (12) recovered from two games down and a heavy fall into the barriers to defeat older brother, Arthur (15) at deuce in the 5th. Didcot's top two players went through the day unbeaten, leading their team to a maximum 9 points; Oxford ended up with 6, Banbury 3 and the gallant RoOx 0.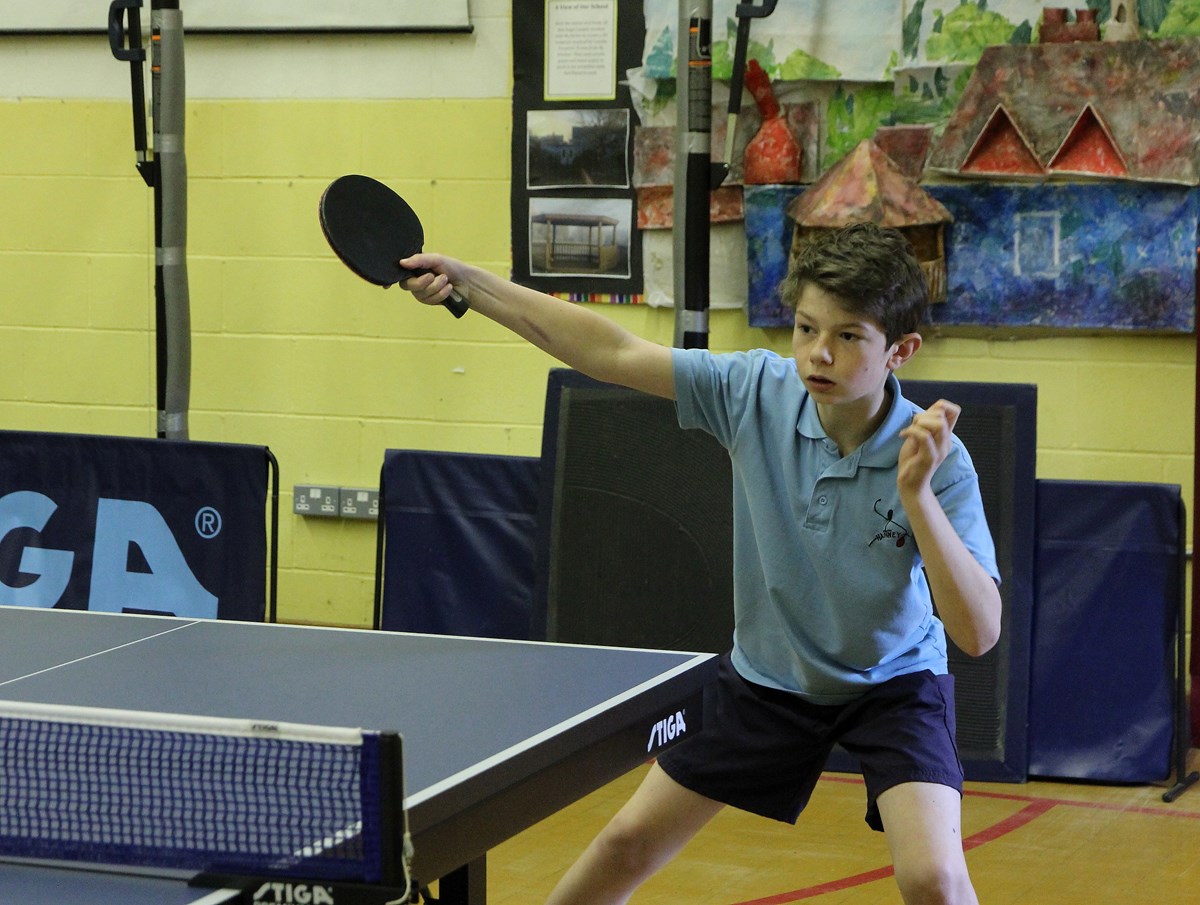 Bertie Anstis (Rest of Oxfordshire)

Our thanks go to Moreton TTC, whose helpers did a wonderful job in setting up the gymnasium for us, also to OTTA President Tim Pett, who presented the two shields at the end.
The winning Didcot junior team, captained by Lewis Waddup

Author:
John Birkin
via Oxfordshire County Table Tennis Association
Article Published:
Last Updated: