Oxford A and Didcot winners in Inter-League
The annual Oxfordshire Inter-League competition was held at South Moreton Primary School on Sunday, 31st January. The teams lined up as follows:
Banbury: Jason Tustain, Gary Jackson, Nikki Francis
Didcot: Charlie Lane, Chris Smith, Cigdem Karabulut
Oxford A: Neil Cartwright, Pawel Jaskolski, Janet Brown
Oxford B: Elson Costa, Reece Chamdal, Joanna Mellon
Oxford A retained their senior title after a fierce battle against Oxford B, with Didcot pipping Banbury for 3rd spot. Both Janet Brown and Neil Cartwright went through the day unbeaten, while Pawel Jaskolski's only defeat came at 9-11 in the 5th against Elson Costa. 13 year-old Reece Chamdal provided some spectacular entertainment with his all-out attacking style, scoring notable wins over Charlie Lane, Chris Smith and Gary Jackson, before coming to grief against Banbury's hard-hitting Jason Tustain; he proceeded to take Pawel to 9-11 in the 5th in a nail-biting encounter. It was a particular pleasure to see newcomers Joanna Mellon and Cigdem Karabulut making their debuts in this event.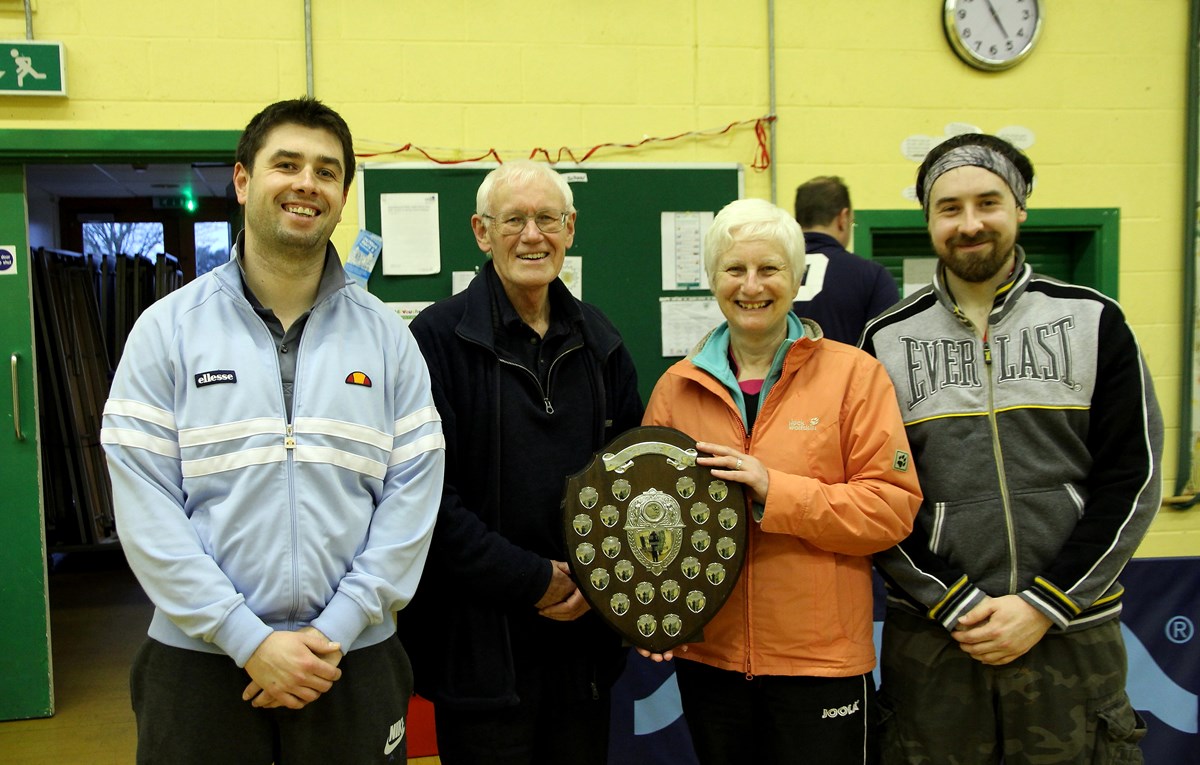 The winning Oxford A team with County President, Tim Pett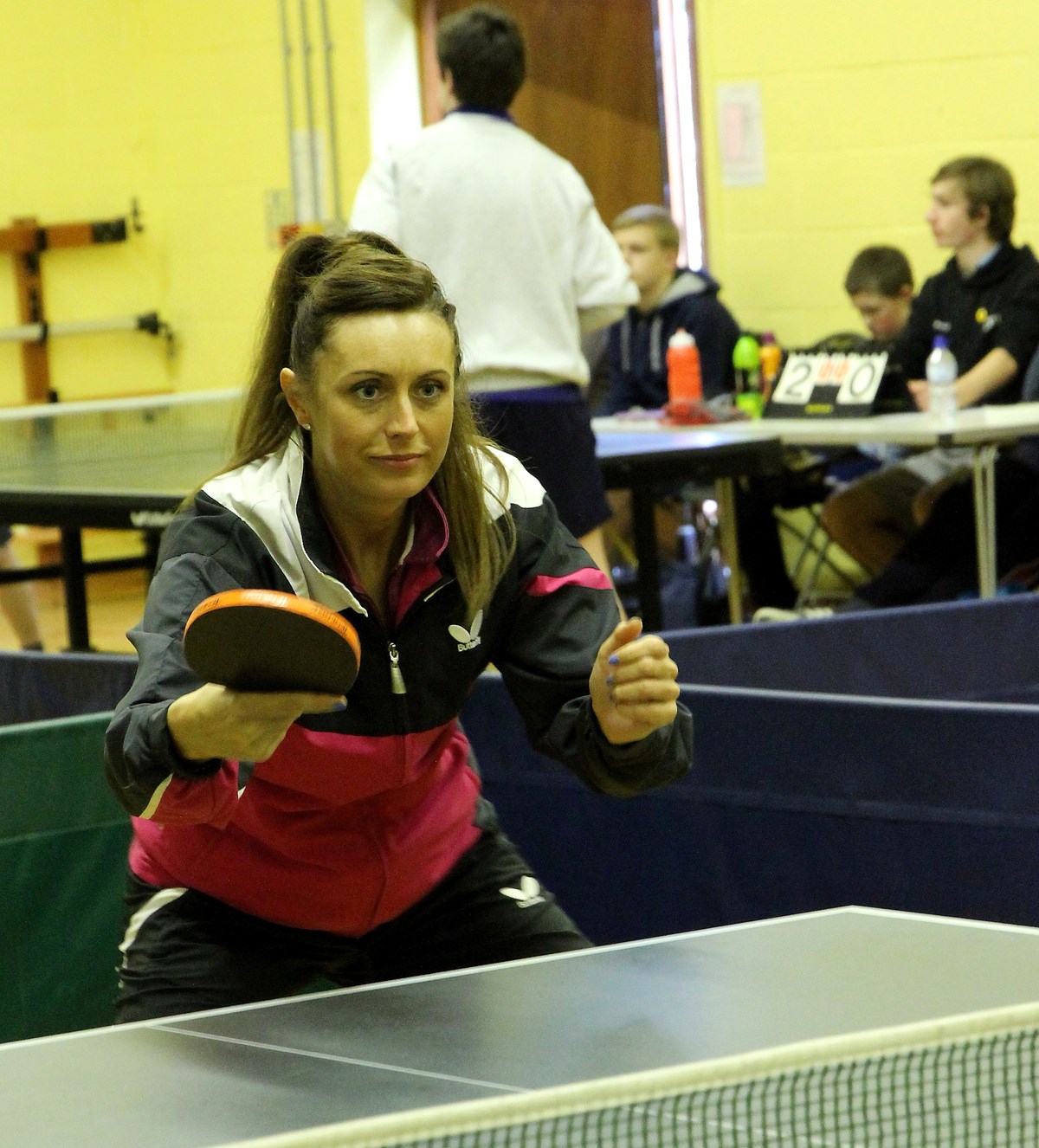 Nikki Francis (Banbury)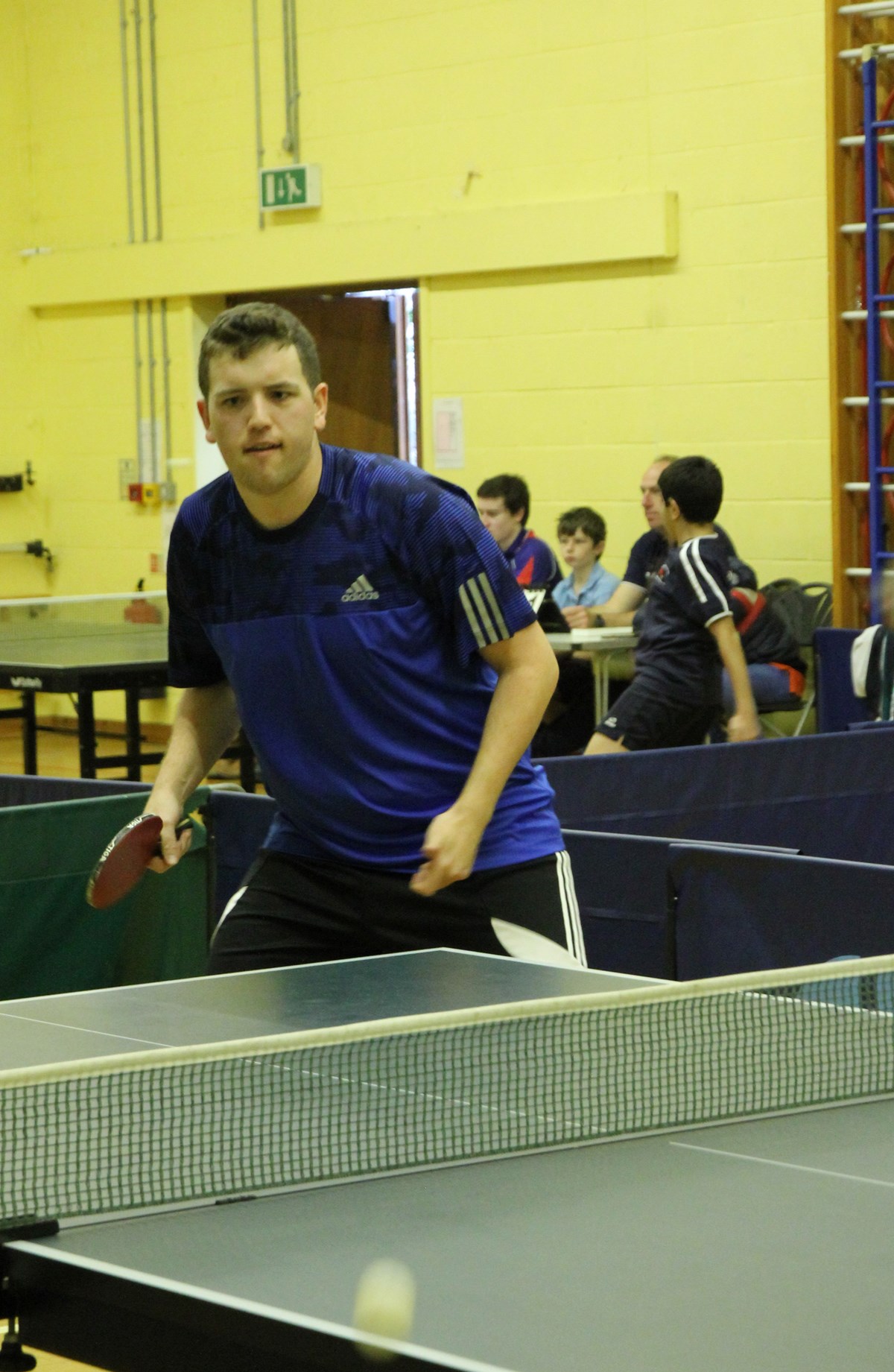 Charlie Lane (Didcot)
Reece Chamdal and Elson Costa (Oxford B) look on, while Pawel Jaskolski does his umpiring duties.
These were the teams in the Junior Competition:
Banbury: Reuben Cox, Cameron Aris, Oliver Keen
Didcot: Kavan Warrender, Lewis Waddup, Peter Weir
Oxford: Joe McKenna-Jones, Kiarash Shaddel, Jack Smith
Rest of Oxon: Arthur Anstis, Jamie Dagg, Bertie Anstis, Aidan Stock
Banbury fielded their winning team from last season and had solid 5-2 wins over both Oxford and the Rest of Oxfordshire, but Didcot were out in strength and won their first two matches 7-0. The deciding match was hard fought, but just tipped Didcot's way at the crucial points. Reuben Cox and Cameron Aris pulled off a fine win for Banbury in the doubles, but with Didcot's strength in depth, Banbury really needed captain Reuben Cox to win both his singles; he managed it against Lewis Waddup, but came up short against Kavan Warrender in the junior "match of the day". Banbury's Oliver Keen (just turned 14) is an exciting prospect with some real flair; he had mixed fortunes, but gave a fine account of himself against Peter Weir, losing 8-11 in the 5th. Peter's comfortable victory over Cameron Aris in the final singles gave Didcot a 5-2 victory and left him with a 100% record for the day. Meanwhile the most protracted battle of the day was taking place on the adjoining table between Oxford and the Rest of Oxfordshire; Oxford, who have won this competition many times, just got home 4-3, avoiding the wooden spoon, with two wins each from captain, Joe McKenna-Jones and from Jack Smith.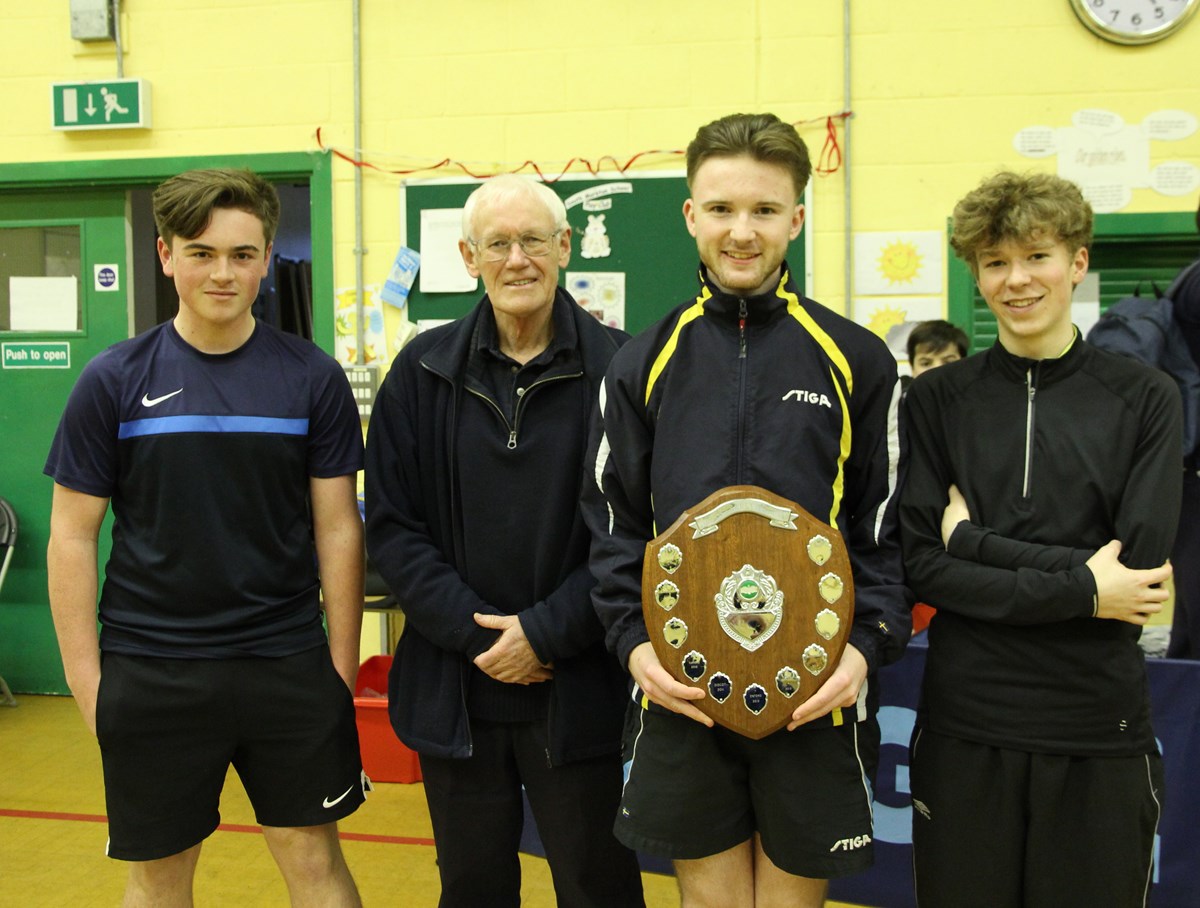 The winning Didcot Junior team with County President, Tim Pett

Our thanks go to Moreton TTC, whose helpers did a wonderful job on the badly cluttered gymnasium, setting up the playing arena very smartly, also to OTTA President Tim Pett, who presented the two shields at the end.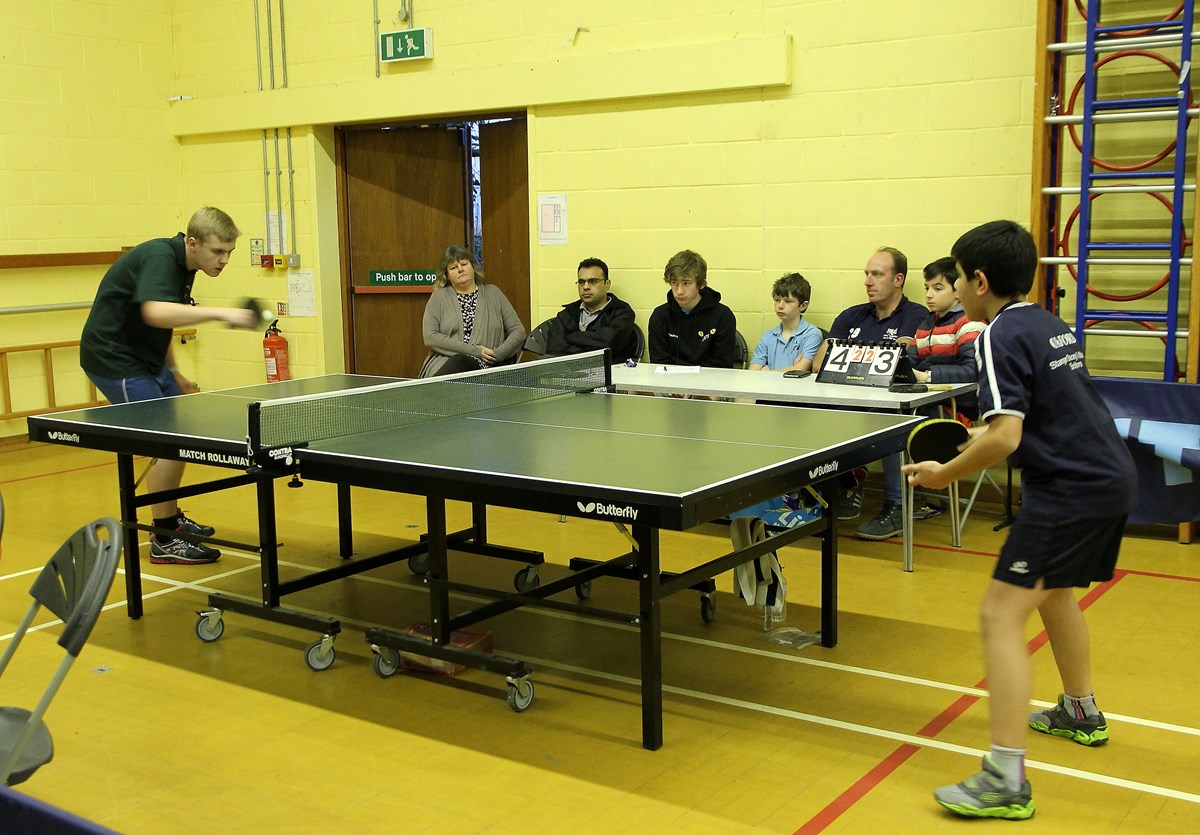 Aidan Stock (Rest of Oxon) takes on Kiarash Shaddel (Oxford)
Oliver Keen (Banbury)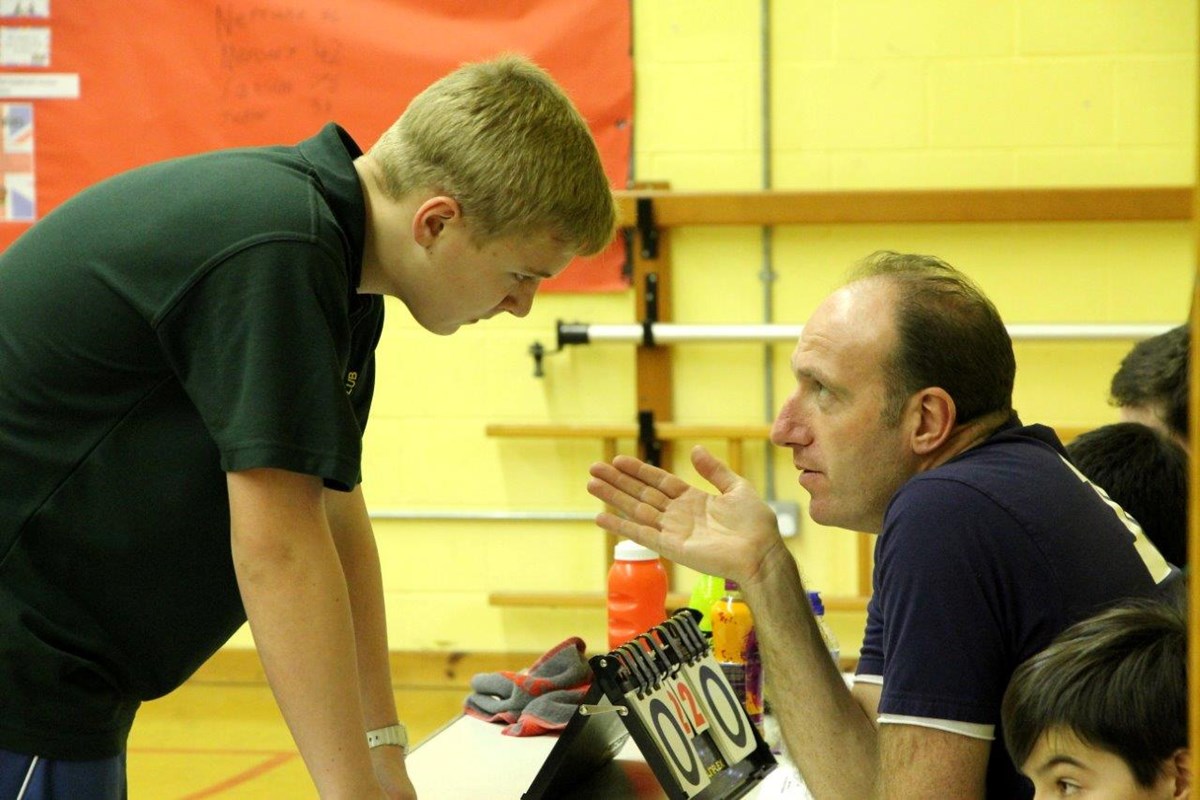 Richard Anstis instructs Aidan Stock (Rest of Oxon)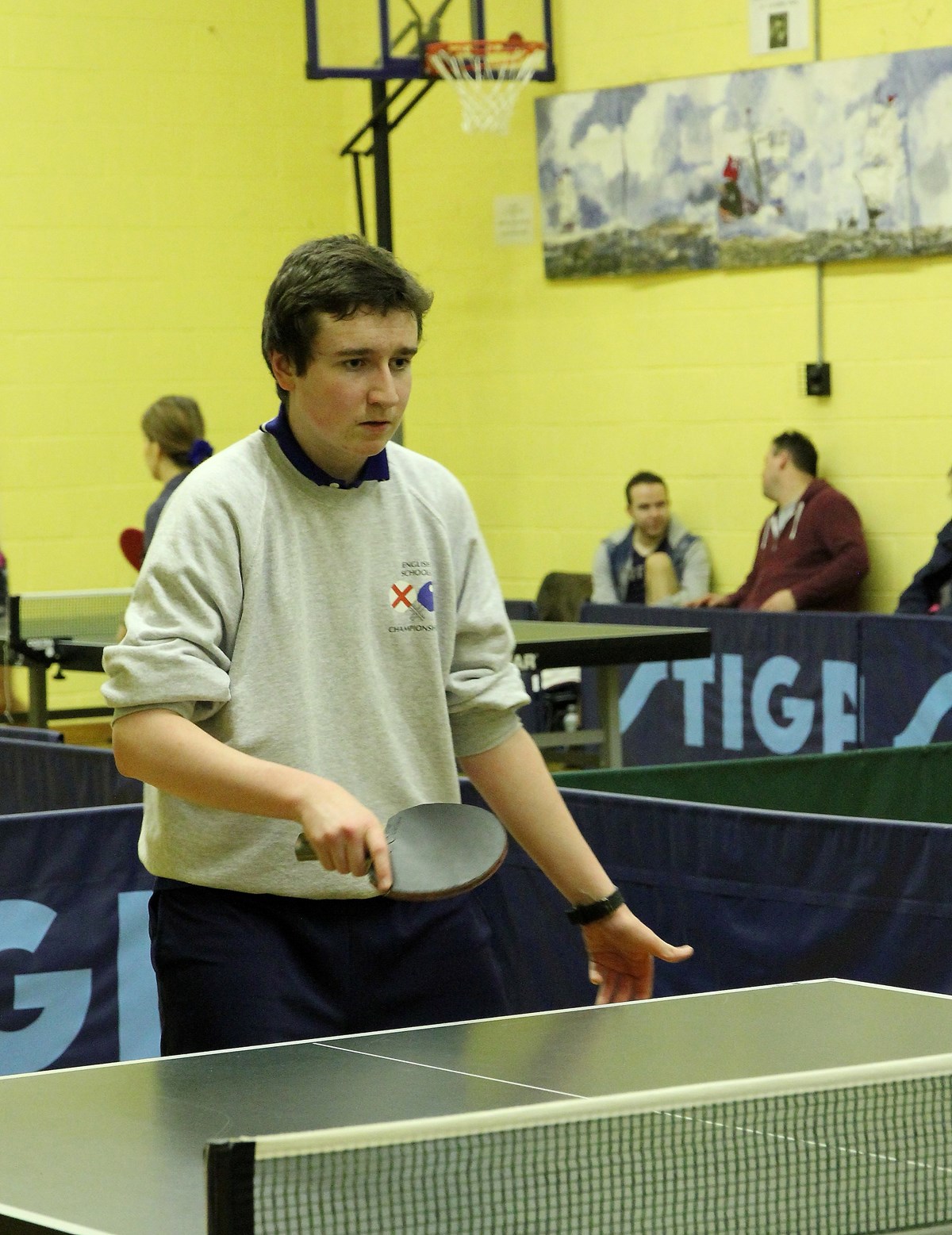 Joe McKenna-Jones (Oxford)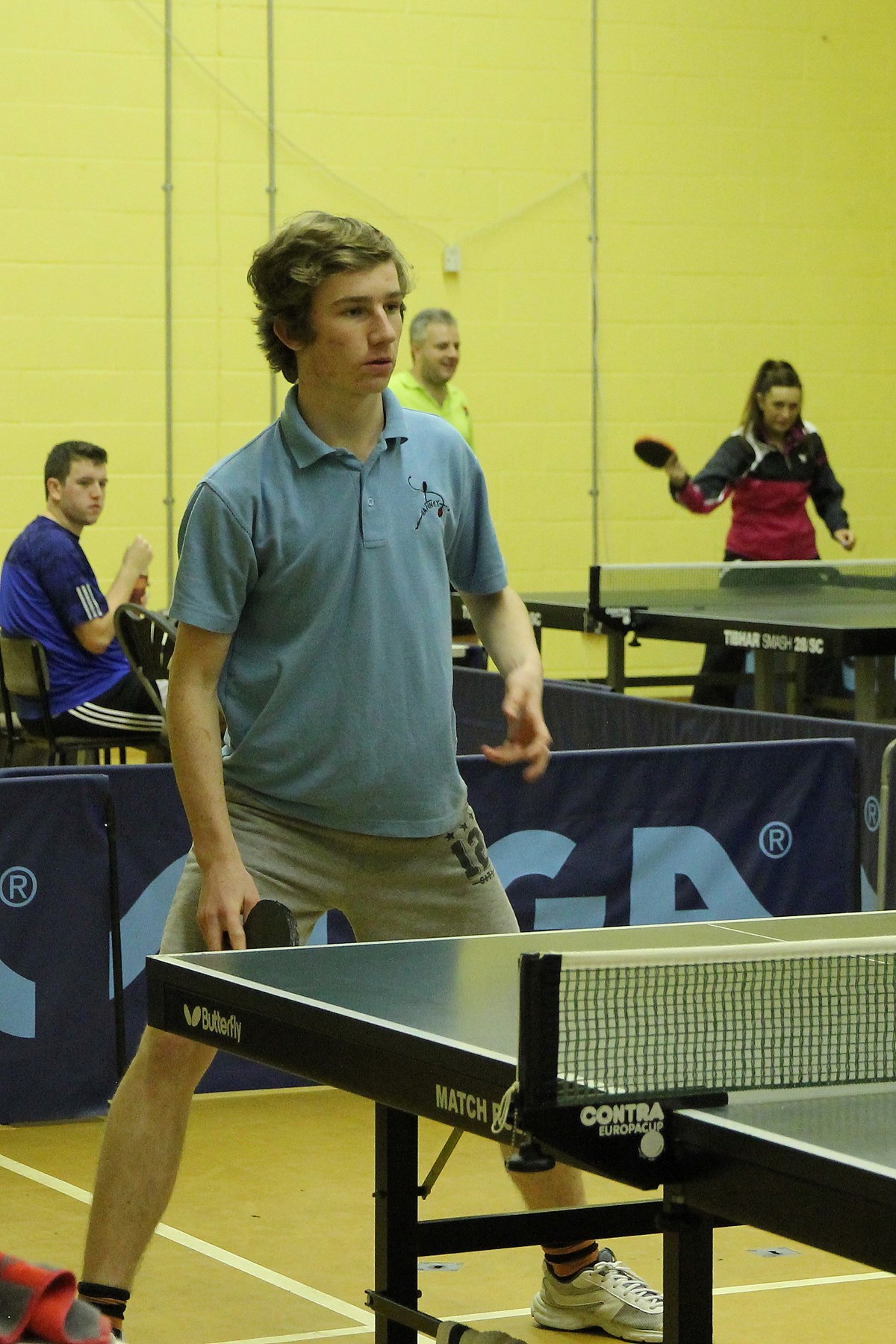 Arthur Anstis (Rest of Oxon)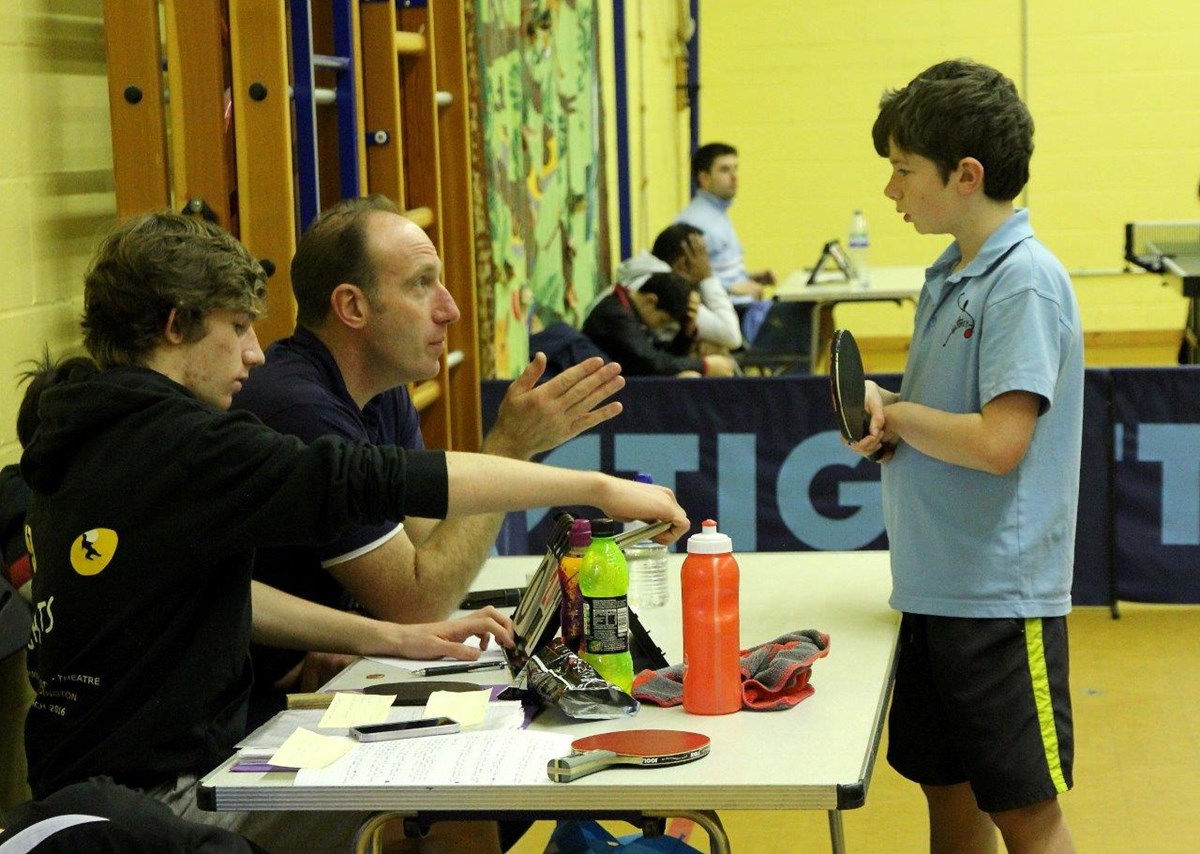 Bertie Anstis listens intently
The results in the competition were as follows.
Senior Competition
Round 1: Banbury 0-7 Oxford A; Didcot 0-7 Oxford B
Round 2: Oxford 5-2 Banbury; Oxford A 7-0 Didcot
Round 3: Oxford A 5-2 Oxford B; Banbury 3-4 Didcot
Final Placings
1. Oxford A
2. Oxford B
3. Didcot
4. Banbury
Junior Competition
Round 1: Didcot 7-0 Oxford; Banbury 5-2 ROx
Round 2: Oxford 2-5 Banbury; ROx 0-7 Didcot
Round 3: Oxford 4-3 ROx; Banbury 2-5 Didcot
Final Placings
1. Didcot
2. Banbury
3. Oxford
4. Rest of Oxfordshire (ROx)
Author:
John Birkin
via Oxfordshire County Table Tennis Association
Article Published:
Last Updated: