Handicap 2015 - 2016

Finals Results 8th April 2016
University of Worcester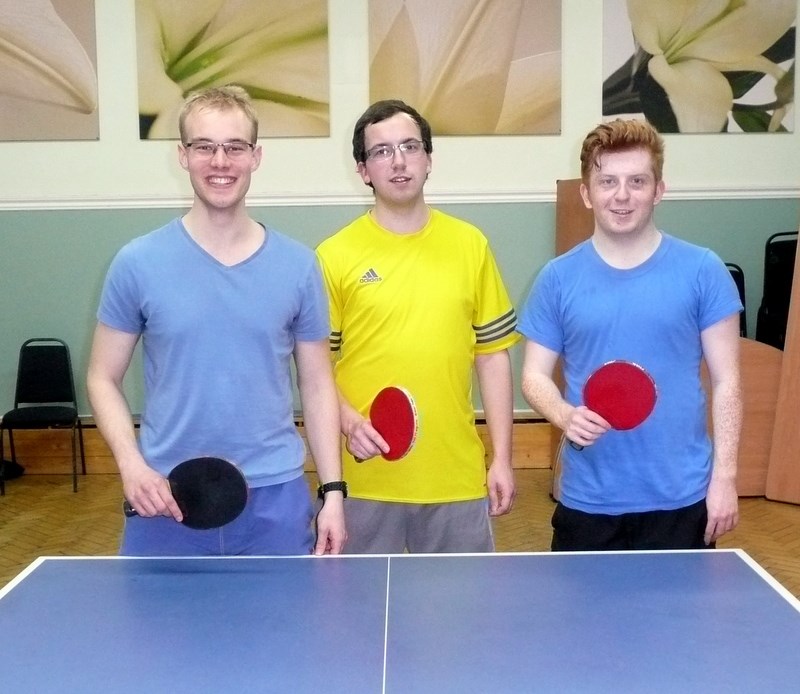 Worcester H
Worcester University, in only their second season playing in the Worcester League, managed to win the Team Handicap Competition, despite being at the bottom of the League's 3rd Division. Their team was Niall Herbert at No. 1, Jack Davies No. 2 and Malte Witz (Team Secretary) at No. 3. Niall Herbert had only played in 5 matches during the season, otherwise the team would have finished in a much higher position. He had won all his games in Division 3 and is such a good player that he had also played up in Division 1 on 2 occasions and had a 100% record wins in the top Division also.
Niall was well supported by Jack and Malte who gained valuable points against the Worcester 'H' team of Richard Hawking, Mal Box and Milko Hadzhigenov. Worcester 'H' all played very well, picking up valuable points over the 3 doubles at the end of the match. From being 2 points behind at the end of the 9 singles they gained 11 points over the 3 doubles games. However the University team, in view of their position at the bottom of the Division, were given a Handicap of 74.5 points giving them a very easy win.
Final 8th April 2016
University of Worcester v Worcester H
Match to be held at the YMCA on Friday 8th April from 7pm.
All are welcome to see the action.
Results 29th February 2016
Here are the results of the Handicap Competition played recently:-
University of Worcester beat Jays B by 4.5 points
A cracking match in the University Arena with both sides really enjoying the night.
Last match in this round due to be played next week.
Results 30th November 2015
Here are the results of Round 1 of the Handicap Competition played recently:-
Himbleton A beat YMCA Codgers by 122.5 points
University of Worcester beat St. Georges (game forfeited)
Genever Convention beat Broadheath Belters by 11.5 points
Lost Echo beat Rainbow by 27.5 points
Nemesis beat Jays A by 43.5 points
Worcester H beat YMCA Enigma by 56.5 points
FHWMC C beat Himbleton C by 33.5 points
Upton Lyons beat YMCA Falcons (game forfeited)
Jays B beat YMCA Kites by 72.5 points
Cripplegate Guild beat FHWMC B by 118.5 points
T4 beat Manor Park Dynamos by 47.5 points
The Draw for Round 2 – to be played during the 2 weeks commencing Monday 21st December – is as follows:-
University of Worcester versus either St. Martins or YMCA Elizabethans
Upton Lyons versus Worcester H
Himbleton A versus Jays B
Nemesis versus FHWMC C
Genever Convention versus Cripplegate Guild
T4 versus Lost Echo
It is up to the home teams to contact their opponents to arrange matches and to book their venues.
Will all players please note that matches being played at the YMCA should finish by 10 p.m.
Last Updated: