NFGR Table Tennis Sessions
New Ferry Village Hall (Stanley Road, New Ferry, CH62 5AR
We hold sessions twice a week for players of all abilities who enjoy the game just for fun, or want to play in a more competitive environment.
We are in the process of organising structured coaching sessions aimed primarily at young people but our Qualified Coaches, Experienced Players and our TT robot (feeding balls at any pace, angle and spin combination) are always available to help all players to enjoy the game and improve their skills.
For those new to the sport, bats and balls are available for the duration of the session.
So, there's no excuse, come and give it a go. Look forward to seeing you sometime soon!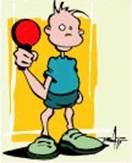 I Want To Play
Session's Timetable -
Day

Time

Level

Sunday

10:00 - 12:00

All Abilities - Beginners Welcome

Up to 14 Tables available + Robot
Monday

7:30pm - 10:00pm

Up to 4 tables reserved for

Wirral Table Tennis League Matches
Monday

7:30pm – 9.30pm

All Abilities - Beginners Welcome

Up to 7 tables only available + Robot
Last Updated: