Raj Lakhani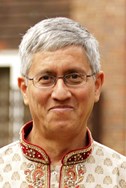 With deep sorrow and sadness, we have to inform you of passing away of Mr Rajendra (Raj) Lakhani on Saturday 28
th
April 2018 at age of 62.
Raj was one of the key volunteer and official at WDHA Table Tennis Club and also UKCC Level 1 Table Tennis Coach. He joined the club in 2012 to help out the club's activities. He developed his skill from playing occasional table tennis to becoming UKCC Level 1 Table Tennis Coach. He introduced different warm-up techniques including Yoga and getting the children at the club to read a positive quote before they left for home after their session every week.
In 2017/2018 Season, Raj was WDHA B Superkings Team Coordinator.
Prayers are being held for Raj on Thursday 3rd May 2018 from 7:30pm to 9:00pm at Hindu Community Centre, Highfield Road, Wellingborough NN8 1PL.
On behalf of the family, please extend invitation to all the W&DL clubs and players to attend the prayers.
Kind regards
Hitesh Jethwa
WDHA Table Tennis Club
Author:
Deirdre Kiziak
via Wellingborough Table Tennis League
Article Published:
Last Updated: