Confident Cadets unbeaten on day 2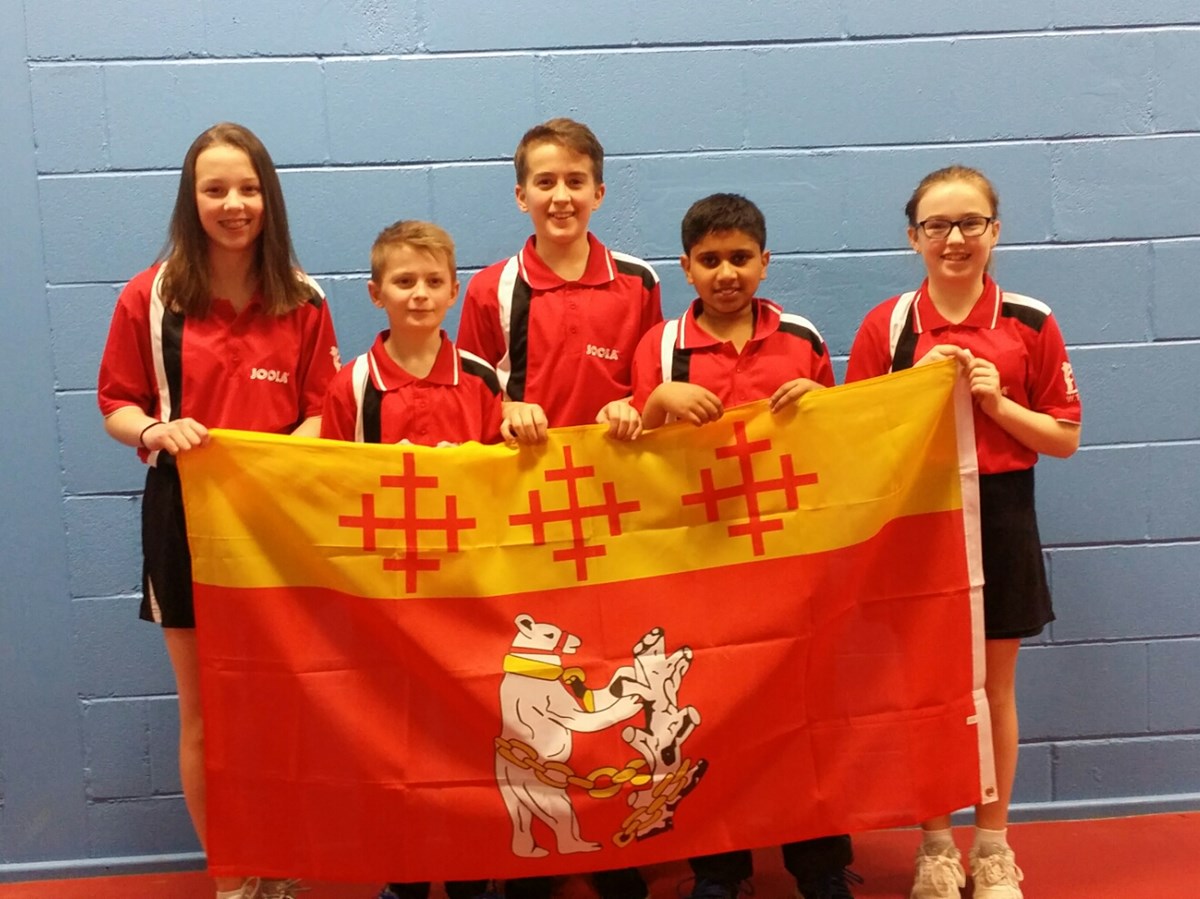 Day 2 of the County Cadet Championships took place on 5th March at Cippenham Table Tennis Centre with Warwickshire taking on four opponents.
First up were Northamptonshire 1. The Warwickshire Cadets were sharp from the word go and eased to a 6-0 lead with newly recruited Emily Beasley taking a very good win in four sets in the third match over Northants number 1 Evie Elliott. Sam Cafearo and Jack Green didn't drop a set in their two matches and Ciara Hancox and Nikit Sajiv, another debutant for Warwickshire, also won both of their matches. Nikit's victory against Northants #2 Milan Pandya in the 6th match secured the win for the Bears. Kaitlin Curt took Northants 1's only win, beating Emily.
The confidence gained from a convincing 9-1 win in their first match was carried into what was to be a close and competitive contest with Norfolk. Warwickshire started well with excellent performances from Sam (beating Alfie Nicholls -8 -3 -9) and Nikit impressing in his defeat of Bradley Burgess clinching two tight deuce games before coming through comfortably in the 4th set. Norfolk hit back with wins from #1s Louis Moyes and Carrie Last over Jack and Emily to make it 2-2. The match swung again with Bears #1 Ciara Hancox taking a straight sets victory over Ella Barnard and Nikit, again showing his mental strength in a close fought match, beat Alfie Nicholls -6 in the deciding set. Emily bounced back to beat Ella in 3 sets and ensure at least a draw. With Warwickshire 5-2 up, Norfolk fought hard with a strong performance from Louis who beat Sam before Ciara claimed the decisive victory in another tight match over Carrie. Norfolk #3 Bradley then beat Jack 9 in the 5th to make the final score 4-6.
Bedfordshire were next up but could offer little resistance to the Warwickshire side. A 10-0 (30 sets to 4) win for the Bears was to follow. Jack was tested but fought well to come out a comfortable final set winner over Beds number 1 Josh Hallam. Impressive serving and very attacking play from Emily saw her take her first double win at county level.
The final fixture of the day was against Buckinghamshire. A double blow for the girls in this match as Bucks could only field one girl and that girl being the very accomplished Shristi Gosh. The current 25 ranked cadet unfortunately proving too strong for the Warwickshire pair. The boys were on a roll and proved too much for their Bucks counterparts. Only Bucks #1 Pranav Gudipati could take a set from the boys, forcing Jack to win in 5 sets. The final result, 8-2 win for Warwickshire.
So, an excellent effort to be unbeaten on day 2 and claim maximum points. Having only lost to Middlesex 1 and 2 so far, Warwickshire will be looking to claim 3rd spot with one fixture left to play.
Chris Mulligan
Warwickshire County Cadets
Author:
Malcolm Macfarlane
via Warwickshire Table Tennis Association
Article Published:
Last Updated: