Warwickshire County Cadet Report
Warwickshire County Cadet Report 2014
On Saturday 25th and Sunday 26th January, the Warwickshire County Cadet team competed in the Premier Division of the County Championships at Westfield Table Tennis Centre, Wellingborough. The squad comprised of three players who had previously represented the county cadets - Timmy Cooper, Olivia Fletcher and Milly Bradshaw; and four players who were making their debuts – Callum Anthrobus, James Morrow, Adam Cofler and Lisa Rinnhofer.
Middlesex 1:
Warwickshire's first match was against Middlesex 1. Warwickshire's number 1 Timmy Cooper showed few nerves in the first match as he battled hard against Eren Gozcu, winning the decided set 11-8. James Morrow making his debut also started well, beating Theodore Achampong 11-6, 12-10, 11-6. This was a great start for Bears leading 2-0. Middlesex quickly levelled the match score with Denise Payet (Englands top cadet and recent Masters Champion) and Jasmine Chan beating Milly Bradshaw and Olivia Fletcher respectively. Both Warwickshire girls put up a good fight and hit some powerful shots, however, Payet and Chan were more consistent. Timmy Cooper continued to dominate beating Curtish Welsh 13-11, 11-5, 5-11, 11-4, showing the importance of consistent play, keeping the ball on the table. Callum Anthrobus (making his Cadet debut) game out second best to Welsh losing 1-3, however, beat Achampong 3-0, making effective use of his serves, which the Middlesex youngster could not handle. Morrow lost 1-3 to the improving Gozcu, followed by Payet and Chan beating Fletcher and Bradshaw; securing the win for Middlesex 6-4. This was a pleasing start for the Warwickshire team; with Timmy Cooper being player of the match with two wins.
· Timmy 2; Callum 1; James 1.
Cleveland:
Callum Anthrobus started with an excellent win over Top 10 Cadet Josh Harland, winning 11-9, 11-8, 6-11, 12-10. This was a closely contested match with Callum hitting some attacking forehand and backhand topspins past Josh in addition to the clever use of his serves. Timmy Cooper was the star of the Warwickshire team securing two wins. He beat Joe Clark 3-1 and demolished Harland 11-2, 11-6, 11-8. Lisa Rinnhofer making her debut in this match had a close battle against Cleveland's number 2 Holly Williams 9-11, 11-4, 11-4, 10-12, 5-11. Lisa was unfortunate to lose the 4th end; however, the slightly more experienced Williams came out on top. Fletcher and Rinnhofer both lost 1-3 to Sophie Barlow who used her short pimples to flat hit her backhand with great success. Adam Cofler playing was also playing his first county match struggled a little against the consistent attacking play of Kaine Macdonald and Joe Clark. Overall match score 7-3 to Cleveland.
· Timmy 2; Callum 1.
Lancashire:
The final match on Saturday was against Lancashire. Lancashire had three exceptionally strong boys – Robert Barker, James Chappell and Amirul Hussain, who dominated all matches. Timmy managed to take sets of both Barker and Chappell, but their attacking power on both wings with use of angles proved too big of a challenge for Cooper. Milly Bradshaw recorded her first win against Hannah Borrows, coming back for 1-2 down to win 11-7 in the fifth set. Lisa Rinnhofer also recorded her first win against Burrows, 3-1 (6-11, 11-8, 11-9, 11-9). Alice Dillon recorded two wins against Milly and Lisa; Milly proving slightly unlucky losing 8-11 in the deciding set. Match score 8-2 to Lancashire.
· Lisa 1; Milly 1.
Sussex:
Sunday morning 9.30am – battle commenced against Sussex. Callum Anthrobus was outclassed by the talented Josh Bennett 0-3. Adam Cofler put up a brave fight against George Hazell losing 4-11, 8-11, 9-11. He was particularly unlucky not to win the 3rd end. Olivia Fletcher recorded her first win against Alice Hazell with a consistent score line of 11-7, 11-7, 11-7. Timmy levelled the match score with a brilliant win against Marcus Bracey 11-8, 11-8, 11-7. Timmy's defensive play in retrieving the ball, combined with his attacking shots outplayed Bracey. Olivia and Milly both lost to National Champion and Cadet number 2 Kate Cheer. Olivia did manage to sneak one set, but it was not enough to trouble the talented youngster. Milly did match Olivia's success in beating Alice Hazell. The first two sets were close (16-14, 13-11) however, the third was more controlled 11-6. Despite his loss to Bennett at the start, Callum bounced back to defeat George Hazell. He lost the first set 12-14, however, with guidance from Matt Outhwaite (who supported the players on the Sunday); won the next three sets 11-9, 11-9, 11-7. Unfortunately Adam couldn't match Marcus Bracey. The score lay at 5-4 to Sussex with Timmy to face Josh Bennett. This was a fantastic battle between both number ones. Timmy nipped the first end 17-15, with Josh replying 7-11 to win the second, having dominated with consistent attacking play. Timmy won the third, again at deuce (15-13) only to lose the fourth 6-11. Timmy started the fifth the better player going 9-3 up. Despite a time out called by Captain Kate Hughes at 5-9, Josh levelled the game at 9-9 (helped slightly by a nervous fault serve by the Warwickshire player at 9-8). However, all praise must go to Timmy who held on and played two fantastic points to win, and more importantly secure a draw against a tough Sussex team.
· Timmy 2; Callum 1; Olivia 1; Milly 1.
Surrey:
Surrey also fielded three strong boys who won all 6 matches. Warwickshire's number 1 Timmy battled hard against Sasha (Alex) Gillen. The Warwickshire player was 1-2 and 0-5 down, and fought back to win the fourth end 11-7, only to lose the deciding set 8-11. He also managed a set against top England Cadet Liam Grant; as did James Morrow and Callum Anthrobus against Diego Frietas. Lisa Rinnhofer and Olivia Fletcher each beat youngster Danielle Kelly 3-0 who I am sure in a few years time, with a little more match experience will be a top player; however lost to Isabelle Joubeilly. The match finished 8-2 to Surrey.
· Olivia 1; Lisa 1.
Lincolnshire:
Lincolnshire's top two boys were a force to contend with. Matt Leete and Nathan Butler got two each, along with Grace Potter, who hit the ball harder than the average senior woman! In Matt and Timmy's words- she 'slapped the ball harder than Kate!!' Milly was unlucky to not win the battle of the big hitters, losing 2-11 in the fifth. However, Milly did beat Alex Robinson, 11-7 in the fifth. Lisa also beat Alex 3-0, where her backhand block and forehand hit were too quick for the Lincolnshire player. Callum also recorded another win; this time against Nick Keast 11-8, 11-7, 11-6. The match score finished 7-3 to Lincolnshire.
· Callum 1; Lisa 1; Milly 1.
Yorkshire:
The final match of the weekend was against Yorkshire who were top of the division and on the verge of Premier victory. Yorkshire decided to rest their number one James Hobson, however, with strength in depth their team was still pretty formidable. Callum Anthrobus gave Harry Dai a run for his money, losing 2-3, despite being 2-1 up. Timmy also gave Dai a battle losing 1-3. The Yorkshire Girls of Kate Nixon (England number 3) and Gauri Duhan were too strong and experienced for Olivia Fletcher and Lisa Rinnhofer. Adam Cofler tried exceptionally hard but could not match the pace and consistency of James Rule and Shayan Siras. Timmy Cooper did salvage one match for the Warwickshire Bears beating Siras 3-0 in a game where there were some long rallies off the table, and a lot of cheering from the Warwickshire side line; with Timmy coming out on top 13-11, 11-7, 11-5.
Overall score 9-1 to Yorkshire who achieved their Premier Division title.
· Timmy 1.
Despite the Warwickshire Cadets only recording one draw over the weekend and consequently will be playing in Division 1 next season, the team tried exceptionally hard throughout all their matches. They always supported one another during play and represented the county with a positive attitude, and should be proud to have experienced playing in the Premier Division against some of the best Cadets in England. Paul Nichols (from Northamptonshire) who kindly umpired for our team said "it was a pleasure to umpire for them. They were very sporting and well behaved."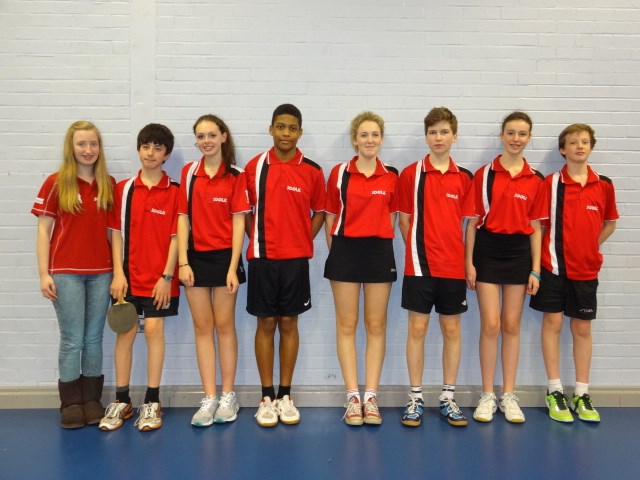 I would like to thank Emma Kilpatrick (who was injured and could not play) and her mum Carolyn for their support throughout the weekend; as well as providing fantastic lunch and healthy snacks. Additionally I would like to thank Matt Outhwaite for helping with the coaching on Sunday, and Malc Macfarlane for his encouragement on Saturday; as well as all the parents for their cooperation and support before and during the weekend.
I was very proud of all 7 players who were part of the Warwickshire team; and thank you for making it a very enjoyable experience.
Kate Hughes (Non Playing Captain)
27.1.2014.
Author:
Malcolm Macfarlane
via Warwickshire Table Tennis Association
Article Published:
Last Updated: