Warwickshire Cadets start well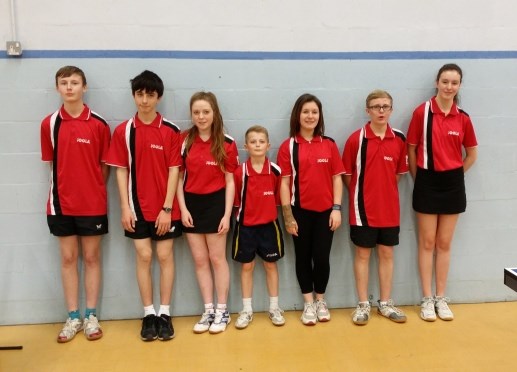 County Cadet Championship Waterside TT Centre, Southampton (29th November 2014)
The first day of the 2014/15 County Cadet Championships saw Warwickshire face Hampshire 2, Somersert and Devonshire in Division 1C. Only two of Warwickshire's seven-strong squad had reprsented the County before so it would be a new experience and a good test for the debutants at this level.
The strength and character of the team were to be tested from the off against Hampshire 2. Yaj Vashee claimed the first point of the match with victory over Warwickshire #2 Sam Cafearo (Rugby). Bradley Matthews (Rugby) and Lisa Rinnhofer (Colebridge) started impressively with dominant wins to take the Bears 2-1 ahead. Hampshire then hit back with three in-a-row. Having lost her opening match in 5 sets, Jenny Singleton (Lillington) stopped the momentum with a fine victory over Jasmine Williams and Adam Cofler (Lillington) then dug deep to beat Hants #1 Vashee with three of the four sets decided in deuce. With the score now tied at 4-4 the last two games would determine the outcome of the match. Warks #1 Lisa Rinnhofer secured the vital point with a fantastic 11-3 final set victory over opposite number Habina Seo. Vincent Cheung scured his second win and the draw with a tight but three-set win over Matthews. A competetive start from the Warwickshire team.
A change was made to the squad for the second fixture against Somerset with Lewis Singleton (Lillington) making the most of his chance with Bradley Matthews rested. Harry Skidmore, the opponents' strongest player took the opener 3 sets to 1 against Sam Cafearo and this was to be their only victory with the match resulting in a comprehensive 9-1 win to the Bears.
With confidence high Adam Cofler took the first match of the final fixture against Devonshire, beating their #2 Ben Edmunds. Defeats to Ben Deakin over Lewis Singleton, Holly Johns over Jenny Singleton and Joshua Millman over the reinstated Bradley Matthews followed to put the opposition 3-1 ahead. The Warwickshire girls then won two of the next three matches, both overcoming Emily Haskell. Unfortunately for the Bears, Joshua Millman then beat Adam Cofler and Holly Johns clinched the winning point against Lisa Rinnhofer in 4 sets to make it 6-3 to Devonshire. Warks finished on a high though with Bradley Matthews defeating the awkward combination bat player Ben Deakin with an impressive 3-0 win to take what could be an important point for the team and make the final score 4-6. A tough fixture but one of fine margins that the players will learn from.
A draw, win and tight loss then for the Warwickshire Cadets on day one with many encouraging and impressive performances from the squad and great support from court-side.
The next round is on February 7th in Evesham.
Chris Mulligan
County Cadet Captain
Author:
Malcolm Macfarlane
via Warwickshire Table Tennis Association
Article Published:
Last Updated: