MATCH REPORT WEEK 20
Division One
As the Tamworth Table Tennis Winter League draws to a close leaders TYC Retros secured another impressive win this time 8-2 away at Lichfield Jets. Michael Bree and Andy Jackson helped themselves to trebles with Aimee Evans chipping in with a single. Jameel Mann and Harry Emberson both clawed singles back for the Jets. A fine maximum from Gary Nash ensured Curdworth Pingers won through 6-4 in their contest with Netherseal Oak. Dawn Sagoo bagged herself a brace in support with Rob Sheldon scoring once. In reply it was singles all round for Peter Jamieson, Danny Sullivan and Andrew Rose. Jamieson and Rose also combined to take the doubles in four. Andy Walker was star player for Netherseal Willow in their 7-3 triumph over Lichfield Kings & Queens. Walker added the doubles with Gary Carr in four. Carr went on to win two singles matches and Brian Beer scored a point. Morgan Sykes, Dave Knight and Cyril Merriman all got on the scoresheet for Jets with a point-a-piece.
Division Two
In Division Two leaders Netherseal Cedar had an emphatic 9-1 away win over Lichfield Musketeers. Maximum points from Aubrey Henry and Ian Perry plus two from Richard Baxter sealed the win. Steve Thomas hit one in response for the Lichfield side. A superb Karl Oliver hat-trick was not enough to prevent his side Hopwas A slipping to a 7-3 reversal away at Spital Daredevils. Two points-a-piece from Paul Bowler, Alan Baker and Stafford Brookes plus a Bowler/Baker doubles victory proved decisive. It finished honours even 5-5 in the match between Rugby Kings and Lichfield Knaves. Johnathan Pilling and Dean Snowden hit pairs for Kings with Ian Gould contributing a single. Neil Lehane scored twice for Knaves and took the doubles with Anna Tomczuk. Tomczuk added a point from singles play as did Yuri Slobodyuk. Dave Storr prevented the whitewash winning one of his matches in his side Rugby Oddballs 9-1 loss to Curdworth Wheelers Pongers. Nick Matthews and Richard Groves remained undefeated on the night for Pongers and Steve Brown bagged a brace.
Division Three
Congratulations go to Netherseal Ash in Division Three who despite losing out 7-3 to Hopwas B secured enough points to be crowned Champions of their Division. Graham Clarke scored twice in the contest for Ash and James Farmer once. Colin Cartwright was in fine form for Hopwas with three points taking the doubles with Alan Baxter in five. Baxter added a further single and Alex Farrell scored twice. Second placed Spital Mondays also suffered a loss away at Kingsbury Cruisers despite two from John Brookes an Ian Sketchley single and a Brookes/Sketchley doubles win in three. Cruisers star performer on the night was John Lowe with three and Andy Brown played his part scoring twice including a 13-11 win in the fifth plus a point from Isobel Morell. Mike Harker continued in winning ways with three but it wasn't enough to prevent Netherseal Birch coming unstuck away at Lichfield Barons losing out 7-3. Alex McDonald, Barbara Jones and Pete Collins all scored twice for Barons with Jones and Collins combining to win the doubles in four.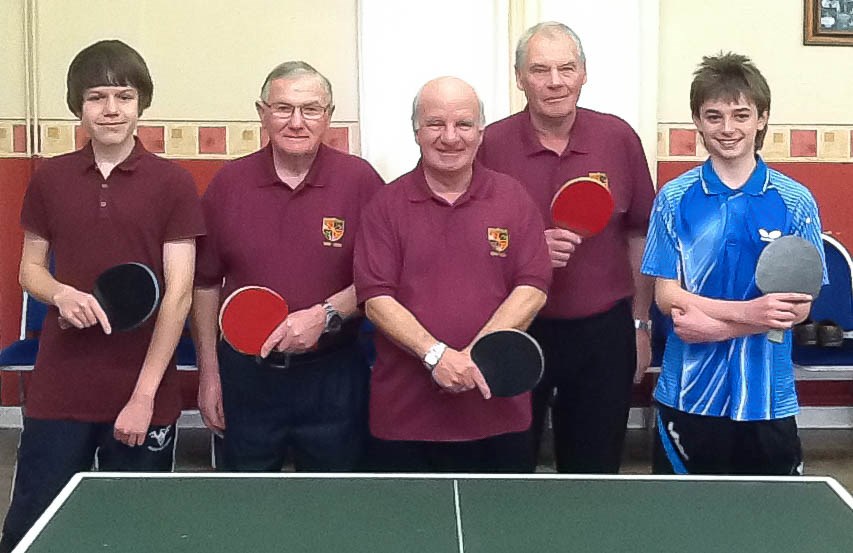 Author:
Dawn Sagoo
via Tamworth Table Tennis League
Article Published:
Last Updated: