MATCH REPORT WEEK 3
Division One
Curdworth Wheelers Pingers remain Division One leaders in the Tamworth Table Tennis League despite not having played a match this week. Netherlands Cedar and Lichfield Kings & Queens both had good wins and are level on points in second place. Cedar had a fine 7-3 victory away at Lichfield Jets. Phil Jones led the way for Cedar with a superb treble and capped a great performance winning the doubles in four with Gary Carr. Carr added a further single and Aubrey Henry bagged two. Jets' points came courtesy of a point-a-piece from Harry Emerson, Mark Balant and Gary Dawson. Kings & Queens won through 7-3 away at Netherseal Willow thanks to a Di St Ledger maximum, a Leigh Radford double and a point from Anna Tomczuk. St Ledger and Radford combined to take the doubles in three. Matt Satchwell played really well for Willow with a brace, edging a close contest with Radford 12-10 in the fifth. Brian Beer chipped in with a single. A Ryan Birbeck double prevented his side Wilnecote Raiders slipping to a white-wash away to Netherseal Oak. Andrew Rose was star player for Oak winning all his matches. He was supported by Brian Hagger and Danny Sullivan who both scored twice and took the doubles in four between them.
Division Two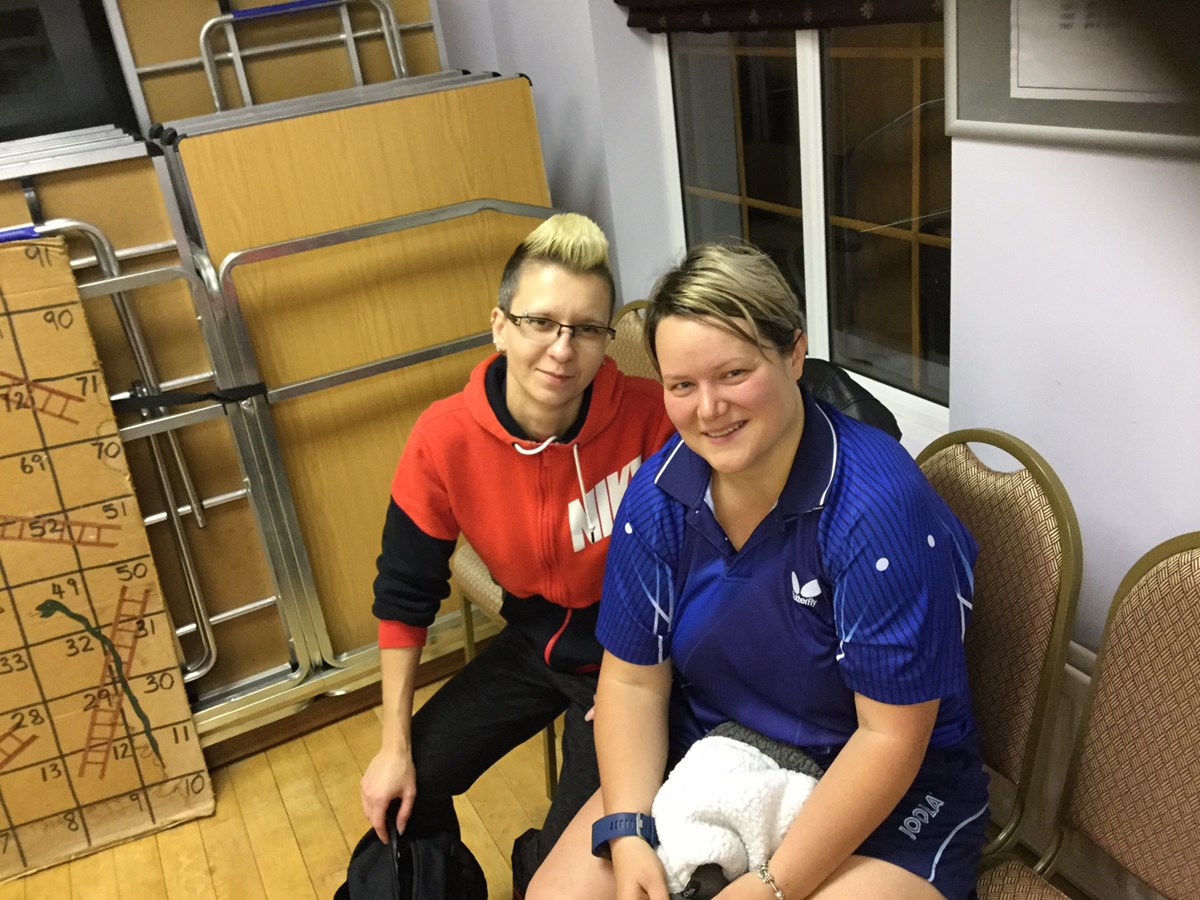 It's all change at the top of Division Two with Lichfield Musketeers gaining top spot thanks to a convincing 9-1 home triumph over Hopwas Jokers. Chris Latham and Rob Wootton were maximum men for Musketeers with Geoff Williamson adding two. Jokers single was scored by Hayden Wootton. Despite slipping to a narrow 6-4 defeat at the hands of Lichfield Knaves, Spiral Daredevils moved into second position with Rugby Kings not playing this week. Anna Tomczuk was in great form for Knaves remaining undefeated on the night. Varya Meredith helped out with two singles wins and Yuri Slobodyuk added one. In response Stafford Brookes scored twice for Daredevils and combined with Paul Bowler for a comfortable three set doubles won. Bowler added a point from singles play. TYC Wheelers Pongers were too much for Netherseal Ash taking the tie 7-3. Steve Smith secured full points from his singles matches as well as the doubles with Richard Groves. Groves went on to add two singles points to his side's tally and Steve Brown helped out with a single. In response Mark Rendle hit two and Mike Harker one.
Division Three
In Division Three Lichfield Rockets took a six-point lead at the top of the table over their nearest challenger Spital Mondays thanks to their 10-0 away victory over TYC Talentz. The trio of Andrew Rushton, Mark Burns and Paul Edwards proved unstoppable on the night. A hat-trick from Sven Pettersson helped his side Spital Mondays to an 8-2 away triumph over Burntwood A. Pettersson also sealed the doubles with Ian Sketchley with a straight sets win. Sketchley went on to bag two singles wins as did John Brookes. Burntwood A's points came courtesy of an Alice Antoszkiewicz single and an Oliver Westwood/Antoszkiewicz five set doubles win. Barbara Jones's excellent performance winning all her matches for Lichfield Barons helped her side edge a slender 6-4 victory over Bennett's Cruisers. She also went on to win a nail-biting 16-14 doubles win with Peter Collins in the fifth. Collins and John Henson also scored a point-a-piece in singles play. Adam Lowe scored twice for Cruisers in reply with John Lowe and Isabel Morrell adding singles. It was anything but a wooden performance as Netherseal Beech emerged 8-2 victors over Netherseal Birch. Graham Clarke notched up a treble and Patrick Poon and George Parry took two points each. Paul Ducksbury scored twice for Birch.
Author:
Dawn Sagoo
via Tamworth Table Tennis League
Article Published:
Last Updated: