MATCH REPORT WEEK 6
Division One
With the top of the table clash between Wilnecote Raiders and the Crown being postponed it was the turn of TYC Retros to shine in Division One of the Tamworth Table Tennis league this week with a comprehensive 7-3 away victory over Lichfield Jets. Michael Bree was star player for Retros with yet another hat-trick and took the doubles with Andy Jackson in three. Andy added a further two singles wins and Aimee Evans scored once. Jameel Mann played really well for the Jets with a brace and Mark Balant added a solo win. Two player Netherseal Willow had to work hard for a share of the spoils in their home clash with Lichfield Kings & Queens which finished 5-5. Andy Walker led the way winning all his singles and emerged triumphant in the doubles with Brian Beer. Brian also bagged a single. Cyril Merriman and Morgan Sykes scored a point-a-piece in open play for Kings & Queens. A Rob Sheldon maximum helped two player Curdworth Wheeler Pingers to a draw away at Netherseal Oak. Rob also won the doubles with Dawn Sagoo in four. Dawn also helped out with a single. Peter Jamieson and Brian Hagger both took singles in open play for Oak.
Division Two
In Division Two top side Lichfield Knaves came unstuck away to Rugby Kings losing out 7-3. Johnathan Pilling was star player for the Kings with a treble. Dean Snowden and Nigel Thompson both added pairs. Chris Latham hit two in reply for Knaves and won the doubles with Alan Thorne. The match between Spital Daredevils and Hopwas A ended in a 5-5 stalemate. Paul Bowler was on target for the Daredevils with three good wins plus the doubles with Alan Baker. Alan added a further single. Martin and Alastair Tallis both scored twice for the Hopwas side with Alan Mcloughlin bagging point five. A Gary Carr maximum helped Netherseal Cedar overcome Lichfield Musketeers 7-3. Gary also took the doubles in four combining with Aubrey Henry. Aubrey claimed a further two points in singles play and Richard Baxter contributed a single. Roger Willetts provided the resistance for Musketeers scoring twice with Rob Wooten adding one in support. Nick Matthews and Richard Groves both hit trebles in the Walmley Wheelers Pongers 7-3 win over Rugby Oddballs. Nick and Richard teamed up to take the doubles in three. Dave Storr, Kevin Wright and Ron Simpson each scored once for the Oddballs.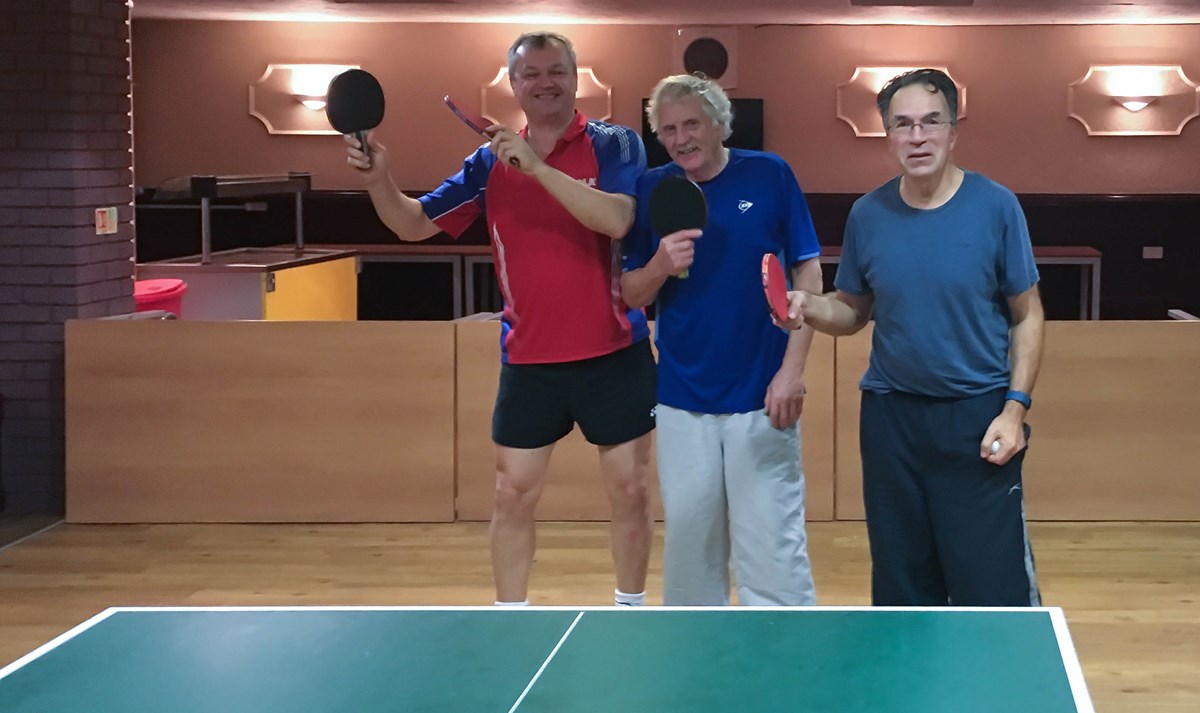 Division Three
Division Three leaders Kingsbury Cruisers suffered a surprise reversal at home to Spital Mondays. Ian Sketchley did most of the damage for the Mondays remaining unbeaten on the night in singles play and winning the doubles with John Brookes. John helped himself to a brace. Cruisers points came courtesy of two fine wins from John Lowe and singles from Adam Lowe and Dominic Duerden. A Mike Harker maximum was not enough to prevent Netherseal Birch going down 7-3 to Lichfield Barons. It was a welcome win for the Barons with Barbara Jones, Angus Rogers and Alex McDonald each hitting two and Barbara and Pete Collins winning out narrowly in the doubles in five. TYC Talentz edged their contest with Lichfield Rockets 6-4 despite a Steve Thomas maximum and a point from Rory Watkins. Hayden Wooten and Rhys Williams both took pairs for Talentz and combined to win the doubles in five. Ellis Kesteton added the sixth point.
Author:
Dawn Sagoo
via Tamworth Table Tennis League
Article Published:
Last Updated: