WEEK 33 REPORT WINTER LEAGUE 18-19
WEEK 33 REPORT
PREMIER DIVISION
With things looking all but confirmed at the foot of the table it is anything but at the summit. With one game left Thorpe Bay A lead Rawreth A by 2 points with the two sides coming face to face in the final week of the season. Rawreth A will need a 6-3 win or better to wrestle the title from Thorpe Bay A. Both teams limbered up with 9-0 wins this week with Rawreth whitewashing Warehouse A. It was the same result for Thorpe Bay A but it really was not a 9-0 game as only one game was settled in three ends and three of the games went the distance. Special mention should go to Harry Keys who showed just how much he has improved this season as he pushed a couple of the league top performers in Alex Abbott and Joe Kennedy all the way to 5 sets. Harry's Junior British League teammate Daniel Young also pushed Kennedy to 5 sets, losing 11-6 in the deciding rubber.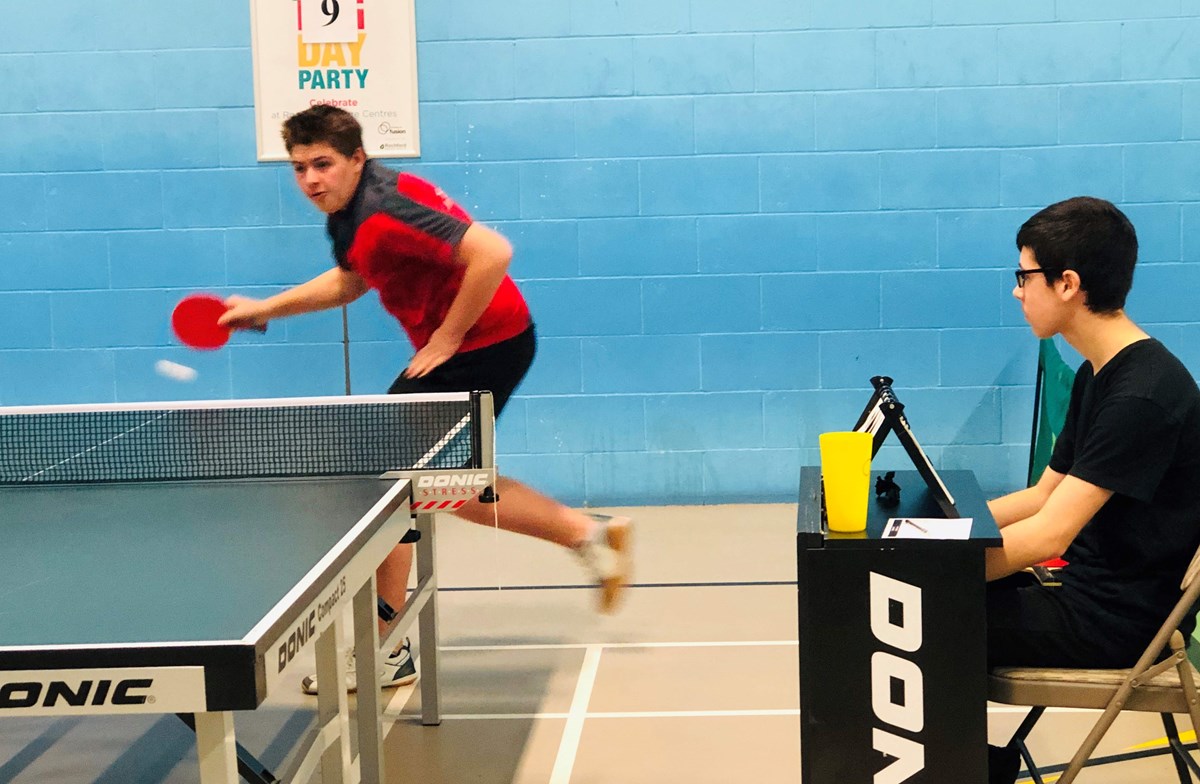 Elsewhere there was a much-needed win for Stanford over Warehouse with Rahul Sharma in fine form unbeaten, too late to make an impact on the league but a welcome win never the less. Simon Jacob continued his good form as his three wins along with wins for Richard Jackman and Barrie Delf saw Brand Identity over the line in a 6-3 win over Hadleigh Forum A. Finally in this penultimate week of the season Rawreth B and Thorpe bay B played out a draw as both teams were only able to field two players.
DIVISION 2 WEEK 31
Rawreth G's young star George Davis produced a Player of the Match performance for his Rawreth G side in their fixture at home to Invicta B. Of particular note was his fine victory over the visitor's Neil Daines. Unfortunately, though, it was not sufficient to give his team victory. A concerted team effort from Invicta saw them edge the contest 5 – 4. Neil won two and so did David Barnes, with Barrie Murphy adding a single. Rob Wood got Rawreth's other victory.

In a similar vein, Runnymede's Dmitry Kisil turned in another unbeaten performance this week. However, it was likewise not enough, with visitors Hullbridge F coming away 5 – 4 victors. Joe Buscombe and Ben Hoskins won two each with Toby Zeffie pitching in with one win. Tony Coeshall got the home side's other win.

The champions Hadleigh Forum C had no trouble on their visit to Canvey B. Satwant Gill was adjudged the POM, but his colleagues Tony Mace and Keith Willett were equally untroubled by the Islanders.

The chasing duo (Stanford Le Hope B and Wakering) were both recipients of nine points each courtesy of walk overs given to them by their opponents. This is, regrettably, a feature of the last few weeks of the season.

A close encounter between Brand Identity C and Rawreth F saw the visiting Rawreth team get a slight advantage in a 5 – 4 success. The home side's Jenne Seibolt is having a productive end to the season and was awarded he POM prize for his two wins. However, colleague Richard Riebold, and opponents Harrison Creek and Noah Unstead also got pairs. Jack Himpfen-Jones' single made the difference.
David Barnes
DIVISION 2 WEEK 33
Hadleigh Forum C's home 7 – 2 victory over Runnymede was notable for the first reversal of the season for the visitor's Dmitry Kisil. In a very close five-setter, Forum's Graham Farmer prevailed 11 – 9 in the fifth. Graham went on to take all three of his matches in a POM performance, whilst team mates Mark Everard and Tony Mace got two each. Dmitry had the consolation of getting both his side's two points.

Second-place Stanford Le Hope B were able to cement their position, courtesy of a comfortable 8 -1 win at Invicta B. Russell Bright was their star with a hat trick; a performance emulated by Chris Crooks. David Barnes spared the home side's blushes with a surprising win over Brian Spencer.

Third place Wakering kept up their chase with a 7 – 2 success at Rawreth F. Paul England takes the credit for another POM performance, but there was a fine showing from the home side's young Harrison Creek who got himself two wins. Wakering's Zac England and Stewart Mills also had two apiece.

A team effort from Brand Identity C gave them an unexpected win away to Hockley D. The trio of Richard Riebold, Jenne Seibolt and Rob Platt each took two wins in a 6 – 3 victory. Young Aaryan Vasta was Hockley's best player, taking two wins, with David Cross picking up one.

Canvey C benefited from a no-show from Rawreth G, to be awarded all nine points.

Hullbridge F's young star Joe Buscombe produced a Player of the Match performance for his side at home to Warehouse C. His night included a fine victory over the visitor's Saurabh Mohal. Unfortunately, as seems often to be the case with hat tricks, it didn't follow that this was a home win. Two wins from Saurabh and Tamas Mezo together with one from Simon Lisner, gave the visitors a 5 – 4 result, with Dan Mansfield getting Hullbridge's other success.

The Nunn boys were in action again this week for Rawreth E at home to Canvey B. Chris retained his unbeaten record with a hat trick and Bradley added two more in a 5 – 4 win. Lee McGonagle was the Islander's best performer with two wins, and Tony Westwell and Jo Hills got one each.
David Barnes

DIVISION 3
At the start of the penultimate week of the season, neither the league title or promotion had been settled. Even though one promotion place has now been sealed, the second place and the title itself will not be decided until the final week.
Stanford C and Stanford D met on Monday night with the D team looking for just two points to get promotion and eight to be crowned champions. The C team were also in with a shout for a promotion place but new a big defeat could end their chances. The opening match, Max Russell against Vaughan Chambers, could not have been closer and threatened to set the tone for the rest of the evening as Max gave the C team the start they would have wanted, edging out Vaughan 11/9 in the fifth set after leading two nil.
This early setback was soon overcome however, as the D team took control of the match winning the next five games in succession, to secure promotion and threaten to run away with the title as well. A win each for Peter Moxham and Mark Downey denied them vital points but the D team closed the match out to give them a 6-3 win overall.
Mark Farley was Man of the Match with a hat trick whilst Tony Papasifakis with two wins, and Vaughan with one, made up the points. Their eyes would then be turning to Wednesday evening and the match between Hullbridge H and closest rivals Hockley E.
Before that match and at the other end of the Division, Warehouse D fought out a classic 5-4 match, with the Warehousemen clinching the win in the last match of the evening as Steve Chaffey beat Katie Tanner. Warehouse had not led up until that point but solid performances from Graham Back and Joe Bennett, two wins each, and the vital fifth from Steve were enough to give them the win. MOTM, however, was young Joey Page who won all his games whilst Ben Cannon got the other point.
Wednesday night and the focus turned to Hullbridge where Hockley E needed a big win to stay in touch with Stanford and give them a chance of success in their last match against Customs. The Hockley side of Paul 'Tubby' Henlen, Phil Pond and Ben Cook responded magnificently to the task in hand crushing Hullbridge 8-1 with only Ben missing out on his hat trick as he lost to Ann Lane. Hat tricks for Tubby and Phil (including a narrow five set win against Bob Shingleton-Smith) were exactly what was needed.
Good though the result was it did not confirm promotion for Hockley as Customs still remain in the picture, but it did mean that they would need to beat the Taxmen 9-0 to win the title giving them the same points as Stanford but having lost fewer games. They now had to wait until Thursday before Customs played their next match against Hockley F.
Also on Wednesday, Hockley G took on Invicta C whose inconsistent form had kept them out of the final run in, but with a 6-3 win they sit in a very respectable equal fourth place. Keith Baxter and Trisha Winter both finished with hat tricks in what was a very close match with four games going to five sets and five games going to four. Jonathan Gould was the one player to miss out for Invicta, although he went to five sets in two of his matches so Hockley's points were shared by John George, Alex Summers and Oliver George. Hockley completed their fixtures with this game and will finish eighth overall having won eleven and lost eleven. A solid performance for this team.
Thursday night and attention shifted to Customs with the Taxmen requiring a big win and Hockley F desperate to help their team mates in the E team. The Taxmen got the win they required, 7-2, but those points lost could well turn out to be crucial. They now have to get 17 points from their last two games against Hockley E and Hullbridge H so anything less than an 8-2 victory will give Hockley E promotion next week. Mark Rose and Dean Johnson did all they could for the cause winning all their games but wins for Graham Gregory and Alwine Jarvis against Alex Clark have tipped the scales firmly in favour of Hockley.
In the final match of the week, Canvey D moved into equal fourth place beating Rawreth H 6-3. Geoff Banthorpe got a perfect hat trick and Ray Baker won his three but Simon Baker found it hard going against the youngsters and came home pointless. Mason Murray, Jake Nelson and Cho Chak Man shared a point each for Rawreth.
Hockley E against Customs B next Wednesday will decide things finally at the top of the table and will bring to an end what has been one of the closest title races for a long time.
Player of the Week – Mark Farley
Team of the Week – Stanford D and congratulations on your promotion!
Paul Strut
Author:
Ylber Makolli
via Southend Table Tennis League
Article Published:
Last Updated: