WEEK 27 REPORT WINTER LEAGUE 18-19
WEEK 27 REPORT
Premier Division
There was a close game involving teams at different ends of the table this week as Hullbridge A overcame an impressive effort from Warehouse A 5-4. Dave Bowles was the man of the match as he won his three for Hullbridge while there were two wins a piece for Kim Shead and Martin Turner over Reece Seddon and Richard Brown.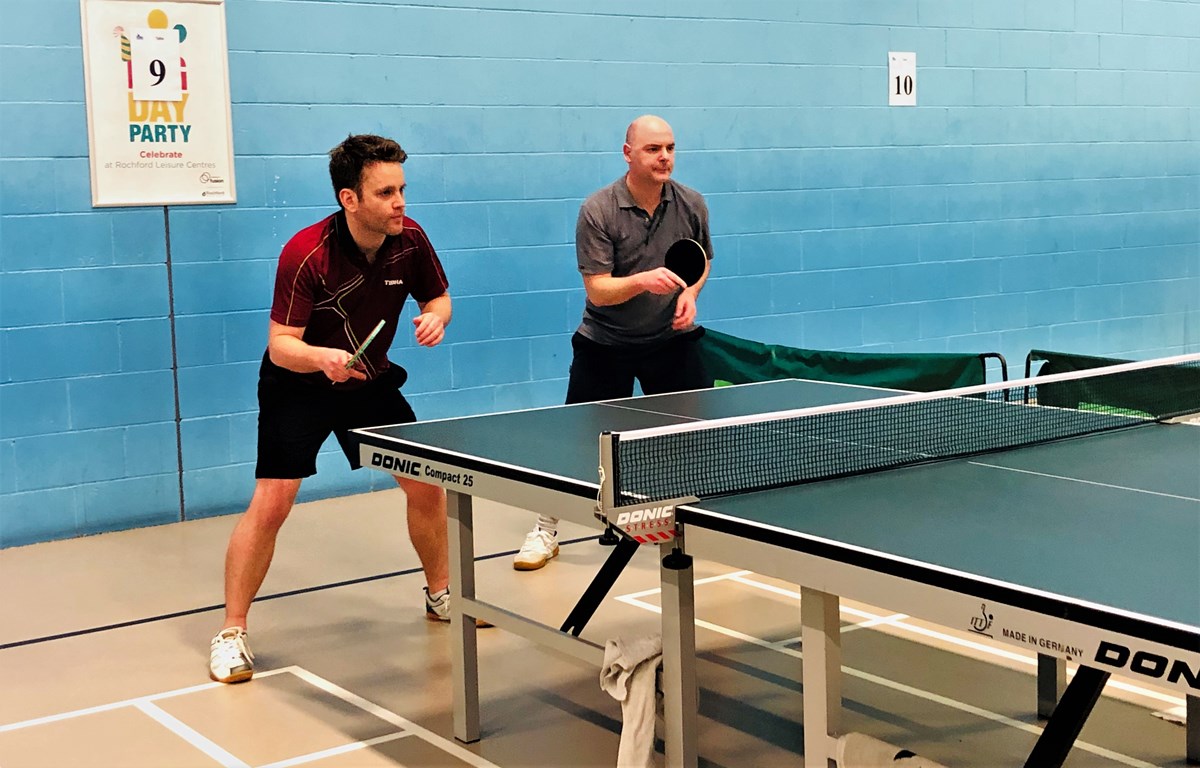 Two 7-2 victories this week for title chasing Thorpe Bay A and Brand Identity over Hockley A and Stanford le Hope respectively. Good wins for Matt Stringer over Mark Stones and Chris Ballard over John Poysden in the first match while Simon and David Jacob were unbeaten for Brand Identity in the second.

There was one win each for Paul Fawell, Neal Barker and Anthon Ranjit-Singh over Hullbridge B but it wasn't enough to beat the Hullbridge side as Keith Adams and Paul Brown were unbeaten in their sides' 6-3 win.

Finally this week we had two 9-0 whitewash victories for Rawreth A and Thorpe Bay B over Warehouse B and Rayleigh Mill. Nearly all games in these two being won in three ends with the closest anyone coming to a reverse was when the Millers' Colin Chatfield pushed Kieran Skeggs to a 5th end.
Report by Duncan Taylor

Division 1

Lentern A continue to march on at the top of the league, winning this week by 6-3 against the in-form Rawreth C. Elaine Sayer was on top form winning all three games, supported by Peter Cranmer with two and John Lott with one. Garry Hartgrove was the main winner for Rawreth taking two games (both in 5 sets) and Colin Clements took one, again in a close 5 setter against John Lott. Rawreth now sit comfortably in mid-table.

Hockley B closed the gap slightly with a 7-2 win over Lentern B. Dave Colwill was unbeaten for Hockley with Dennis Squirrel and Stuart Adshead taking two each. Pat White and Wayne Farmer took one each for Lentern, leaving them still in trouble third from bottom.

Hadleigh Forum B sit in third spot again, after taking a 7-2 win over Hockley C. On the face of it, this would appear to be a straightforward 7/2 victory for Hadleigh Forum 'B' over relegation threatened Hockley 'C', but the reality is that it was anything but straightforward. Hockley put up a terrific fight. Five of the games went the full distance and the remainder were decided in four sets. For Forum, there were hat-tricks for John Tendler and Dave Woolmer, a first of the season, and a single win for Anthon Ranjit Singh. For the visitors, there were wins for David Chenery and Dan Patynski. Mention must be made of Callum Turner who, although pointless on the night, took all his games to the final set and in the last game of the night, pushed the wily John Tendler all the way before going down at 11/8 in the deciding set.

Invicta A drop to fourth after going down 5-4 to Hullbridge D in a close game. Penholder and POTM, Mike Johnston (aka Mr Mackay) took no prisoners winning all 3 games and Andy Seaman and Charles Yeung chipping in with a win each. Steve Marr and Mike Piper took two each for Invicta but Tony Ayliffe was unable to add the vital last point in a match where no games went the full 5 sets.

Customs A had another 5-4 game, but this time in favor of the visitors, a two-man Hullbridge E. Ben Matthews was unbeaten for Hullbridge including the impressive scalp of Roy Thomas in straight sets, with Will Skelt adding the other two points. For Customs, Roy scored two points, with Brian Rackham and Dale Gutteridge adding a point apiece.

Another two-person team, Brand Identity B played bottom club, Rawreth D, and came away with a 6-3 win. Both David Jacob and Kelly Yuenyongpkan were unbeaten on the night for Brand against a quite experienced trio of players in the form of Sam Thompson, Caroline Cole and Colin Barham, who just had the default three points to show on the night.

Report by Barrie Delf
Division 2
A lack of reinforcements seems to be plaguing Rawreth teams at the moment. This week it was Rawreth G who could again only call upon Andy Deadman and young George Davis for their home game against Warehouse C. However, thanks to a superb hat trick from George and two wins for Andy, they managed to prevail over their visitors 5 – 4.

Hockley D bounced back from a crushing 9 – 0 defeat the week before to overcome Rawreth E 8 – 1. The only blemish on their performance being Jan Thorpe's blitz of Paul Strutt in straight sets. Dave Chenery enjoyed the perfect evening winning all his three without dropping a set and Gary Linzell also won three but he had to work a little harder - his games against Jan and Bradley Nunn both going to five.

There were thoroughly comprehensive successes for all the top three teams in the division.

You have probably heard this before, however leaders Hadleigh Forum C recorded a 9 – 0 win this week. This time it was Brand Identity C who were in the firing line. However, in fairness to the home side, captain Richard Riebold manfully stood alone against the leaders, not being able to find any other team members willing to stand alongside him.

This 9 – 0 business was not confined to just the leaders, though. Second place Stanford Le Hope B also managed this result in their home match against Runnymede. Brian Spencer, Chris Crooks and Adrian Armstrong were each unbeaten.

Not to be out-done, Wakering's Zac and Paul England and Stewart Mills were all unbeaten in their 9 – 0 trouncing of Hullbridge F.

Invicta B just can't seem to get a win lately. This week they visited Rawreth F, and the home side's Rob Wood managed an impressive hat trick. Jack Himpfen-Jones got two more and Harrison Creak chipped in with a single success in a 6 – 3 victory. David Barnes got two for Invicta and Barrie Murphy one.
Report by David Barnes

Division 3
With only three games to go for most of the top teams Stanford Le Hope D have now put themselves firmly in the driving seat for the title and promotion as, after beating then leaders Hockley E 9-0 last week, they hammered fellow promotion rivals Hullbridge G 8-1 to put themselves 5 points clear at the top of the table.
Andy Roff gave Hullbridge the best of starts by beating Mark Farley but after that it was Stanford all the way as Dan Harris and Tony Papasifakis racked up hat tricks and Mark won his other two games. Lindsay Johnson-Farge put up stiff resistance taking Tony and Mark to five sets but this result leaves Stanford in a very good place.
They do have two crucial matches left to play however, facing both their own C team and Customs B who, with five games left to play, are still a big threat to Stanford's title aspirations.
Still in there fighting after the disastrous result the previous week are Hockley E, who came away with a very welcome 8-1 win at Canvey D. Hockley had Tubby Henlen and young Ben Cook back in the side this week and they both recorded hat tricks whilst Ron Rogerson picked up a brace. Tubby was taken all the way by Geoff Banthorpe and Ray Baker but Ben picked up the MOTM honours winning all his games in four sets.
Stanford's C team's hopes took a slight knock this week as they just edged out Hullbridge H 5-4. Mark Downey steered them home winning his three and debutant Rob Salvage won two but there was no joy for fellow debut maker James Parker. Joey Page led the Hullbridge resistance with two wins and Josh Jones and Charlie Bartlett won one each. Stanford were always in charge of this match but were in fact 4-1 up at one stage so let a good lead slip. They sit third in the table nine points behind their D team.
The final game of the week saw Rawreth H take on Invicta C and, despite the 7-2 score line in favour of Invicta, it turned out to be a very close match with four games going to five sets. Jon Gould was the star man for Invicta recording a fine hat trick and denying Rawreth's best player Emily Kidd, a hat trick of her own by coming back from 2-0 down in their match. He won the last three sets 13/11, 13/11,11/9. Emily's other two wins came against Trisha Winter and Keith Baxter both also in five sets. Keith and Trisha both finished with two wins.
Player of the Week - Ben Cook
Team of the Week – Stanford Le Hope D.
Author:
Ylber Makolli
via Southend Table Tennis League
Article Published:
Last Updated: