WEEK 19 REPORT WINTER LEAGUE 18-19
WEEK 19 REPORT
PREMIER DIVISION
When an 'A' team plays their 'B' team it's normally the 'A' team that comes out on top. Last night at Rawreth was no exception. Kevin Read (in photo below) was in imperious form winning his 3 for Rawreth A which included a tremendous match with Matt Spero, eventually winning 11-9 in the 5th. He therefore, quite rightly, walks away with the MoM award. Matt picked up 2 wins for the 'B' team and in doing so beat Minda Sinkus (also 11-9 in the 5th !) and Steve Tilson 3 sets to 1. It's great to see Steve being able to play more regularly and he, along with all of the aforementioned players must have a good chance in the Southend Closed championships next month.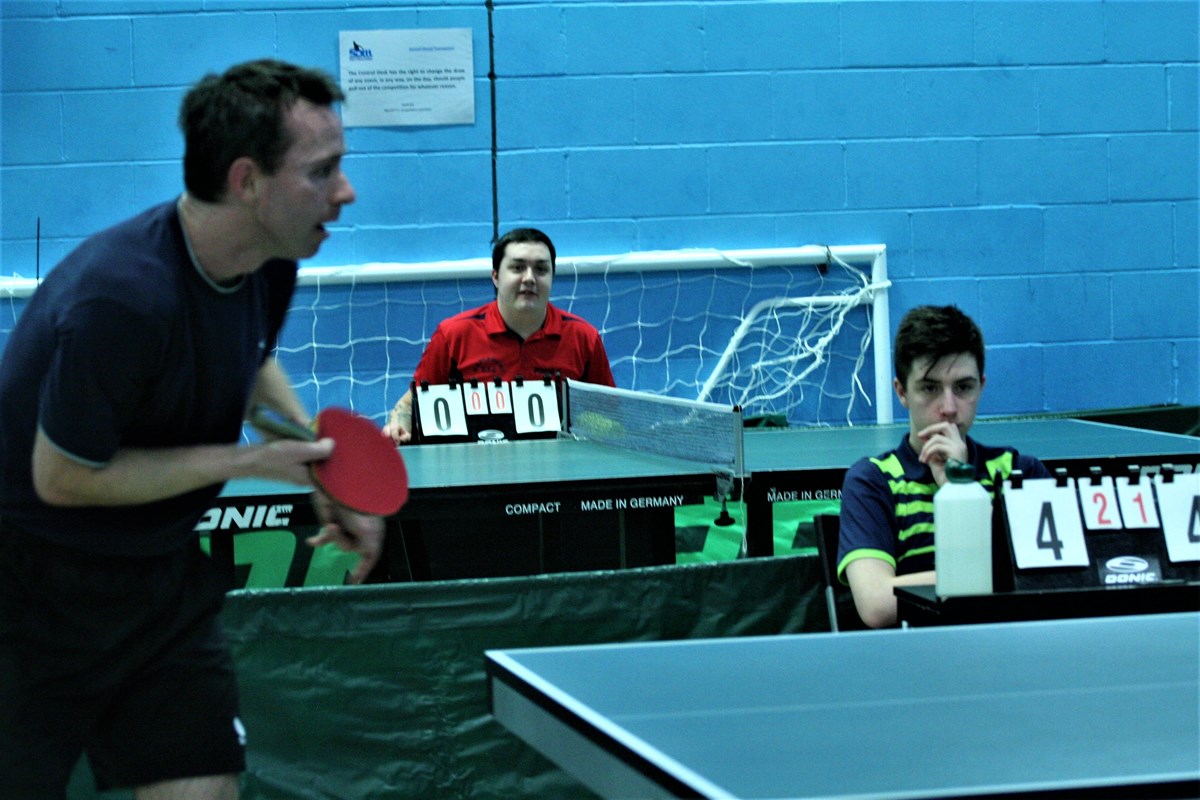 In a result from last week that also involved Rawreth B, the youngsters of Hullbridge C were unlucky to have nothing to show for the effort and quality on show. Evergreen Babul McLeod twice came back from two sets down to win in five. Neither Dan, Harry or Reece could get through the impenetrable fortress that was Eric Green and once Mike Hayes thawed from the cold his monster top spins were pretty much unplayable.

Back to week 19 and some close matches to report on. There were 5-4 wins for both Hockley A and Rayleigh Mill as man of the match performances for Matt Stringer supported by Tim Pang and Colin Chatfield aided by Steve Maltby helped their sides to victories over Warehouse B and Stanford le Hope respectively.

Almost as tight was the 6-3 win for Hullbridge C over Brand Identity A. Gary and Daniel Young both were undefeated for Hullbridge while there was a win a piece for Barrie Delf, Richard Jackman and Simon Jacob for Brand Identity. The final game of the week however was not a close one as Thorpe Bay A whitewashed Hullbridge B 9-0 despite the latter having Kieran Lally amongst their ranks. Game of the night has to have been Paul Sayer's 18-16 in the 5th win over Lally.
DIVISION 1

Lentern A returned to winning ways this week with a 8-1 win over 2 man Hullbridge E. Martin Archie and Peter Cranmer won all their games against the two Hullbridge youngsters, with Harrison Sadler scoring the Hullbridge consolation point in a close 5-setter against Elaine Sayer. This pushes the Hullbridge team closer to the relegation spots.

Hadleigh Forum B were unable to take advantage of the fact that Hockley B did not play going down 6-3 to Rawreth C. The star player was Gary McCarthy for the Rawreth team, unbeaten on the night, with Garry Hartgrove adding two and Colin Clements one for an inspired victory. Tony Jacks with two and Dave Woolmer with one scored the points for Forum, with Mick Tappendeh unable to trouble the scorers, leaving them trailing in third. Rawreth eased their worries moving into mid-table.
Hullbridge D had a convincing 7-2 win over Lentern B, with Charles Yeung the pick of the players on the night with 3 unbeaten games. Lin Roff and Harrison Sadler (playing up) added two each. Sue Body and Pat White added the consolation points for Lentern with Wayne Farmer unable to pick up a win. Hullbridge sit in 5th place in the table with Lentern 4th from bottom.

Canvey A had a good 9-0 home win over Hockley C. The home team of Andy Murray, Ray Wilson and Terry Giddens all picked up their hat tricks. Harry Sawford, Callum Turner and Dan Patynski were unable to influence the result for Hockley, leaving them in one of the relegation spots at the bottom of the table.
In the final game this week, bottom club Rawreth D were again able to only field two players, and consequently went down 5-4 in a close relegation match against RESSC. In a match where no-one was unbeaten, Sam Thompson and Andy Nunn from Rawreth picked up two wins each, and Dave Norris (with his first Southend win) and Mike Worship picked up two each for the visitors. Ron Coutts could only pick up his forfeit point.
Barrie Delf
DIVISION 3
Customs B roared back into action this week beating Rawreth H 7-2 and going back to the top of the table six points clear of Hockley E. Their lead may not be as big as this as the quirks of the fixture list unwind as Invicta C, currently in sixth place and eleven points behind, have two games in hand in hand.
The Taxmen were not too bothered in their match against Rawreth however, Mark Rose picked up a perfect hat trick not losing a set and Richard Kidd also got a maximum including a four set revenge win against his daughter Emily, who he had lost to in the reverse fixture. Alex Clark had to come back from 2-1 down to overcome Harry Watson in five sets and claim the other point. Emily and Jake Nelson earned a point each for beating Alex.
Closest result of the week was Canvey D's 5-4 win against Warehouse D. The match was evenly poised at 2-2 before the Islanders won three on the trot only for Warehouse to win the last two games. Geoff Banthorpe and Simon Baker shared the honours for Canvey with two wins each with Ray Baker grabbing the final point. For Warehouse Steve Higgins and Graham Back also won two each. Graham featured in all the three matches that went to five sets just missing out on a hat trick after an intense battle against Geoff who conceded a two set lead before coming through 11/8 11/6 9/11 10/12 12/10.
Stanford Le Hope D moved into third place with a 7-2 victory over Hullbridge H but the score could have been a lot closer as no less than four games went to five sets. Sami Hughes scored a perfect hat trick with Mark Farley also getting a maximum and Mandy Till supplying the other point. Katie Tanner got a point for Hullbridge by beating Mandy in five sets and Charlie Bartlett picked up his first win in the league beating Mandy in four.
Stanford's C team also won to go fourth in the table with a 6-3 win against Hullbridge G. Mark Downey and Max Russell both won their three matches but there was no joy for Peter Moxham. Max had to work a little bit harder than Mark for his hat trick coming back from two sets down against Sue Reece and all the Hullbridge team of Sue, Bob Shingleton-Smith and Ann Lane claimed their points from Peter. Hullbridge stay on the fringe of the promotion race in fifth place just one point behind Stanford.
Bottom club Hockley F didn't get too much joy against their own G team losing 7-2. They didn't start too badly trailing 3-2 at the halfway point but then proceeded to lose the next four games without winning a set. Aaryan Vatsa and Roger Sherman both won all their matches whilst Rajat Negi picked up his second win in his second match for the G team. Graham Gregory and Alwine Jarvis got a point each for Hockley F.
Player of the Week – Mark Downey
Team of the Week – Warehouse D – a good performance despite their loss for a team near the bottom of the table
PAUL STRUTT
Author:
Ylber Makolli
via Southend Table Tennis League
Article Published:
Last Updated: