END OF SEASON REPORT - WINTER LEAGUE 17-18
SDTTL – 2017/8 Season's Summary
· Premier Division
So all the fixtures are now complete in what has been a gripping season in the Southend Table Tennis League. We now know that we have new Champions of the Premier Division in the form of last year's Runners Up Thorpe Bay A. Massive congratulations to John Poysden and his team for a great effort, winning 25 out of 26 games, meaning they finished 6 points ahead of rivals and last year's champs Hullbridge A. Thorpe Bay's team has consisted in the main of Poysden himself, Paul Whatton, Paul Sayer and Mark Stones with strong cameo roles for Alex Abbot, Joe Kennedy and James Denyer. It is hard to pick out one player from this group as they all had great seasons but I feel I must mention Paul Sayer who, during the title run in, managed to beat the top two ranked players in the league, Tony Halling and Kevin Caldon, to help his side move towards their final total.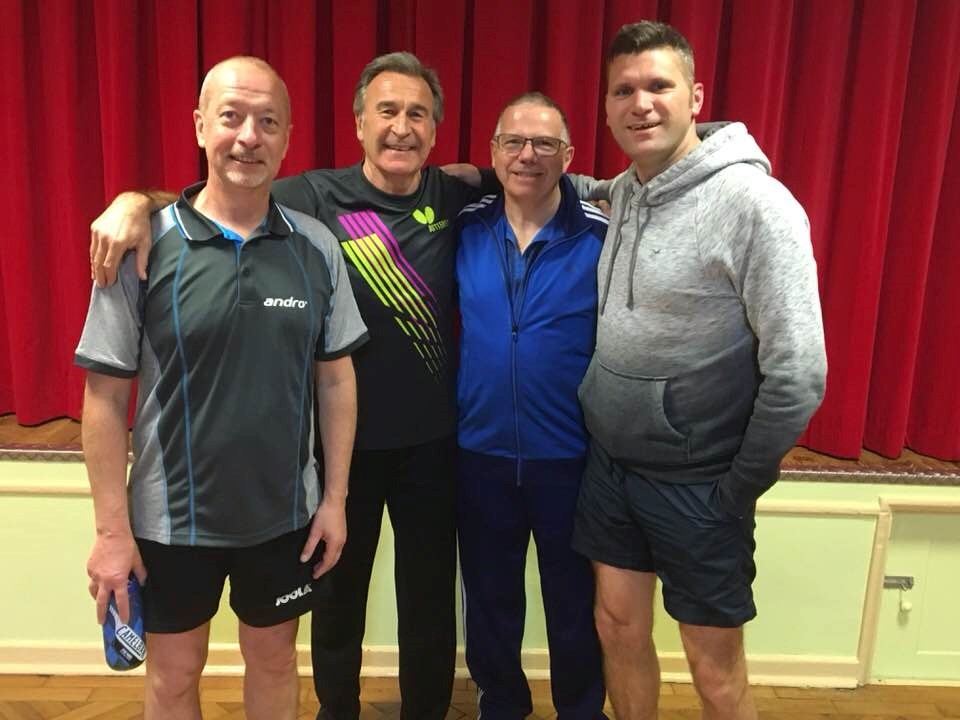 Hullbridge A were runners up with Rawreth A in the same position as last time in third. Both squads I'm sure will look to come back stronger next season with the Hullbridge 'youngsters' Reece Seddon and Sam Hume, improving each season, sure to have even more of a say in the outcome of the league.
Lentern A were the 'best of the rest' as they finished 4th followed in 5th and 6th by Thorpe Bay B and Rawreth B respectively. Matt Spero again had a fine season for Rawreth B and Thorpe Bay B's efforts this year owed much to the improvement in their players, none more so than Liam Squirrel who is unrecognisable from the player of a year ago. Lentern, under the watchful eye of Paul Brown have a very strong depth of squad and the key for them next year will be how often they can get their best team out.
The same could be said for 8th placed Rayleigh Mill who missed one of their star players, Peter Radford for much of the year. We look forward to welcoming Peter back to the table next season. The Millers were pipped to 7th by Brand Identity A, but finished a long way clear of 9th place Hullbridge B.
The three teams that can now stop looking over their shoulders, finishing the season in 10th, 11th and 12th are, respectively, Warehouse A, Hockley A and Hadleigh Forum A.
The two teams Relegated to the first division are Stanford-le-Hope and Hadleigh Forum B and both I'm sure will be better for their experience this year in the Premier division. In fact Stanford can feel unlucky to miss out as they only finished two points behind Hadleigh Forum A. In Rahul Sharma they have a player who is clearly at home in the top division as he recorded an average of over 60%.
Overall it has been another great season in what must be one of the strongest divisions in the country and all that remains now is for me to wish you all a good summer and we will resume our battle on the table (a ping pong ding dong if you will) in September.
Duncan Taylor Premier Div DRS
· Division 1
So another season comes to an end with a close finish and Promotion not decided until the final few games. Overall, the points are up on last year for most teams and looking back at my opinions/predictions, most have come true with a couple of notable exceptions.
The Season got off to its normal turmoil with two teams folding (Hullbridge D and Lentern D) and one of the bottom teams retaining their Divisions 1 status (Brand Identity B) to make up the shortfall, but still meaning that the Division was one short again with only 13 teams allocated.
The final positions show that Warehouse B are promoted as Champions with Hullbridge E taking the second spot. At the other end of the table, Hadleigh Forum C finished bottom and face the position of being relegated into Division 2.
Warehouse B have taken top spot with 135 points (18 points more than the previous season) with a team consisting of 4 main players, playing out of Selborne Road and will be joining their A team in the Premier next year. Mark Rudland was a new addition and played the bulk of the games finishing with a very creditable 89.83% average and third in the averages. Unusually, the team did not lead the table until week 19 and were mid table at the turn of the year. However, a great 2018 in which the team only lost once saw them surge to the top of the table, a position they never gave up. Of the other players Berti Makolli (56.60%) more or less the same as last year but with the notable scalp of Roy Thomas in the second half, Tony Millward (55%), and Tony Wright (44%) were the mainstays of the team. It will be interesting to see the amalgamation of the two teams in the Premier next year to see if they can both keep their positions.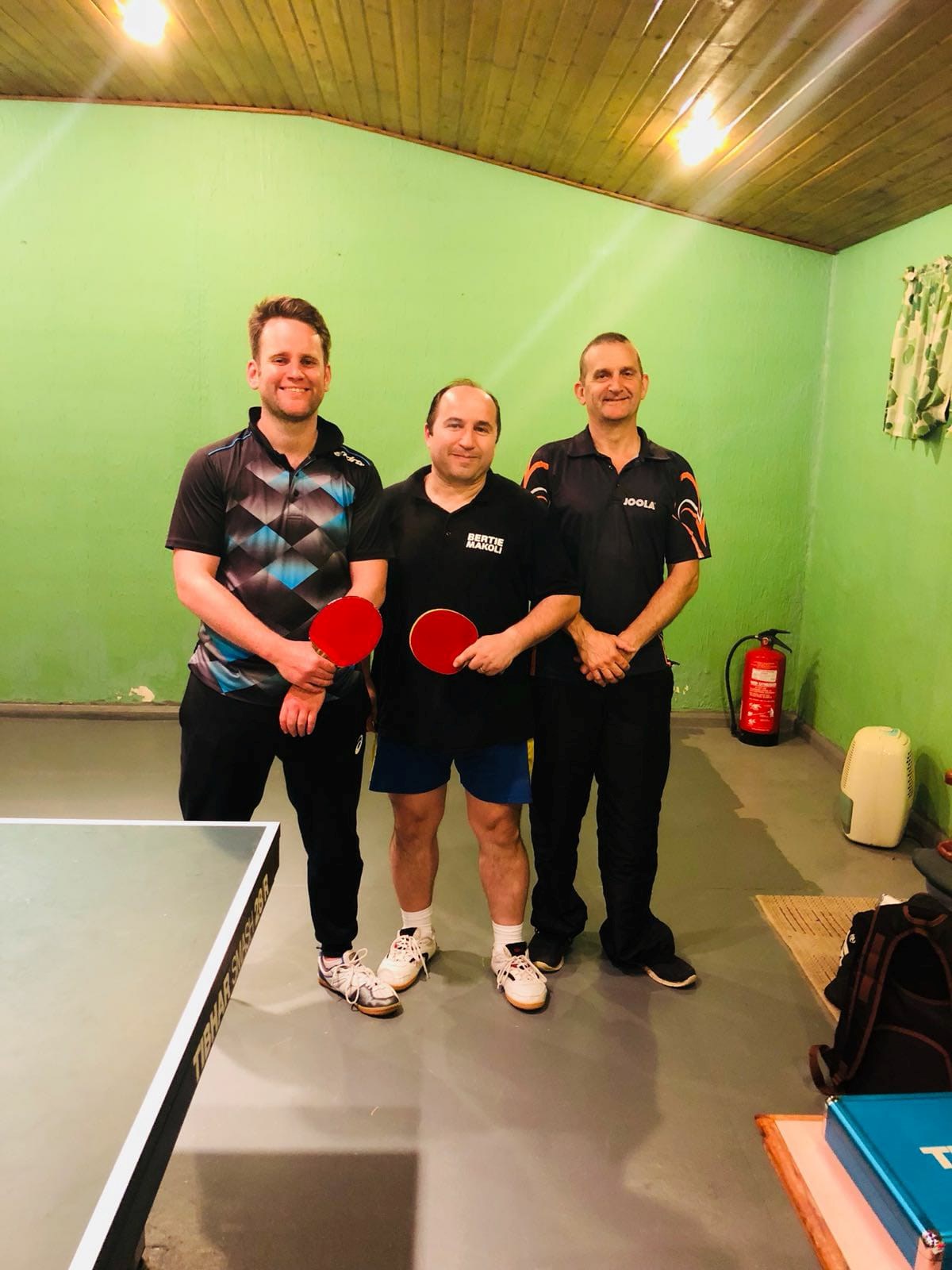 In second position was Hullbridge E, newly promoted champions from the previous year, who were never out of the top three positions for much of the season, finishing with 132 points. Hullbridge used a squad of 5 players with Will Skelt playing up for some games as well. Top of the player averages was Dan Zeffie (73.85%) and playing in the bulk of the games, followed by James Goddard (60%) playing only until mid-October, Adam Jackman (57.63%), Reece Harris-Griffiths (55.93%) and Daniel Young (50%) who played the bulk of his games in the Premier for the B side. Finally, Will Skelt (22.2%) played up when required for both the E and C teams from Hullbridge F in Division 2 and must be a player to watch in the future. Again, it will be interesting to see how the young team develops when playing in the Premier division and whether they can retain their position. The Summer League may be some indication as to how their fortunes will play out.
In third position, and with a great improvement over last season, was Lentern B with 130 points, same as Canvey, but winning more matches. With the addition of two players for this year, Peter Cranmer and Martin Archie, the team were never lower than 3rd position for the whole season and are unlucky to miss out on promotion by one point. The main player in the team was John Lott (73.61%) and POTM for nine times. Then came the two new players with Peter Cranmer (70%) and Martin Archie (66.67%), closely followed by Brian Spencer (62.5%). Paul Sims (20.83%) and Jan Fuller (25%) were the other squad players but also 5 other players were used from their lower teams, which in the end may have cost them the promotion they wanted, not winning any games by a 9-0 margin. However, next term with the same squad, they should again be a the top end of the table
Canvey A finished fourth, one place higher than last year, with 130 points (17 points more than last year) and again are the most consistent team. This year, the introduction of Harry Keys to the first team was a welcome boost and he ended the year with a 90.91% average and was second overall in the averages list. It may be difficult to keep hold of him for next year if he wants to play in the Premier. Ray Wilson (73%) was slightly down on last year, Terry Giddens (67%) finding some consistent form and up on last year, Peter Cray (46%) slightly down on last year and Phil Puckey (19%) not finding the consistency from the previous year were the players making up the rest of the team. I expect Canvey to pick up a top 6 finish next year even if they lose the services of Harry.
Hullbridge C finished in 5th place (one up on last year) with 122 points (8 more than last year). With 11 players being used during the season, consistency was the main problem with challenging at the top. With the season long injury to Bill Smith and limited games for Maxine and Richard Gill, it was left to two new faces in penholder Mike Johnston (71.79%) and Rod Maclennan (77.78%) to top the averages for the team. Of the other main players, Lin Roff (57.58%) was slightly down on the previous year, Andy Seaman (48.72%) was unable to find the previous season form, Matt Rolfe (50%) and Sid Dorn (33.33%) were the remaining team members. Will Skelt and Dan Zeffie both played up and did well to earn over 50% in wins. Again I expect this team to be in the top 6 next year.
The second team to gain promotion from Division two last year were Hockley C, who finished in an excellent 6th place with 113 points. At one point, the team were in second place and were third at the midway point but with indifferent play in 2018, losing more games than they won, dropped as low as 8th. Top average for the team was from enthusiastic Alex Barnetson (73.08%) with David Chenery (57.14%), both of whom were playing in Division 3 last year so have made great strides. Stuart Adshead (48%), Dan Patynski (39%) and Josh Copeland (39%) were the other players in the team. I would expect them to finish around the same position next year.
Customs A, who were relegated from the Premier division last year, finished in 7th Position with 107 points. At one point at the end of January, the team were lying in 3rd position but were unable to push on for promotion and steadily fell away. Roy Thomas contributed just under a half of those points and finished top of the Division 1 averages with 91.23% and 16 POTM awards. Brian Rackham (46%), Dave Morgan (32%) and Dale Gutteridge (25%) made up the rest of the team. I would expect this team to perform slightly better next year and could make a top 6 spot.
Next came Brand Identity B in 8th position and 103 points (31 points up on last year) thanks to a great second half of the season after lying second from bottom in mid-January. The bulk of the games were played by three players, with Mick Grout leading the averages on 62.69%, slightly up on last year, David Jacob (32%) and Sean McNabb (22%) both of whom were playing Division 2 last year having only just taken up the game. There were useful contributions from other Brand Identity players and a late signing in David Gatheral who won all 6 games and POTM in both of his matches. With the player improvement and strength in the finishing squad I would expect Brand to finish higher next year.
Rawreth C were unable to emulate their second position last year, finishing in 9th place with 101 points (18 points down on last year) using a squad of 7 players. New signing, Garry Hartgrove (68%) played consistently well and was supported in the main by Trevor Ward (57%), Colin Clements (38%), Gary McCarthy (33%) and John Blackman (22%), all down on last year apart from Trevor. Chris Aukett (50%) played in only two matches and Chris Nunn (33%) in only one due to other commitments. Sam Thompson played up from the lower team for one match and did well to win 2 out of his 3 games against Hullbridge C and with a 90% average in Division 2 showed that he may do well in this Division. Mike Worship, who was suffering from long-standing injuries and the use of an anti-loop bat, dropped out of the team to play in Division 2 this year. It is difficult to see much change in position for next year.
Another team who must be disappointed are Invicta A who finish in 10th place, after finishing 6th last year, with 94 points (15 down on last year). Since January, the team has been either in 9th or 10th place and unable to find any real consistency not being able to win more than two games in a row. Steve Marr (58%), Michael Piper (42%), Neil Daines (34%) were all down on their previous year percentages, and new signing Tony Ayliffe (34%) unable to make much impact although bettering his average from the previous year. On this form it will be another difficult year next year, but could finish anywhere between 6th and 11th.
Hockley B finish in 11th place, one place down on last year, with 84 points and once again flirting with the relegation positions all season. Dave Colwill again finished top of the averages with 85.71% but having 12 different players in the team at some point has not helped with the scoring. Joe Lock (35%), Dennis Squirrell (33%) but out with injuries most of the season, Craig Aukett (33%) and Keith Abbott (15%) were the main players with others filling in where necessary. Hockley are an evolving club and hopefully will be able to field a more consistent team next year which will improve their finishing position.
Lentern C are another team that have struggled to get out of the bottom 3 all year, holding bottom spot for 9 weeks and finally finishing in 12th for the second year running and 78 points for the season (6 points down on last year). With Peter Pond moving out of the area it may fall on Wayne Farmer to take on the team next year if they are to continue. With 6 experienced players in squad they could avoid the relegation position if playing to their potential. Pat White (52%), Peter Pond (46%), Mark Jupe (44%), Chris Crooks (40%), Sue Body (37%) and Dave Kirston (24%) make up the team averages. Possible improvement next year if playing to their potential.
Finally, it has been a hard year for Hadleigh Forum C due to availability and injuries. Finishing in last place with 75 points (34 points down on last year) next year could find themselves in Division 2 and looking to get back at the first attempt. Having said that, at the end of November the team were in 6th place and have only hit bottom spot on two occasions so must consider themselves unlucky and the football adage "too good to go down" seems to fit. With the bulk of the matches falling on 4 players, one of whom was Russell Bright (67%) who did not play due to injury after November (when they were in 6th), fulfilling fixtures was the main problem each week. The team was strongly supported by the Division 3 team of Satwant Gill, Dave Thomas and Tony Mace who have dropped down due to their own long-term injuries and so the problems were exacerbated as they were only able to add one point between them in the games played. The team only won one game since October leading to their current position and a potential drop into the lower division. Mark Everard (35%), Graham Farmer (32%) and Charles Yeung (49%) were the other main players.
Barrie Delf, Div. 1 DRS
· Division 2
The one remaining issue in the Division was settled this week. With Stanford Le Hope B losing 6 – 3 away to the Hullbridge F youngsters, Rawreth D took second place courtesy of a comprehensive 9 – 0 victory over their E team, thanks to maximums from Andy Nunn, Sam Thompson, and Caroline Cole.
Hullbridge F were too hot for Stanford thanks to a maximum from Will Skelt and two from Harrison Sadler. Will has had an excellent season and is a candidate for the Division 2 'Most Improved Player' award, while Ellena Hart's single win will boost her confidence. This is a team to watch for the future.
RESSC have proven too strong for most teams, losing only four matches. Having captured the signing of Mike Worship, returning to table tennis at this standard after a shoulder injury, they had a strong basis to build on. Skipper Rob Skews must take a lot of credit too, as does Ron Coutts. Mike only lost two matches all season and deservedly returns to the higher level. Ron has had his difficulties in the season, winning 4 Player of the Match awards, but also being involved in several close five-setters that often seemed to go against him.
In Sam Thompson, Rawreth D have unearthed a fine potential. Like Mike Worship, Sam only lost four times all season and he rightly tops the division's averages with 92.86%. Journeyman Colin Barham made a useful contribution throughout the season to lend support. A special mention should also go to young Bradley Nunn who played in three Rawreth teams during the season and managed to win half his games for the D team.
New boys Stanford Le Hope B were a credit in their first season in the division and played all their matches in a friendly and sporting manner. They were also magnanimous when narrowly losing out on a promotion place. Their star man was Adrian Armstrong, whilst their squad all contributed their part to a season they can be very proud of.
Wakering found a new prospect in Adam Deadman. Although he didn't play much in the second half of the season, he lost very few; even managing to do the double over his dad Andy from Rawreth E. Zac England had a very good season, as did Stewart Mills. The Wakering team's fourth place was their highest position to date in our league.
The Basildon Hospital squad is blessed with a depth of players. Skipper Kevin Smart returned a creditable 77% average, whilst Chudi Ukpaka got 86.67% from the thirty games he played. Clive Beauchamp, after being out with injury for over the six months, made a welcome winning return, winning all his matches in his side's 7 – 2 win over Canvey B. Errol Anderson and Mike Smith made useful contributions too.
Hockley D also had a fine season following their promotion from Division 3. Young Harry Sawford had an improving season and conducted himself excellently in all matches – another candidate for 'Most Improved Player'. Hockley's signing of James Spencer was a coop, bringing his experience of the division to good use for his new side. Veteran Paul Strutt also deserves a mention for his 'steady' 66% average.
The two Canvey teams flattered to deceive this season. Like several previous campaigns, the B team looked in contention at the outset. However, consistency let them down. A couple of times they have held the third-place spot, but eventually slid down the table. New signing Joanna Hills made an impact, but with injury to Tony Westwell limiting his appearances, the side chopped and changed. Lee McGonagle returned a respectable 63% average. The C team have a real find in new signing Andrew Murray. His 90.74% average was only bettered by Sam Thompson. This team would also have benefited from more stability using no fewer than ten players during the season.
Another team to draft in a new player during the summer was Invicta B. Andy Humphris made the transition from Warehouse and struggled to adapt at first. This team still suffers from a small squad, contrasting with the Canvey C position, and struggled to avoid one of the two bottom positions. Both Barrie Murphy and Mike Keeble played over 50 games each and would, no doubt, have loved to have had a rest at times.
Rawreth E have also struggled for consistency. Stalwart Andy Deadman returned a highly creditable 65.71% average and Botond Mezo also showed great promise. George Davis showed a large heart for someone of his diminutive stature and will shine in the future.
Finally, a special commendation must go to Runnymede who held the foot of the table all season. They were handicapped by injury and withdrawal but were never overwhelmed. They recorded two victories and were on the wrong end of a 5 – 4 defeat five times. Despite only returning after a leg injury at the end of the season, Dmitry Kisil's 66.67% average from the six games he was able to play in, bodes well for the up-coming season.
David Barnes Div 2 DRS
Divisions 3A & 3B
Here is my personal review of the season – you are entirely free to disagree!
Apologies to Jean Catley but Hadleigh Forum, with just a five man squad, have proved to be the team of the season winning Division 3 and then finishing second in Division 3A. The experienced Tony Mace and David Thomas were the backbone of the team but they found an emerging talent in Satwant Gill who has probably exceeded all expectations finishing with an average of 76% in Div. 3 and 72% in Div3A. With young Ashley Brett making up the squad they should be more than able to hold their own in Div 2 next season. Player of the Season – Satwant Gill
Canvey D with Talbot Wiseman, Gordon Johnstone and Geoff Banthorpe as their top players they pushed Hadleigh all the way in Div 3 both Talbot and Geoff finishing in the high 80's%, but they were hit with selection problems in Div 3A losing Geoff completely and their fourth placed finish reflects this. Congratulations to Talbot though for achieving an average higher than his age! Player of the Season – Talbot Wiseman
For Warehouse C, who I thought would have been a good bet to win Div 3, it turned out to be nearly but not quite in the first half of the season but a storming second half in 3A with eight straight wins and the title. A large squad of Jonathan Allen, Ro Brett, Conrad Gomes Tamas Mezo, Dave Walton, Simon Lisner and Graham Back may even have worked against them as Jon, Ro, Conrad, Tamas and Dave played the majority of games in 3A. Player of the Season – Dave Walton
Brand Identity C finished fourth in Div 3 and third in 3A so a good consistent performance throughout the year epitomised by the results of John Beddow who averaged 81% and 79% in the two divisions. Newcomer Andy Roff has improved consistently during the year and this team must be potential promotion candidates next season. Player of the Season – John Beddow
Hullbridge H are another side who, on paper, might have expected to achieve more than fifth position in Div 3 and seventh in 3A, but with Dave Booroff and Brian Farmer playing only half the number of games played by Tony Molisso, an inability to get their three best players out together consistently has cost them. Brian didn't play a match in 3A. Player of the Season – Tony Molisso
Hockley E enjoyed a good first half of the season finishing sixth in Div 3 but a run of three successive defeats at the end of the season in 3A dropped them to sixth out of nine. The team missed the steady influence of Brian Parker, out through injury in the second half, but their shining light was the ever improving Gary Linzell who remained consistent throughout finishing with averages of 84% and 76%. Player of the Season – Gary Linzell
Invicta C achieved a respectable seventh place finish in Div 3 but their form deserted them in 3A winning only one game and leaving them eighth out of nine. With Richard Verrinder, John Golding and Keith Baxter in their squad they would have expected to do better but Richard played very few games, Dave Youngman didn't feature at all in 3A and John and Keith have probably both had better years. Next season is all about getting regular appearances from all the squad. Player of the Season – Keith Baxter
A similar story emerges at Rawreth F where a ninth placed finish in Div 3 turned into a bottom of the table finish in 3A, despite them having two players, Jan Thorpe and Mike Nunn, who topped the averages in Divs 3and 3A never dropping below 90%. This inconsistency is all down to availability not just in the F team but in the teams above as Jan and Bradley Nunn both ended up ineligible for the F team due to their success in the E team. The potential is obviously there for Rawreth but their teams need careful planning next season. Player of the Season – Jan Thorpe
No shortage of players for Stanford Le Hope C who, as relative newcomers to Southend, can be happy with their season achieving ninth in Div 3 and fifth in 3A where one unfortunate points concession prevented them from finishing in possibly third place. They appear to be a growing club and with plenty of young blood in their team I feel they could be an emerging force next season. Player of the Season – Tony Papasifakis
A tenth placed finish for Hullbridge G put them into 3B for the second half of the season and this proved to be more successful for them finishing third just one point behind second placed Hockley F. Team selection was never going to be a problem for them as, after Janet Finch was lost to long term injury, they basically operated on a three man squad (apologies to Sue Reece and Ann Lane). Increasing their squad must be a priority for next season. Player of the Season – Sue Reece
An average season for Customs B in Div 3 finishing 11th turned into a title winning season in 3A as they won six out of their seven games. Amar Al-Soufi, Mark Rose, Dean Johnson and Richard Kidd provided the backbone of the team and Mark had a particularly good year finishing with averages of 78% in Div 3 and 88% in 3A. Player of the Season - Mark Rose
The youngsters of Hullbridge I finished 12th in Div 3 and 4th in 3A and should be happy with their season. It's all about improving for these boys and no doubt we shall see this next season having gained the experience of regular match play. Ben Hoskins finished with an average of 76% in Div 3 and 43% in 3A similar to Joseph Buscombe who achieved 66% and 45% respectively. Player of the Season – Ben Hoskins
Probably best to deal with Rawreth G and H together as they represent a large pool of youngsters and a lot of good potential. Robert Wood, Robert Bates and Harrison Creak emerged as the most successful with Robert Wood finishing with an excellent 66% in Div 3 and 75% in 3B. Player of the Season – Robert Wood
Hockley F have always provided a mix of young, and older but less experienced players, and accommodating them inevitably produces a lack of continuity. Finishing 14th in Div3 was probably expected but 3B provided a second placed finish and but for two defeats in the last two games could have given them the title. David Cross and Ben Cook stood out in both Divisions. Player of the Season – David Cross
Warehouse D came 16th in Div 3 and unfortunately, bottom in 3B so obviously plenty of room for improvement here. Another team with a large squad they had the benefit of several appearances from Graham Back in Div3 but he was not available in 3B. Player of the Season – Graham Back
Last season's wooden spoon holders Rochford Tennis Club unfortunately take that title again in Div 3 but their form did pick up in 3B to give them a 6th placed finish out of eight teams. John George and David Jenkins did the best for them. Player of the Season – John George
Paul Strutt Divs. 3A & 3B DRS

Author:
Ylber Makolli
via Southend Table Tennis League
Article Published:
Last Updated: