WEEK 11 REPORT WINTER LEAGUE 18-19
Week 11 Reports

Premier Division
Several notable man of the match displays this week, none more so that Eric Green's heroics to with his three games versus Hullbridge A. All in five sets, Green had good wins against Richard Brown, Dave Bowles and Stuart Gibbs to lead Rawreth B to a 7-2 win.

Next a man of the match display that was unfortunately not enough to take the spoils for his Warehouse A side. Martin Turner won his three games, but it was two wins a piece for Mark Rudland and Martin West alongside one for Berti Makoli that saw Warehouse B win this local derby which was played at the Warehouse Centre while the work at Bluehouse is ongoing.
A hattrick of wins for ace defender Richard Jackman aided by wins from Chris Jacob and Barrie Delf saw Brand Identity A over the line 6-3 against Hockley A. Matt Stringer was Hockley's best player on the night recording two wins.

Dave Bassett has found some good form leading into the festive period as his three wins helped Hadleigh Forum A beat Stanford le Hope 6-3. Bassett was ably supported by Hamish Innes with a brace and Neil Barker with one win.
The final two matches saw two of the league's top players dominate proceedings as Paul Sayer and Kieran Lally swept all before them for Thorpe Bay A and Hullbridge B respectively. Lally's trio of wins saw Hullbridge B overcome fellow club mates Hullbridge C 6-3 while Sayer won all three against Thorpe Bay B, Keiren Skeggs with the resistance for the Bay with good wins over Paul Whatton and Alex Abbott.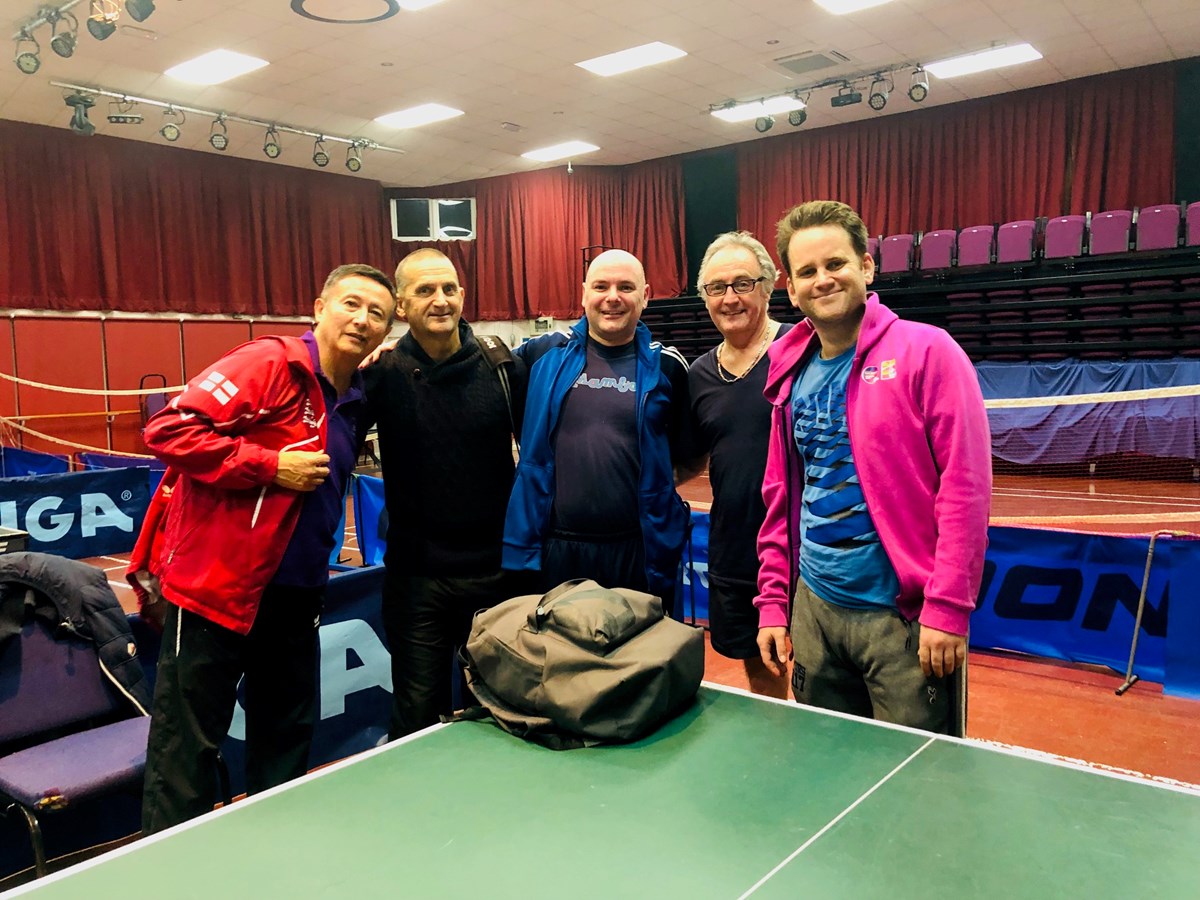 Division 1
Lentern A take the lead at the top of the table after a solid 9-0 win over Lentern B, which is the first of three derby matches this week. Martin Archie, Peter Cranmer and Elaine Sayer provided the A team with full points, with only one game going the distance. The unfortunate team on the end of this was the 'three P's', Paul Sims, Peter Lucraft and Pat White. This leaves the A team 3 points clear at the top with a game in hand and the B team 3rd from bottom.

Second-placed Hockley B were also involved in a derby with the Hockley C team and did not have things all their own way, winning 7-2 on the night. Alex Barnetson and Dave Colwill won 3 each to give the B team a solid start, but Josh Copeland was only able to win 1 on the night, losing two games to Callum Turner and Keith Abbott from the C team. Joe Lock was unlucky on the night, taking Dave Colwill to 5 sets, losing 11-8 in the final end. This leaves the C team 2nd from bottom.

Hadleigh Forum B moved into 3rd in the table, with a game in hand over Hockley B, following their 6-3 win over Invicta A. Tony Jacks led the way for Forum 'B' with a maximum as they retained their unbeaten record with a hard fought victory over an in form Invicta 'A' side that had won their previous 7 matches. Tony was ably supported by John Tendler with 2 wins and Mick Tappenden with 1 win in a good all round team performance. There were some very close games, none more so than the opener which saw the disciplined resilience of John Tendler up against the patience and controlled aggression of Steve Marr. The game swung one way to the other before Steve finally got home at 11/9 in the final end. Steve was also involved in a close game with Tony, but on this occasion was on the wrong end of a five-setter. Steve with 2 wins on the night plus 1 win from Michael Piper were the Invicta point scorers. No luck on the night for Tony Ayliffe. This was a great match played in a good spirit throughout and leaves Invicta a point behind in 4th place.

Hullbridge D returned to winning ways with a 7-2 win over Canvey A. Lin Roff was once again the POTM taking all 3 and was supported by Mike Johnston and Andy Seaman with two each. Andy Murray and Ray Wilson scored the two points for Canvey, leaving them comfortably in mid-table. Terry Giddens was the only player to lose out although did take Lin close in a 5 set game, as did Andrew Murray.

Brand Identity B lost their first game in 5 matches by a close 5-4 scoreline to Customs A. It was normal service resumed with Roy Thomas taking all three and Brian Rackham and Dale Gutteridge one each to complete the Customs scoring. Mike Grout scored two for Brand with Sean McNabb and David Jacob taking one each to leave both teams in mid-table.

In the final derby match this week, Rawreth D came out on top of Rawreth C by 6-3, and was helped by the C team only able to field two players for the match. Sam Thompson was unbeaten on the night and Simon Neale and Colin Barham added the extra points for the D team. Colin Clements put up stern resistance with two wins and John Blackman with 1 for the C team total. The win does still leave the D team at the bottom of the table where every point is counting to try for survival.

In the last match this week, the experienced heads (and bodies) of RESSC were able to overcome the youthfulness of Hullbridge E, winning by 7-2 and gaining some much needed points. Funny bats were the order of the day leaving the youngsters bewildered, with Kevin Smart taking three games and Mike Worship two, Bob Skews taking the final two points. Harrison Sadler and Will Skelt took one each for the Hullbridge team. Both teams are pulling away from the relegation dogfight and will need to gain more points to be safe as the first half of the season draws to a close.

Barrie Delf
Division 2
Stanford Le Hope B went the way of many other teams so far this season, losing 7 – 2 at home to Hadleigh Forum C. Again, it was hat tricks from ex. Division 1 players Paul Fawell and Mark Everard that did all the damage, with Graham Farmer chipping in with one win. Despite one victory each from former Forum man Russell Bright and Chris Crooks, there seems very little that can stop Forum this season.

Hat tricks from POM Saurabh Mohal and Conrad Gomes gave Warehouse C a comfortable 7 – 2 win at Runnymede. Johnathan Allen was responsible for their other point; whilst Tina Hutchinson and Barbara Shead shared the home side's points.

Biggest win of the week was Wakering's 9 – 0 home thrashing of Invicta B. Stewart Mills, Keith Fordham and Paul England were all far too strong for their visitors.

Not to be outdone, Hockley D also recorded this score in their home fixture against Rawreth F. Gary Linzell, POM Brian Bissenden and Paul Strutt didn't give Rawreth a sniff.

Hosts Brand Identity C recorded a useful 6 – 3 win over their visitors Canvey C. Kelly Yuenyongpknan was the home side's star turning in a POM performance. There were also two wins for Jenne Siebold, and one for John Beddow. Steve Robinson was Canvey's best player taking two victories, whilst Tony Molisso got their other win.
David Barnes
Division 3
Another week and another new team leads a topsy turvy Division 3 this season. While four of the top six teams battled it out taking points off each other and Hullbridge G slipped to defeat at Canvey, fifth placed Hockley E sneaked through by crushing their F team 9-0 to lead by one point from Customs who do have a game in hand. Just four points now separate the top six teams but there does now appear to be a gap appearing being a seven point difference before Hockley G appear in seventh.
Stanford D and Customs B, lying fourth and third respectively, not surprisingly fought out a very close match nip and tuck all night. With Customs not having been in front it all went down to the final game of the night and Dean Johnson just managed to clinch it for the Taxmen 11/7 in the fifth after Mark Farley had fought back from two sets down. A case of so near but so far-ley away! Dean and Richard Kidd both won two for Customs whilst Mark and Sami Hughes did likewise for Stanford. Alex Clark got Customs other point with a good win over Vaughan Chambers.
Last week's leaders Invicta C were at home to sixth placed Stanford C but slipped to their third and biggest defeat of the season 6-3. Martin Winter brought all the pre Christmas cheer to Stanford winning all his three ably supported by Max Russell with two and one for Peter Handscombe. Keith Baxter got two for Invicta with one for John Golding. Invicta slip to third whilst Stanford are up to fifth, exactly equal with their D team.
The new leaders Hockley E had to fight off some initially stiff resistance from their F team as the first two games went to five sets, but after that it was pretty much plain sailing for acting Captain Ben Cook and team mates Jason Stringer and Phil Pond who ran out 9-0 winners. Alwine Jarvis, Hermann Maier and Graham Gregory made up the F team. This is Hockley's first appearance at the top of the table this season but, like the teams who have gone before them, it won't last long as they are without a game next week.
Canvey D, with talisman Geoff Banthorpe back in hat trick action, came from 3-3 to win the last three games and pick up a 6-3 win against Hullbridge G. Gordon Johnstone won two and Ray Baker one for Canvey whilst the Hullbridge team of Sue Reece, Bob Shingleton-Smith and Ann Lane all picked up one each. Four games went to five sets in an enjoyable but tight encounter.
Hockley G just pipped Warehouse D 5-4 in a close match which saw a first ever hat trick for Hockley's Roger Sherman and a first ever win for young Jim Higgins of Warehouse. John George provided the other two points for Hockley and was only denied a third by Graham Back who came from two sets down against John to win 11/6 in the fifth. Jim got his first win against Rod Godfrey whilst it was fitting Roger clinched the match for Hockley beating Les Carroll in straight sets.
Player of the Week – Roger Sherman
Team of the Week – Stanford C
Paul Strout
Author:
Ylber Makolli
via Southend Table Tennis League
Article Published:
Last Updated: