Southend and Essex players in Veterans British League
HONOURS EVENS IN LOCAL DERBY MATCH AT VETERANS BRITISH LEAGUE
17th/18th September 2016, Derby Velodrome

The first round of the Veterans British League was held at the stunning venue of the Derby Velodrome over the weekend of 17th / 18th September 2016 with play taking place on 38 tables.
Two teams made up predominantly of Southend and Essex players plus a couple of old friends were drawn to play each other in Division 2B. A fascinating match between South Essex and Wirepoint Bulldogs ensued. From the 5 man squads South Essex fielded Keith Adams, Terry Guymer and Gary Young with Wirepoint selecting Kevin Caldon, Duncan Taylor and Chris Knight for this particular fixture.

The first match was between Gary Young and Chris Knight. A rapidly fluctuating attacking match was finally won by Gary for South Essex 12 - 10 in the fifth. Second up was Terry Guymer and Kevin Caldon. Terry took the first 11 - 9, but then Kevin got into his stride to take the next three games 11 - 6,11 - 6,11 - 6, levelling the match for Wirepoint.

Next up Keith Adams and Duncan Taylor. A compelling match of contrasting styles between Duncan's iron defence using a subtle variation of heavy chop, float and intermittent top spins and Keith's hard working forehand top spin loops. Some tremendous rallies ensued and the score could hardly have been closer with Keith winning the first two games at deuce 13 - 11 and 12 - 10. Duncan's determined resistance was finally broken by Keith's tenacious consistency winning the third 11 - 5. The three straight result was much closer than the score suggests.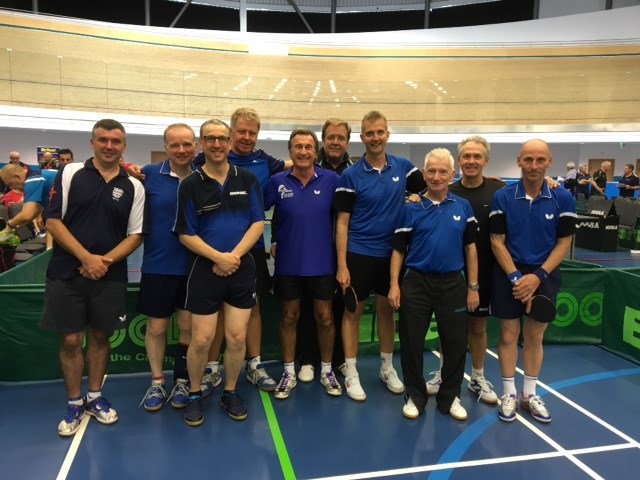 Fourth match featured Gary Young and Kevin Caldon. Although Gary played well Kevin was at his resolute best winning 11 - 4, 11 - 8, 11 - 9 levelling the overall match score at 2 all. The fifth match involved Keith Adams and Chris Knight. Once again Keith rose to the occasion,changed his usual style slightly by successfully backhand blocking Chris's top spins before following up with forehand winners and winning in 4 games. Match score 3 - 2 to South Essex.

Sixth and last match was between Terry Guymer and Duncan Taylor. Terry played extremely well but couldn't consistently penetrate Duncan's resolute defence. So the last match to Wirepoint and a final match score of 3 - 3.

So honours even in this local derby.(See what your reporter just did there!!)
Full Teams - South Essex(Terry Guymer,Keith Adams,Gary Young,Glenn Johnson and John Poysden) - Wirepoint Bulldogs(Kevin Caldon,Duncan Taylor,Chris Knight,David Bowles and Steve Green)

Match report provided by John Poysden.


Author:
Ylber Makolli
via Southend Table Tennis League
Article Published:
Last Updated: