SDTTL - 2015 HARD BAT CHAMPIONSHIPS
Sdttl 2015/6 – The Bill Smith Hard Bat Championships

7th November 2015 @ the Hullbridge Sports Association

21 players entered the Championships: Ben Cook, Bill Smith, Bruce Kettle, Craig Aukett, Dale Gutteridge, Daniel Anderson, Daniel Richardson, Dave Norris, Glenn Johnson, Harry Sawford, Ian Tuckey, John Lott, John Tendler, Kim Shead, Michael Piper, Paul Churn, Ray Farmer, Stuart Gibbs, Tina Hutchinson, Tony Ayliff & Tony Millward.

The Open was first off with matches played up to 21 points, with each match being 1 single game; with the Quarter Finals onward best of three. The 4 Quarter Finals saw Stuart Gibbs beat Dan Richardson: Bruce Kettle beat Craig Aukett; John Lott- a surprise win over Hard Bat expert Paul Churn and Glenn Johnson beat Kin Shead. In the Semi's Bruce Kettle won a close match in 3 sets, just outwitting Star player Stuart Gibbs, whilst in the other Semi Final Hard Bat stalwart Glenn Johnson beat John Lott. The Final was close with Bruce edging the first set 14-12, before Glenn got into a good rhythm Winning 12-14, 11-5, 11-7: a great performance by Glenn.

The Drawn Doubles saw a good final between Glenn Johnson & Tony Millward and Bruce Kettle & Junior Ben Cook. Ben played really well but in the end the experience of Tony and Glenn proved too much and they ran out Winners 4-11, 11-9, 11-7: a good day for Glenn.

The Plate Final was by no means the level one would associate with a Plate, with Premier Division players Dave Norris and John Tendler contesting a very close match: Dave running out Winner 8-11, 11-9, 11-9

Thanks goes to the magnificent effort by Bill Smith in running these Championships, doing almost everything, supported during the day by Glenn Johnson and Stuart Gibbs.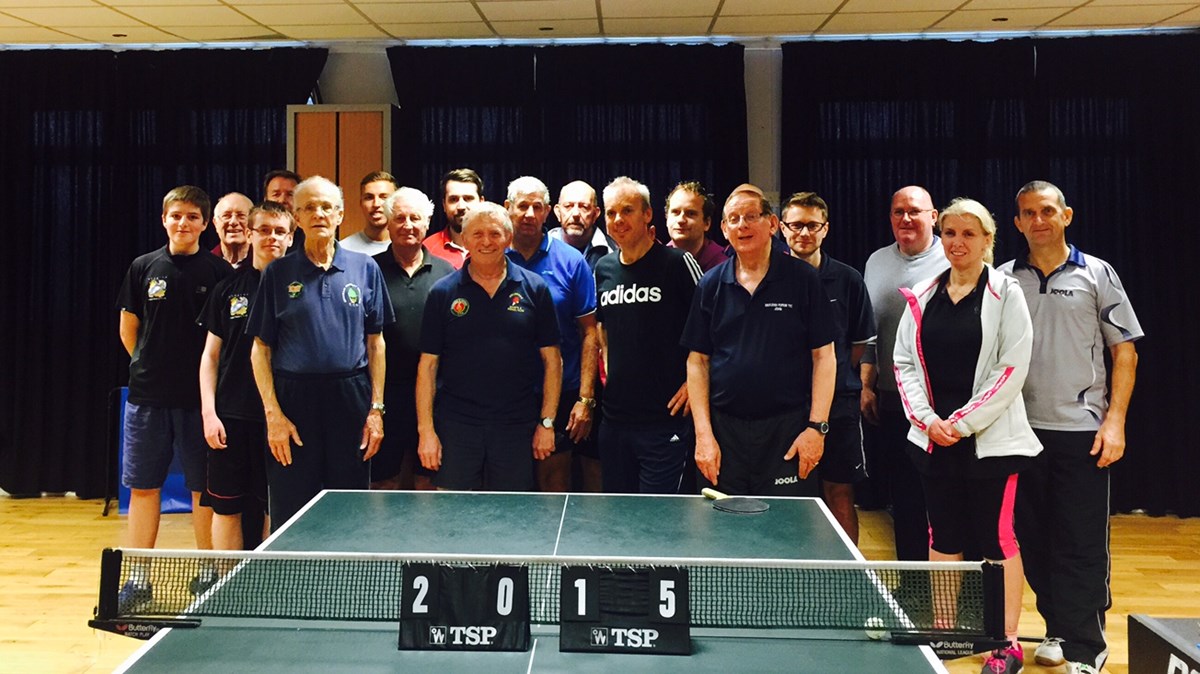 The evening was a Charity Night in aid of Keyhole surgery at the Cancer Unit at Southend General Hospital. It was run by John Lott, who sang 50s & 60s Favourites to a crowd made up of Table Tennis followers and families / friends and a large crowd from John Lott's Dance Club. A great evening which raised valuable funds for such a worthy cause. Our Thanks to John and guest singers Sue and Bill Smith, to Glenn Johnson for running the Raffle and to the Hullbridge Sports Association for once again providing us with the use of their superb facilities.


Ken Field

12th November 2015
Author:
Ylber Makolli
via Southend Table Tennis League
Article Published:
Last Updated: