Press Report - Week No 25 - 10th March 2014
Southend & District Table Tennis League
Winter League 2013-14 Season
Week 25 - Commencing 10th March 2014
Premier Division
A crucial week in the race for the title this week as Thorpe Bay A registered maximum points against Warehouse A with 3 wins each for John Monk, Mark Stones and John Poysden. This means that Thorpe bay A now find themselves 9 points ahead of nearest rivals Rawreth A who could only beat Thorpe Bay B 5-4. Rawreth A do have a game in hand and they will need to win that game handsomely if they are to keep pace with the leaders.

Elsewhere there were 7-2 wins for both Rawreth C over Hullbridge A and Runnymede A over Castle Point A. Simon Jacob played well to get two wins for Castle Point while in the same match Barrie Delf gave Stuart Gibbs a fright, finding himself 10-8 up in the fifth and serving. However as ever Stuart is never beaten until the fat lady starts singing and he managed to turn the game and win it 10-12.
Duncan Taylor, Divisional Results Secretary, Premier Division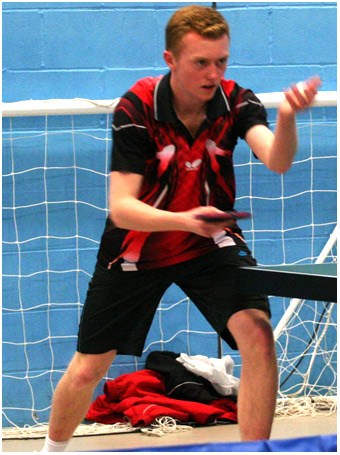 Division 1
"Customs A moved in to second place with a 7-2 victory over Lentern E. Roy Thomas was again in good form winning his three, whilst his team mates both earned two wins each to give them a good win. Hullbridge C are 3rd with a few games in hand on the teams above, and were involved in a close game with Hadleigh Forum A edging it 5-4. Andy Seaman was the star man on the night winning his three, which included a 17-15 5th set win over David Woolmer. Tony Jacks was Hadleighs best player with two wins on the night. Hadleigh Forum C picked up valuable points against a two man Lentern D side winning 5-4 and Warehouse B had a good result over the Lentern B side winning 6-3 respectively."
Andy Seabrook, Divisional Results Secretary, 1st Division
Division 2
A close match between Hockley B and Runnymede B finished as a 5 – 4 win for the home side. Tony Vassallo was again Hockley's hero, winning all three. A special mention should also be given to Liam Squirrall, playing up from Hockley C. He may have only one won game, but his 'scalp' of Runnymede's Phil Digby was a memorable one for the youngster. Paul Strutt won one for the home team, whilst Steve Giles managed two wins for the visitors.
The match between Warehouse C and Canvey C was much closer than the 7 – 2 score suggests, with the first 3 matches all going to 5 sets, and breakfast orders being considered. For Warehouse, Tarun Gaol scored a hat trick, backed up by a pair apiece from Darren Launder and Jonathan Allen. Peter Cray and Lee McGonagle won a point each for the visitors.
There was a rare away win for Castle Point C this week. Despite a maximum from Jan Thorpe for home side Rawreth D, two wins each from John Beddow, Colin Smith and Richard Riebold gave Castle a welcome 6 – 3 win,
Hat tricks from Mike Smith and Kieran Wood were the basis for Basildon Hospital's 8 – 1 away win at Hullbridge D. Bob Shingleton-Smith's single victory avoided the whitewash.
The youngsters of Hullbridge F recorded an excellent 5 – 4 win away to RESSC, despite a Ron Coutts hat trick. Two wins each for Zoe Davies and the improving Emily Smith, and one victory by Sam Fullick, settled the tie.
Invicta A came away from Hockley C with a 6 – 3 win, thanks to a maximum from David Barnes. Richard Verrinder won two and his son Sam Verrinder (playing up) had an excellent win. Hockley's points were shared equally by Dennis Squirrall, Keith Abbott and Paul Henlen.
David Barnes, Divisional Results Secretary, 2nd Division
Division 3
Wakering extended their lead at the top with a 6-3 win against second-placed Invicta B, and it now looks unlikely that anyone will be able to catch them. Dave Accleton, Nigel Cook and Cliff Noakes all won 2 each, while Sam Verrinder put up most resistance winning two for the home side. Warehouse D won by the same score against Hullbridge G, Steve Bottom, Phil Mardle and Chi Cheung again all won 2, but no-one was able to better Kieran Stanley who scored three for the Hullbridge side. Canvey D scored a convincing 9-0 win over Hockley E, Ray Baker, Ross Warner and Stuart Curham continuing their good form. Finally, Customs B scored a 5-4 win over Hockley D, Richard Kidd and Gaye Dean scoring two each with the decisive point scored by Mark Rose. Matt Nariel put up stubborn resistance remaining unbeaten for the Hockley side.

Barrie Delf, Divisional Results Secretary, 3rd Division
Author:
Ylber Makolli
via Southend Table Tennis League
Article Published:
Last Updated: