Closed Tournament 2017
ANNUAL CLOSED TOURNAMENT - Torbay Leisure Centre, 23.4.17
Another excellent turnout of over 50 competitors playing in 14 different events, providing a full days entertainment of top quality, competitive table tennis.
The South Devon & Torbay Table Tennis League sponsor, Albany Florists's Sonja Ryland, was there to present the awards to the winners as well as collect a few herself!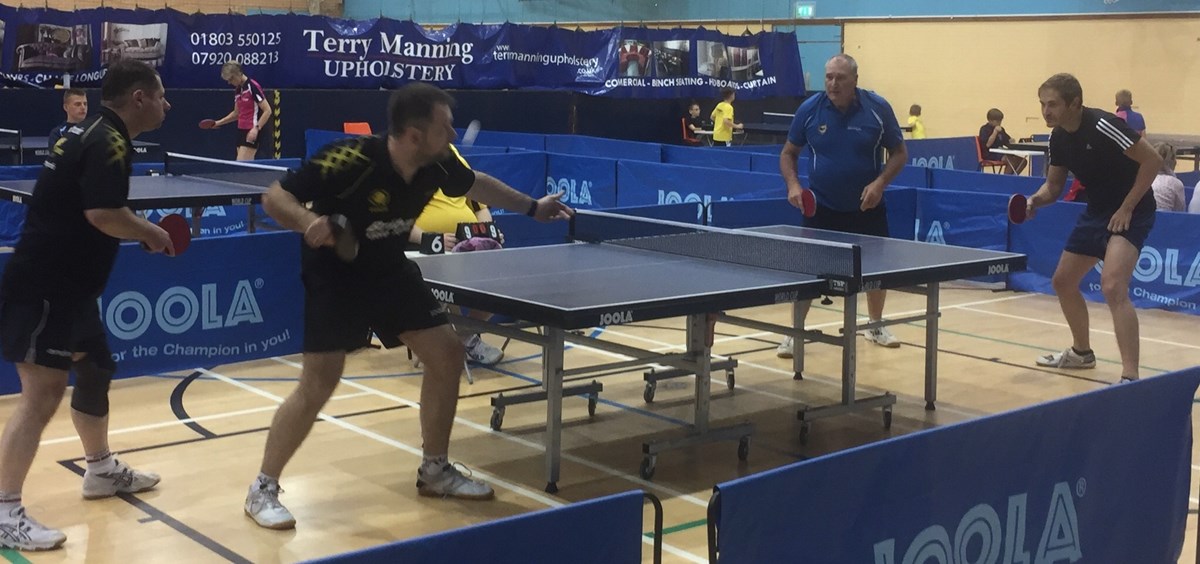 The Burton Cup (Open singles) was won for the fourth year running by Kris Piwowar. Group winners being Kris Piwowar, Patrik Cincala, Dennis Gibbs, Naomi Jackson, Jon Cheung, Dan Barnett & Adam Shipway. To reach the final Kris defeated Ben Hoare, Jon Cheung, and Dennis Gibbs. His opponent in the final was Naomi Jackson who had beaten Mick Mercer, Sonja Ryland and, the number two seed, Patrik Cincala. While Naomi had played exceptionally well to see off Patrik in the semi-final, Kris prevented Naomi getting her smooth attacking game going and comfortably won 11-1, 11-6, 11-7.
Burton Cup winner Kris Piwowar with League Sponsor, Sonja Ryland
Naomi did however retain her ladies singles cup, defeating league sponsor, Sonja Ryland in a repeat of the 2016 final. 12-10, 11-2, 11-6.
Ladies Singles winner - Naomi Jackson
The Mens Doubles was a hard hitting affair between the holders Patrik Cincala & Kris Piwowar and a new pairing of Dennis Gibbs & Jon Cheung. In an entertaining and competitive encounter Kris & Patrik retained their title for the fourth successive year winning 11-9, 12-10, 15-17, 11-9.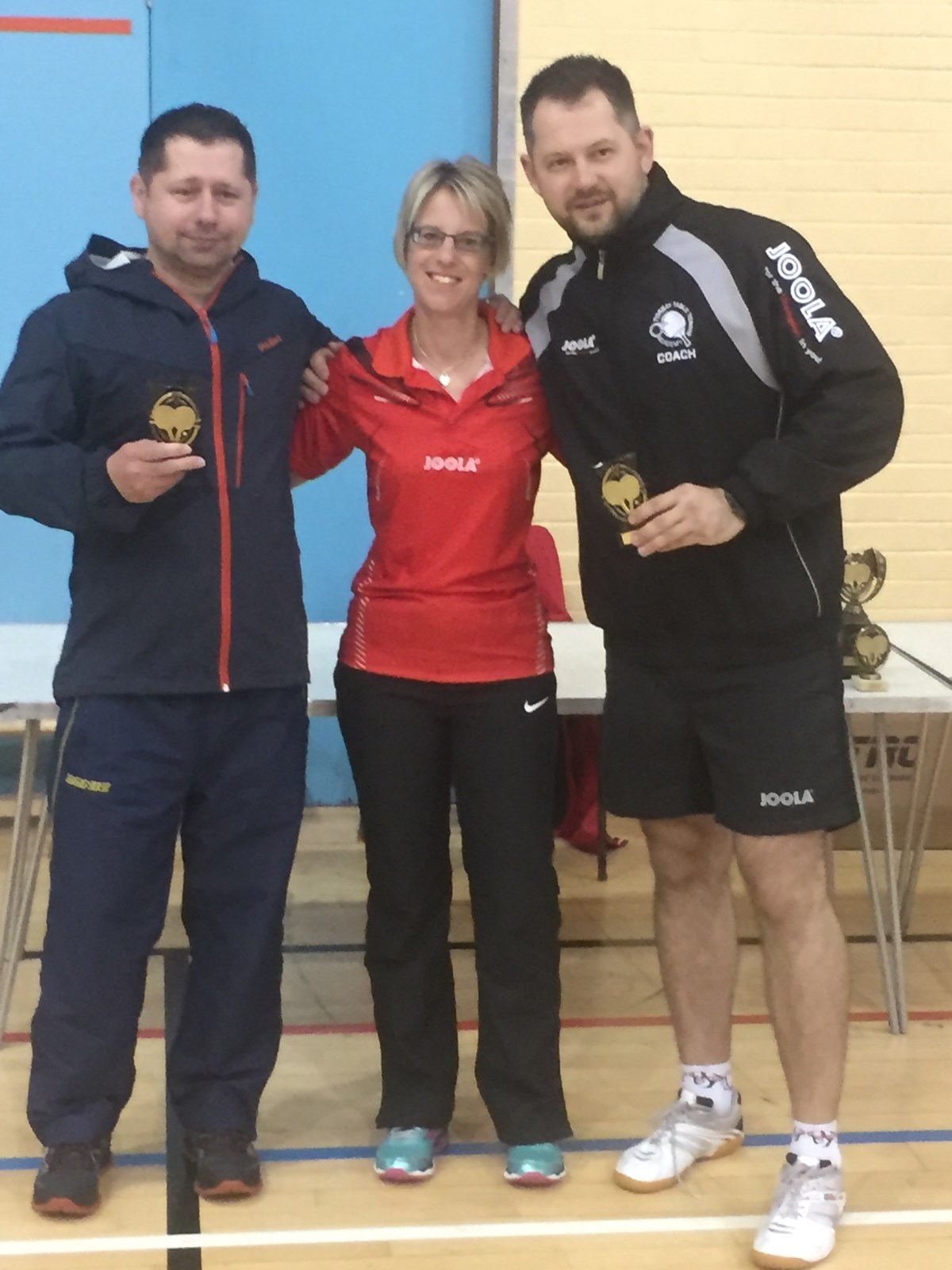 Men's Doubles winners Patrik Cincala & Kris Piwowar
In the Mixed doubles the younger pair of Naomi Jackson & Jon Cheung defeated the veterans, Sonja Ryland & Dennis Gibbs, 11-7, 8-11, 11-9, 11-7.
Mixed Doubles Finalists - Dennis Gibbs, Naomi Jackson, Sonja Ryland & Jon Cheung
The ladies doubles title was retained by Naomi Jackson & Sonja Ryland with Elsa Perry & Ann Marie Gibbs runners up.
Patrik Cincala retained his veterans cup with an 11-7, 11-4, 7-11, 11-4 victory over Dennis Gibbs and Dennis Gibbs retained his Super vets (over 60) with a straight sets win over Bob Parkins, 11-8, 11-8, 11-4.
The Junior events were dominated by 9 year old Jakub Piwowar who won the Under 11, Under 13 & Cadet age groups and was only very narrowly beaten in the fifth game by Michael Hernandez in the Junior (under 18) event. Jakub beat Lucas Bradshaw in the Cadet final and Rowan Bayliss in both the under 13 & under 11 age group finals. Rowan Bayliss collecting silver medals & Jakub's younger brother, Kacper Piwowar, picking up bronze medals, in both the under 13 & under 11 competitions.
Jakub Piwowar with two of his many awards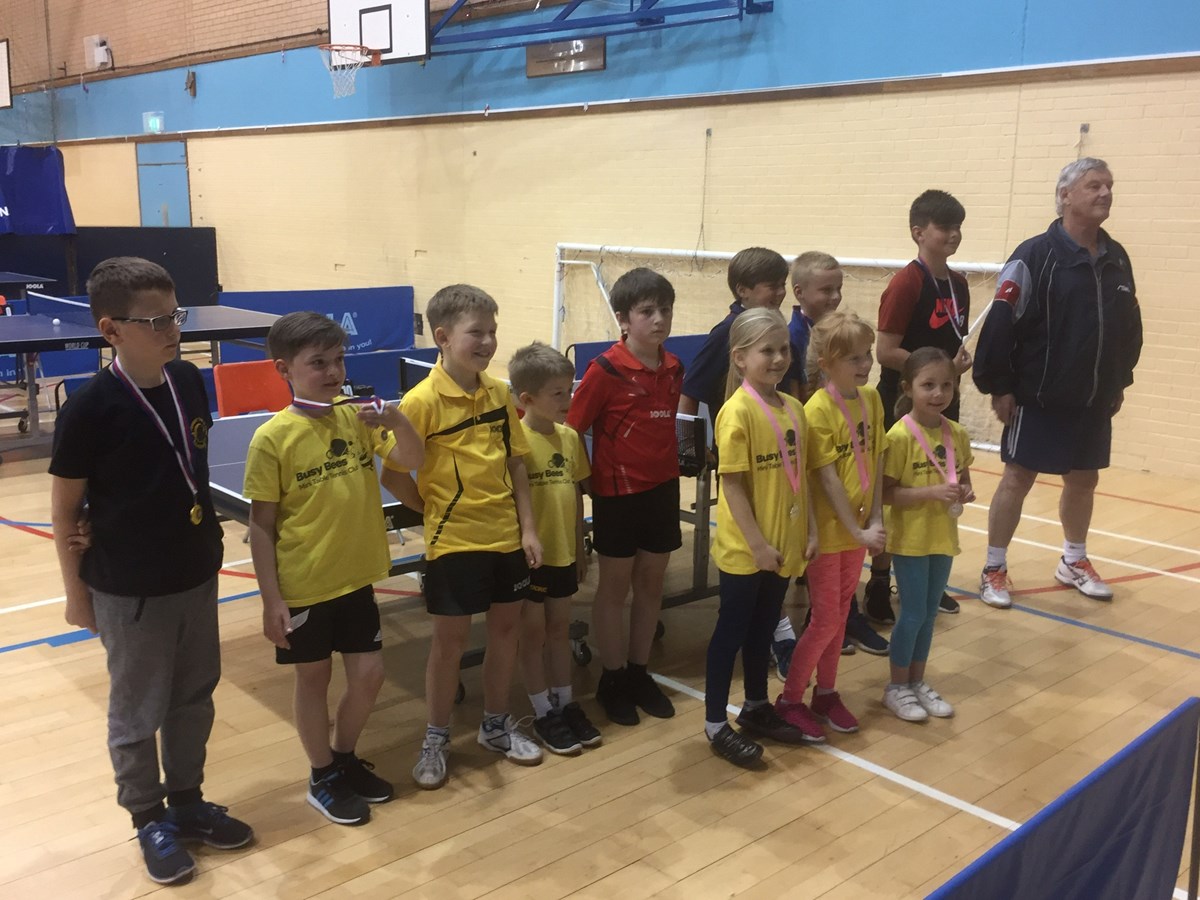 Under 11 & Under 13 competitors with League Chairman, Geoff Read
Not content with winning just the junior events, Jakub Piwowar went on to win the Division 3 singles event beating Ben Hoare in the final 11-8, 11-4, 11-4.
Dan Webster-Hall beat Michael Hernandez in the final of the Division Two singles 7-11, 11-4, 11-9, 11-6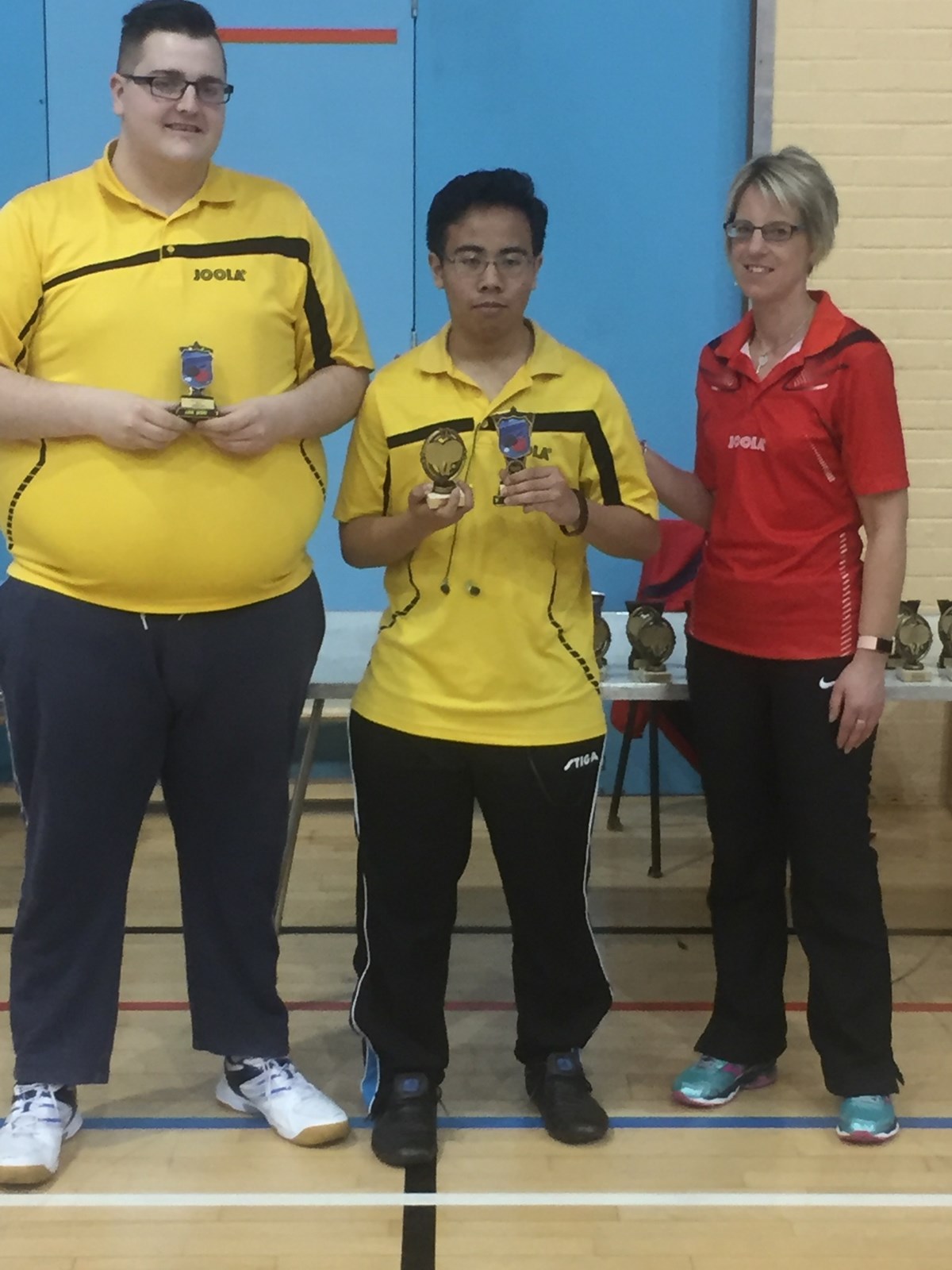 Division 2 winner & runner up - Dan Webster-Hall & Michael Hernandez
Author:
Tony Halse
via South Devon and Torbay Table Tennis League
Article Published:
Last Updated: