Press Report 8th Mar 2015
Robert Excell Photography-Sponsored South Devon & Torbay Table Tennis League
Brixham Sharks missed their opportunity to go top of the First Division with only a narrow 6-4 victory over NA Buzzards. Stam Kiouffis & Adam Shipway clinched the win in the final doubles over the battling Kelvin Cheung & Mike Kiff 4-11, 11-5, 11-7, 11-13. 11-9. NA Buzzards, with 2 games in 2 days, had another close match with Halwell, this time winning the final doubles to secure a draw, with Kelvin Cheung unbeaten for the Buzzards. Third placed NA Batmen had a comfortable 9-1 win over Brixham Trawlers; Nick Halse and Dennis Gibbs gaining maximums for the Batmen.
The top two in the Second Division couldn't be separated as Battlers and Taverners fought out a draw. Taverners at 4-2 down won 3 sets in a row to lead, but Battlers took the final doubles 11-9 in the 5th game to claim the draw and hold on to their 12 point lead at the top. Alan Tyrrell secured a maximum for the Taverners. Third-placed NA Eagles came across an inspired Oliver Slocombe as they scraped home 6-4 at Brixham against the Imports, yet another match decided in the final doubles.
Third Division leaders Denbury Tykes whitewashed Dawlish Drifters, while 2nd placed Dawlish Diamonds struggled to beat Brixham Rebels 6-4. The Tykes now lead the Third Division by 21 points. Brixham Diamonds had a good 8-2 win at Halwell with maximums from Keith Willams and Nigel Kane.
The Fourth Division is a really tight affair with 3 teams all taking turns to lead the table. This week's leaders are Torbay Academy IV following a comfortable 9-1 win over club mates Academy V. Previous leaders, NA Falcons, were given no favours by their club mates, the Hawks, as they were held to a 5-5 draw. Teign School students, Travis Graham & Joe Strickland joined forces for the Hawks in the final doubles to claim the draw 12-10 in the 5th game. Lee Passmore had a fine maximum for the Falcons and the scalp of the previously unbeaten Daniel Webster-Hall.
David Wills was the star for Torbay Academy III as they eased past Halwell 5-2 into the semi final of the Challenge Cup where they will play NA Buzzards.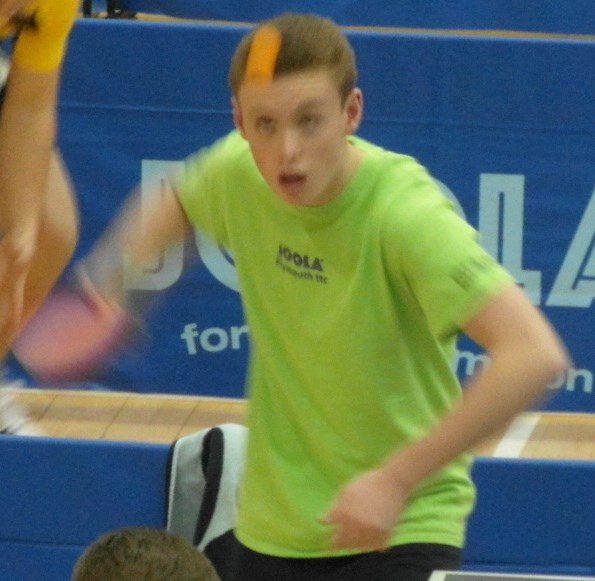 Oliver Slocombe, Brixham Imports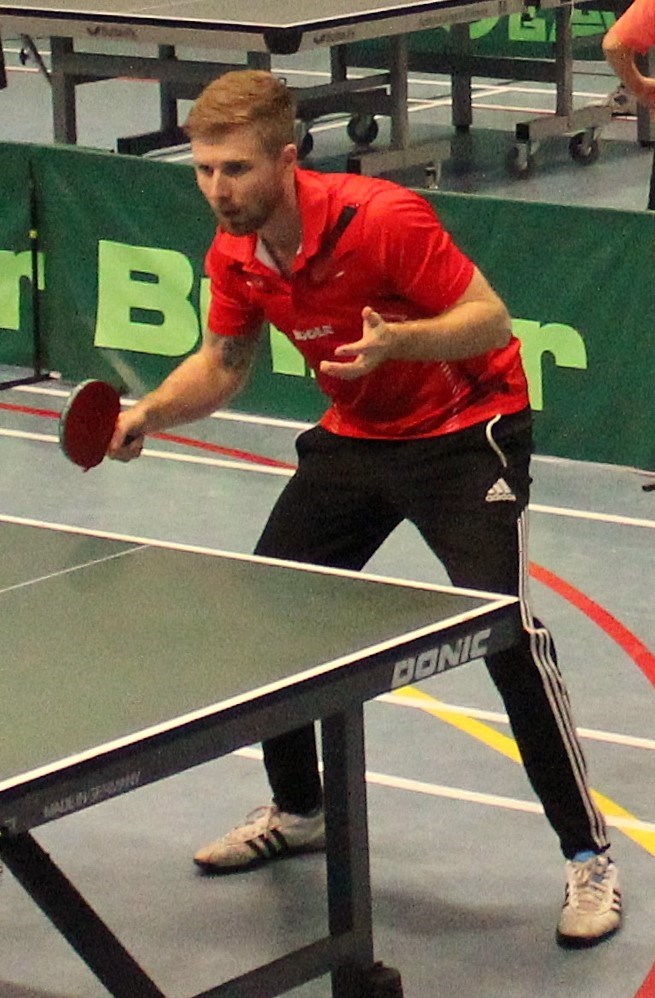 Lee Passmore, N A Falcons

Division 1
Brixham Sharks 6 (Kioufis 3, Shipway 2, Johns 0, Dbls) N A Buzzards 4 (Cheung 2, Kiff 1, Adams 1)
N A Buzzards 5 (Cheung 3, Adams 1, Tyrrell 0, Dbls) Halwell 5 (Wadling 2, Sugden 2, Atkinson 1)
N A Batmen 9 (Gibbs 3, Halse 3, Dummett 2, Dbls) Brixham Trawlers (Banham 1, Maynard 0, Williamson 0)
Division 2
Taverners 5 (Tyrrell 3, Read 1, Harrop 1) Battlers 5 (Thompson 2, Nicholson 1, Hawkins 1, Dbls)
Brixham Imports 4 (Slocombe 3, Haggerty 1, Beavington 0) N A Eagles 6 (Morgan 2, McIvor2, Long 1, Dbls)
Division 3
Dawlish Drifters 0 (Beck 0, Tudball 0, Beesley 0) Denbury Tykes 10 (Dilkes 3, P Darch 3, H Darch 3, Dbls)
Dawlish Diamonds 6 (Davies 3, Rabbage 1, Frain 1, Dbls) Brixham Rebels 4 (Friend 2, Munns 2, Parton 0)
Hasbeens 2 (Smallshaw 1, Fitzgerald 1, Alexander 0) Brixham Diamonds 8 (Williams 3, N Wilson 3, K Wilson 1, Dbls)
Division 4
Torbay Academy IV 9 (Lapa 3, Hollings 3, Bonfante 2, Dbls) Torbay Academy V 1 (Hoare 1, Neafcy 0, Brooks 0)
N A Hawks 5 (Graham 2, Webster-Hall 2, Strickland 0, Dbls N A Falcons 5 (Passmore 3, Bretagne 1, Stratton 1)
Challenge Cup Singles Torbay Academy III 5 v 2 Halwell
DIVISION ONE

Pos

Team

Pld

W

D

L

SF

SA

Pts

1st

Torbay Academy I

11

11

0

0

84

26

84

2nd

Brixham Sharks

11

10

0

1

82

28

82

3rd

N A Batmen

13

8

1

4

76

54

76

4th

Brixham Gulls

12

5

2

5

59

61

59

5th

N A Buzzards

12

3

4

5

54

66

54

6th

Dawlish Aces

11

4

3

4

52

55

58

7th

Halwell

12

2

3

7

46

74

46

8th

Brixham Trawlers

13

3

0

10

46

84

46

9th

Torbay Academy II

11

0

1

10

31

79

31
DIVISION TWO

Pos

Team

Pld

W

D

L

SF

SA

Pts

1st

Battlers

13

11

2

0

93

37

93

2nd

Taverners

13

8

2

3

81

49

81

3rd

N A Eagles

12

6

5

1

78

42

78

4th

Torbay Academy III

12

5

2

5

63

57

63

5th

Brixham Imports

12

4

0

8

57

63

57

6th

Brixham Pirates

11

6

0

5

51

59

51

7th

Marldon

11

4

1

6

50

60

50

8th

Brixham Swallows

12

2

1

9

37

83

37

9th

Marldon Tykes

12

1

1

10

30

90

30
DIVISION THREE

Pos

Team

Pld

W

D

L

SF

SA

Pts

1st

Denbury Tykes

12

11

1

0

105

15

105

2nd

Dawlish Diamonds

12

9

1

2

84

36

84

3rd

Torre Warriors

9

6

1

2

57

33

57

4th

Dawlish Drifters

12

4

2

6

52

68

52

5th

Hasbeens

11

4

1

6

49

61

49

6th

Brixham Rebels

10

3

2

5

47

53

47

7th

Brixham Diamonds

9

5

0

4

44

46

44

8th

Brixham Panthers

11

2

0

9

33

77

33

9th

Brixham Swifts

10

0

0

10

9

91

9
| | | | | | | | | |
| --- | --- | --- | --- | --- | --- | --- | --- | --- |
| DIVISION FOUR | | | | | | | | |
| Pos | Team | Pld | W | D | L | SF | SA | Pts |
| 1st | Torbay Academy IV | 11 | 8 | 2 | 1 | 74 | 36 | 74 |
| 2nd | N A Falcons | 10 | 8 | 1 | 1 | 71 | 29 | 71 |
| 3rd | Brixham Dolphins | 10 | 7 | 1 | 2 | 63 | 37 | 63 |
| 4th | Torre Nadoes | 10 | 4 | 1 | 5 | 56 | 44 | 56 |
| 5th | Torbay Academy V | 11 | 4 | 2 | 5 | 56 | 54 | 56 |
| 6th | N A Hawks | 10 | 4 | 3 | 3 | 54 | 46 | 54 |
| 7th | N A Kestrels | 11 | 2 | 0 | 9 | 36 | 74 | 36 |
| 8th | N A Owls | 11 | 0 | 0 | 11 | 10 | 100 | 10 |
Author:
Tony Halse
via South Devon and Torbay Table Tennis League
Article Published:
Last Updated: