Press Report 22nd Mar 2015
Robert Excell Photography-Sponsored South Devon & Torbay Table Tennis League
Torbay Academy I's 8-2 victory, over clubmates Academy II, put them back to the top of Division 1. The Academy side of Kris Piwowar, Patrik Cincala, Daniel Barnet & Grzeg Wojtowicz have won all 13 of their games so far this season, but only lead Brixham Sharks by a point; the two play each other this week.
The Battlers, Keith Hawkins, Peter Nicholson & Ed Thompson, can win the Second Division this week with a good win over the bottom side Marldon Tykes. The Tykes, although bottom, did pick up their second win of the season, beating Brixham Swallows 6-4.
The Denbury Tykes team of Martin Dilkes, Steve Metcalfe, Pat and Huw Darch, will be confirmed as champions of Division 3 this coming week if they win against Brixham Panthers. The Panthers, catching up with fixtures, had a draw against Hasbeens and a whitewash over club mates the Swifts, who are now destined for Division 4 next season. Hasbeens, with a Richard Fitzgerald maximum, also drew with Dawlish Drifters.
The Fourth Division leaders Torbay Academy IV have completed their schedule of matches early and lead the Division by 20 points, their final match being an 8-2 win over NA Kestrels; Kevin Bastow picked up the two points for the Kestrels, Jerry Hollings had a maximum for the Academy side. However NA Falcons will not give up the chase and came away from Torre Nadoes with an excellent 9-1 win and have three matches remaining to haul in the 20 points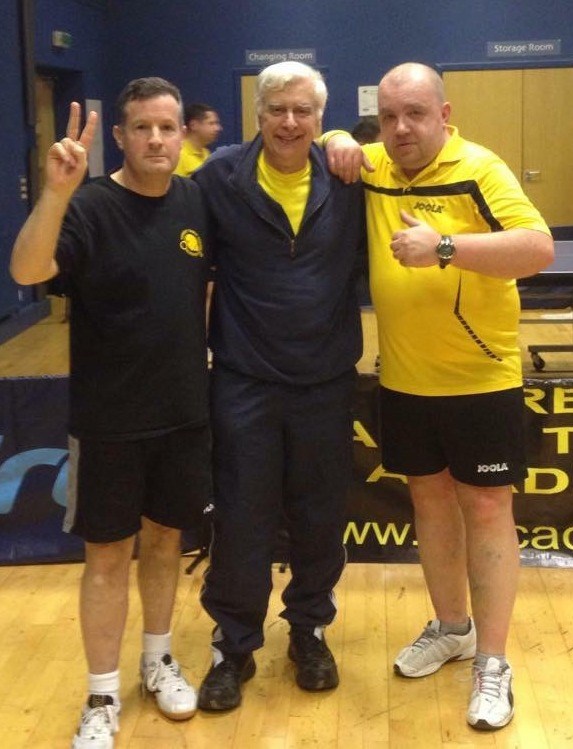 Torbay Academy IV - Jerry Hollings, Victor Bonfante, Karol Lapa
Unstoppable Torbay Academy I & Denbury Tykes are unbeaten in both the Singles and Doubles cups. In the Singles Challenge Cup the Academy I side just dropped 1 set as they brushed aside NA Hawks 5-1 in the ;quarter final, and will face Denbury Tykes in the semi-final, the other semi-final is between NA Buzzards and Torbay Academy III. In the Dyment Doubles Shield, Denbury Tykes saw off a battling Taverners side 5-2 to reach a semi-final against Torbay Academy: either Academy II or IV who play this week. Holders Torbay Academy I play Halwell this week to battle for a semi-final encounter against NA Falcons.
Division 1
Torbay Academy II 2 (Perkins 1, Hine 1, Furgol 0) Torbay Academy I 8 (Piwowar 3, Cincala 3, Wojtowicz 1, Dbls)
Division 2
Marldon Tykes 6 (Ayling 2, Garner 2, Hern 1, Dbls) Brixham Swallows 4 (Aaron Millman 2, Meah 1, Holmes 1)
Division 3
Brixham Panthers 5 (I Brown 1, K Salt 1, R Salt 0, Awarded 3) Hasbeens 5 (Fitzgerald 3, Alexander 1, Dbls 1)
Hasbeens 5 (Fitzgerald 3, Alexander 1, Smallshaw 0, Dbls) Dawlish Drifters 5 (McConnell 2, Beesley 2, Copley 1)
Torre Warriors v Brixham Panthers
Brixham Panthers 10 (R Salt 3, K Salt 3, I Brown 3, Dbls) Brixham Swifts 0 (Hodierne 0, T Andrews 0, Rodger 0)
Brixham Diamonds 4 (Williams 2, N Wilson 1, K Wilson 0, Dbls) Torre Warriors 6 (Holtham 3, Heathcote 2, Lush 1)
Division 4
Torbay Academy IV 8 (Hollings 3, Lapa 2, Bonfante 2, Dbls) N A Kestrels 2 (Bastow 2, Constantin 0, Short 0)
Torre Nadoes 1 N A Falcons 9
Challenge Cup Quarter Final
N A Hawks 1 v 5 Torbay Academy I
Dyment Doubles Quarter Final
Denbury Tykes 5 v 2 Taverners
DIVISION ONE

Pos

Team

Pld

W

D

L

SF

SA

Pts

1st

Torbay Academy I

13

13

0

0

100

30

100

2nd

Brixham Sharks

13

12

0

1

99

31

99

3rd

N A Batmen

14

8

1

5

79

61

79

4th

Brixham Gulls

13

5

3

5

64

66

64

5th

Dawlish Aces

13

5

3

5

60

70

60

6th

N A Buzzards

13

3

5

5

59

71

59

7th

Brixham Trawlers

14

3

1

10

51

89

51

8th

Halwell

14

2

3

9

50

90

50

9th

Torbay Academy II

13

0

2

11

38

92

38
DIVISION TWO

Pos

Team

Pld

W

D

L

SF

SA

Pts

1st

Battlers

14

12

2

0

101

39

101

2nd

Taverners

14

9

2

3

90

50

90

3rd

N A Eagles

13

6

5

2

80

50

80

4th

Torbay Academy III

13

6

2

5

69

61

69

5th

Marldon

13

6

1

6

64

66

64

6th

Brixham Imports

13

4

0

9

60

70

60

7th

Brixham Pirates

13

6

0

7

58

72

58

8th

Brixham Swallows

13

2

1

10

41

89

41

9th

Marldon Tykes

14

2

1

11

37

103

37
DIVISION THREE

Pos

Team

Pld

W

D

L

SF

SA

Pts

1st

Denbury Tykes

13

12

1

0

115

15

115

2nd

Dawlish Diamonds

13

10

1

2

91

39

91

3rd

Hasbeens

14

5

3

6

65

75

65

4th

Torre Warriors

10

7

1

2

63

37

63

5th

Dawlish Drifters

14

4

3

7

60

80

60

6th

Brixham Rebels

11

3

2

6

51

59

51

7th

Brixham Diamonds

10

5

0

5

48

52

48

8th

Brixham Panthers

13

3

1

9

48

82

48

9th

Brixham Swifts

12

0

0

12

9

111

9
DIVISION FOUR

Pos

Team

Pld

W

D

L

SF

SA

Pts

1st

Torbay Academy IV

14

11

2

1

100

40

100

2nd

N A Falcons

11

9

1

1

80

30

80

3rd

Brixham Dolphins

11

7

2

2

68

42

68

4th

Torre Nadoes

13

5

1

7

65

65

65

5th

N A Hawks

11

4

4

3

59

51

59

6th

Torbay Academy V

11

4

2

5

56

54

56

7th

N A Kestrels

13

2

0

11

42

88

42

8th

N A Owls

12

0

0

12

10

110

10
Author:
Tony Halse
via South Devon and Torbay Table Tennis League
Article Published:
Last Updated: