Press Report 8th Feb 2015
Robert Excell Photography-Sponsored South Devon & Torbay Table Tennis League
With the week set aside for the cup, just 4 League matches were played. Battlers edged nearer to the top of the Second Division with a comfortable win over the youngsters of Brixham Pirates. Keith Hawkins secured a maximum for the Battlers, with Ben Deakin collecting the two points for the Pirates. Battlers are nicely poised in 2nd place with a game in hand over top side NA Eagles.
Dawlish Drifters climbed up the Third Division table with a 7-3 victory over Brixham Panthers, with Don McConnell getting a maximum for the Dawlish side.
Brixham Dolphins go to the top of the Fourth Division following a convincing 8-2 win over NA Kestrels. With only 8 points separating the top 4 sides it is wide open. Torre Nadoes are in the mix at the top thanks to a whitewash over basement side NA Owls.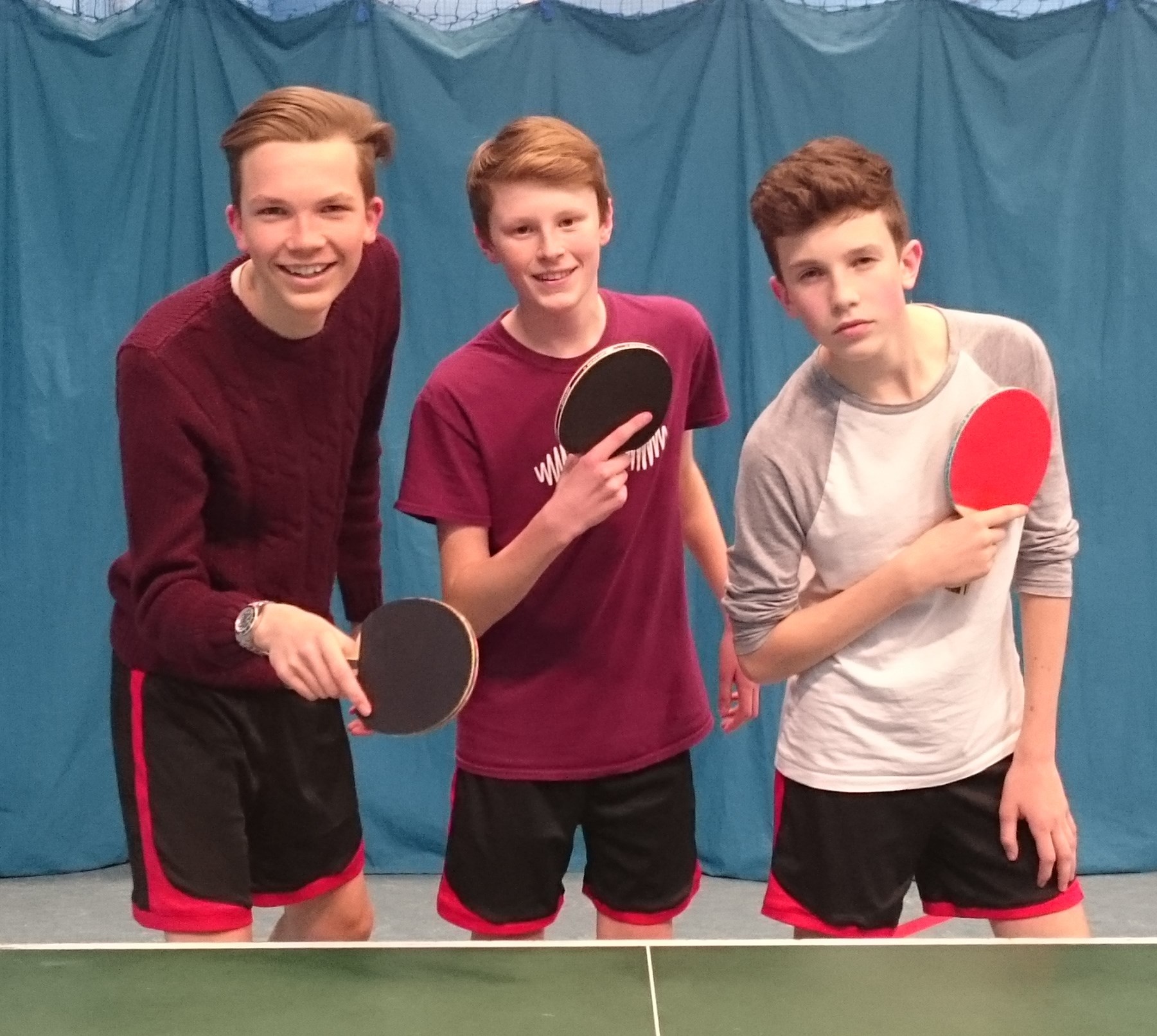 Torre Nadoes, Charlie Youd, Nathan Miller, Bertie Youd
Challenge Cup
Comfortable wins for Newton Abbot sides Buzzards 5-0 and Falcons 5-1, over N A Kestrels and Marldon, secured a quarter final tie against each other.
Dyment Doubles
Differing fortunes for the Dawlish sides in the Doubles cup as the Drifters were heavily beaten by Denbury Tykes, while the Diamonds came back from 3-1 down to defeat Torbay Academy V 5-3. Halwell also booked their place in the Quarter Final with a 5-1 victory over NA Kestrels
Division 2
Brixham Pirates 2 (Deakin 2, Mercer 0, Johns 0) Battlers 8 (Hawkins 3, Thompson 2, Nicholson 2, Dbls)
Division 3
Brixham Panthers 3 (R Salt 1, K Salt 1, A Brown 1) Dawlish Drifters 7 (McConnell 3, Copley 2, Beck 1, Dbls)
Division 4
N A Owls 0 (Abrahams 0, Hiles 0, Embury 0) Torre Nadoes 10 (C Youd 3, B Youd 3, Miller 3, Dbls)
Brixham Dolphins 8 (Gilpin 3 N Shipley 3, S Shipley 1, Dbls) N A Kestrels 2 (Robins 1, Bastow 1, Constantin 0)
Challenge Cup Singles
N A Kestrels 0 v 5 N A Buzzards
Marldon 1 v 5 N A Falcons
Dyment Doubles
Dawlish Drifters 0 v 5 Denbury Tykes
Dawlish Diamonds 5 v 3 Torbay Academy V
Halwell 5 v 1 N A Kestrels
DIVISION ONE

Pos

Team

Pld

W

D

L

SF

SA

Pts

1st

Torbay Academy I

10

10

0

0

76

24

76

2nd

Brixham Sharks

8

7

0

1

59

21

59

3rd

N A Batmen

10

6

1

3

59

41

59

4th

Dawlish Aces

10

3

3

4

46

54

46

5th

Brixham Gulls

9

4

1

4

44

46

44

6th

Halwell

10

2

2

6

40

60

40

7th

Brixham Trawlers

10

3

0

7

39

61

39

8th

N A Buzzards

8

3

1

4

35

45

35

9th

Torbay Academy II

9

0

0

9

22

68

22
DIVISION TWO

Pos

Team

Pld

W

D

L

SF

SA

Pts

1st

N A Eagles

10

4

5

1

64

36

64

2nd

Battlers

9

8

1

0

61

29

61

3rd

Taverners

9

6

1

2

57

33

57

4th

Torbay Academy III

10

3

2

5

50

50

50

5th

Brixham Imports

9

4

0

5

47

43

47

6th

Brixham Pirates

9

5

0

4

43

47

43

7th

Marldon

9

3

1

5

39

51

39

8th

Brixham Swallows

10

2

1

7

36

64

36

9th

Marldon Tykes

9

1

1

7

23

57

23
| | | | | | | | | |
| --- | --- | --- | --- | --- | --- | --- | --- | --- |
| DIVISION THREE | | | | | | | | |
| Pos | Team | Pld | W | D | L | SF | SA | Pts |
| 1st | Denbury Tykes | 9 | 8 | 1 | 0 | 77 | 13 | 77 |
| 2nd | Dawlish Diamonds | 9 | 6 | 1 | 2 | 63 | 27 | 63 |
| 3rd | Torre Warriors | 7 | 5 | 1 | 1 | 46 | 24 | 46 |
| 4th | Hasbeens | 9 | 4 | 1 | 4 | 46 | 44 | 46 |
| 5th | Dawlish Drifters | 9 | 3 | 1 | 5 | 37 | 53 | 37 |
| 6th | Brixham Rebels | 7 | 3 | 1 | 3 | 35 | 35 | 35 |
| 7th | Brixham Diamonds | 6 | 4 | 0 | 2 | 32 | 28 | 32 |
| 8th | Brixham Panthers | 9 | 1 | 0 | 8 | 25 | 65 | 25 |
| 9th | Brixham Swifts | 9 | 0 | 0 | 9 | 9 | 81 | 9 |
DIVISION FOUR

Pos

Team

Pld

W

D

L

SF

SA

Pts

1st

Brixham Dolphins

9

7

1

1

61

29

61

2nd

N A Falcons

8

7

0

1

58

22

58

3rd

Torbay Academy IV

8

6

2

0

55

25

55

4th

Torre Nadoes

9

4

1

4

53

37

53

5th

Torbay Academy V

9

3

2

4

47

43

47

6th

N A Hawks

8

3

2

3

42

38

42

7th

N A Kestrels

9

1

0

8

25

65

25

8th

N A Owls

10

0

0

9

9

91

9
Author:
Tony Halse
via South Devon and Torbay Table Tennis League
Article Published:
Last Updated: