Press Report 1st Mar 2015
Robert Excell Photography-Sponsored South Devon & Torbay Table Tennis League
With cup matches being played this week, only a handful of league matches were played. There was a close encounter in the First Division between 2 sides in the middle of the table, Brixham Gulls and NA Buzzards. The Buzzards, with Kelvin Cheung to the fore, came back from 4-2 down to clinch the draw in the final doubles, with the last 4 sets all going to the final deciding 5th game, and 3 of them going in favour of the Buzzards.
Kelvin Cheung, N A Buzzards
The Battlers increased their lead at the top of the Second Division with a convincing 8-2 victory over Brixham Imports, Ed Thomson gaining a maximum for the Battlers. NA Eagles had a fine 8-2 victory over the Pirates from Brixham, which keeps them in touch with the top two. Jim McIvor had a maximum for the Eagles with Holly Johns picking up the Pirates' two points. Torbay Academy III are closing in on the top 3 with a 7-3 victory over basement side Marldon Tykes, with Dave Wills & Paul Hine getting maximums for the Academy.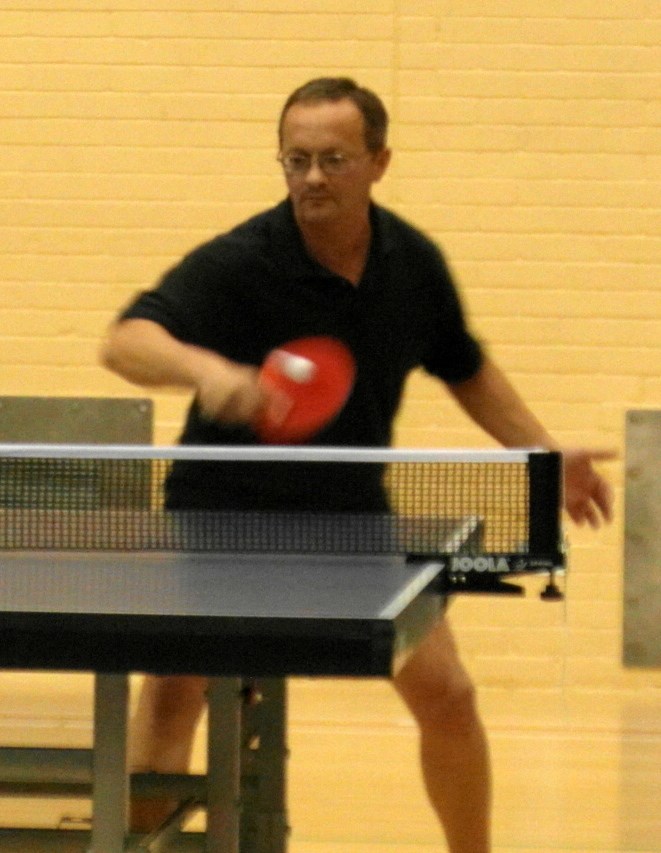 Jim McIvor, N A Eagles
In the battle of the Diamonds in Division 3, Dawlish overcame Brixham but it was very close. Dave Davies remains unbeaten for the season and he teamed up with Martin Charlesworth to take the final doubles and the match 6-4 to the Dawlish side.
Denbury Tykes, top of Division 3, had good wins in the cup over Brixham Rebels in the doubles and Taverners in the singles so are looking for 3 titles, as are Torbay Academy I who head the First Division and are also still in both cup competitions. The Academy's latest success was a 5-0 victory over NA Buzzards in the doubles. Taverners, who lost to Denbury Tykes in the singles, fared better in the cup doubles with a 5-1 win over NA Owls. NA Hawks came away from Torre with a 5-2 win against the Warriors in the singles cup and are looking forward to an encounter with the top First Division side, and current cup holders, Torbay Academy I in the quarter final.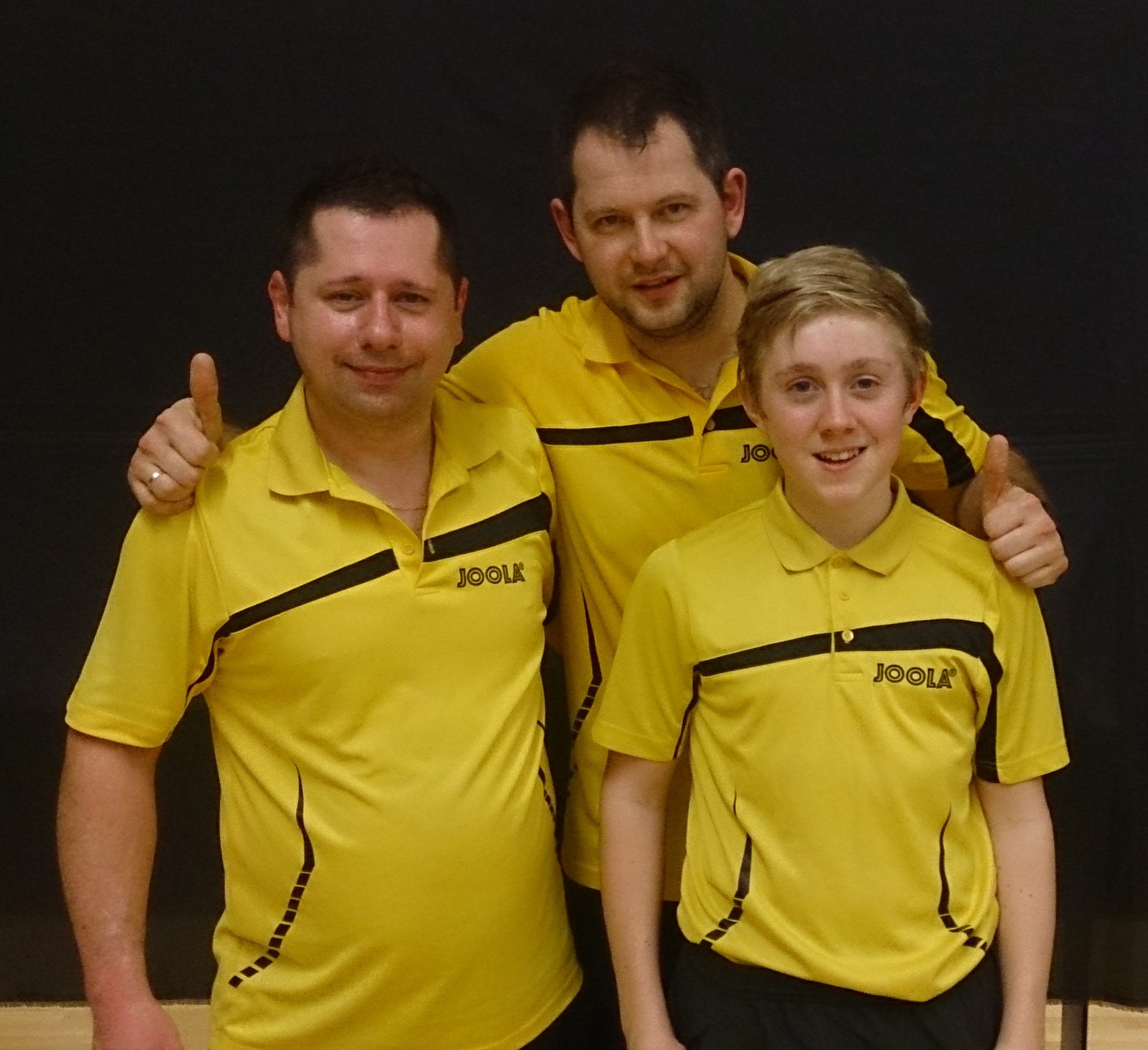 Torbay Academy I, Patrik Cincala, Kris Piwowar, Daniel Barnett
Division 1
Brixham Gulls 5 (Millman 2, Smith 2, Mercer 1) N A Buzzards 5 (Cheung 3, Adams 1, Tyrrell 0, Dbls)
Division 2
Battlers 8 (Thompson 3, Hawkins 2, Nicholson 2. Dbls) Brixham Imports 2 (Beavington 1, Stead 1, Haggerty 0)
Torbay Academy III 7 (Wills 3, Hine 3, Cincalova 0, Dbls) Marldon Tykes 3 (Ayling 1, Garner 1, Hern 1)
N A Eagles 8 (McIvor 3, Long 2, Morgan 2, Dbls) Brixham Pirates 2 (Johns 2, Mercer 0, Deakin 0)
Division 3
Brixham Diamonds 4 (Williams 2, N Wilson 1, K Wilson 1) Dawlish Diamonds 6 (Davies 3, Charlesworth 2, Freeman 0, Dbls)
Challenge Cup Singles
Torre Warriors 2 v 5 N A Hawks
Taverners 2 v 5 Denbury Tykes
Dyment Doubles
Taverners 5 v 1 N A Owls
Brixham Rebels 1 v 5 Denbury Tykes
N A Buzzards 0 v 5 Torbay Academy
DIVISION ONE

Pos

Team

Pld

W

D

L

SF

SA

Pts

1st

Torbay Academy I

11

11

0

0

84

26

84

2nd

Brixham Sharks

10

9

0

1

76

24

76

3rd

N A Batmen

12

7

1

4

67

53

67

4th

Brixham Gulls

12

5

2

5

59

61

59

5th

Dawlish Aces

11

4

3

4

52

58

52

6th

N A Buzzards

10

3

3

4

45

55

45

7th

Brixham Trawlers

12

3

0

9

45

75

45

8th

Halwell

11

2

2

7

41

69

41

9th

Torbay Academy II

11

0

1

10

31

79

31
DIVISION TWO

Pos

Team

Pld

W

D

L

SF

SA

Pts

1st

Battlers

12

11

1

0

88

32

88

2nd

Taverners

12

8

1

3

76

44

76

3rd

N A Eagles

11

5

5

1

72

38

72

4th

Torbay Academy III

12

5

2

5

63

57

63

5th

Brixham Imports

11

4

0

7

53

57

53

6th

Brixham Pirates

11

6

0

5

51

59

51

7th

Marldon

11

4

1

6

50

60

50

8th

Brixham Swallows

12

2

1

9

37

83

37

9th

Marldon Tykes

12

1

1

10

30

90

30
DIVISION THREE

Pos

Team

Pld

W

D

L

SF

SA

Pts

1st

Denbury Tykes

11

10

1

0

95

15

95

2nd

Dawlish Diamonds

11

8

1

2

78

32

78

3rd

Torre Warriors

9

6

1

2

57

33

57

4th

Dawlish Drifters

11

4

2

5

52

58

52

5th

Hasbeens

10

4

1

5

47

53

47

6th

Brixham Rebels

9

3

2

4

43

47

43

7th

Brixham Diamonds

8

4

0

4

36

44

36

8th

Brixham Panthers

11

2

0

9

33

77

33

9th

Brixham Swifts

10

0

0

10

9

91

9
DIVISION FOUR

Pos

Team

Pld

W

D

L

SF

SA

Pts

1st

N A Falcons

9

8

0

1

66

24

66

2nd

Brixham Dolphins

9

7

1

1

61

29

61

3rd

Torbay Academy IV

9

6

2

1

57

33

57

4th

Torre Nadoes

10

4

1

5

56

44

56

5th

Torbay Academy V

10

4

2

4

55

45

55

6th

N A Hawks

9

4

2

3

49

41

49

7th

N A Kestrels

11

2

0

9

36

74

36

8th

N A Owls

11

0

0

11

10

100

10
Author:
Tony Halse
via South Devon and Torbay Table Tennis League
Article Published:
Last Updated: