Press Report 30th Nov 2014
Robert Excell Photography-Sponsored South Devon & Torbay Table Tennis League
The League was put on hold for the week as the first round of the Team Handicap Singles Challenge Cup got under way.
Holders of the cup for the last 2 seasons, Torbay Academy I, led by Kris Piwowar, started the new campaign looking for their third title in a row and easily defeated their 4th side 5-0 in their opening match.
Taverners had an easy 5-1 win over Brixham Diamonds, as did Denbury Tykes over the Torre Nadoes, also 5-1.
A close encounter between Marldon Tykes and Brixham Panthers ended with the Panthers sneaking home 5-4, having been 4-3 down, thanks to a fine performance from Issy Brown winning her 3, and to Kevin Salt for holding his nerve and clinching the match with a final singles win over Frazer Warwick.
Dawlish Aces' Yannick Tushingham won all 3 in the Aces 5-2 victory over Torbay Academy. NA Falcons were convincing 5-0 winners over fellow 4th Division rivals Torbay Academy V, as were Torre Warriors who saw off NA Owls 5-0.
NA Eagles came up against an inspired George Breyley who led his Marldon team from the front, turning back the years, attacking really well, winning his 3 sets and helping his team win the match 5-3.
NA Buzzards had both Kelvin Cheung & Albert Gomez in fine attacking form against a battling Dawlish Drifters, the Buzzards winning the match 5-1.
Kris Piwowar, Torbay Academy I – attempting to lift the Challenge Cup for the 3rd successive year
Brixham Panthers' Kevin Salt - clinched victory for Panthers against Marldon Tykes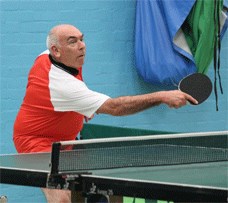 George Breyley – Inspired performance for Marldon
Of the two League matches which did take place, Brixham Pirates hauled themselves off the bottom of the Second Division with a 6-4 victory over Torbay Academy III, Brian Pengelly getting a maximum for the Pirates.
In the 3rd Division Torre Warriors came away from Brixham with a fine 8-2 win thanks to maximums from Peter Heathcote & Lewis Lavery.
Challenge Cup First Round
Torbay Academy I 5 v 0 Torbay Academy IV
Denbury Tykes 5 v 1 Torre Nadoes
Taverners 5 v 1 Brixham Diamonds
Marldon Tykes 4 v 5 Brixham Panthers
Dawlish Aces 5 v 2 Torbay Academy II
NA Falcons 5 v 0 Torbay Academy V
Torre Warriors 5 v 0 NA Owls
NA Eagles 3 v 5 Marldon
NA Buzzards 5 v 1 Dawlish Drifters
Division 2
Brixham Pirates 6 (Pengelly 3, Johns 1, Mercer 1, Dbls) Torbay Academy III 4 (Hine 2, Hastie 2, Perry 0)
Division 3
Brixham Panthers 2 (I Brown 1, A Brown 0, R Salt 0, Dbls) Torre Warriors 8 (Heathcote 3, Lavery 3, Holtham 2)
Author:
Tony Halse
via South Devon and Torbay Table Tennis League
Article Published:
Last Updated: