Press Report 26th October 2014
Robert Excell Photography-Sponsored South Devon & Torbay Table Tennis League
Match of the week in the top division was the encounter between Torbay Table Tennis Academy I and NA Batmen: the Academy side came out 6-4 winners with Kris Piwowar in top form winning all his sets comfortably, then teaming up with Patrik Cincala to clinch the match with victory in the final doubles. Brixham Sharks brushed aside Halwell 9-1, with Dave Wadlings' defeat of Jazmin Johns preventing a Sharks whitewash. Gulls overcame the Trawlers 6-4 in another close match as the two Brixham sides battled it out. At 1-4 down the Trawlers, aided by another Clive Banham maximum, fought back to 4-4 only to lose the last two.
Taverners stay at the top of the 2nd Division, but had to fight hard for their narrow victory over Torbay Table Tennis Academy III, whose Paul Hine secured another fine maximum. Hot on their heels are the Brixham Imports and the Battlers who both had 8-2 victories over the young Brixham Pirates team. Marldon Tykes overcame stablemates Marldon 6-4 in a thrilling encounter, although that score line looked unlikely when Marldon forged 4-1 ahead. The Tykes came back with Ayling defeating Glover 11-9 in the 5th followed by a 13-11 fifth set win for Ayling & Garner in the final doubles to clinch it for the Marldon Tykes.
In the 3rd Division, Torre Warriors had a fine 9-1 victory at Brixham against the Swifts, whose Richard Johns prevented the whitewash. Peter Heathcote and Rhys Lush gained maximums for the Torre side. Dawlish Drifters, helped by a Don McConnell maximum, defeated Brixham Panthers 7-3.
Torbay Table Tennis Academy IV's Karol Lapa produced a maximum to help his side overcome NA Falcons 7-3 in the 4th Division. Torre Nadoes were too strong for the inexperienced NA Owls winning 8-2, with both Robert Excell & Andrew Davies unbeaten for the Torre side.
Don't forget to email Alan Maynard with your entry for the Super Singles
Division 1
Torbay Academy I 6 (Piwowar 3, Cincala 2, Wojtowicz 0, Dbls) N A Batmen 4 (Gibbs 2, N Halse 1, Dunn 1)
Brixham Sharks 9 (Kioufis 3, Shipway 3, Johns 2, Dbls) Halwell 1 (Wadling 1, Atkinson 0, Sugden 0)
Brixham Trawlers 4 (Banham 3, Baron 1, Williamson 0) Brixham Gulls 6 (Millman 2, Mercer 2, Smith 1, Dbls)
Division 2
Battlers 8 (Thompson 3, Hawkins 2, Nicholson 2, Dbls) Brixham Pirates 2 (Deakin 1, Slocombe 1, Johns 0)
Torbay Academy III 4 (Hine 3, Hastie 1, Cincalova 0) Taverners 6 (Harrop 2, Tyrrell 2, Read 1, Dbls)
Marldon 4 (Glover 2, Holmes 2, Breyley 0) Marldon Tykes 6 (Ayling 2, Garner 2, M Hern 1, Dbls)
Brixham Imports 8 (Beavington 3, T Haggerty 2, Stead 2, Dbls) Brixham Pirates 2 (Deakin 1, Slocombe 1, Mercer 0)
Division 3
Dawlish Drifters 7 (McConnell 3, Beesley 2, Tudball 1, Dbls) Brixham Panthers 3 (I Brown 2, K Salt 1, A Brown 0)
Brixham Swifts 1 (Johns 1, Hodierne 0, Duckett 0) Torre Warriors 9 (Lush 3, Heathcote 3, Holtham 2, Dbls)
Division 4
N A Falcons 3 (Stratton 2, Bretagne 1, Nicotra 0) Torbay Academy IV 7 (Lapa 3, Hollings 2, Margett Smith 1, Dbls)
Torre Nadoes 8 (Excell 3, Davies 3, Ryan 1, Dbls) N A Owls 2 (R Bayliss 1, Embury 1, D Bayliss 0)
DIVISION ONE

Pos

Team

Pld

W

D

L

SF

SA

PTS

1st

TORBAY ACADEMY I

3

3

0

0

22

8

22

2nd

BRIXHAM SHARKS

2

2

0

0

18

2

18

3rd

BRIXHAM GULLS

3

2

0

1

15

15

15

4th

BRIXHAM TRAWLERS

3

1

0

2

15

15

15

5th

N A BATMEN

3

1

0

2

14

16

14

6th

HALWELL

3

1

0

2

12

18

12

7th

DAWLISH ACES

2

1

0

1

8

12

8

8th

N A BUZZARDS

1

0

0

1

4

6

4

9th

TORBAY ACADEMY II

2

0

0

2

2

18

2
DIVISION TWO

Pos

Team

Pld

W

D

L

SF

SA

PTS

1st

TAVERNERS

3

2

1

0

18

12

18

2nd

BRIXHAM IMPORTS

2

2

0

0

16

4

16

3rd

BATTLERS

2

2

0

0

14

6

14

4th

MARLDON TYKES

3

1

1

1

13

17

13

5th

TORBAY ACADEMY III

3

0

1

2

13

17

13

6th

N A EAGLES

2

0

2

0

10

10

10

7th

MARLDON

2

0

0

2

7

13

7

8th

BRIXHAM SWALLOWS

1

0

1

0

5

5

5

9th

BRIXHAM PIRATES

2

0

0

2

4

16

4
DIVISION THREE

Pos

Team

Pld

W

D

L

SF

SA

PTS

1st

DENBURY TYKES

2

1

1

0

15

5

15

2nd

HASBEENS

2

1

1

0

15

5

15

3rd

TORRE WARRIORS

2

1

1

0

14

6

14

4th

DAWLISH DIAMONDS

2

1

1

0

13

7

13

5th

BRIXHAM REBELS

1

1

0

0

7

3

7

6th

DAWLISH DRIFTERS

2

1

0

1

7

13

7

7th

BRIXHAM PANTHERS

2

0

0

2

6

14

6

8th

BRIXHAM SWIFTS

3

0

0

3

3

27

3

9th

BRIXHAM DIAMONDS

0

0

0

0

0

0

0
DIVISION FOUR

Pos

Team

Pld

W

D

L

SF

SA

PTS

1st

BRIXHAM DOLPHINS

2

2

0

0

16

4

16

2nd

TORRE NADOES

2

2

0

0

15

5

15

3rd

TORBAY ACADEMY IV

2

2

0

0

14

6

14

4th

TORBAY ACADEMY V

2

1

0

1

13

7

13

5th

N A FALCONS

2

1

0

1

10

10

10

6th

N A KESTRELS

2

0

0

2

6

14

6

7th

N A HAWKS

1

0

0

1

3

7

3

8th

N A OWLS

3

0

0

3

3

27

3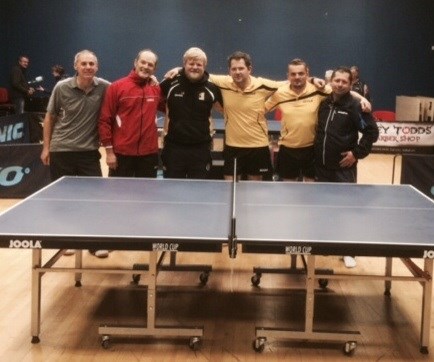 N A Batmen and Torbay Academy I after the Academy's 6-4 victory
Chris Dunn, Dennis Gibbs, Nick Halse, Kris Piwowar, Grzegorz Wojtowicz, Patrik Cincala
Brixham Imports' Geoff Beavington with a maximum against Brixham Pirates in Division 2
Author:
Tony Halse
via South Devon and Torbay Table Tennis League
Article Published:
Last Updated: