SEVENOAKS ANNUAL CLOSED CHAMPIONSHIPS 2018
RUNNING BATTLES DEVELOP DESPITE LOW ENTRY
The entry for this year's Annual Closed was disappointing, down on last year, although it was good to see some new faces entering for the first time. There was plenty of action as players strove to make the finals.
DAY 1 – DOUBLE FOR NEWBIE JED BAULCH
The Saturday is always the day for Juniors and players with a rating of Under 1600.
Under 1300 Rating Singles (The Lakedale Tools Trophy)
The day traditionally begins with this event. There were four groups of four with Richard Cowling (Otford) as top seed and Steve Fuller (Darenth) as the second. Group 1 contained both members of the Cowling family, Dad Richard and son Tommy who both qualified with Dad only scraping home 18-16 in the fourth against his son. Fuller qualified from Group 2 along with the youngest player in the event, Amherst's Felipe Fujimori who had a good win over Tandridge's Matthew Woodgate to grab the second qualification spot. Group 3 threw up a battle with both Joy Grohmann (Bromley Common) and Paul Lipscombe (Darenth) having one win apiece so it came down to whether Lipscombe could beat Massimo De Santis (South Croydon). It was some tussle with Lipscombe pulling through in four 16-14, 10-12, 18-16, 13-11, possibly the highest scoring set of the day. It was therefore Lipscombe and Grohmann who qualified. There was a late withdrawal in Group 4 which meant both Terry Edwards (Bromley Common) and Ben Forrester (Darenth) went through, the only question being who went into which half of the draw. Richard Cowling duly made his way through to the final having survived a bit of a wobble in the quarter final against Grohmann, wriggling home 16-14 in the fourth and then beating Edwards in four after dropping the first in the semis. Lipscombe put paid to any hopes Tommy Cowling might have had of meeting Dad in the final and then played Fuller in the semis who had put out Forrester to get there. There is a history of lengthy five game sets between these two and this was no exception. Lipscombe led 2-0 but was pegged back to two games all before skating away with the fifth. Lipscombe took charge from the outset in the final, defending well and Cowling found him difficult to break down.
Junior Singles (Junior Challenge Cup)
There was a lower than usual entry for this event but still sufficient entries to run two groups of four. Henry Morrell (Darenth) was top seed with club mate Tommy Cowling as second seed. While Morrell was favourite to qualify and duly did so, winning all his matches in straight games, it was therefore between Matthew Woodgate (Tandridge) and Ben McKay (Amherst) who took the second place. It was only after a titanic battle that Woodgate got through in five games. The second group was strong with Tommy Cowling leading the charge. Jed Baulch (Cleeve Park), Thomas Byrne (Tandridge) and Oscar Owen (Amherst) completed the group. A running battle was to develop between Cowling and Baulch and it began with Cowling beating him in five. He had his problems with Byrne too but still finished top of the group. Baulch had his tribulations with Owen as 11-9, 12-14, 11-7, 15-13 shows. In the semis Cowling had a straight forward win over Woodgate but the second produced a very good set which Morrell might have had as he only lost the third 13-15 and took the fourth before having to give best in five. The final was a lengthy affair with Baulch leading 2-1. Cowling responded taking the fourth 12-10. Baulch got a flyer in the fifth with several favourable "nets" at an early stage and there was no way back for Cowling with more coming later in the game.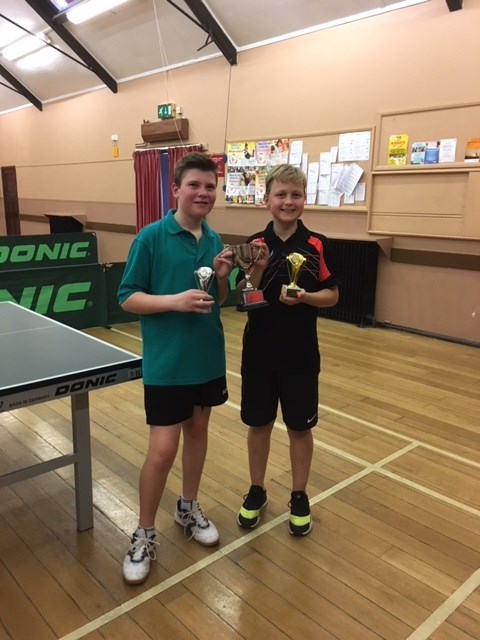 Under 1600 Rating Handicap Singles (Bonnie Johnson Trophy)
This is a very popular event as a rule and generally produces some entertaining play. Sets are best of three games up to 21 with five serves each. In the top half quarter finals Peter Duke (Plumstead Radical) defeated Lipscombe despite giving away 6 and Tommy Cowling put out Grohmann from +7. In the other half of the draw, Baulch was making his way through via +9 from Edwards, +12 from Sarah Maris (Otford), both in three games and a straight games win over De Santis from +7 to reach the final. As so often happens in the final, it was just a single point start. Baulch stormed away from Cowling at the outset and took it in straight games.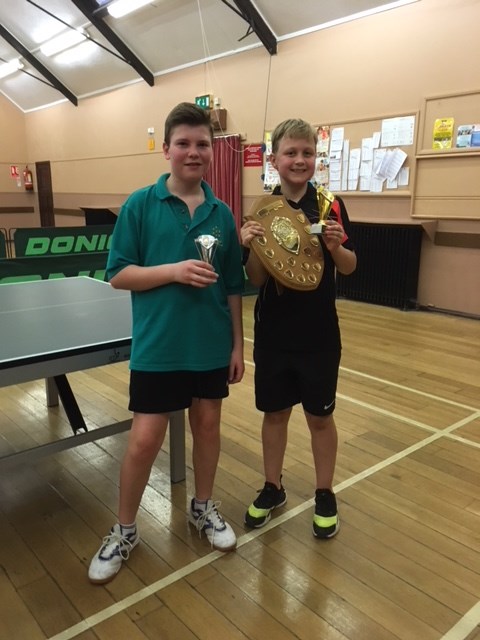 Under 1600 Rating Singles (The Donnington Trophy)
There were only eight players in this event and, in view of time constraints, was played as a straight knockout. Bryan Taylor (Cleeve Park) put out De Santis, Duke defeated Fuller, Sam Porter (South Croydon) beat Vladimir Shadrunov (Cleeve Park) in four and Maris received a walk over. The line up for the semi finals was thus Taylor v Duke and Maris v Porter. Taylor was looking a little weary in his semi but got past Duke in straight games. Porter likewise came through his semi against Maris and cruised past the now exhausted Taylor to claim the title.
DAY 2 – TRIPLE TRIUMPH FOR MARTIN TATE
Traditionally this is veterans Day with both the Over 40s and Over 60s competing during the morning with the Open events and Major Handicap being played later.
Over 40 Singles (Veterans Championship Shield)
The day began with the Over 40 Singles where there was a small but very strong entry competing in four groups of three with only one to qualify for the next round. Richard Beckham (Crownwoods) was top seed with Dave Walkley (Bromley Common) and Dave Bonner (Darenth) in his group. Beckham duly qualified but there was a very fine five game set between Walkley and Bonner resulting in a win for Bonner. Martin Tate (Otford) was second seed and came through his group comfortably. Nick Smith (Teen & 20) was the most likely to emerge from his group and did so while Ming Majoe (Teen & 20) only had to play one person, Duke, to get his place in the semi. Beckham certainly had his work cut out to earn his place in the final as he was given a real run for his money by Majoe as 9-11, 11-6, 11-6, 8-11, 12-10 would suggest. He was to face an equally stern test by Tate who had to go to four games to beat Smith in order to get there. The final lived up to its billing. It was an absolute cracker. It was much service dominated with scores swinging accordingly. It went game for game throughout with very fine rallies. Beckham took the first and third while Tate took the second and fourth. Tate rocketed off to a huge lead in the fifth and, despite a late charge from Beckham, held firm.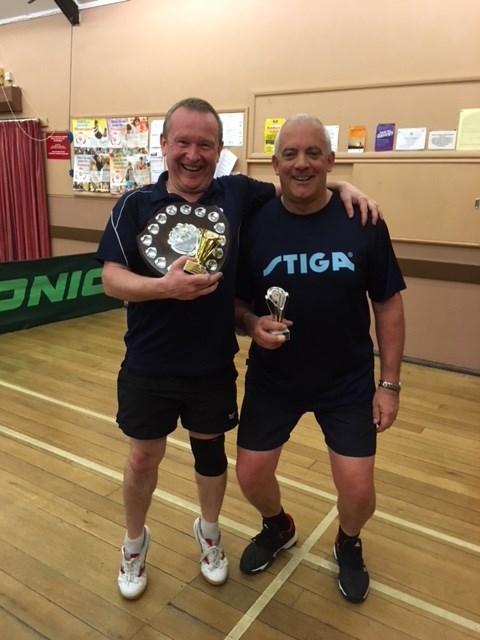 Over 60 Singles (the Veterans' Plate)
There were only four entries in this event and, with most of the regulars missing, the way was open for Majoe, eligible for the first time, to claim the title. His most likely rival was Duke. The event was run on a round robin basis. Majoe won his first two sets, beating Fuller and Edwards in straight games while Duke was taken to four games by both these players. In what was in effect the final Duke surprised Majoe by pinching the first game 11-9. However, he was unable to pressurize Majoe further who subsequently came through in four games to become champion.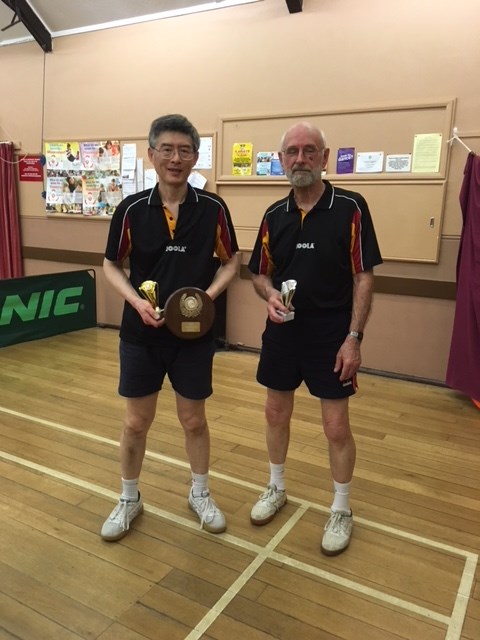 Open Doubles (Interceptor Cup)
There weren't many pairs in this event and it's a pity that more players don't take part in what can be a very enjoyable event. Majoe and Smith, a well-established pair and former champions, were expected to do well. They duly made their way to the final but were given a rough ride in the semis by the scratch pairing of Ian Brown (South Croydon) and Duke and were 1-2 down. They regrouped quickly and pulled through in five. In the final they faced a very strong pairing of Beckham and Tate who had cruised through to that stage by beating Maris and Bonner. Beckham and Tate were fast out of the traps, getting in first at every opportunity which paid off handsomely.
Open Singles (Darenth Rose Bowl)
There were three groups here, two of four and 1 of three. Beckham was top seed with Tate at No. 2. Beckham's group included Maris, Thomas Arnott (Darenth) and Brown. Beckham duly qualified in first place having had a game pinched from him by Arnott so the question was who else would go through? It was really decided by the set between Brown and Arnott which went the distance. Arnott cruised the first but Brown then led 2-1. Arnott refocused to level at two games all and held Brown off 1l-8 in the fifth which put him through. Tate's group included Majoe, Bonner and Porter. Majoe grabbed a game from Tate and put him under pressure in the fourth. Tate, however, held firm to take it 13-11. The second place was between Bonner and Majoe. The set went to a fourth game with Majoe claiming it. There was a potential finalist in Group 3 where Smith's strongest opponent was likely to be Walkley which is how it turned out. Beckham and Tate thus had byes through to the semis while Majoe and Walkley, Arnott and Smith had to fight it out to get through. Majoe certainly had to work hard to get past Walkley who so often gets an amazing amount of stuff back. Majoe led 2-0 but Walkley doesn't give up and stuck to his task to level. He had a slight lead in the fifth. Unfortunately for him it wasn't big enough to stop Majoe securing it 11-8. His reward would be to play Beckham. Arnott got into his stride early and took a 2-0 lead over Smith who then pinched the third game. Arnott built a buffer in the fourth and shut Smith out. He would therefore play Tate. Both Beckham and Tate reached the final without the loss of a game and all were looking forward to battle being rejoined between these two. It was a final worthy of the name. Tate caught Beckham on the back foot in the first and roared away with it. Beckham began to find his touch and got close in the second. He then started to dominate play and Tate, who is quite happy to play a mid-distance counter topspin game, narrowly missed a couple of returns which was enough for Beckham to take it 11-9. Beckham took charge early in the fourth to level at two games all. Tate moved up to the table, varying serves, but Beckham has his own set plays and after initial exchanges began to pull clear. He was at match point when Tate scrambled back a high return which Beckham inexplicably hit off. Tate was back in and he pressed home his advantage to take it 12-10. It was a triple triumph for Tate.
Major Handicap Singles (Wilfred Plant Trophy)
Sadly there were three players scratching from this event, including Beckham and Tate, which unbalanced the draw, all three being in the lower half. There are no seeds in this event as theoretically everyone has an equal chance. The first round produced some tight results. Bonner gave 7 to Maris but got through 21-19, 12-21, 21-19 while Lipscombe battled with Grohmann to whom he gave five. After making a great comeback to get to 20 all in the first he lost on sudden death. He did, however, learn from that and won the next two games. Fuller had to give 5 to Edwards and made it 21-19, 21-20. In the quarters Walkley conceded 8 to Porter who attacked with gusto to get the first. He continued to attack strongly which made for some very entertaining play but Walkley took it 21-17. Porter really went for broke in the third and it paid off. Lipscombe received 10 from Bonner and this was another attacker versus defender set. Lipscombe did well keeping control took the first game 21-14 but Bonner just failed to take the set to a third game losing the second 21-19. Fuller got 10+ from Arnott who just kept it simple and sneaked home 21-19, 21-18. Because of the withdrawal in his half, Arnott then had a bye through to the final where he awaited the winner of Porter and Lipscombe. Plus 6 wasn't quite enough for Lipscombe who still made lots of good returns but Porter's firepower proved too much in the end. With his eye now well and truly in, and with a +9 start, Porter attacked Arnott from the outset in the final. Despite some splendid retrieving from Arnott, he had to give best in the end to a very much improved player confident enough to make the most of his advantageous rating.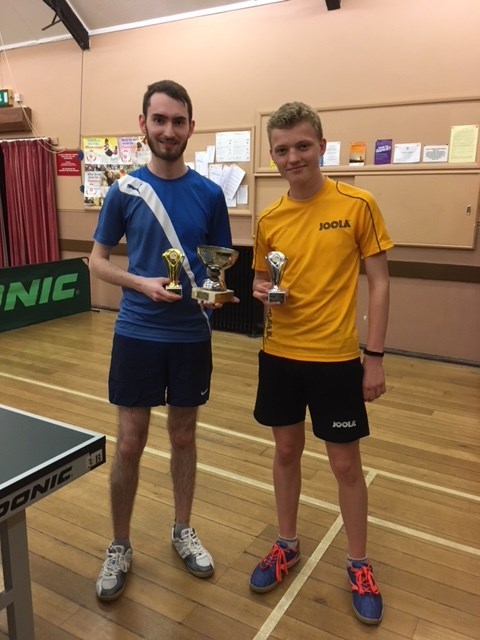 There were plenty of laughs during the weekend. Apart from the photo call where Tate, not the tallest of players, was lifted up by Beckham and another doubles finalist so he was at the same height as them, his feet well off the floor, it was Majoe and Beckham who had everyone chuckling. Majoe, under pressure, in one rally top edged the ball towards the ceiling from whence it descended to land on top of the net and drop dead on Beckham's side of the table. Majoe, implacable as ever, apologised for his good fortune and promptly served off to cries of "sportsman" and much laughter.
Despite the low entry, there were a lot of very good sets to watch. Congratulations are due to Jed Baulch who, in his first season, lifted the Junior and Minor Handicap Singles titles, Sam Porter for capturing the Under 1600 Rating and Major Handicap Singles and to Martin Tate for his triple crown on the Sunday. Thanks are due to Sarah Maris who did an amazing amount of work on administration, scheduling and running things on the day with support from Dave Field. As usual there was plenty of good home-made food available.
Results:
Open Singles:
M Tate (Otford) bt R Beckham (Crownwoods), 11-4, 11-9, 9-11, 6-11, 12-10
Open Doubles:
R Beckham (Crownwoods) & M Tate (Otford) bt M Majoe & N Smith (Teen & 20) 11-6, 11-4, 11-9
Over 40 Singles:
M Tate (Otford) bt R Beckham (Crownwoods) 8-11, 11-5, 11-13, 11-9, 11-5
Over 60 Singles:
Champion: M Majoe (Teen & 20), Runner Up P Duke (Plumstead Radical)
Major Handicap Singles:
S Porter (South Croydon) +9 bt T Arnott (Darenth) 21-16, 21-13
Junior Singles:
J Baulch (Cleeve Park) bt T Cowling (Darenth) 11-8, 9-11, 11-8, 10-12, 11-4
Under 1600 Rating Singles:
S Porter (South Croydon) bt B Taylor (Cleeve Park) 11-6, 11-7, 11-9
Under 1300 Rating Singles:
P Lipscombe (Darenth) bt R Cowling (Otford) 11-5, 11-8, 11-8
Under 1600 Rating Handicap Singles:
J Baulch (Cleeve Park) +1 bt T Cowling (Darenth) 21-19, 21-11
Last Updated: