JUNIOR DEVELOPMENT DIVISION 1 –28.04.18 – DAY 5
DARENTH A CLAIM TITLE AFTER A BREAK OF EIGHT YEARS
Darenth A held a comfortable six point lead over Tandridge A and Cleeve Park A who were tied on 24 points apiece. Tandridge B were on 18, Amherst A on 13 and South Croydon A on 11. It was by no means a gimme for Darenth A but there was going to be a fight between Tandridge A and Cleeve Park A for the runners up spot.
Round 9
As it was, Darenth A were struggling with availability problems and Tommy Cowling stepped into the breach to support Henry Morrell against potentially dangerous opponents, Cleeve Park A (Devon Vadukul/Philip Kmiecik). Darenth A won both the opening singles giving them a solid confidence boosting start – Cowling defeat Vaukul in straight games while Kmiecik pinched a game from Morrell. Darenth A consolidated their lead, combining well to win the doubles in straight games. Cowling had his problems with Kmiecik, dropping the second game after narrowly nabbing the first but pulled through in four. Morrell wrapped it up in straight games against Vadukul to bank a maximum haul. It was good news for Darenth A now already champions but it dented Cleeve Park A's hopes rather badly.
Meanwhile Amherst A (Sam Arnott/Yianni Papadopoulos) were busy trying to throw a spanner in Tandridge A's works and it resulted in Jack Coyne and William Ainsworth having to pull out all the stops. Arnott pressed Coyne hard and was close to taking him to four while Ainsworth had a lengthy battle with Papadopoulos being 0-2 down before managing to wriggle off the hook 12-10 in the third and then scrape home 11-9, 12-10. The doubles went to four with Tandridge claiming it. Coyne made it four with a win over Papadopoulos so things were looking good for them with Cleeve Park A having a torrid time at the hands of Darenth A. Ainsworth led Arnott 2-0 but once Arnott settled into his stride Ainsworth had to give best in five. Would it prove to be a costly loss? That was the question.
The closest match was between Tandridge B (Thomas Byrne/Prentice Bradford) and South Croydon A (Yash Shetty/Nico Ito-Aramendia). Each team had a debutant, Bradford and Shetty. The opening singles were shared, Byrne defeating Shetty in four and Ito-Aramendia beating Bradford in straight games. The doubles was a ding dong battle as 11-9, 12-10, 15-17, 14-16, 11-6 to South Croydon shows. This put South Croydon ahead 2-1 but Byrne, however, won the next singles in four to make it two sets all so it was down to the debutants to decide the outcome. Bradford beat Shetty in four to secure a 3-2 victory. It has to be said that this match was extremely noisy which, at a higher level, would have been penalised. Players are not allowed to shout out during a rally, and those players need to take that lesson on board.
The situation prior to the final round was thus Darenth A already champions on 35, Tandridge A occupying the second spot on 28 with Cleeve Park A four points adrift. Tandridge B had 21, Amherst A 14 and South Croydon A 13.
Round 10
The closest match was that between Tandridge B (Byrne/Bradford) and Amherst A (Arnott/Papadopoulos). Byrne and Arnott set the tone with a keenly contested opening set which went to Byrne in four. Papadopoulos replied in kind, beating Bradford in four to level. Amherst went ahead by taking the doubles but Byrne managed eventually to hold off Papadopoulos 17-15 in the fifth after being 2-0 up and pegged back to two games all. It was thus down to Arnott and Bradford to settle the outcome. Arnott roared out of the blocks giving Bradford no chance to settle so it was a 3-2 closing victory for Amherst A.
Cleeve Park A (Vadukul/Kmiecik) needed a clean sheet against South Croydon A (Shetty/Ito-Aramendia) and hope that Darenth A would do them a favour. Cleeve Park began well taking both the opening singles in straight games with wins for Vadukul and Kmiecik over Shetty and Ito-Aramendia respectively. Then came the nervous moments as they led 2-0 in the doubles but were hauled back to two all. However, a good start in the fifth saw them safely through. Kmiecik ran into trouble with Shetty and trailed 0-2. He managed to get back on terms and sailed home 11-3 to make it four points. All eyes were on the Darenth A and Tandridge A match next door where Darenth were fighting a rearguard action against a determined charge from Tandridge A. It heaped pressure on the shoulders of Vadukul as he tackled the diminutive left hander Ito-Aramendia. He had a slight wobble in the third game which he dropped but remained calm and got home in four.
Darenth A had their customary change in line up with Konrad Johnson coming in for the second round alongside Morrell against Tandridge A (Ainsworth/Coyne). They were not fool enough to let winning the championship go to their heads and knuckled down to their task. Tandridge needed just one point but would they get it? It was an incredibly hard-fought match. Three sets went to five games and the other two required a fourth. Darenth won both the opening singles but what battles they were! Johnson dropped the first game to Ainsworth but pulled through in four while Morrell was pegged back by Coyne to two games all before holding him off 11-8 in the decider. The doubles went to Darenth and then came some incredible counter attacking throughout in the closing sets, both going the distance. Morrell was close to exhaustion against Ainsworth who zipped through the first two games. Morrell fought back, staying up to the table to command the angles. It paid off and he finally got over the line 11-8 in the fifth. There was much riding on the last set as Cleeve Park had done all they could and the runners up spot lay in the hands of Johnson and Coyne. A win for Coyne would secure it for Tandridge A while Cleeve Park were rooting for Johnson which could mean they would snatch it. No pressure then. Johnson fell behind to Coyne who had lost only one set all season. Somehow he got back on terms and roared home 11-4 in the fifth much to the delight of Cleeve Park A and disappointment for Tandridge A.
In the final count-down Darenth A were streets ahead on 40 while Cleeve Park A pipped Tandridge A on the post 29 to 28 points. Tandridge B finished on 23, Amherst A on 17 and South Croydon A on 13. It was a very good contest throughout and many matches were far closer than the score lines suggest.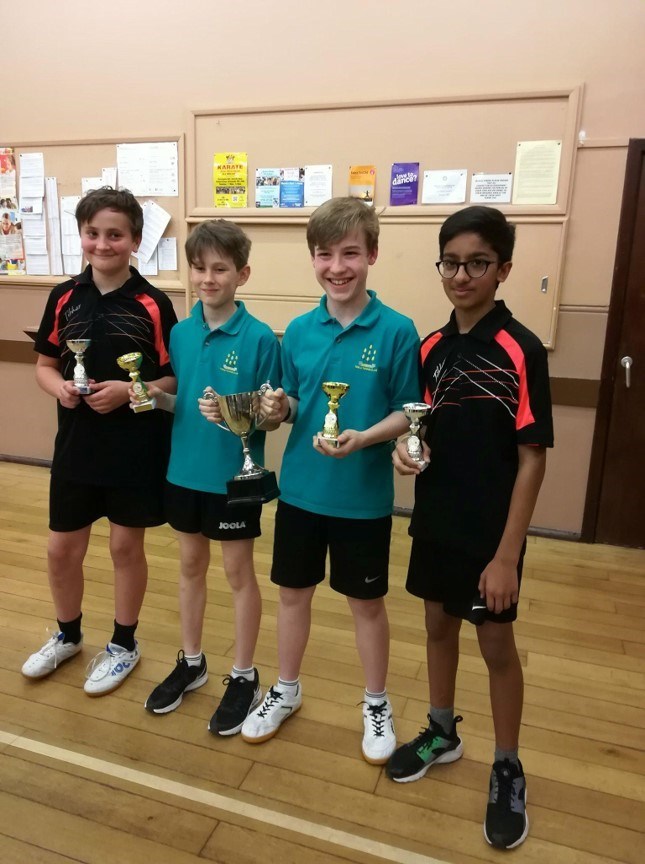 Congratulations are due to Henry Morrell who played in every match and achieved an 85% average. Thomas Byrne achieved 83.3%, closely followed by Jack Coyne on 81.3%. Johnson played in every session losing only 2 sets giving him an 80% average.
Chapeau to Darenth A and hard lines for Tandridge A who had been in the forefront for much of the season. Running two junior divisions has been a most successful venture with a much higher standard than many might have thought possible. It has continued to rise as the meetings went by and hopefully we shall eventually see some of the youngsters emulating the achievements of previous regulars now operating in the higher echelons of the League.
Last Updated: