Middlesbrough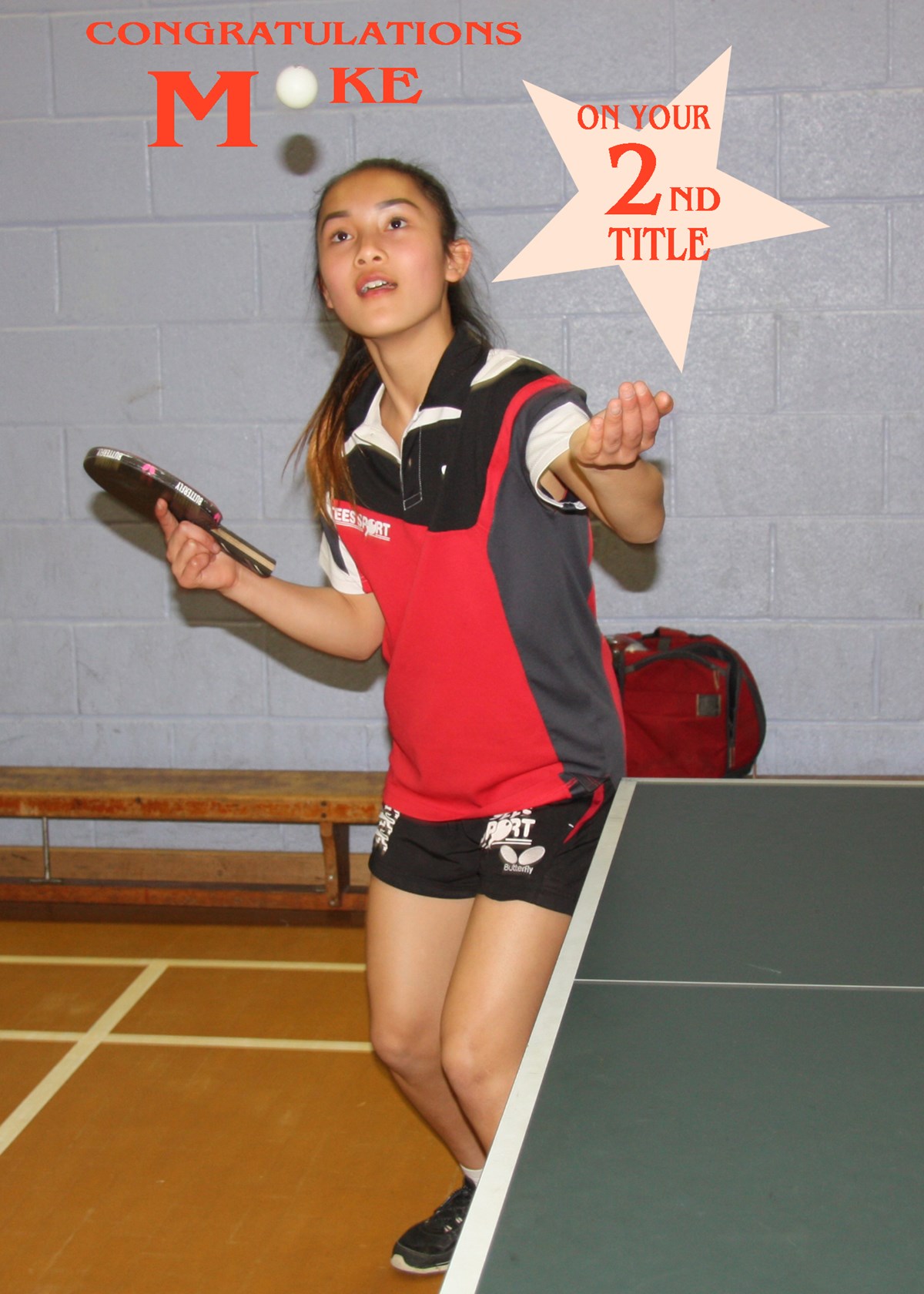 Cadet Girls. (under 15s)

With Girls up to 3 years older this event proved a much stiffer test for the fast improving Warburton.
Moke won 2 from 3 at the group stage losing to no 2 seed Erin Greensmith 3-1, but qualified as runner- up.
In the semi final she played Katie Wray who had beaten the no1 seed in her group match.The game didn't start too well and Moke fell 0-2 behind in close games, however never flustered Moke stuck to her game plan and started to win the vital points and drew level at 2-2. A good start by Katie put the pressure back on Moke and at 4-7 a timely 'time-out' refocused Moke and a string of strong returns and rally's was enough to shade it 11-9 in the 5th. The final was against Erin who had beaten Moke in the groups, and the final was again hard fought but despite a few changes in tactics Moke lost 0-3 in close games, with the older girl fully deserving victory.

Cadet Boys

Sam Lowe and Jack Louth stepped up several age groups to take part in this event. Jack had on paper the toughest of the 6 groups to contend with. However Jack was unfazed and played some great games
culminating in a fantastic match against England no.68 cadet Kasif Mahmood losing one game 21-19 and the match 3-1.
Sam had a real chance to progress from his group but a mixture of nerves and uncharacteristic misses lead to his downfall, Sam would need to refocus on his game before his main event the u12's.

Girls under 12's

Congratulations to Moke Warburton for winning her second title this season with a convincing win in Middlesbrough. Moke won her 3 group matches, semi final and impressively the final all 3-0 with the final being 11-1,11-5,11-3 against England no.45 Rebecca Rigg

Boys under 12's

Frazer Ives joined the Scarborough line up for the under 12's with expectations of progressing from the groups. His opening game couldn't have been any tougher against Oliver Bryant the England no.36 who was in fine form and despite Frazers efforts he lost 0-3 with Oliver always having the edge in rallies.The vital game was against Zack Foston which proved to be a nail bitter as the boys played out some long rallies with several games going to deuce, in the end it came down to deuce in the 5th which Frazer just lost 11-13 and with it his chance to make the quarters.
Sam Lowe was drawn in a competitive group and new he needed to up his game to compete. He did so in great fashion beating Jake Hewitt 3-0 and playing a spirited match against Che' Goulbourne 70 places higher in the rankings losing 1-3. In the quarter finals he played Thomas Lambert again ranked higher, in a sea-saw match he lost 0-1,1-1,2-1,2-2,2-3., but produced his best display of the day with serves and forehands troubling Lambert. Jack Louth after a confident u15 debut will have been expecting easier games in this group.The challenge again proved difficult losing the opener 0-3 to top group seed Thomas Lambert. He then fell 0-2 behind to Luke Hodgson in a match he needed to win to progress to the quarters. Jack doggedly stuck to the task and in never say die fashion he fought back to take a deserved 3-2 victory.
He meet Che in the qtrs and although Jack competed for every point it was never enough to overcome his skillful opponent and he lost 0-3.

Author:
Peter Lee
via Scarborough Table Tennis League
Article Published:
Last Updated: