SCARBOROUGH CLOSED SATURDAY 19th MARCH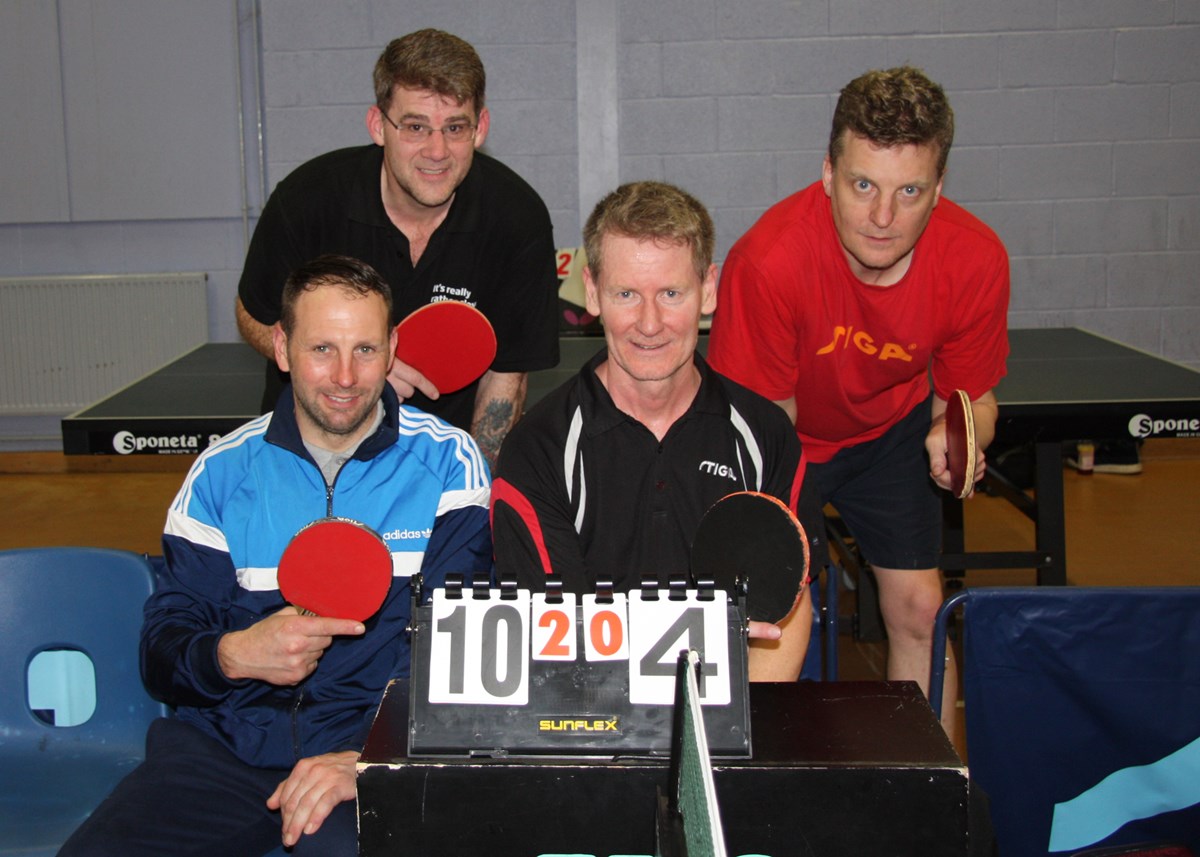 1st Div. Closed Semi Finalists: G. Hodgson, M. Lowe, S. James, A. Hodgson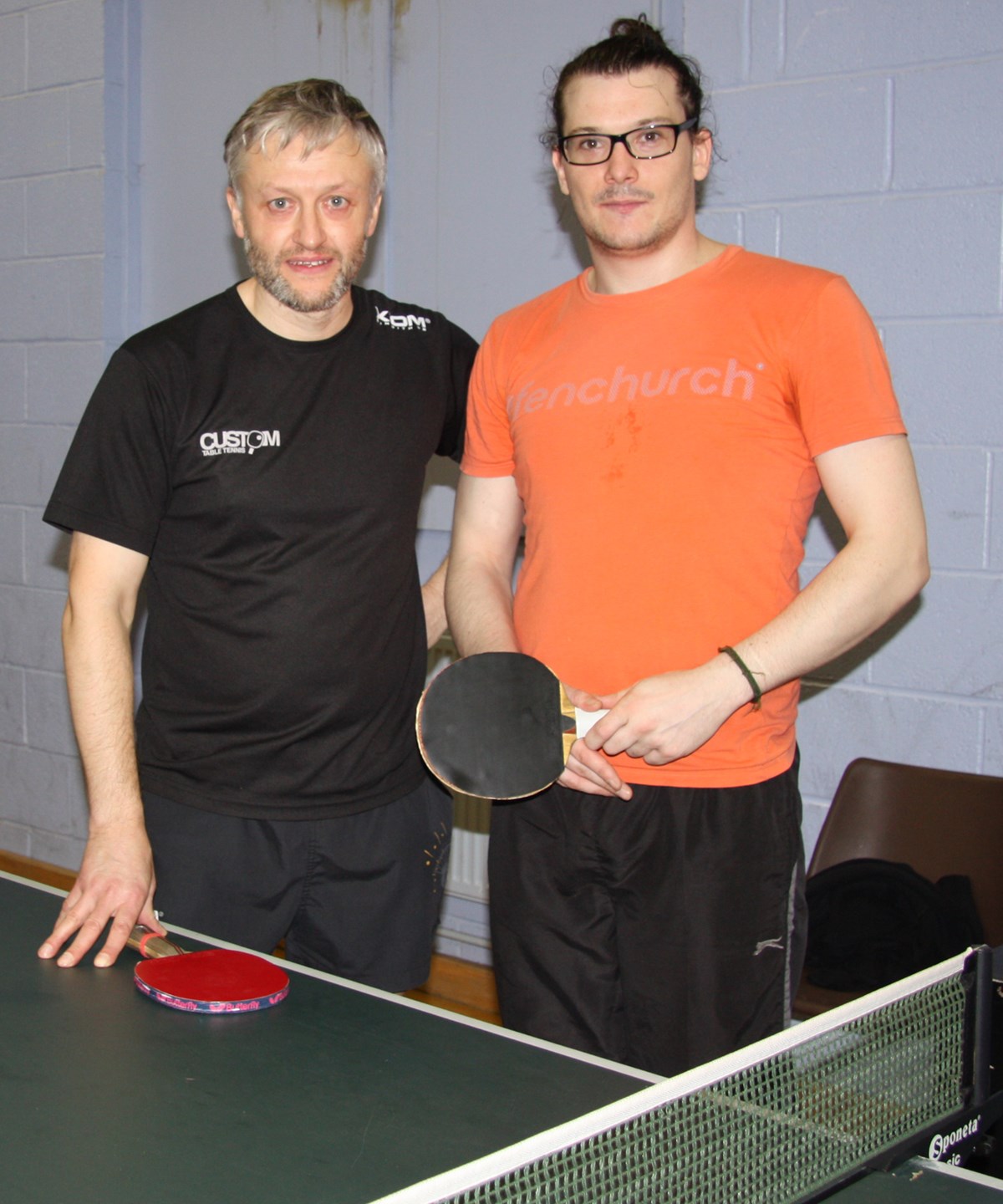 1st Div. H/Cap Winner left: Maz Chajecki & R/Up Ross Dransfield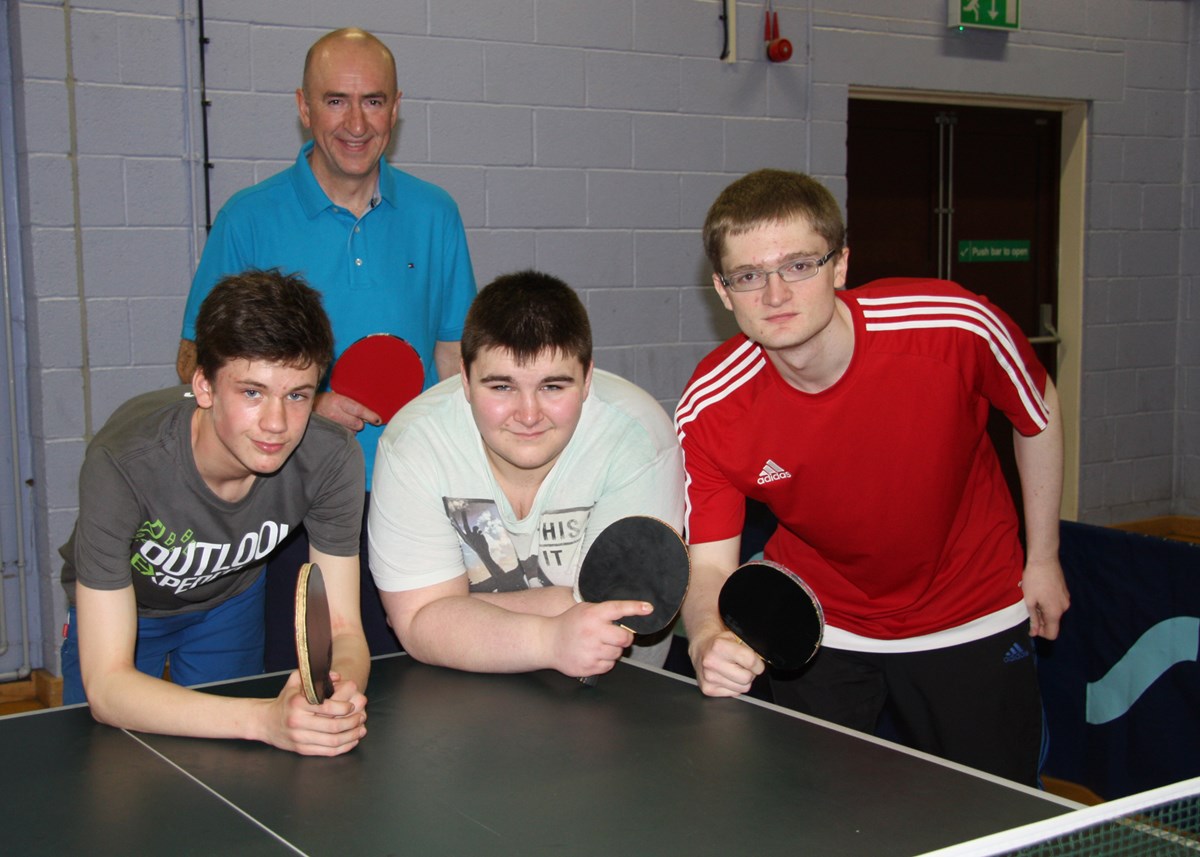 Select Doubles Final {back) N. Clapham, (front) M. Lowe, M. Whilde, H. Goodliffe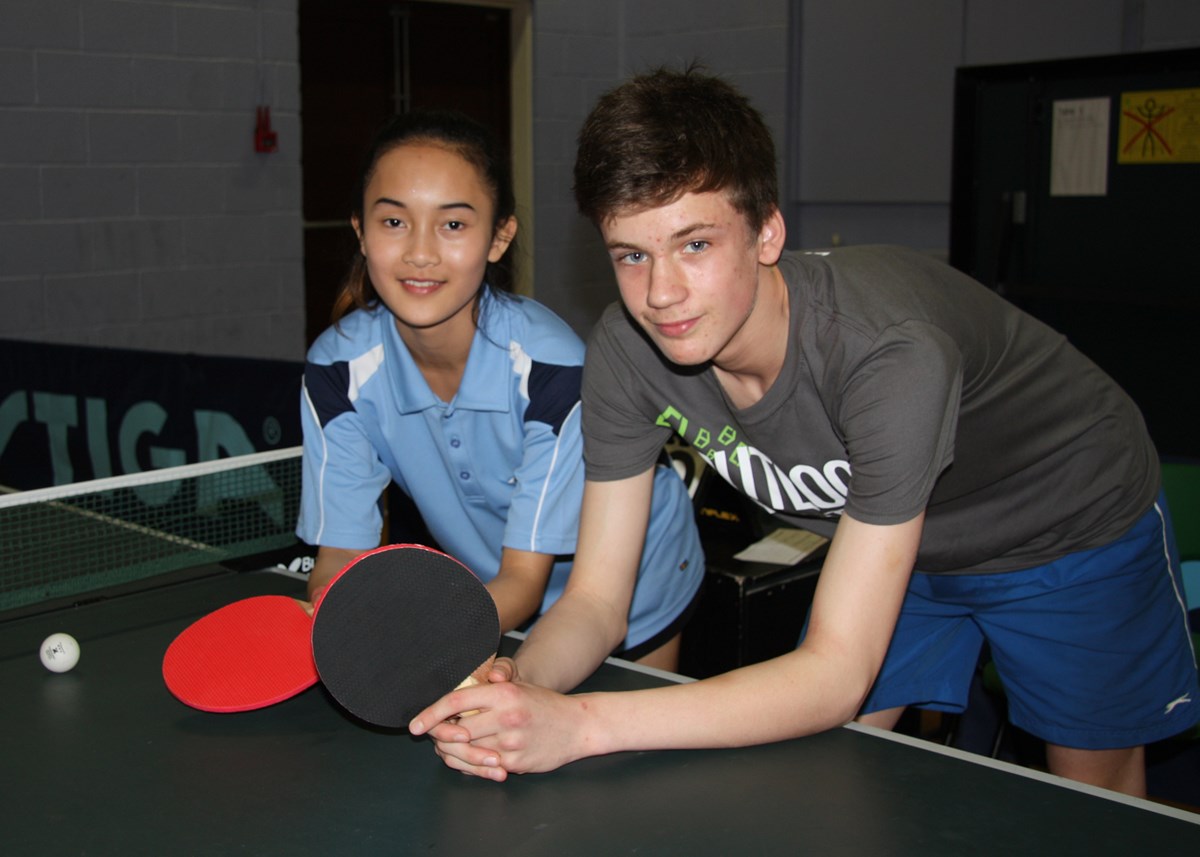 2nd Division Hardbat Finalists: Moke Warburton, Matthew Lowe
Division Three Finalists: Sam Lowe, Karl Cousins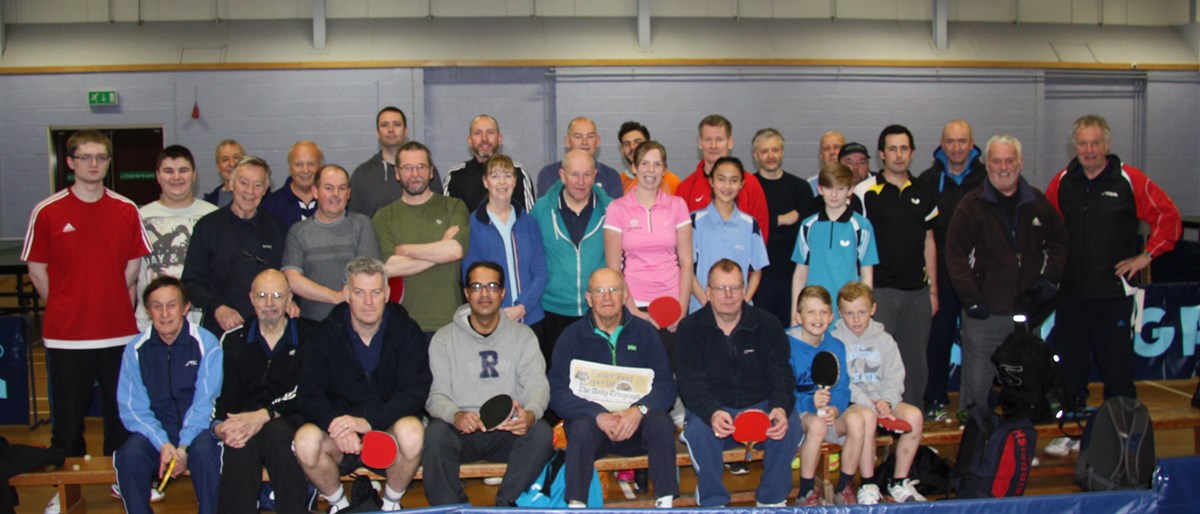 PHOTOCALL ON THE DAY
SCARBOROUGH CLOSED TOURNAMENT - 19th March
A new format was to be used for this years event. It was agreed to hold the Tournament on a Saturday with all three divisions playing in their own groups. A new event was introduced for all players and that was The Select Doubles. The Tournament attracted 40 entrants.
Division ONE CLOSED - Winner: Martin Lowe / Runner Up: Ashley Hodgson 13-11, 11-8, 11-7
First round was a round robin with eighteen players taking part. No major shocks as all top seeds got through to the knock out round. The highlight of the group stage was an incredible come back from veteran Mike Wheatley who found himself 0-10 down in the third set to Richard Dent. Wheatley went on to win the next eleven points. Quarter finals went to form with the only shock being the demise of Ross Dransfield who lost to the in form Glen Hodgson. The Semi Finals witnessed both Simon James and Glen Hodgson losing to the imperious talents of Martin Lowe and Ashley Hodgson. This set up the final everybody expected. Both finalists are unbeaten in the league and Hodgson is the only player ever to beat Lowe in a league match. The first set was a very tight end and both players should be congratulated for some entertaining rallies. Lowe took the set with the help of some lucky net returns. The final two sets saw Lowe come into his own with a barrage of powerful back hand winners against a very worthy opponent.
Division ONE HANDICAP - Winner: Maz Chajecki (+16) / Runner Up: Ross Dransfield (+11) 46pts - 35pts
Newcomer to the league Maz Chajecki has had a very successful first season and he took advantage of a generous handicap to defeat Ross Dransfield 46pts to 35pts.
Division ONE VINTAGE - Winner: Pete Kirk / Runner Up: Guy Whiting 7-11, 9-11, 11-6, 11-7, 11-9
A tremendous final with both players going full out. Whiting took the opening two sets but Kirk fought back to level. The decider went to the wire with Kirk taking it 11-9.
Division ONE HARDBAT - Winner: Martin Lowe / Runner Up Ashley Hodgson 12-15, 15-9, 15-14
Current champion Pete Kirk went out in the quarter finals to Simon James who lost to Ashley Hodgson in the semis. Martin Lowe took his place in the finals by defeating Maz Chajecki. A cracking final then took place with the unlucky Hodgson losing the deciding match point to an edge.
Division TWO CLOSED - Winner: Matthew Lowe / Runner Up: Matthew Whilde 11-4, 11-7, 11-8
Matty Lowe took the title in great style. The number two seed never allowed his opponent to get on top and won in straight sets
Division TWO HANDICAP - Winner: Nigel Chandley (+26) / Runner Up: John Warburton (+21) 59pts - 49pts
A great performance from Nigel Chandley who played well above his given handicap and played a solid game against a difficult opponent.
Divisions TWO/THREE VINTAGE - Winner: Nigel Clapham / Runner Up: Richard Lloyd 12-10, 11-6, 11-4
Clapham never allowed his opponent to take control after taking a very nervy first set and won the remaining two sets comfortably.
Division TWO HARDBAT - Winner: Moke Warburton / Runner Up: Matthew Lowe 15-11, 15-8
Two of Scarboroughs most promising youngsters tried to get the better of each other with the aid of a hardbat. Surprisingly it was Moke Warburton who got the better of the favourite Matty Lowe in straight sets.
Division THREE CLOSED - Winner: Sam Lowe / Runner Up: Karl Cousins 11-9, 11-2, 9-11, 11-5
Sam Lowe has become the youngest player to hold a Scarborough title. He won in four sets and displayed a great array of shots against his opponent. On this showing this title could be the first of many.
Division THREE HANDICAP - Winner: Karl Cousins (+14) / Runner Up: Frazer Ives (+20) 45pts - 47pts.
A great performance from another promising youngster, Frazer Ives who just lost out in the final by two points against his more experienced opponent.
HARDBAT FINAL - Winner: Rod Ives / Runner Up: Karl Cousins 11-15, 15-8, 15-10
Karl Cousins competed in his third final but was second best to the consistent play of Rod Ives.
SELECT DOUBLES - Winners: N. Clapham/H. Goodliffe - Runner Up: M. Whilde/M. Lowe 11-5, 11-4, 11-6
Both pairings were second division players but the final proved one sided with Clapham and Goodliffe never threatened in taking the title in three straight sets.
Author:
Peter Lee
via Scarborough Table Tennis League
Article Published:
Last Updated: