2015-16 week thirteen reports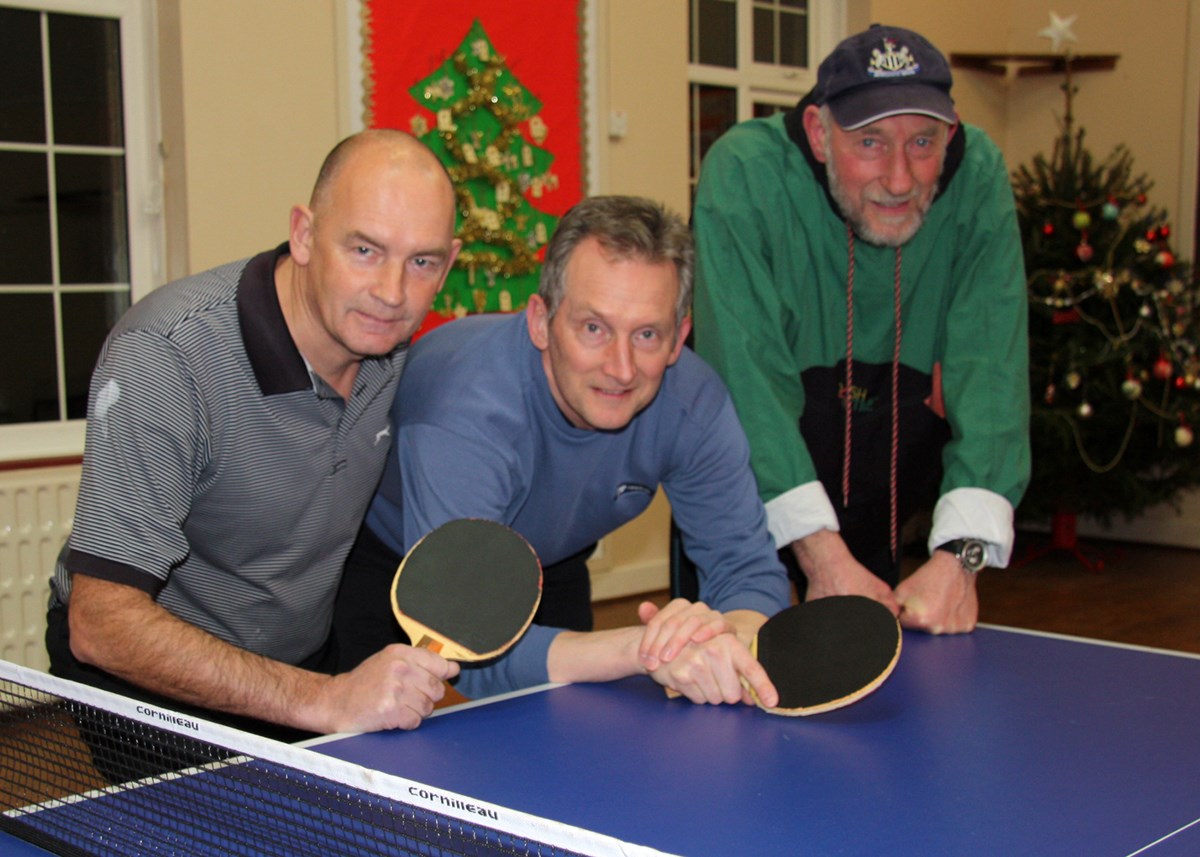 Corinthians B - Pete Kirk, Derek Elliott, E.Wardman
SCARBOROUGH FLOORING Division One
HACKNESS B 6 v CORINTHIANS B 4
Corinthians were rocked by match winning performances from husband and wife duo Noel and Ann Seery. Unbeaten Noel was making a welcome return from injury and he gave a controlled and solid performance in defeating all three Corinthians. Ann Seery achieved a personal best in the top division by getting the scalps of both Derek Elliott and Ed Wardman and then teamed up with Noel to win the doubles in straight sets. Corinthians in reply could only muster a Pete Kirk brace and singles for Wardman and Elliott.
NOMADS 1 v HACKNESS A 9
Table toppers Hackness bagged a useful nine points against lowly Nomads. Ashley Hodgson and Neil Raine both hit trebles plus the doubles together. Hodgson took his singles in his usual convincing style without dropping a set. But Raine had to fight all the way against Dave Oxley to stay unbeaten by taking the rubber 11-13, 9-11, 11-4, 11-4, 11-9. Oxley was unlucky on the night as he also lost another five setter against Gerald Smith. Nomads only scorer was Gary Connolly who foiled Smiths own treble bid by winning in straight sets.
BRIDLINGTON OLD BOYS 6 v ROLO 4
The Brid trio of Simon James, Mike Fenby and Mark Chadjecki proved to be too strong for Rolos youngsters. All three had wins over Ben Rowe and Ethan Lowe but they all fell victim to Scarborough number one Martin Lowe. The latter gave nothing away and won his rubbers in straight sets. The winning doubles combination of Martin Lowe and Ben Rowe gave Rolo a useful four points in defeat.
HACKNESS B 0 v THE HIT SQUAD 10
Title holders Hit Squad lived up to their name by taking maximum points against a Hackness side playing their second game of the week. Ross Dransfield, Richard Dent and Guy Whiting were never tested past a fourth set although Tom Byrne and Ann Seery went to five in the doubles.
SCARBOROUGH FLOORING Division Two
PICADORE A 1 v HOBNOBS 9
A comfortable win for Hobnobs against a weakened Picadore side. Stuart Robinson and Ajay Tandan stayed unbeaten but had to be at their best to defeat Picadores best player Nigel Hird who took them both to deciders. Hird won his remaining single against Derek Harris who had to settle for a brace. Hobnobs pairing of Harris and Allan Thurling won a tense five setter.
SCALBY OLD BOYS 6 v WHITBY ENDEAVOUR 4
Bottom placed Scalby caused a shock with a hard earned win over promotion chasing Endeavour. Scalbys Matty Whilde was man of the match with a brilliant treble. He was then involved in a crucial doubles win with Hal Goodliffe. The latter also bagged a worthy brace to earn the six point victory. Endeavours reply came from a Graham Cripps brace and singles for Vic Wilson and Barry Davies.
TRINITY 4 v RYEDALE SPORTS CLUB 6
A very experienced Ryedale side came up against the emerging talents of Matty Lowe and Moke Warburton and held on to a satisfying six point win. Pat Swindell was the main man,turning in a solid display of defending and counter hitting to stay unbeaten. He also was part of a doubles win with John Gascoyne. They beat Trinitys young duo in a thrilling five setter. Gascoyne added a brace which included a close win over John Warburton, taking the decider 11-9. Trinitys reply came from a Lowe brace and singles for Moke and John Warburton.
PICADORE B 0 v PINDAR 10
Despite the whitewash, Picadore put up some firm resistance with Tony Ingham taking two of his rubbers to five ends. His match with Guy Hutchinson saw him narrowly lose 11-8, 10-12, 11-9, 10-12, 10-12. Pindar look a promotion outfit with the signing of Paul Ho who again impressed with a treble and a doubles triumph with Nigel Clapham. Both Clapham and Hutchinson also hit trebles.
SCARBOROUGH NEWS Division Three
SCALBY SCHOOL 7 v LIBERATORS 3
Scalby old boy Les Smith proved to be the backbone of this improving Scalby side by scoring an impressive treble. Smith was given solid support from Luke Howland and Martin Briggs with both youngsters scoring a brace each. Liberators title hopes took a knock with this result and their reply came from Brian Goodliffe and Karl Cousins who scored singles and a doubles together.
ROGUES N JOSHERS 4 v DELPHSTONE 6
A close contest with Rogues N Joshers just losing out to division three top gun, Jon Wanless. Both Tom Anderson and Isaac Grunwell had to be content with a brace each as they both fell victim to Wanless. Further wins by Russ Ives and Chris Wanless plus a doubles gave Delphstone a hard earned six point win.
WHITBY RESOLUTION 8 v EASTFIELD WARRIORS 2
A weaken Eastfield side suffered a heavy defeat at the hands of promotion rivals Whitby. Stuart Hurworth and Ken Benford were in good form for the victors with unbeaten performances. Third player Mike Stones added a single and paired up with Benford in a doubles success. Eastfields reply came from single wins for Frank Horswill and Josh Timmons.
Author:
Peter Lee
via Scarborough Table Tennis League
Article Published:
Last Updated: